Affordability issues have become so severe in Ontario's capital that it's not just millennials or single people who struggle to afford a home. According to a new report from RBC, only one in five families makes enough income to be homeowners in Toronto. 
RBC's June 2019 report on housing trends and affordability looked at Canada as a whole. Although affordability improved by a mere 0.3 per cent in the first quarter of 2019, this is "still historically high." 
---
Toronto ranks as one of the top three most unaffordable markets. The city is wedged between Vancouver (No. 1), where only one in eight families can afford a home, and Victoria (No. 3), where the stat is also one in five. 
"And this isn't taking into account the mortgage stress test," the report noted. "Clearing a higher qualifying rate would drop even more families out of contention (to one in 13 in Vancouver, and one in seven in Toronto)."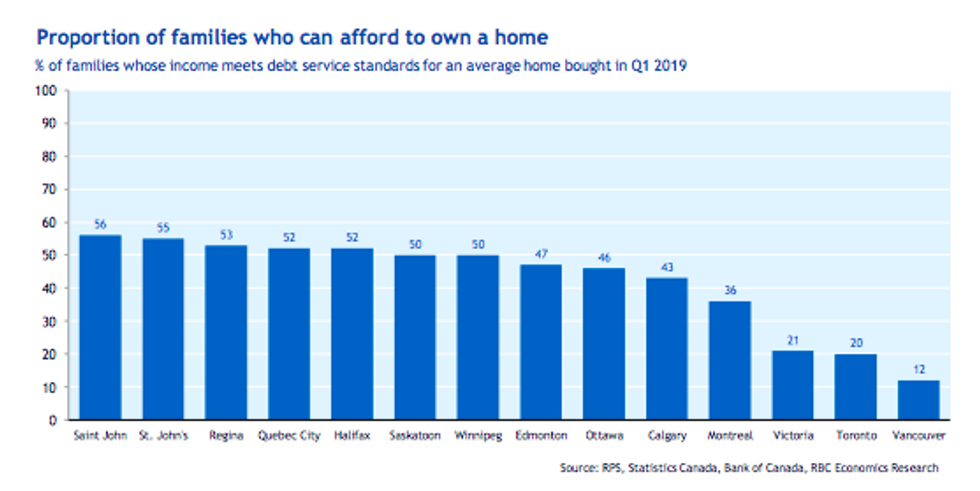 The Canada Mortgage and Housing Corporation defines "affordable" as housing that costs less than 30 per cent of income. Unfortunately, in Toronto, the income needed to afford the average home is more than double that at 66 per cent. And in Vancouver it's even worse, with families putting 82 per cent of their income towards homeownership. 
Buying a condo rather than a house does make things more affordable for Canadian families, the report noted. However, only one-third of families in Toronto would earn enough to buy this type of property, compared to nearly two-thirds in the majority of markets.
"Severe affordability issues remain a major obstacle for all but the wealthiest in Vancouver, Toronto and Victoria," the report stated.
Despite this, nine out of the 14 markets analyzed by RBC are considered affordable for families. The most affordable cities include Saint John, St. John's, Regina, Quebec City, and Halifax. 
RBC's latest report supports a previous study that found only a small percentage of top earners can afford to buy homes in Canada's biggest markets. The main reason behind this disparity is the fact that "house prices have not kept pace with incomes in these cities." 
RBC predicts Canada's housing market will see "modest" improvements in affordability. However, that could exclude Toronto. 
"With prices back on a slight upward trajectory, it's unlikely to come down much, or at all, in the near term," the report said of Toronto. "Despite kicking into gear late, the spring season brought compelling evidence that a (slow) market recovery is now underway. This will keep demand and supply in balance, and support further modest price gains."
Real Estate News