Toronto
Toronto
Tired Of Winter? You Need To Check Out These Incredible Airbnb Rentals
It's right about now when the winter blues start to hit and you start to dream of warmer climates and umbrella drinks. Sure, you could go to an all-inclusive, but if you're looking for something a little more unique or remote, one of these Airbnb options could be your dream vacation.
Think outside the vacation package this winter, or just fantasize about getting away through these gorgeous destinations.
Where: 
Oia, 

South Aegean, 

Greece

.
Cost Per Night: $312 Canadian
Type Of House: Cycladic house
Sleeps: 4 people

This stunning cave house was originally renovated for personal use by local craftsman, the historic house overlooking the Aegean Sea is the perfect getaway when Canadian winters get you down. It features spacious living areas, a balcony, a hot tub, and has phenomenal reviews.
The beautiful balcony, views, and fresh flowers make this the perfect place to have a morning coffee. Way better than gulping down lukewarm coffee during a snowy commute.
The inside is just as beautiful, with historic architecture and plenty of living space.
Where: 
Cooper, 

Alajuela, 

Costa Rica

.
Cost Per Night: $170 Canadian
Type Of House: Tree House
Sleeps: 4 people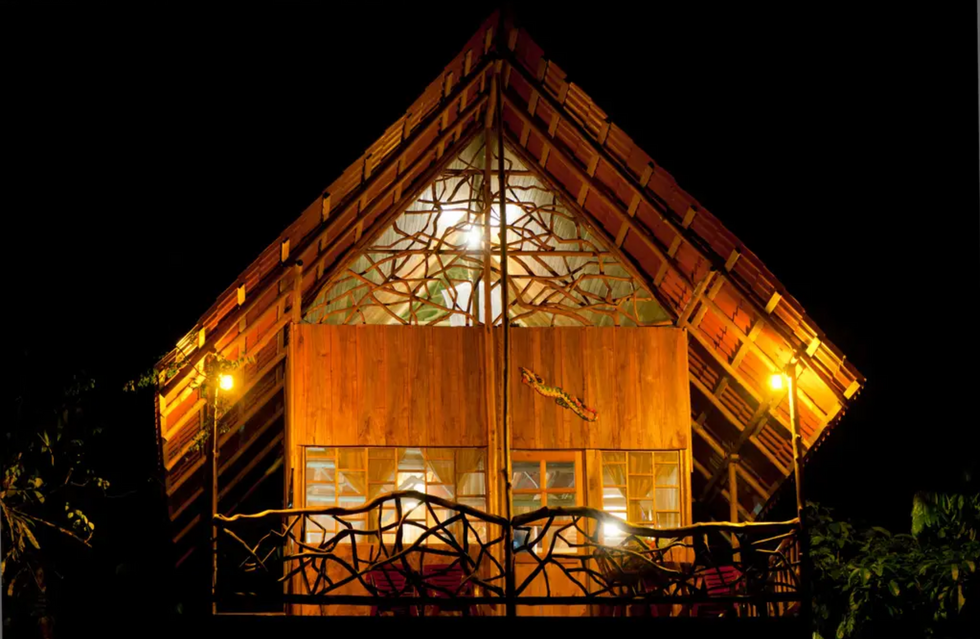 Live out your childhood fantasies with this amazing rainforest house in Costa Rica. With Costa Rica being such a desirable destination lately, this is a truly unique and interesting take on the trendy. Hang out in your own hot springs with monkeys, horses, and other rainforest creatures.
Imagine waking up in the trees, with the sounds of birds and tropical animals, before heading to your personal hot spring for a soak.
Kids would go nuts for this slide. Never mind the kids, any adult worth their salt would love this slide.
After all the slide excitement, head over to the spring for a more relaxing water experience.
Where: 
Goonengerry, 

New South Wales, 

Australia

.
Cost Per Night: $144 Canadian
Type Of House: Balinese Tinder Cabin
Sleeps: 2 people
When the snow is driving you crazy, this is the place to unwind. It basically looks like something out of Eat, Pray, Love. With the gorgeous sunlight, natural wood, and Balinese inspired design, it's made for relaxation.
Imagine waking up with that light pouring in, with the dreamy curtains and sounds of nothing but calm outside your window.
Now that's a porch for sitting on most of the day.