The first season of HBO's The Last of Us has officially concluded, and not only has it been a resounding hit, it has also put a bit of a spotlight on Alberta, where a majority of filming took place beginning in July 2021 and then on and off until June 2022.
---
Fresh off of the surprise award-winning limited series Chernobyl, HBO CEO and Chairman Casey Bloys asked creator Craig Mazin what he wanted to do next. Mazin, an avid gamer, chose to adapt the award-winning 2013 video game The Last of Us.
The game was developed by California-based studio Naughty Dog, and directed by Bruce Straley and Neil Druckmann. A fan of Chernobyl, Druckmann met Mazin through a mutual friend and then pitched HBO on adapting the game to a television series, rather than a film, which had been previously discussed.
The game and television series begins right before a mass fungal outbreak, and then primarily follows a smuggler named Joel -- portrayed by Troy Baker in the video game and Pedro Pascal in the show -- who has been tasked with escorting a teenage girl named Ellie -- portrayed by Ashley Johnson in the game and Bella Ramsey in the show -- across a post-apocalyptic America, decades later.
Once the production settled on filming in Alberta, location managers and set designers got to work transforming more than 180 locations in and around Alberta, including Calgary, Edmonton, Canmore, High River, and more, turning them into stand-ins for post-apocalyptic versions of Texas, Boston, Wyoming, and more.
Here is a recap of Season 1, along with many of the key filming locations, episode by episode.
WARNING: Spoilers abound.
Episode 1: When You're Lost In The Darkness
The pilot episode begins in Austin, Texas, in 2003, following a day in the life of 14-year-old Sarah (Nico Parker), a day that also happens to be when the Cordyceps fungal outbreak first hits.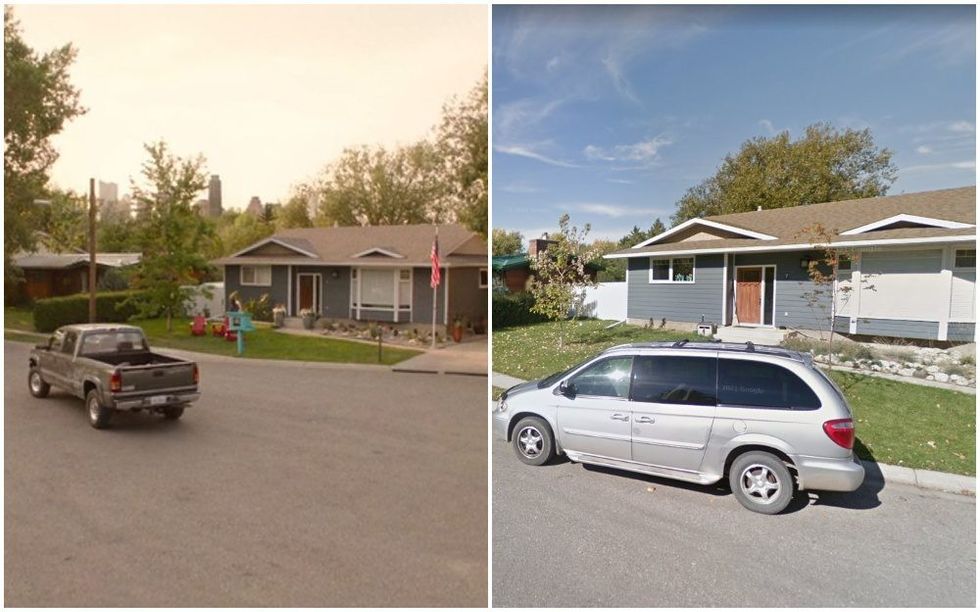 Left: A house in Joel's cul-de-sac / Right: 7 Sullivan Road, High River, Alberta. (HBO / Google Maps)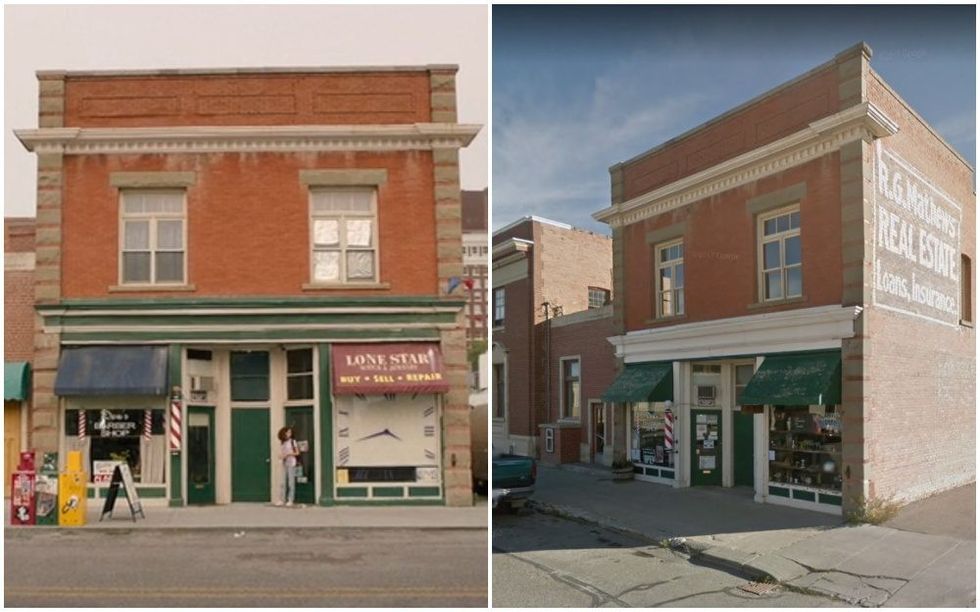 Left: The antique store Sarah visits to get Joel's watch fixed. / Right: 2309 2nd Avenue in Fort McLeod. (HBO / Google Maps)
The day ends with Sarah fleeing her home with her father, Joel, as well as Joel's brother, Tommy. The trio ultimately get stopped by soldiers, who shoot and kill Sarah in Joel's presence, thinking she was infected.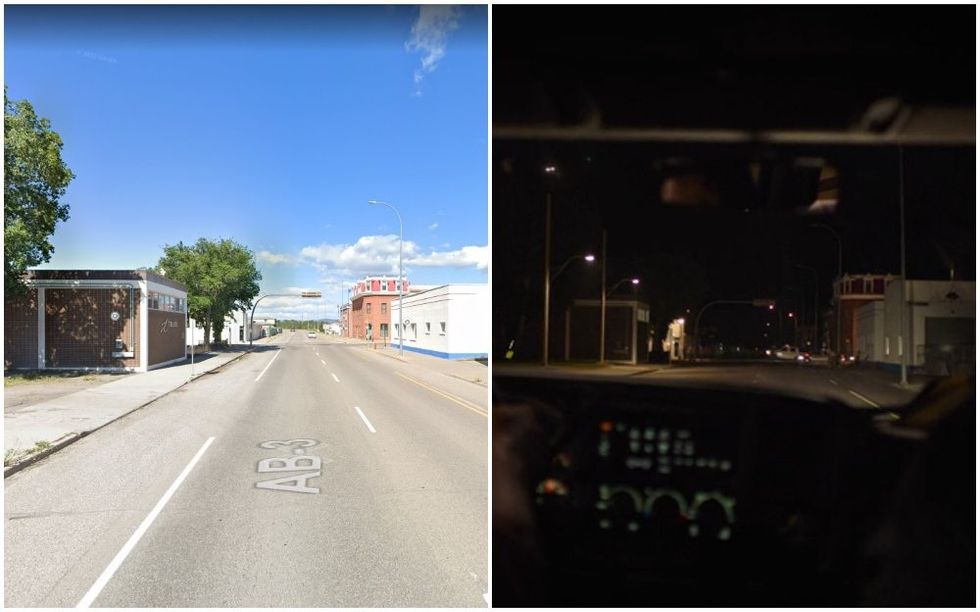 Left: Highway 2 near 2nd Avenue in Fort McLeod. / Right: A street Joel's family passes as they escape. (Google Maps / HBO)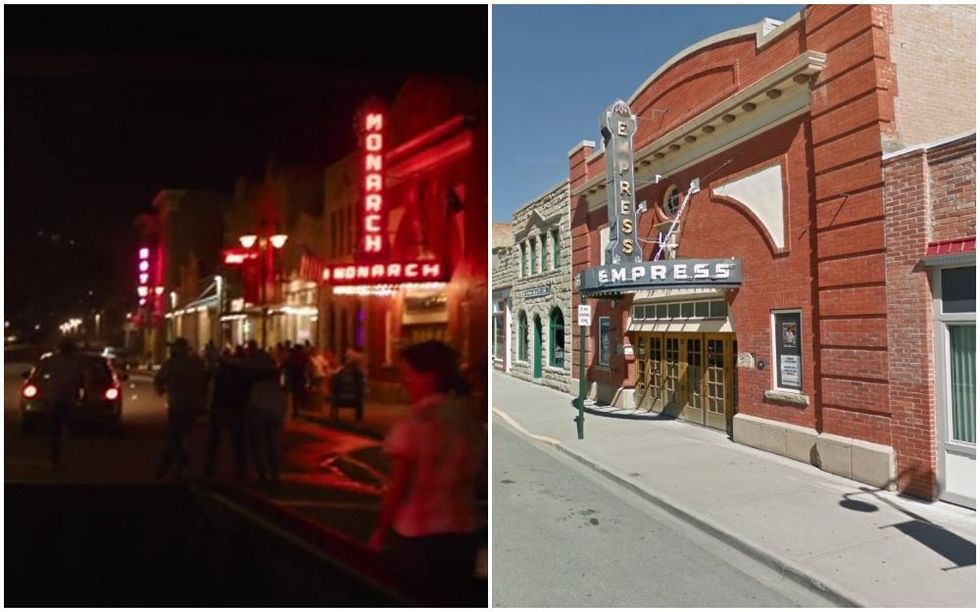 Left: A theatre Joel's family passes by as they escape. / Right: The Empress Theatre in Fort McLeod. (HBO / Google Maps)
The episode then flashes forward to 2023, as Joel and his partner Tess (Anna Torv) make preparations to leave a Boston quarantine zone controlled by the Federal Disaster Response Agency (FEDRA), in order to travel to Wyoming to look for Joel's brother, Tommy.
Concurrently, a resistance group to FEDRA called the Fireflies hold a 14-year-old girl named Ellie against her will, with plans to transport her west. The Fireflies eventually cross paths with Joel, whom they've met before, and after the group of Fireflies is decimated, their leader, Marlene (Merle Dandridge) asks Tess and Joel to complete their mission and escort Ellie, who is revealed to be immune to Cordyceps.
Episode 2: Infected
The second episode picks up with the trio carefully making their way to the Massachusetts State House, where the Fireflies were going to take Ellie.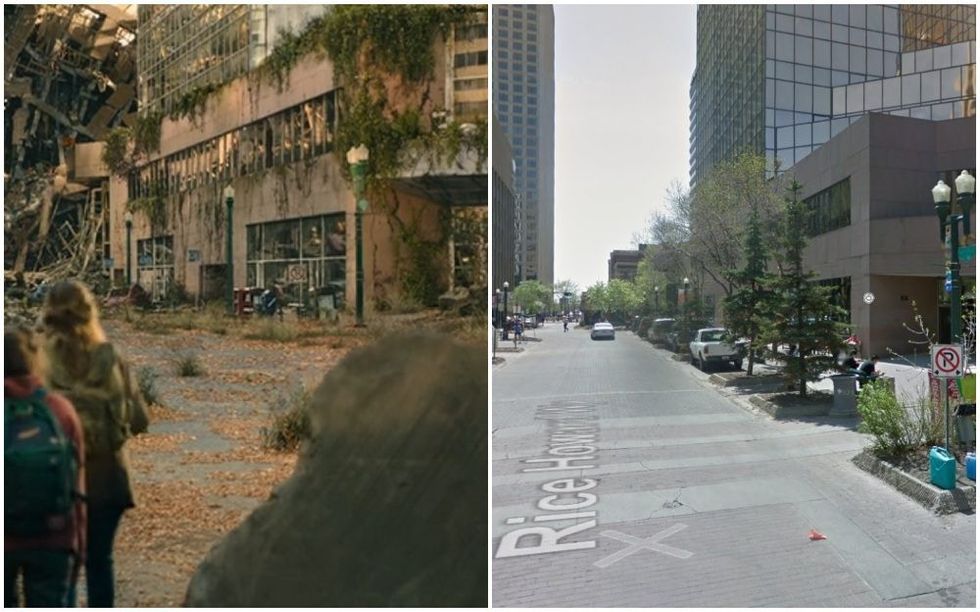 Left: A post-apocalyptic Boston. / Right: Scotia Place on Rice Howard Place in Edmonton. (HBO / Google Maps)
On the way, after passing through a flooded hotel, the trio pass through a museum, where we meet some of the infected for the first time, in an extended stealth and action sequence.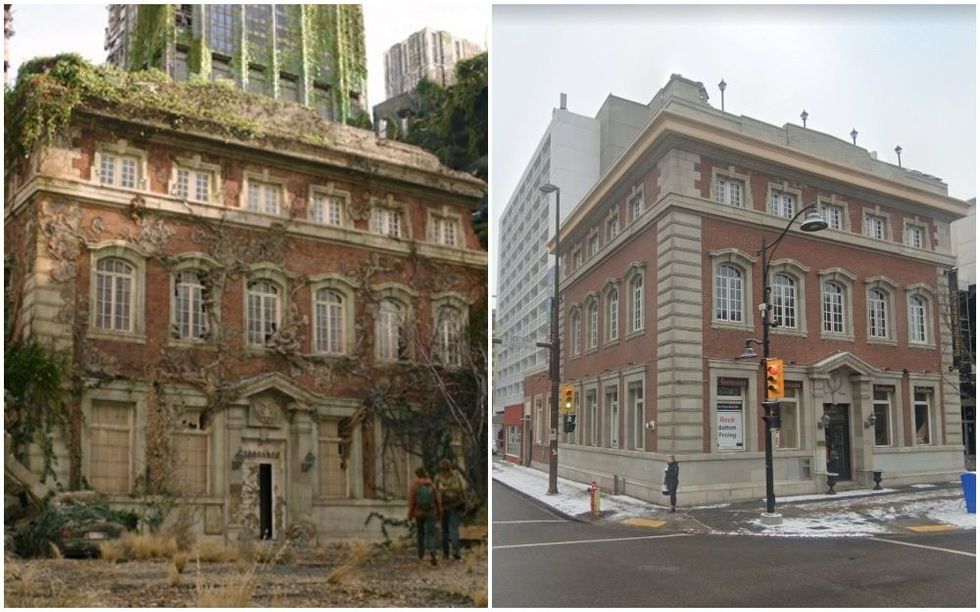 Left: The museum the trio passes through. / Right: Formans Menswear on 1202 1 St. SW in Calgary. (HBO / Google Maps)
The trio survive the encounter and make their way down the main street to the State Building, which was portrayed by the Alberta Legislative Building in Edmonton.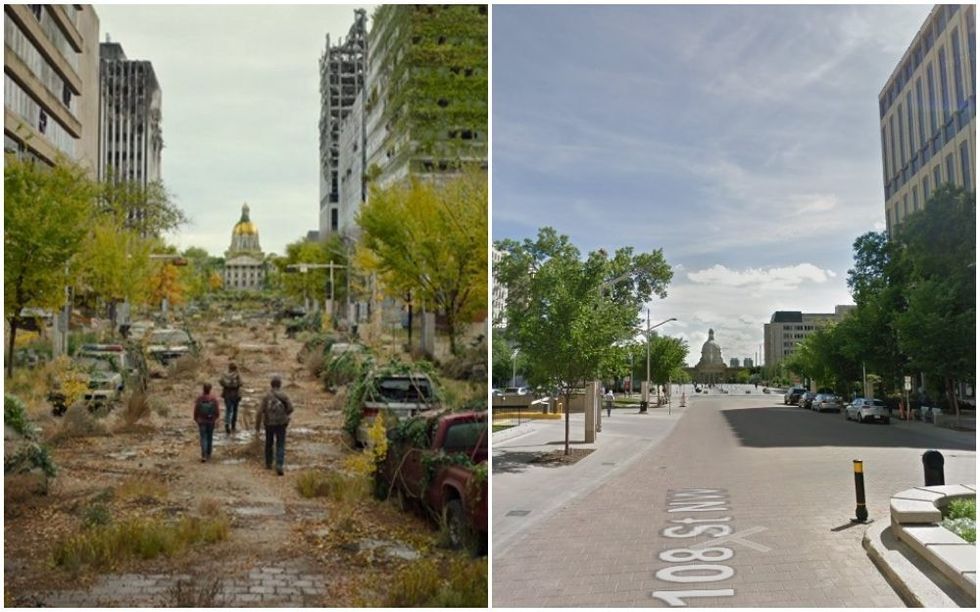 Left: The Massachusetts State Building. / Right: The Alberta Legislative Building. (HBO / Google Maps)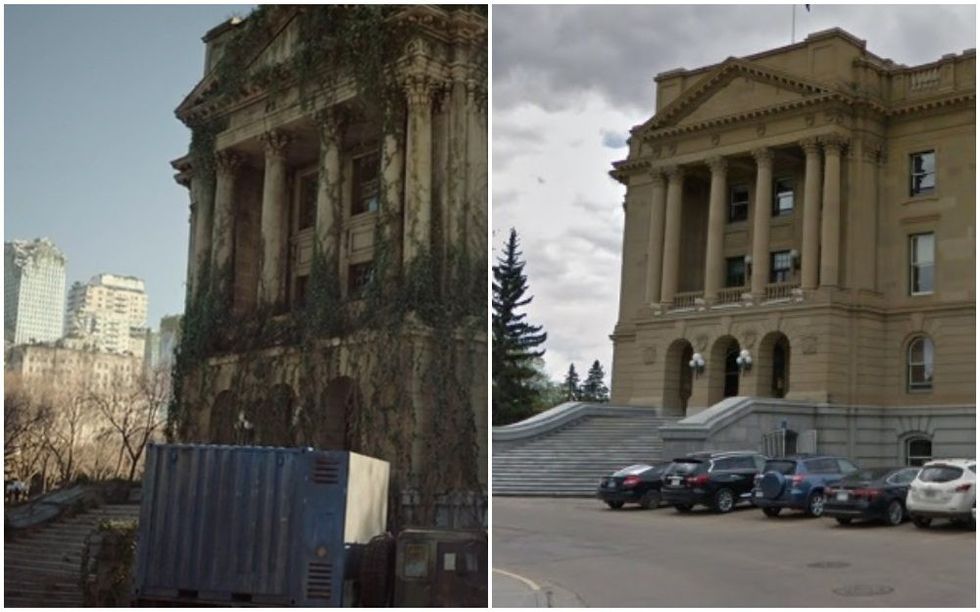 Left: The Massachusetts State Building. / Right: The side of the Alberta Legislative Building. (HBO / Google Maps)
The trio finds no living Fireflies at the State Building, where Tess reveals that she was bitten by an infected during the museum encounter. A nearby swarm of infected attacks the building, with Tess staying behind to sacrifice herself and blow up the building along with the horde, allowing Joel and Ellie to escape.
Episode 3: Long, Long Time
Episode 3 begins with Joel and Ellie hiking, on their way to go see Bill (Nick Offerman) and Frank (Murray Bartlett), whom Joel and Tess met previously. We then flash back years earlier to when Bill and Frank first meet and remain with them as they fall in love and build a small town for themselves.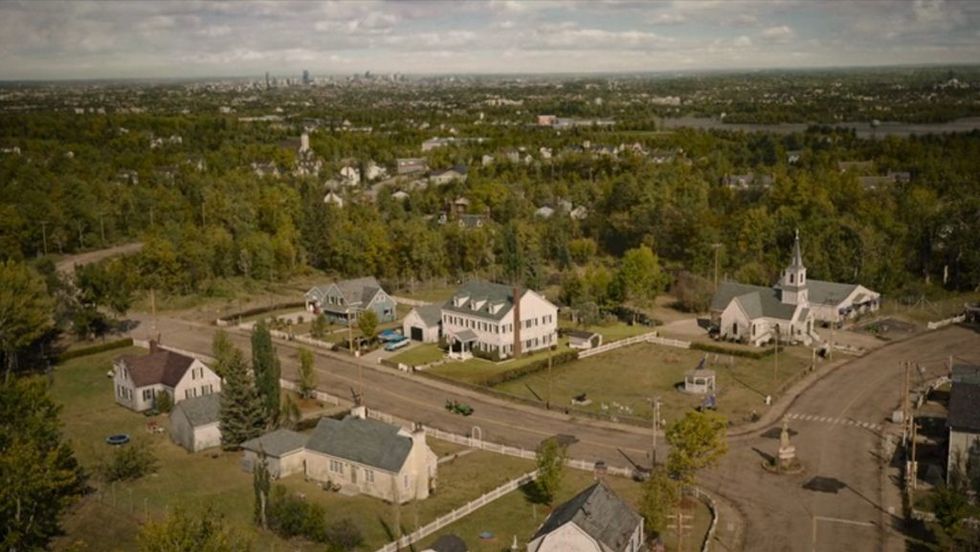 Bill's neighbourhood, which was filmed in the former-Beachwood Estates area of High River. (HBO)
Standing in for Lincoln, Massachusetts was the Beachwood Estates area of High River, a neighbourhood of nearly 120,000 people that was evacuated in 2013 following a major flood. Homes, road, and other man-made structures have since been all removed, according to Travel Alberta, with the production building the set of Bill's home in the area. CGI was then used to fill out the town, with other locations Bill visits filmed elsewhere on location.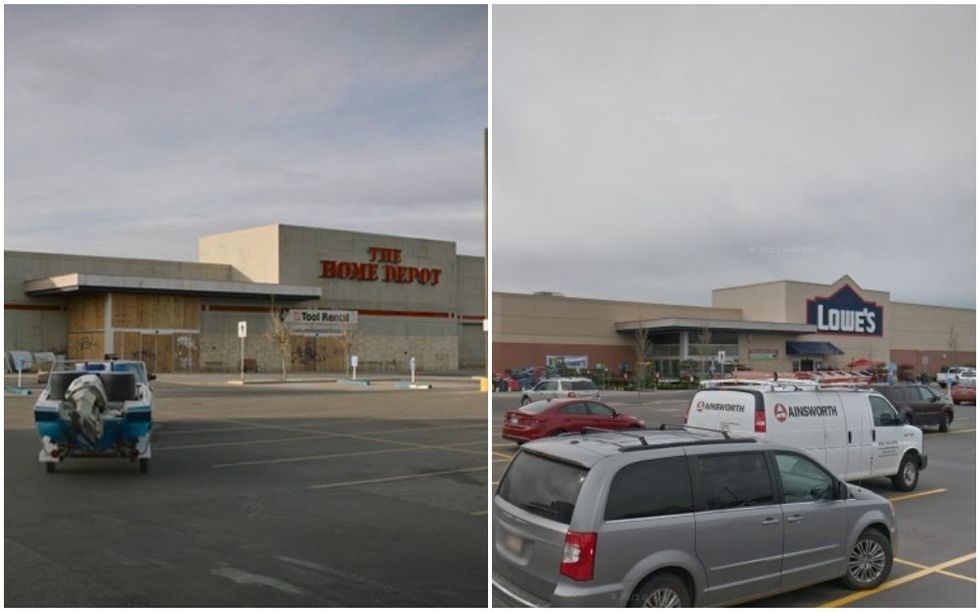 Left: A Home Depot Bill gets supplies from. / Right: A permanently-closed Lowe's in Shawnessy, Calgary. (HBO / Google Maps)
The episode ends with Joel and Ellie arriving at Bill and Frank's house, learning that they have both passed away, but not before leaving all of their supplies, including a working truck, to Joel.
Episode 4: Please Hold To My Hand
Now with a vehicle, Joel and Ellie begin their trek to Wyoming to find Tommy, Joel's brother, but are forced to take a detour through Kansas City.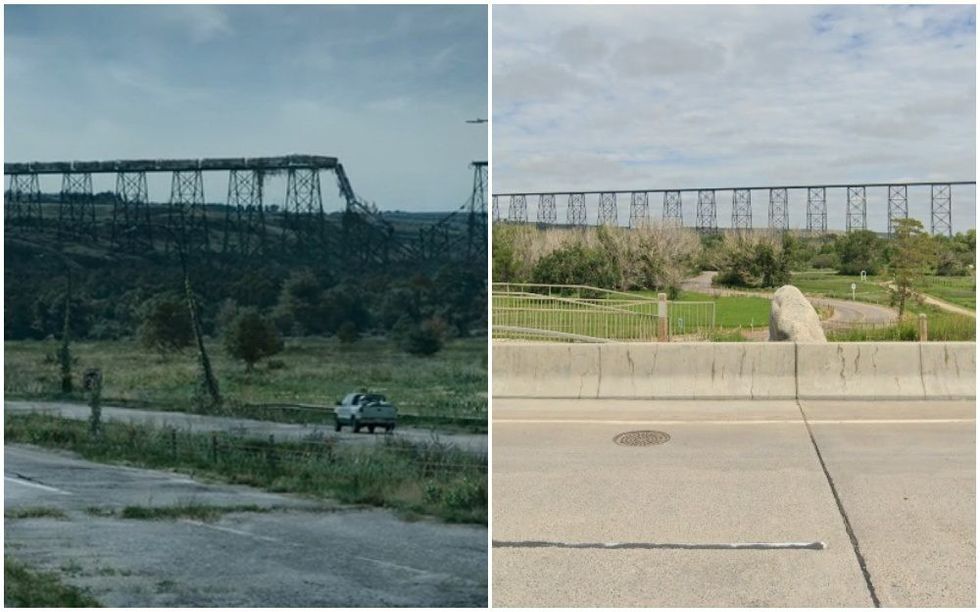 Left: Joel and Ellie on the road. / Right: The Lethbridge Viaduct. (HBO / Google Maps)
They arrive at a blocked tunnel, which was filmed at the entrance to the YYY Calgary International Airport Tunnel, built by PCL Construction in 2012.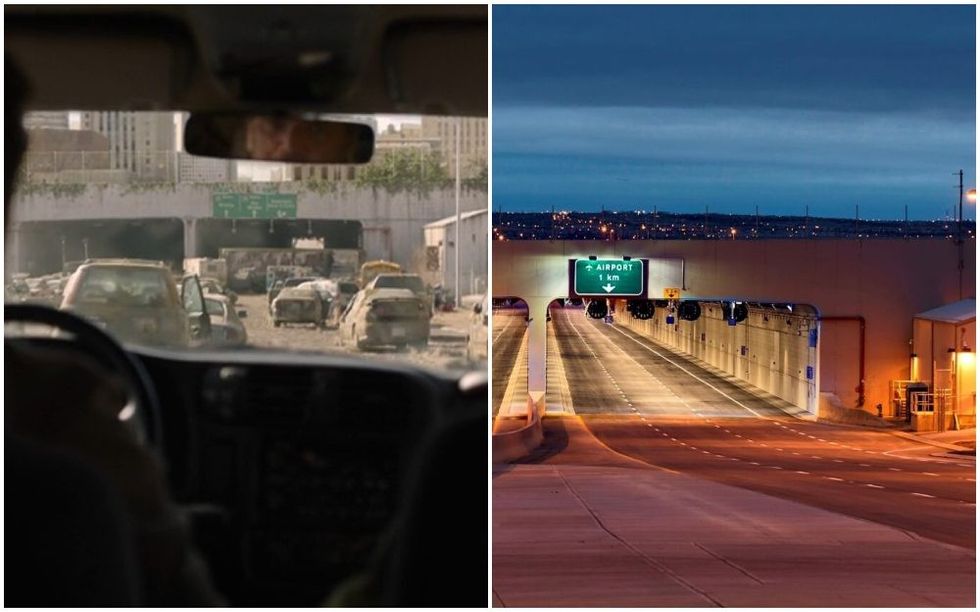 Left: A blocked tunnel Joel and Ellie come across. / Right: The Calgary Airport Tunnel. (HBO / PCL Construction)
After taking a longer route around, Joel and Ellie arrive in Kansas City, but ultimately get ambushed by some men and are forced to ditch the truck.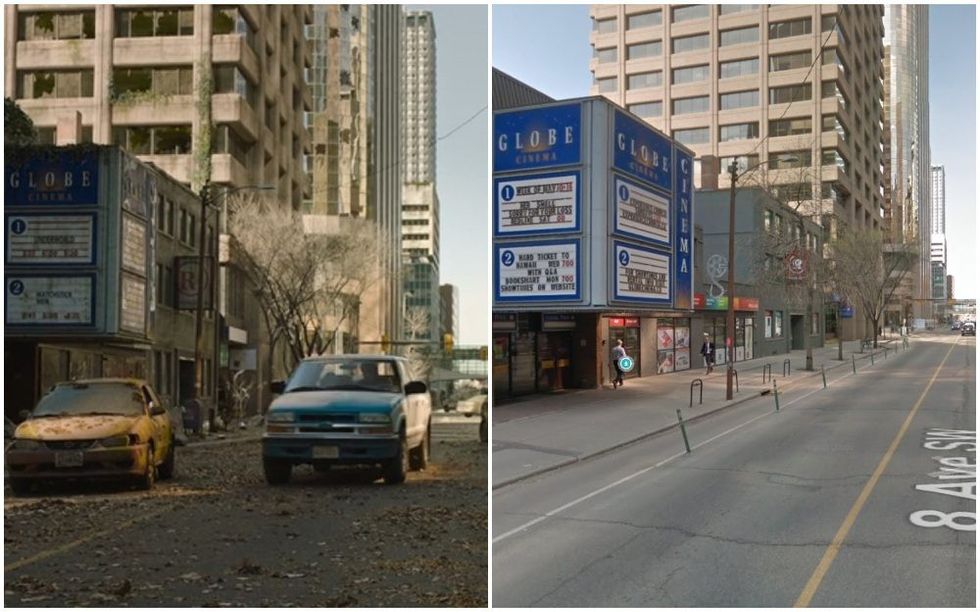 Left: Joel and Ellie arrive in Kansas City. / Right: The Globe Cinema in Downtown Calgary. (HBO / Google Maps)
After barely surviving a shootout with the men, Joel and Ellie hide out in a downtown area, going store to store until they decide to camp out in a high-rise building for the night.
Episode 5: Endure and Survive
The fifth episode begins with a flashback showing how those in the Kansas City quarantine zone overthrew FEDRA and formed their own ruling militia.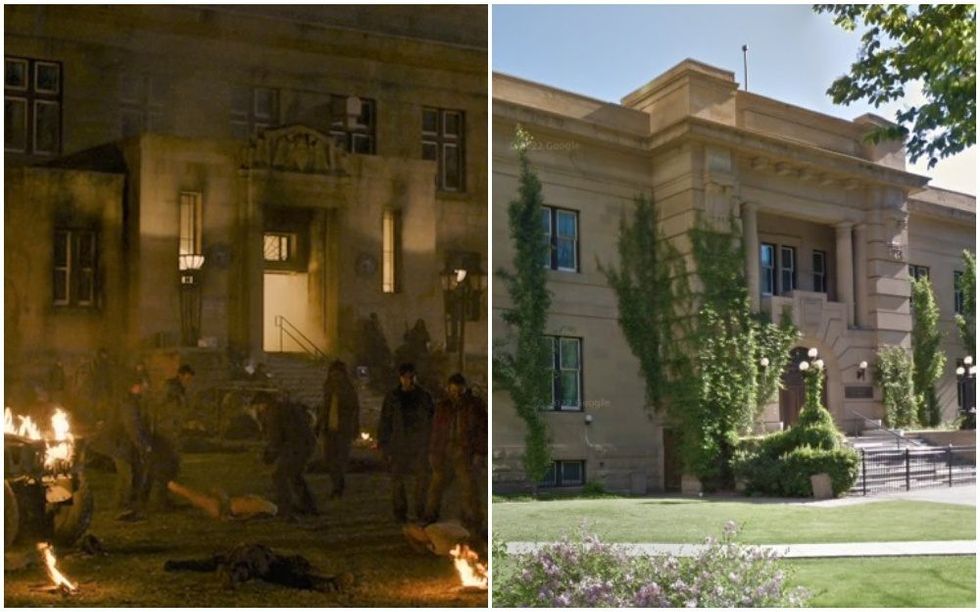 Left: A riot outside a building. / Right: A building in Calgary's Courthouse Park. (HBO / Google Maps)
Back in the present, Joel and Ellie are awoken by a young man and his kid brother, Henry (Lamar Johnson) and Sam (Keivonn Montreal Woodard), who hold them at gunpoint. The four of them ultimately reach an agreement to travel through the city together, and successfully cross the city via underground sewers, arriving in a suburb just outside the city.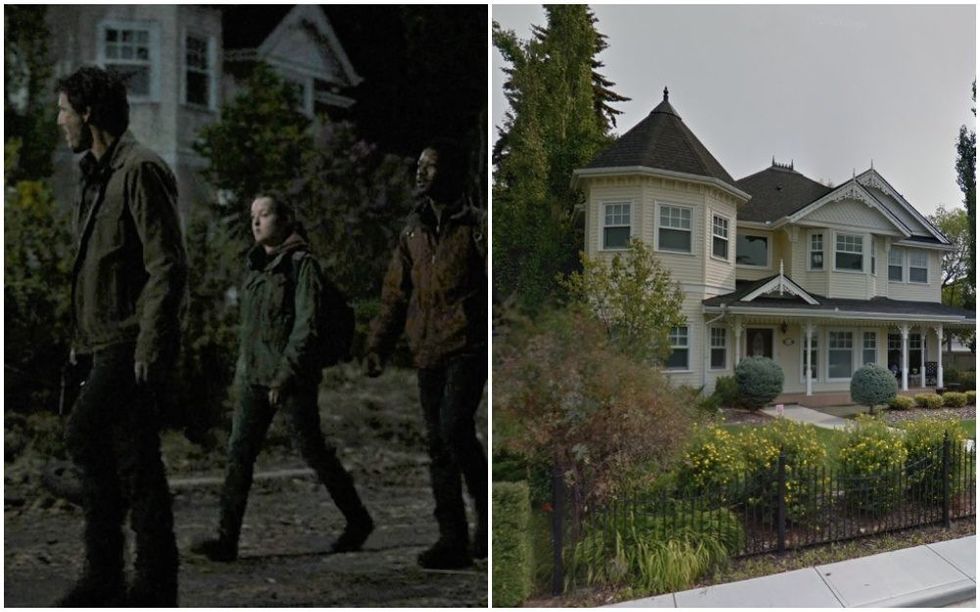 Left: A residential street the group passes through. / Right: A home on 1130 Crescent Road NW in Calgary. (HBO / Google Maps)
Shortly after the group believes they're free and clear, they are pinned down by a sniper in a lookout tower. Joel works his way through the neighbourhood to get to the lookout tower and kills the sniper, who alerts the militia within the city. The militia, led by Kathleen (Melanie Lynskey), arrives with a full army in an attempt to capture Henry and Sam, who Kathleen holds responsible for her brother's death.
Henry decides to turn himself in to protect his brother and Ellie, but before Kathleen and the militia takes him, a swarm of infected emerge from a hole in the ground and overtake the militia, giving Henry, Sam, Ellie, and Joel a chance to escape in the fray. The group camps out in an abandoned motel for the night. Sam tells Ellie he was bitten, but does not turn until the next morning, forcing Henry to kill him.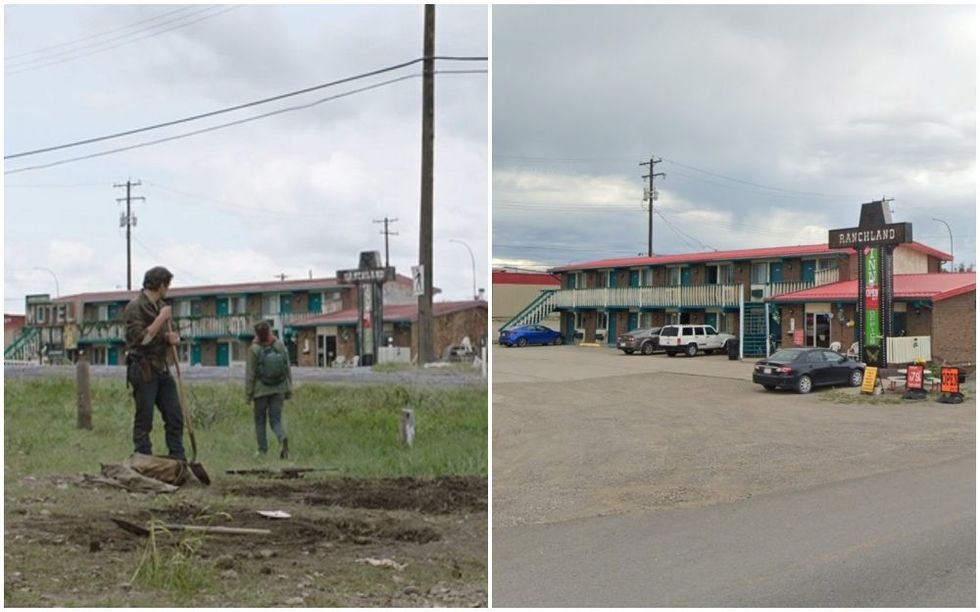 Left: The motel where the group stays at. / Right: The Ranchland Inn in Nanton. (HBO / Google Maps)
Episode 6: Kin
Months later, it's winter and Joel and Ellie finally arrive in Wyoming. They cross the "River of Death" and are immediately chased down by a group on horseback.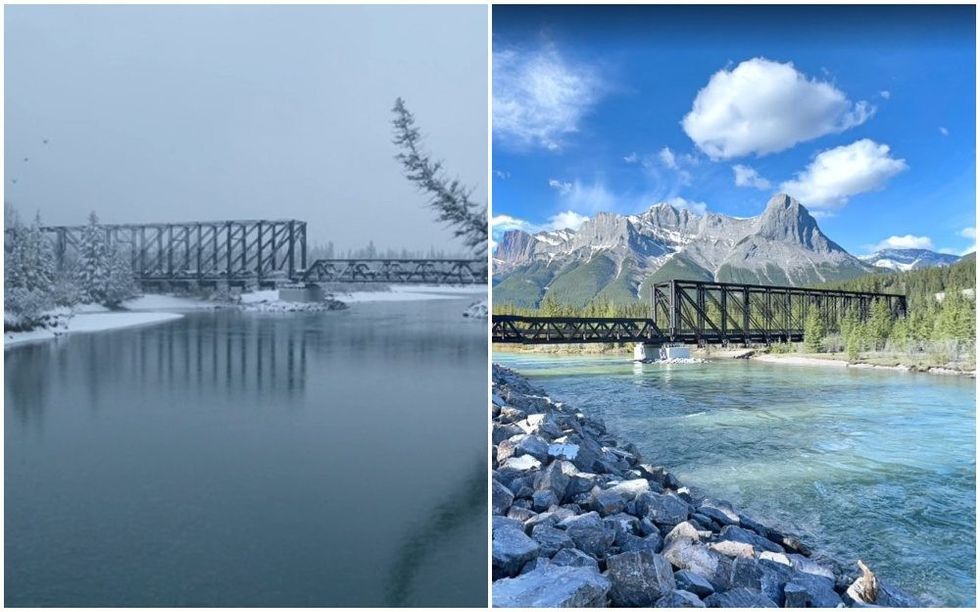 Left: The "River of Death." / Right: The Engine Bridge in Canmore. (HBO / Google Maps)
Joel and Ellie are brought back to a nearby settlement, where Joel is finally reunited with Tommy. Joel and Tommy catch up, while Ellie spends time with Maria, Tommy's wife.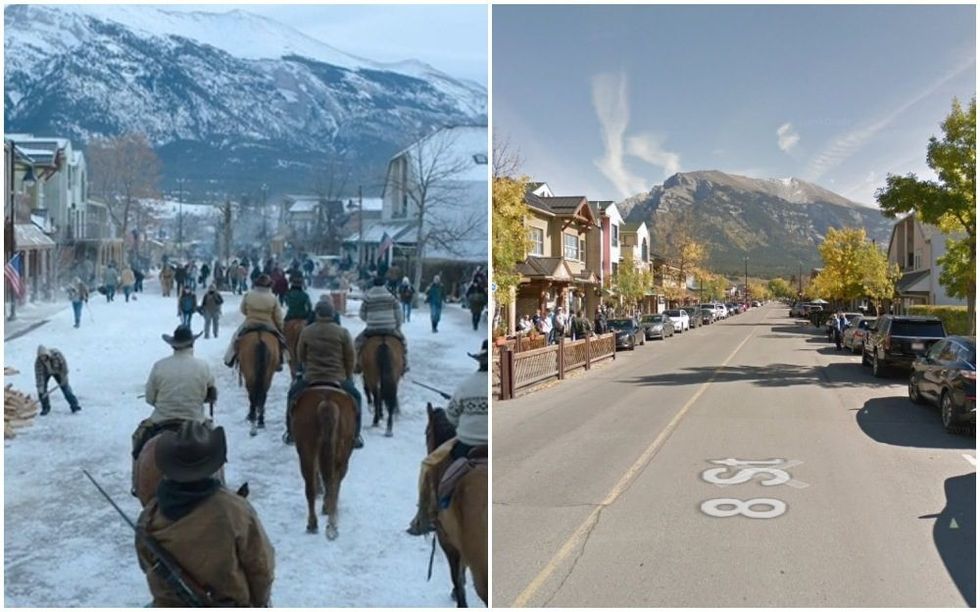 Left: Tommy's settlement in Wyoming. / Right: 8th Street in Canmore. (HBO / Google Maps)
Maria tells Ellie about Joel's daughter, Sarah, and then Ellie overhears Joel asking Tommy to take Ellie to the Fireflies in Colorado. After some argument, Joel lets Ellie choose. Ellie chooses to stick with Joel rather than stay at the settlement, and the two return to the road on horseback, to the University of Eastern Colorado, where they believe the Fireflies' scientists can study Ellie's immunity.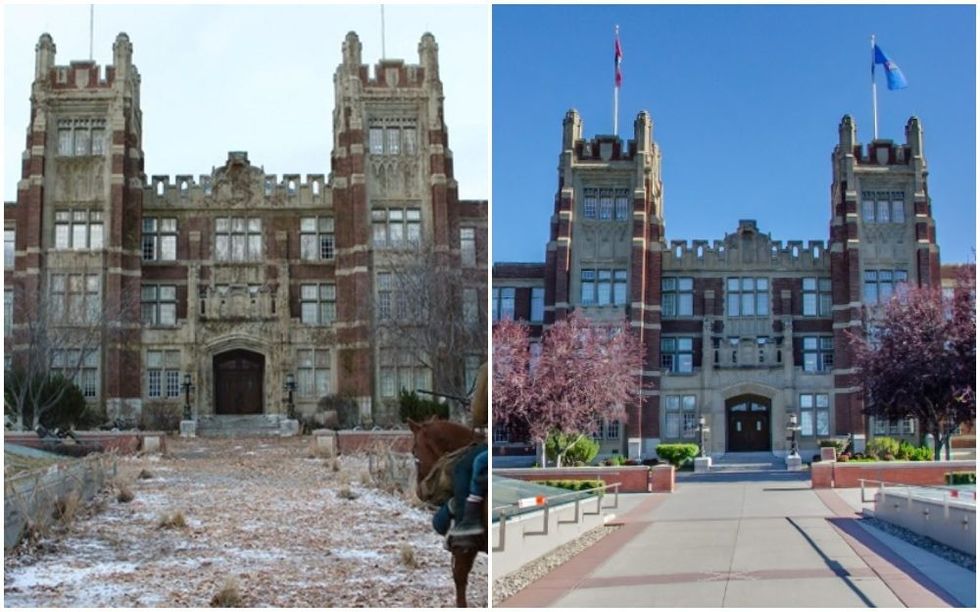 Left: The University of Eastern Colorado. / Right: The Southern Alberta Institute of Technology. (HBO / Google Maps)
After a few days, Joel and Ellie arrive at the University, but again find it abandoned. While looking through the building, a group of men arrive outside, forcing Joel and Ellie to engage in a shootout. The two of them ultimately flee, but with Joel severely injured from a stab wound.
Episode 7: Left Behind
Ellie finds an abandoned home where she hunkers down with Joel, who remains near-unconscious.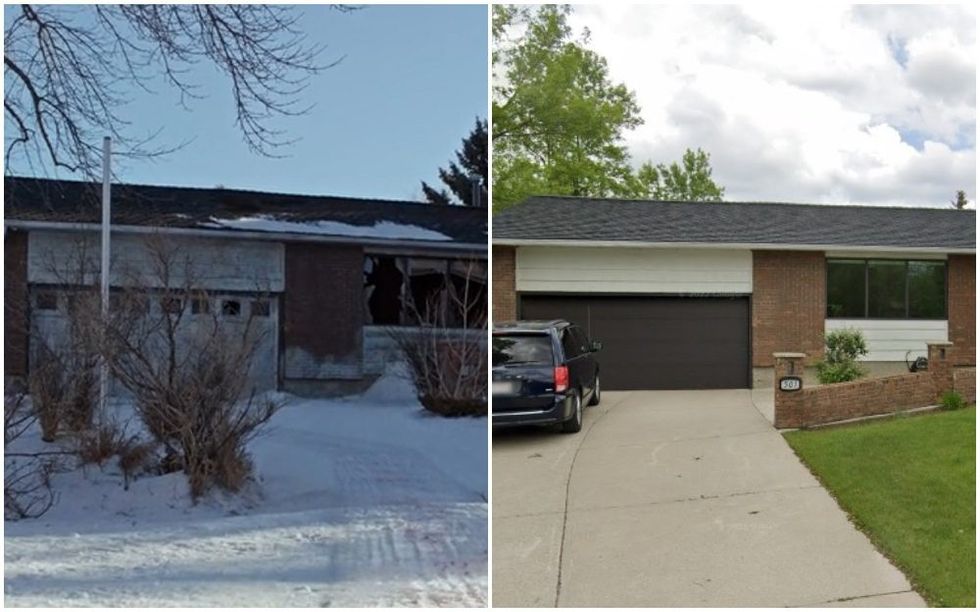 Left: The abandoned home where Ellie and Joel rest. / Right: A home on 501 400 Suntree Place in Okotoks. (HBO / Google Maps)
Joel tells Ellie to leave before he dies, and after refusing, Ellie leaves the basement. We then flash back to Ellie's life when she was living at a military boarding school run by FEDRA. Her friend, Riley (Storm Reid), has been missing, but returns one night, sneaking into Ellie's room. She tells Ellie that she was recruited by the Fireflies, and then takes Ellie to an abandoned mall she discovered.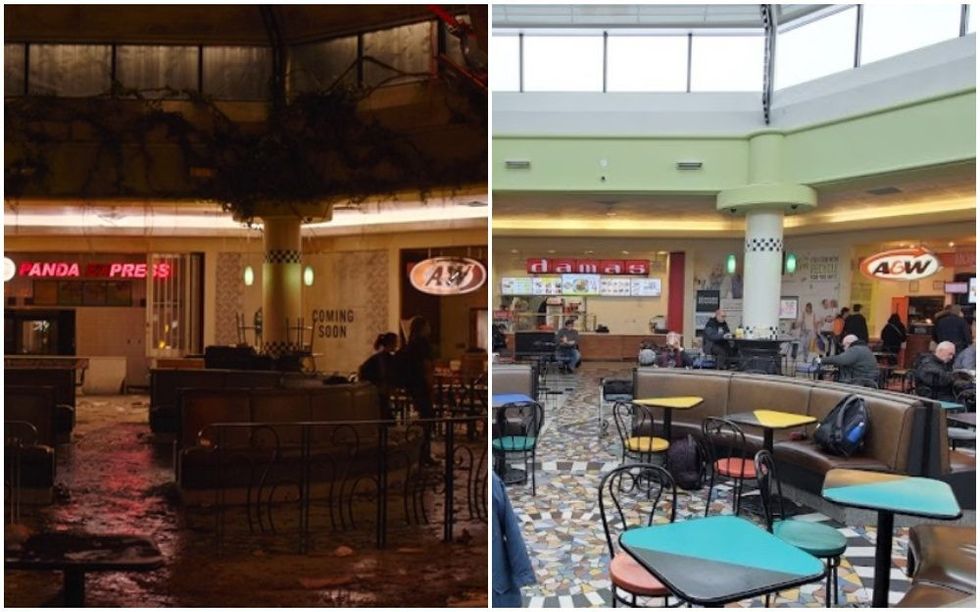 Left: The abandoned mall where Riley takes Ellie. / Right: The foodcourt at the Northland Village Mall in Calgary. (HBO / Google Maps)
Ellie has the night of her life at the mall, but then gets into an argument after Riley tells her that the Fireflies are sending her to Atlanta and that it's her last night. Ellie leaves, but later returns, and the two make up, but are then attacked by a lone infected. The two of them manage to kill the infected, but discover that they were both bitten.
Back in the present, Ellie remembers something Riley told her as they started coming to terms with their fates, with Ellie yet to know that she is immune. She leaves the basement where Joel is dying, but searches through the house, finds a needle and thread, and returns to the basement to sew Joel's wound.
Episode 8: When We Are In Need
Early in the penultimate episode, Joel recovers while Ellie decides to venture out to look for food and supplies. She shoots a deer, but it escapes. Ellie tracks down the deer, that has since been collected by a man named David (Scott Shepherd) and James (Troy Baker). After a standoff, Ellie agrees to give the men half of the deer in exchange for medicine, for Joel.
David sends James back to their settlement, a former resort named Silver Lake, to fetch the medicine. While waiting, Ellie realizes that the men who attacked her and Joel back at the University belonged to David's group and are seeking vengeance.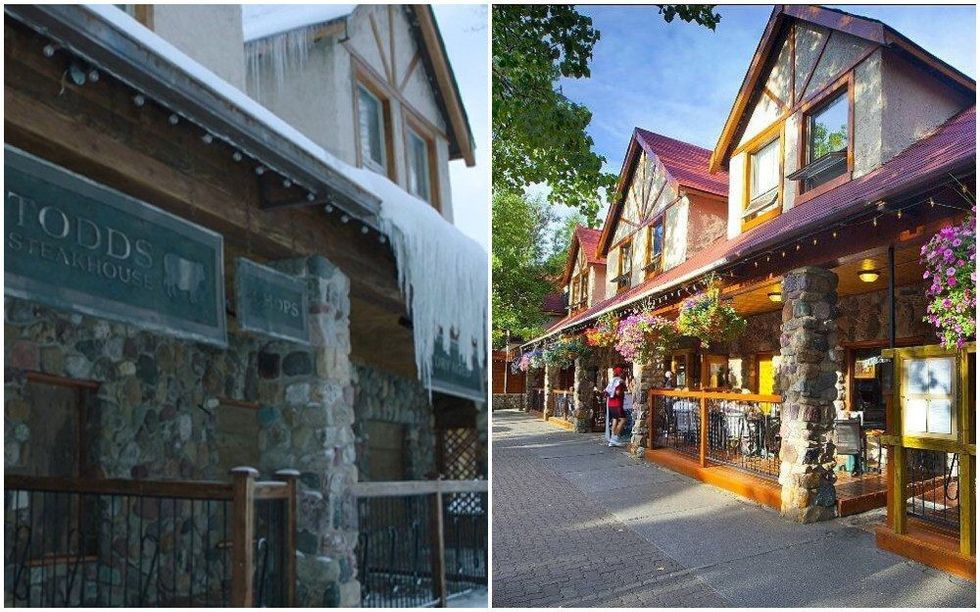 Left: The dining hall where David's group resides. / Right: The Bayshore Inn at Waterton Park. (HBO / Bayshore Inn Waterton, Instagram)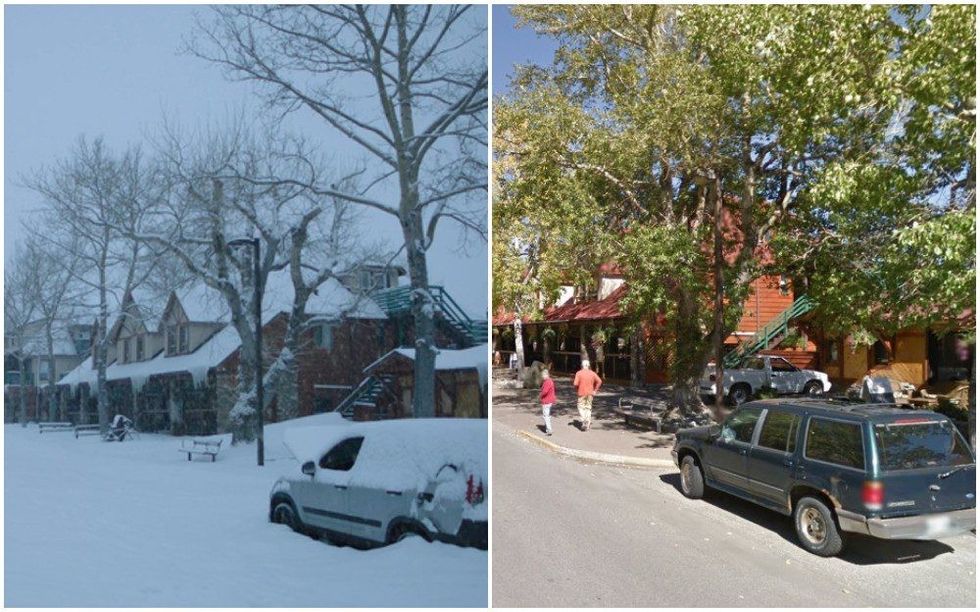 Left: A building in David's settlement, Silver Lake. / Right: A building on Waterton Avenue in Waterton Park. (HBO / Google Maps)
James returns and holds Ellie at gunpoint, but David tells him to give Ellie the medicine and let her go. Ellie returns to Joel and gives him the medicine. Shortly after, men from David's settlement come to the neighbourhood where Ellie and Joel are hiding out to capture Ellie and kill Joel. Ellie hides Joel, diverts the men's attention, but is ultimately captured, brought back to Silver Lake, and imprisoned.
Joel regains consciousness and fends off the men, in the process learning where Ellie has been taken. David tries to recruit Ellie to join him, but reveals his sinister side. Ellie manages to kill James, then David, and flees the settlement, running into Joel.
Episode 9: Look For The Light
The finale begins with an extended flashback of a woman named Anna running away from an infected. The woman is played by Ashley Johnson, who portrayed Ellie in the video game, and Anna turns out to be Ellie's mother, who gives birth to her as she gets bitten by an infected.
Back in the present, Joel and Ellie arrive in Salt Lake City, with Joel more jovial than usual and Ellie quieter than usual.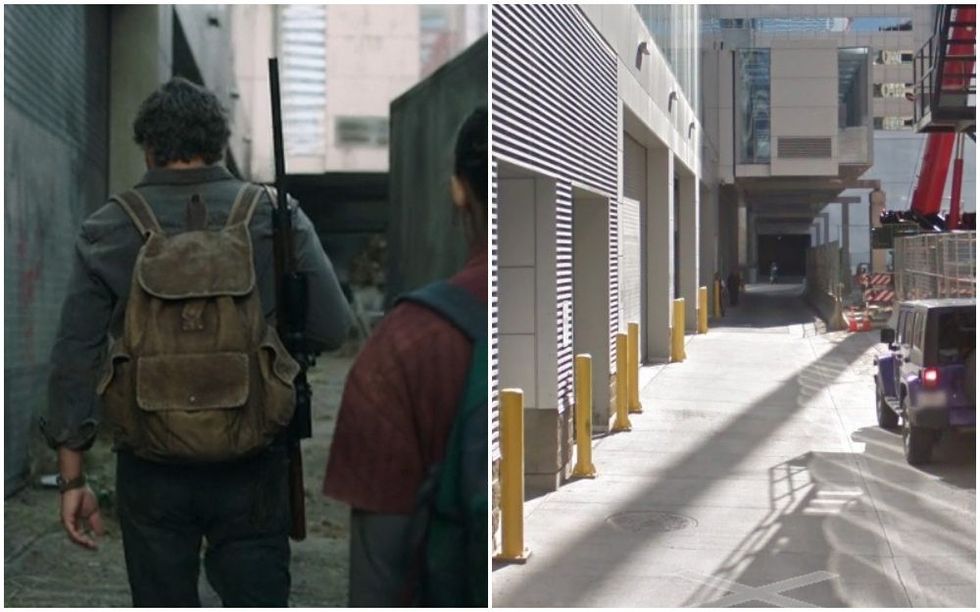 Left: An alley Joel and Ellie pass through. / Right: An alley near 8th Ave. SW and 5th St. SW in Calgary. (HBO / Google Maps)
After making their way through a few buildings, Joel and Ellie find an abandoned army medical camp and Joel tells Ellie about his experience in a similar camp immediately after the outbreak.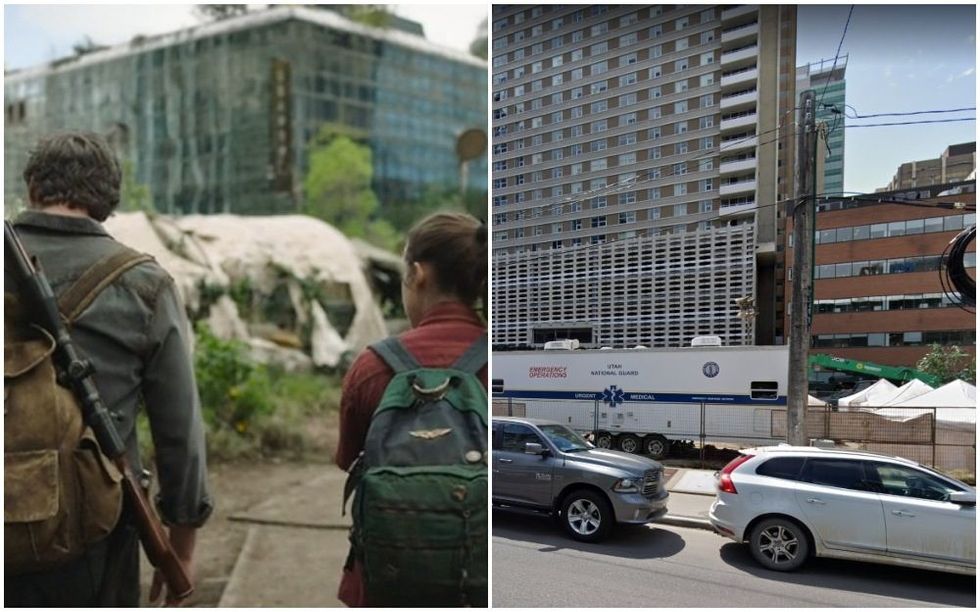 Left: A military medical camp in Salt Lake City. / Right: A set built on a parking lot on 615 4 Ave SW in Calgary. (HBO / Google Maps)
Joel and Ellie are then ambushed and captured by what turns out to be Fireflies. Joel awakens in an abandoned hospital and meets Marlene, the Firefly leader who asked him and Tess to escort Ellie. She tells Joel that Ellie is already in surgery so doctors can use her to produce a cure, a procedure that will kill her.
Marlene's men escort Joel out out of the building, but Joel fights back and proceeds to kill all the Fireflies in the building while looking for Ellie.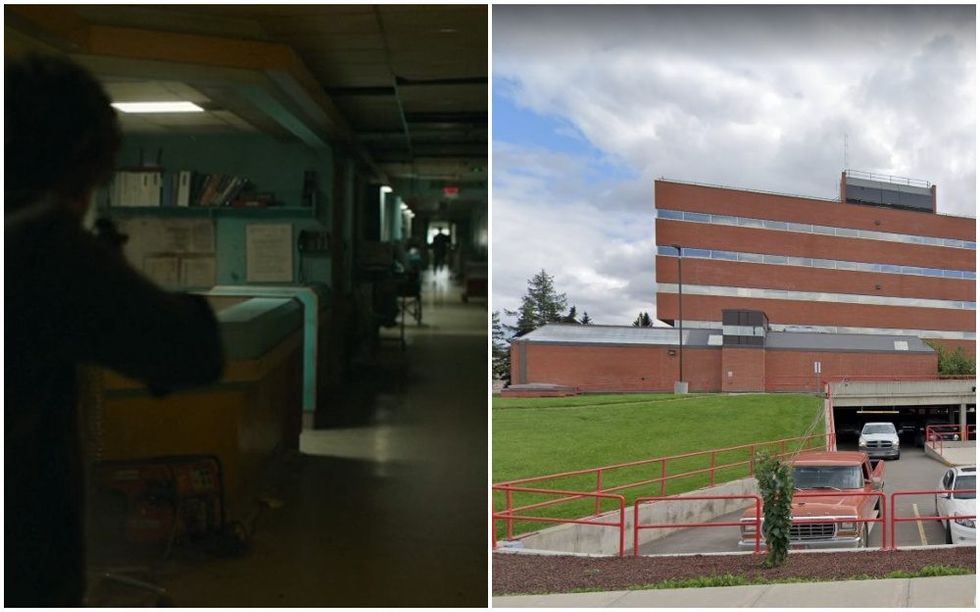 Left: The hospital the Fireflies hold Joel and Ellie in. / Right: The Queen Elizabeth II Ambulatory Care Centre in Grande Prairie. (HBO / Google Maps)
Joel takes Ellie and leaves, and begins driving back to Tommy's settlement in Wyoming, as he had suggested to Ellie previously, as Ellie recovers in the backseat.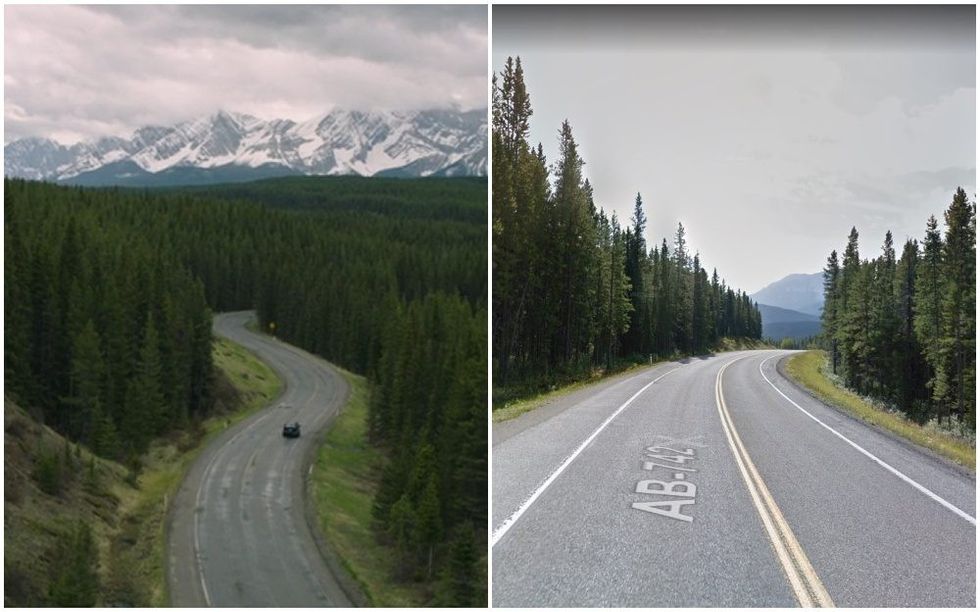 Left: A road Joel and Ellie drive through on the way back to Wyoming. / Right: Kananaskis Lakes Trail in Turner Valley. (HBO / Google Maps)
Ellie recovers, but their car breaks down just inside of Wyoming, so the duo continues traveling on foot, during which Ellie asks Joel about what happened at the hospital with the Fireflies.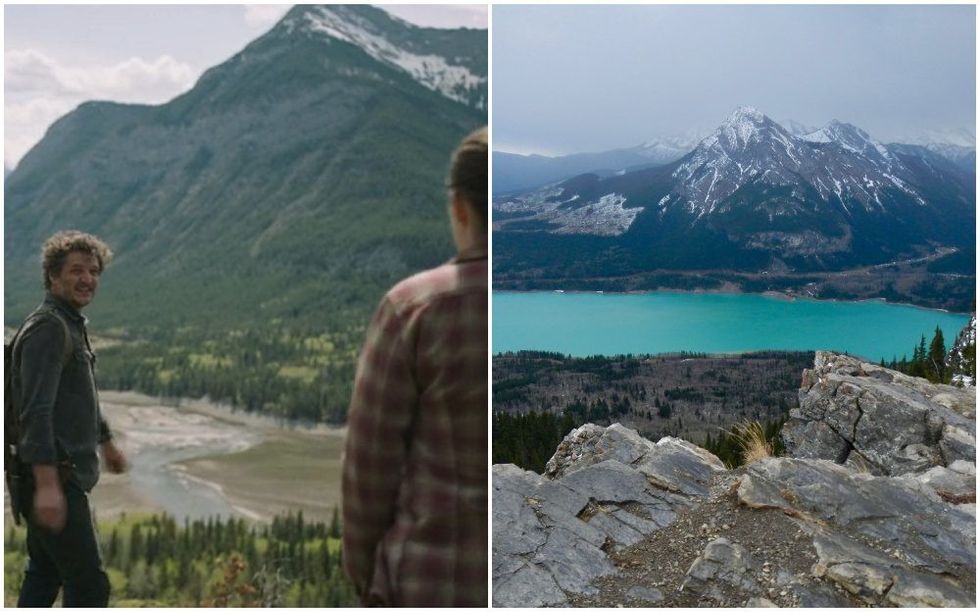 Left: The final scene of Season 1. / Right: Prairie View Trail overlooking Barrier Lake. (HBO / benandlarry, Flickr)
Joel swears that the version of events he told her was true. After an extended pause, Ellie says the final line of Season 1: "Okay."
HBO has already renewed The Last of Us for a second season, which the show creators say will cover only part of the second video game, The Last of Us, Part II, meaning we will likely be getting a third season as well. Filming has not yet begun.
All location information via Atlas of Wondersand MovieMaps.
Entertainment