---
A condominium rising in Toronto's east end is setting the stage for a new era that's washing over Danforth Village. 
The Dawes is the first high-rise development of an incoming 5,600 new residential units to land in the neighbourhood. This development has been crafted with urbanites – the ones who crave that city lifestyle, but who also appreciate the energy of a tight-knit community – in mind. 
Located at 10 and 30 Dawes Road, the mixed-use condominium will stand at the heart of this coveted neighbourhood, offering residents the perfect opportunity to unite at its stores and community centre. 
The condominium's developer, Marlin Spring, is one of the GTA's most reputable builders, having successfully completed numerous sold-out projects -- and there's no question as to why. For example, it's impossible not to swoon over the walk and transit scores attributed to The Dawes. Having transportation, shops and various eateries just steps away, there's always somewhere to go or something exciting to see, right outside the build's front door.
Main Street and Victoria Park subway stations are just a short walk away, meaning residents have easy access to subway lines allowing for a seamless commute throughout the city. Having the Danforth GO Station only minutes away folds into the address' transit score of 95. Indeed, this location is evidently a commuter's bliss. 
Convenience is something most crave in daily life, and this condo is serving it. Boasting close proximity to a wide selection of local bars and restaurants, alongside grocery stores, banks, and pharmacies, all you could ask for – from desires to needs – are satisfied. 
Only adding to the abundance of enjoyment, this neighbourhood is home to the area's largest shopping mall, Shoppers World Danforth. Located only a short distance by foot, this mall features a Lowe's, Shoppers Drug Mart, Staples, and Metro - proving a myriad of conveniences surrounding this development's sky-high walk score of 96. 
When the warm weather hits and residents are looking for a fun day in the sun, they'll surely be taken by the many outdoor parks in the area. Only minutes away from The Dawes waits something for everyone - Dentonia Park, Ted Reeve Community Arena, Ted Reeve Baseball Park, and, for those ready to practice their swing, Dentonia Park Golf Course.
READ: New West-End High Rise Promises Amenity-Rich Life in the Heart of the Action
Starting in the low 500's, the project offers a collection of studio, one-, two-, and three-bedroom suites. With three different colour palettes to choose from, each unit is carefully crafted to suit (and add comfort to) an active urbanite's lifestyle. 
Stepping into one of these gorgeous suites, residents will be met with 9' ceilings, serving a rare sense of abundant in-unit spaciousness. The light-filled kitchens are specifically designed to maximize space; the efficient layout utilizes a stacked washer and dryer, making room for full-sized stainless steel appliances.
And, as everyone knows how important a bathroom can be, these suites lean into the tranquil potential this private space holds: baths at The Dawes are complete with quartz countertops, frameless mirrors, and valance lighting. Morning routines here will be a joy to look forward to.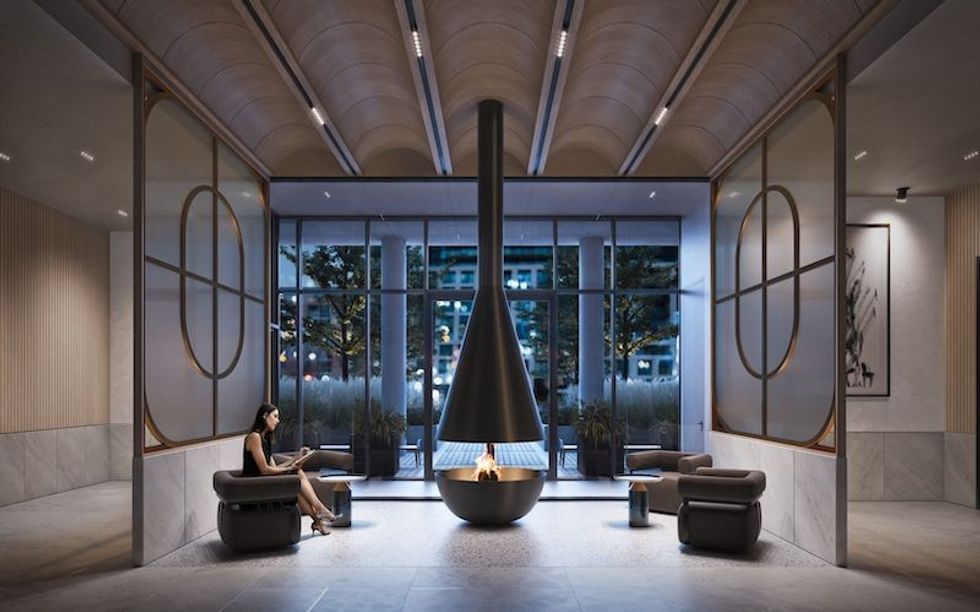 The Dawes Condo (Rendering)
This contemporary condominium is the quintessence of modern luxury and technological advancement. Serving the benefits of being a smart community, life at The Dawes features a resident app, digital key access, community messaging, package delivery notifications, video calling from the Entry System, and SMS text keys for guests to access when they visit. 
And when friends swing by, going out on the town will be an option, but not a requirement. The Dawes is home to a multi-purpose common area where groups can enjoy a cold beer while lounging and catching up. On warm days, basking in the sun while you BBQ and dine in the well-manicured seating area(s) and terrace will be on the menu, too.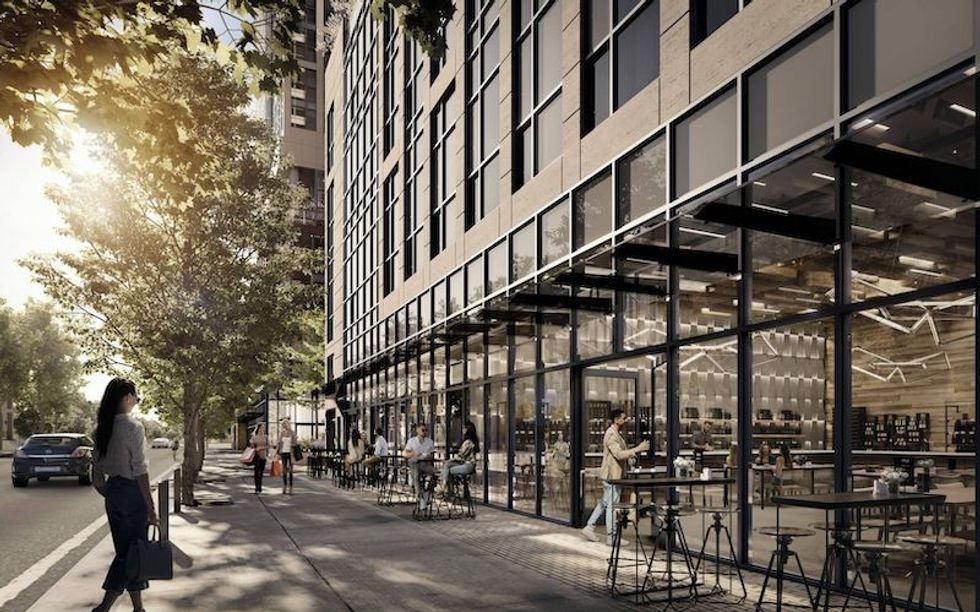 The Dawes Condo (Rendering)
To tap into those feelings of nostalgia, residents can relish time in the game room or screening room for hours on end – sometimes old favourites beckon, after all. And ideal for this remote-work era, the dedicated co-working lounge is a spot made for deep work and meeting deadlines. 
And, attention to all dog lovers: everyone adores a pet-friendly development. Residents will be able to pamper their pup at the pet wash area, following play dates in the pet-friendly outdoor amenity space. (Your furry friend will feel as at-home in this condominium as you will, no doubt.)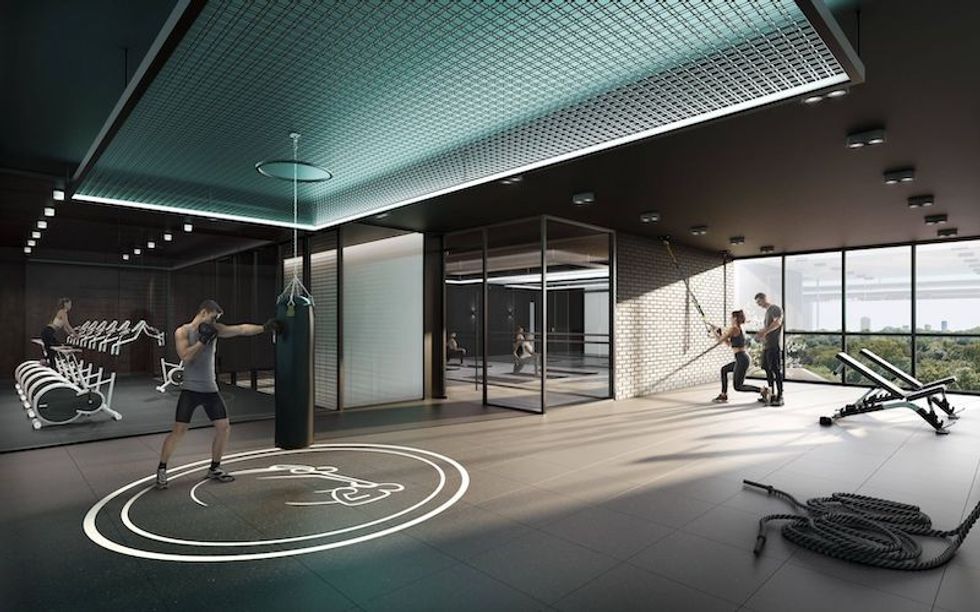 The Dawes Condo (Rendering)
Being the first of many developments to enter this area, The Dawes offers your last chance to get in on the ground floor of a neighbourhood on the rise. Whether you're looking for an opportunity to invest, a place to settle down with family, or to stake your claim on a solo abode, this must be the place. 
Where surroundings are concerned, Danforth Village visually takes you back in time. Modern living is paired with cultural tradition throughout the neighbourhood, and this balance is supplemented by plenty of green space, beach front, and lake views. 
If you want to call a piece of The Dawes your own, the time is now. With a plethora of business and residential projects rising soon in the area, this is your opportunity to experience all the action as it unfolds.
Click here to learn more about The Dawes.
---
This article was produced in partnership with STOREYS Custom Studio.
Future Developments