---
"I think I'm on my fifth career," former supermodel Monika Schnarre tells STOREYS of her recent move into the world of professional real estate.
This past summer, Schnarre joined the team of luxury realtors at Engel & Völkers.

The Scarborough, Ontario native began her international modelling career when she was just 14 years old, a job that would see her relocate to New York City that same year and to Los Angeles (LA) at 19. Her countless modelling credits include the cover of Vogue and the coveted Sports Illustrated Swimsuit Edition. In LA, Schnarre attended the University of California, Los Angeles (UCLA) and worked as a television correspondent and an actor (she appeared on Bold and the Beautiful and in "lots of sci-fi").  
After returning to Toronto in 2007 and living between there and Muskoka for years, Schnarre now enjoys a slower paced life in Collingwood with her young son. The transition to both a less urban life and into the real estate career was a natural one for her.
Schnarre purchased her first home when she was a teenager -- a Pickering property that she held on to for 15 years -- with the money she earned from modelling. "My mom had always instilled in me that real estate was a safer investment and it was something tangible that we could understand," says Schnarre. "And I've loved real estate ever since."
Image: Helen Tansey
Schnarre went on to flip condos and homes for years in both Vancouver and Toronto, two of Canada's priciest housing markets. She did so to supplement her acting income. 
"When I was living in Vancouver, I began renovating homes with a former partner, and I loved the whole process," says Schnarre. "Over the years, I have always asked myself, 'why don't I get my real estate license?' Then, during the pandemic, it felt like the right time. I was home for days on end, so I had the time to study; I finished the courses in a year, while homeschooling my son."
There were some surprises in getting her real estate license, says Schnarre. "I was pleasantly surprised with how in-depth they go," she says. "I was expecting to focus only on residential real estate, but the Humber College course really educates you in terms of commercial and industrial real estate too. I know more about building than I did when I was in Vancouver. They really educate you on all aspects of real estate. Now, when someone asks me about a dug well versus a bored well, I understand."
Skills from her previous careers also help her venture into the professional real estate world. "The people I have met from all walks of life really help," says Schnarre. "I am in an enviable position because I have so many contacts -- to coin an old phrase, a very old rolodex. And I am very comfortable meeting new people and acting the part."
Not only does her acting background help her play the role, it adds a boost of confidence -- a needed trait in a saturated industry.
"You go into these situations where you don't know anyone and you have a listing presentation and you have to exude a certain amount of confidence, even if you're new," says Schnarre. "Acting has helped with my confidence during these presentations. The modelling -- not so much. It hasn't played a role yet." 
Actually, that's not true, retracts Schnarre. "I was modelling for a luxury Yorkville developer who is selling homes at 89 Avenue Road," she explains. "When I told them I was getting into real estate and they asked if I would like to sell some condos, and I said 'absolutely.'"
Schnarre says the Toronto-based opportunity works well because she travels to Toronto once a week to visit her parents. She is currently a member of both the Toronto Regional Real Estate Board (TRREB) and The Lakelands Association of Realtors, which services the sought-after Muskoka and Collingwood regions. In addition to the luxury Yorkville condos, Schnarre currently has a Meaford ski chalet (or year-round home) listed, in addition to a single-family home in Collingwood.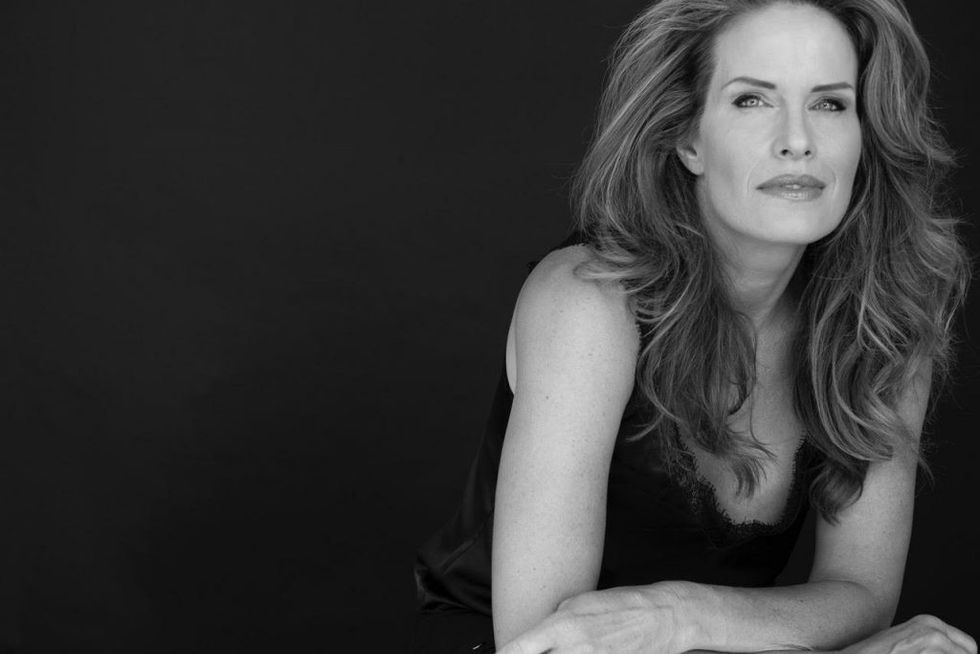 Image: Helen Tansey
"I feel a sense of respect now from people; I didn't anticipate that," says Schnarre. "People come to me for advice, and I love that. I feel I could help people in really tangible and positive way. I wouldn't have met my ex-husband and had my baby had I not met this real estate agent who helped me buy my cottage in Muskoka. So, I always think about [the fact] that you change someone's entire life by where they live; who they date, how much money they make on their investments, and their entire quality of life. You can really impact people's lives in really positive ways."
From the sounds of it, a move to the real estate world has impacted Schnarre's life in positive ways too. 
"I really feel proud and a great sense of accomplishment to have my license, because I always have respected the business and understood how hard it is," adds Schnarre. 
Real Estate News