---
A currently rundown and uninspiring block at the northeast corner of Broadview and Eastern Avenues could undergo a massive makeover. 
A new application submitted to the City by Streetcar Developments wants to replace a series of derelict and depressing townhomes on Broadview with an eye-catching 12-storey mixed-use building. It would house a total of 340 residential dwellings. 
Danish architecture firm CEBRA has joined forces with Toronto's Kasian Architecture to create a futuristic design that will redefine the intersection for years to come. With its use of different brick and metal materials, it will represent a refreshing contrast to the over-saturation of towering glassy condos that have shot up in Toronto in recent decades. 
With a working title of "Broadview and Eastern," the project at 21 Broadview Avenue will offer 110 one-bedroom, 195 two-bedroom, and 35 three-bedroom units. Perfect for families, the development would feature fifteen townhouse units. The total complex would comprise 316,802 square feet of space.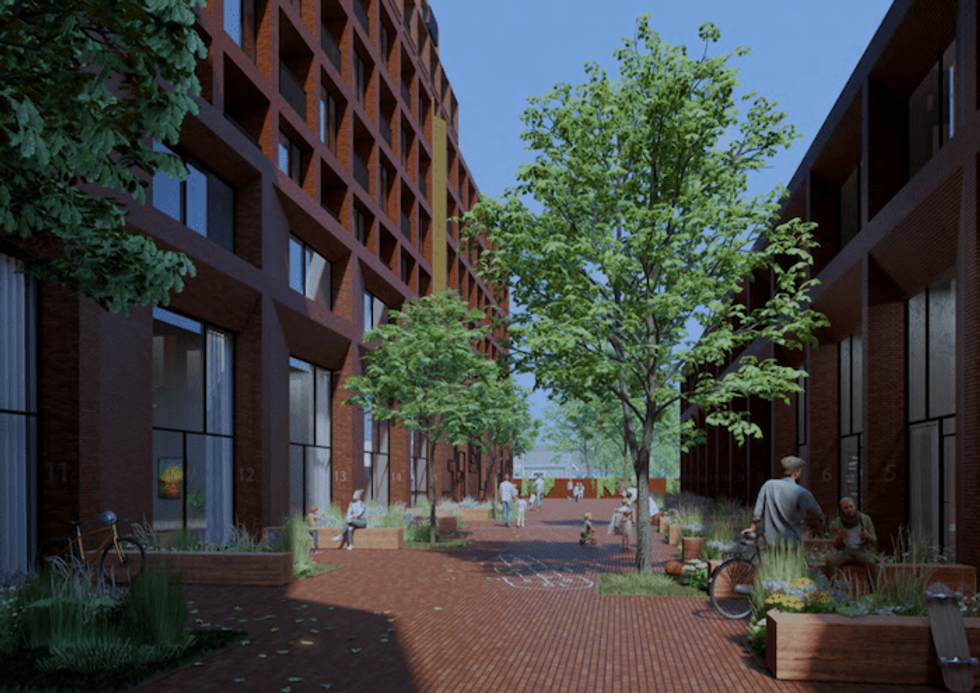 Rendering by CEBRA via submission to City of Toronto
On the ever-important outdoor and green space front, the building would feature a private courtyard for residents and add a public park to the family-friendly neighbourhood. Furthermore, the development will add 8,552 square feet of new retail space. 
Along with demolishing the townhomes, the development would take over the land of the current Downtown Hyundai Toronto car dealership, an Eastern Avenue repair garage, and pre-purchased portions of backyards on Lewis Street in the undertaking.
In addition to its easy-on-the-eyes and conversation-provoking design, the proposed building will shine in the location department, sitting steps away from the storied Broadview Hotel -- also owned by Streetcar Developments -- and Leslieville's countless colourful shops and restaurants.
Real Estate News