Toronto
Urban Living
Colourful Public Art Exhibits Popping Up at Distillery District
Now that the warm weather has arrived, Toronto residents will be looking for any excuse to get outside to make the most of the sunshine. Serving as a great (COVID-friendly) activity is four new public art exhibits that are now on display in Toronto's Distillery District.
The exhibits are part of the seventh annual design competition Winter Stations, which has launched its Spring Stations installations. Organizers had initially postponed the traditional Family Day launch on the Beach earlier this year due to the pandemic.
However, with improved weather and plans to promote social distancing in place, the team has brought the winning designs to life as part of a never-been-done-before Spring Stations program in the historic district.
The public can now check out the three exhibits: ARc de Blob, From Small Beginnings, and The Epitonium at no cost along Trinity Street and Gristmill Lane.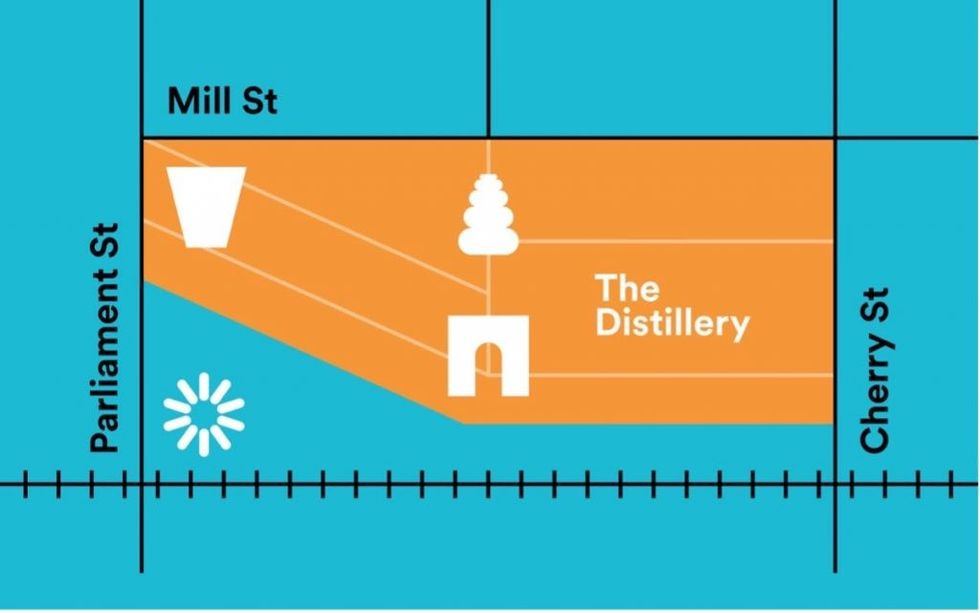 READ: Centennial Park is Getting a (Gradual) Upgrade-Filled Makeover
A fourth station, THROBBER, is also on display at 33 Parliament Street, directly south of The Distillery District, through a partnership with Graywood Developments.
"After the challenging year we've had, we're hopeful that these three beautiful installations can safely bring some hope and positivity to our visitors," said Elena Price, General Manager, The Distillery Historic District. 'We're very excited to welcome a beloved Toronto event to our property, as we see new and familiar patrons returning."
For the 2021 competition theme 'Refuge,' organizers invited artists to reflect back on the year we have left behind and consider what refuge means to each of us in their submissions.
Here's a look at what visitors can expect to see.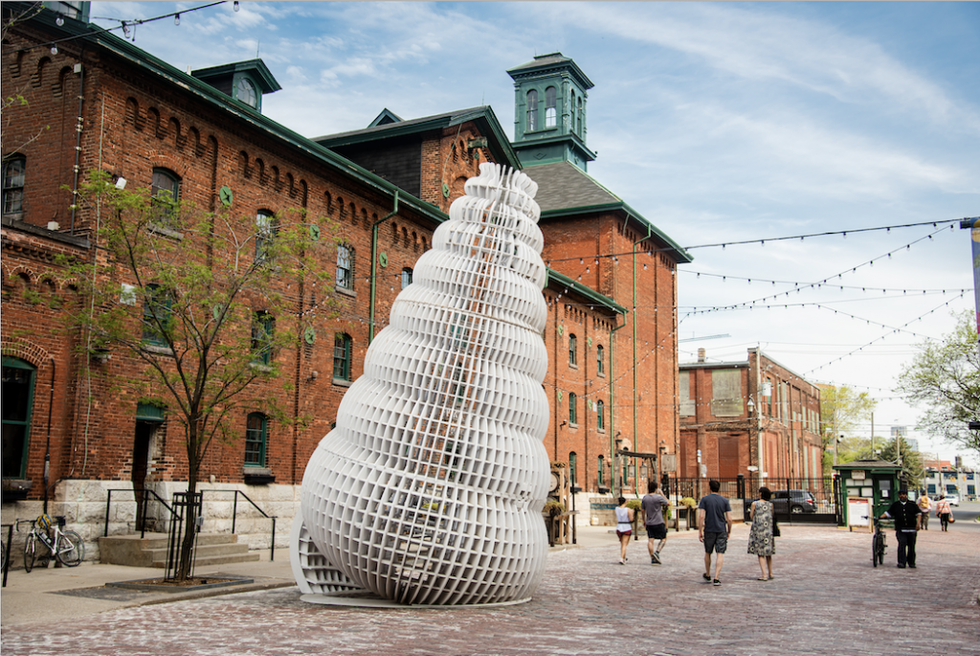 The Epitonium by M. Yengiabad is inspired by nature, created to imitate the epitonium seashell.
"Throughout history, humankind has always strived to learn and be inspired by nature to engage in new experiences and provide a better life for themselves and others. Nature is the source of inspiration for architects, artists and scientists. It's our origin and destination. Including not only external environments such as clouds, trees, sea, mountains and animals, but also buildings, components and materials. By building structures with forms familiar to us, creating two-dimensional graphics, and architecture with thickness, depth and volume, it can complement nature and be part of it. The Epitonium creates a beautiful, functional landscape. This idea causes natural shelters to become a refuge. The design is inspired by epitonium, a type of seashell, and is in great harmony with its location."
Created by Jack and Charlie Leather, From Small Beginnings features interlocking shelves covered in spruce seedlings.
"The great outdoors has been where many have found solace, perhaps unexpectedly so, over the past 12 months. A year like no other, great enjoyment has been found in returning to more holistic roots. From Small Beginnings hopes to seize this movement; whilst giving platform and space to embrace new opportunities ahead. Through shelves bearing a future forest, the installation allows visitors to seek refuge from harsher elements, whilst encountering strangers from a safe distance or enjoying quiet reflection. Only upon entering, the brighter interior is revealed; symbolic of the opportunities that rise from challenging periods. Like the seedlings, which can be replanted, we are all simply at the beginning of our journeys."
Visitors are encouraged to take a sampling home with them and then replant it on their own.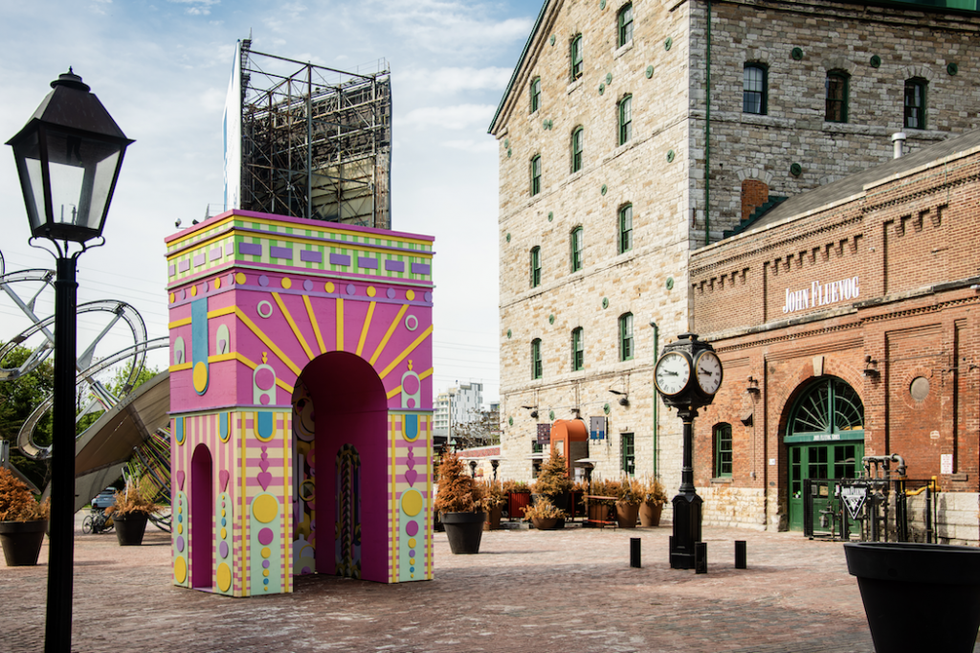 Aleksandra Belitskaja, Ben James, and Shaun McCallum's ARc de Blob is a colourful, arched landmark that serves as a point of orientation, interaction, and refuge.
"This architectural object creatively mixes physical materials with the ability to digitally interact and connect through a Mixed Reality App. The installation creates incredible virtual worlds – a figurative refuge where we can interact, connect and play. The physical form references iconic architectural composition and elements; and is contrasted with colourful materials and patterns that create a warm and welcoming shelter. The arch itself acts as a frame for a virtual portal/refuge seen in Mixed Reality – a space of new digital worlds: creative environments designed to encourage visitors to play and interact together digitally and physically. Ultimately, the piece is an evolving mix of digital art and physical architecture that creates playful interactions between these realities."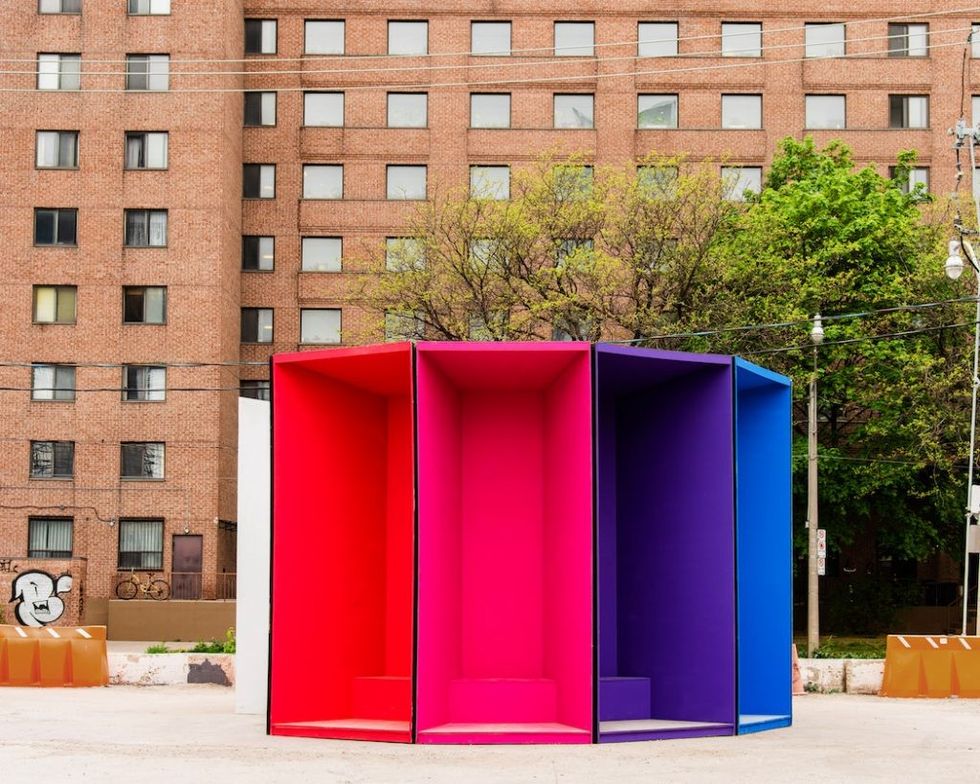 THROBBER by Heidundgriess is described as "The reasons why people seek refuge are as diverse as people themselves. They wait. The walk-in installation consists of 10 small trapezoidal rooms 'shelters', lined up next to each other, each in monochrome. In combination, they form the colour spectrum of a rainbow. Inside, the colours are reduced to grey. From an aerial view, it forms the shape of a "throbber", an icon used computer programs (waiting, buffering). This icon is adopted from digital to real world as a symbol for the active experience of time, a transition where different perspectives, longings, hopes and motivations come together. The installation is an invitation to perceive similarities and connections with others, despite individual differences."
The winning exhibits are now on display and will be open to the public until late July.