Sobeys just got greener.
The Canadian grocery store chain announced Wednesday it's officially eliminating all single-use plastic bags from its stores as of Friday, January 31, 2020. This major feat comes just six months after the retailer first announced its plans of removing unnecessary plastic from its stores and its goal of focusing on promoting reusable, sustainable alternatives.
---
Starting this Friday, Sobeys will remove all plastic grocery bags from its 255 Sobeys stores across Canada. This includes six locations in Toronto proper.
READ: All Single-Use Plastics Could Be Banned In Canada As Early As 2021
As a leader in sustainability, Sobeys is now the first national Canadian grocery retailer to ban single-use plastic bags, taking 225 million plastic grocery bags out of circulation each year.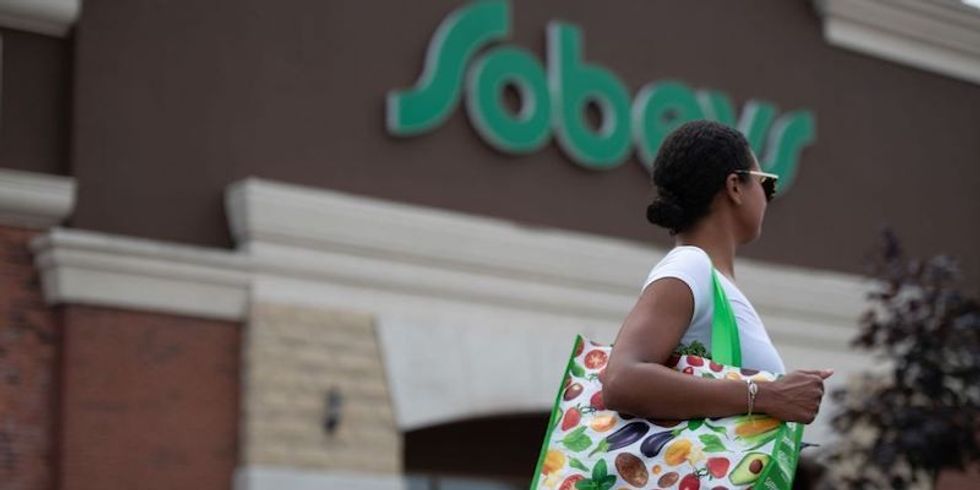 Image courtesy of Sobeys
"Knowing that plastic use is not something we can recycle our way out of, it will take a combination of reducing, reusing and recycling to make an impactful and sustainable change," said the grocer in a statement.
According to the retailer, following January 31, Sobeys' other brands, including Safeway, FreshCo, Foodland, and others, will also work to phase out single-use plastic checkout bags at their stores.
"So many of our customers and our employees have told us loud and clear -- they want us to use less plastic -- and we agree with them," said Michael Medline, President and CEO, Empire, in a statement.
"This is a first step, and we plan to make meaningful progress every year to take plastic out of our stores and our products. We decided to act now instead of taking years to study and only make long-term commitments. We're taking action now, making a tangible difference today and into the future. This is a significant first step, but it's only a first step. We need to go further, and we will."
Sobeys is encouraging shoppers to remember to bring their reusable bags every time they come in to grocery shop.
If you forget, Sobeys sells large reusable grocery bags for .99 cents, smaller reusable bags for 25 cents, and paper bags for 10 cents, with a portion of paper bag sales going to plant trees in Canada.
Toronto