Developer Oliver Webbe hadn't realized the serious shortfall of seniors' housing until earlier this year, when his own parents-in-law could no longer live independently due to health issues.

The Chief Executive Officer of Darwin Group says he and some of his friends are seeing parents in sudden need of assisted living care, and they are realizing the serious lack.
---
In his case, his in-laws, a former school principal and former nurse, lived comfortably in a two-bedroom condo in North Vancouver, living independently until shortly after Christmas, when they suddenly needed assisted living. But because they owned their home, the elderly couple didn't qualify for low-cost subsidized housing. It meant they had to fork out more than $15,000 a month to a private care home — the only unit available on the Northshore.
Webbe's mother-in-law died recently, so his father-in-law is left on his own, spending his life savings on end-of-life care. And because there isn't rent control legislation to protect this type of seniors' housing from increases, management could raise their rent next month, he says.
"I've lived on the Northshore most of my life and I'm 43 years old, and most of my friends are starting to experience this with their parents," he says. "We are starting to see this as a common conversation my friends are having all of a sudden, due to health conditions, mental health and Alzheimer's, we are now starting to look around for facilities that our parents could move into… And we are shocked with how expensive it is."
Darwin's 6.6-acre Lonsdale Square development in the city of North Vancouver includes a seniors' assisted living facility with a memory care unit. Operated by Sunrise Senior Living, the six-storey facility will include 100 units for assisted living and memory care.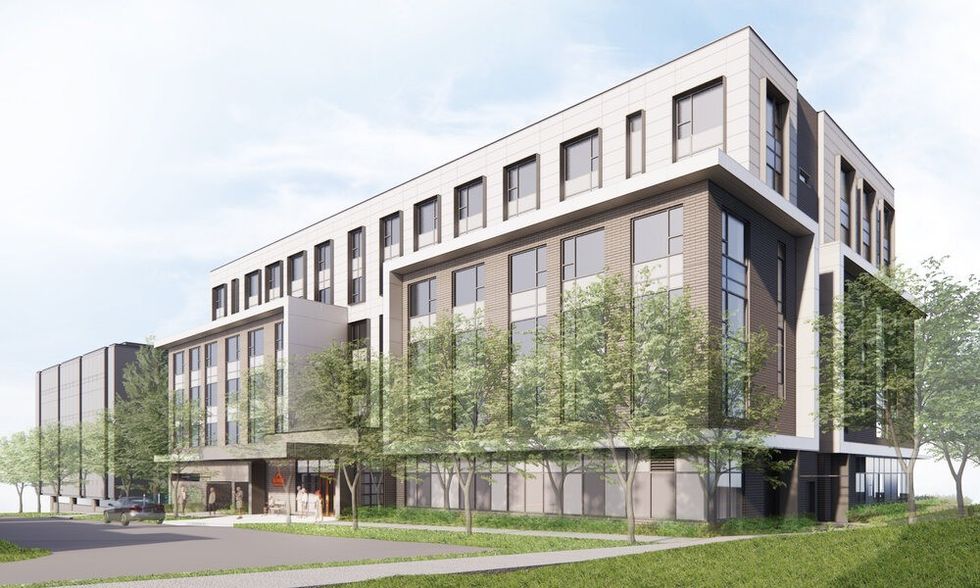 A rendering of Darwin Properties' senior living residence. (Darwin Properties)
One reason for the shortage is due to the timeline in building senior care. It's been a six-year process, says Webbe. Their rezoning application was submitted in 2018 and the facility is expected to complete in early 2024.
Darwin, a long-time general contractor that began developing their own Northshore projects about a decade ago, partnered with Minto Properties on Lonsdale Square. The project includes a 113-unit rental building and 8,100 sq. ft of retail. The company does mostly rental housing and has also built a number of social housing units in Vancouver.
Webbe discovered that there is a "missing middle" for seniors with health issues, including dementia. He's seeing others in his age group experience the same challenge.
And so, he's stepped up, developing a privately funded seniors' assisted living and memory care facility in the City of North Vancouver, the first of many such projects for Darwin.
"Most of our focus is market rental housing, and we have decided that we are going to look at partnerships to basically increase the supply of memory care facilities on the Northshore," he says. "We have probably over 65 acres of land in various stages of redevelopment and right away we decided to incorporate assisted living facilities into our projects."
Darwin only invests in real estate on the Northshore even though the company does merchant development elsewhere.
"My hope is to share our story or our findings so that more people can understand what is going on with this market," he says.
He found that there are about 40,000 people over 65 living on the Northshore, comprising more than 20% of the population.
Meanwhile, there are only 400 or so privately funded assisted living or memory care units, or one per 100 senior citizens living on the Northshore. When he needed to find a place for his in-laws, there was only the one unit available, at $15,000 per month.
"I think this market is probably a really good example of what other markets are experiencing, and my family has unfortunately experienced firsthand with my in-laws.
"Most of our friends are starting to experience this with their parents. With 40,000 seniors on the Northshore, we are starting to see this as a common conversation that my friends and I are having, due to health conditions, mental health and Alzheimer's.
"Two of my friends had the exact same experience, and we are shocked with how expensive it is."
His research team found that the current starting price of a seniors' 325 sq. ft. one-bedroom unit is $10,000 per month, and that's without any care. If any care is required, such as help with daily medications, the senior adds about $700 a month to that rent. If they have mobility issues and need help walking to the dining room, for example, they can add about $1,500 a month to that $10,000 a month rent, says Webbe.
And because there's nothing available, they'd be lucky to find that.
Barbara J. Kirby is a former investment adviser who now works as a seniors' advocate in Vancouver, North Vancouver and Richmond. She helps people find housing and she also helps families across Canada navigate their way through the health care and housing systems when a loved elder needs help.
She gets around 10 calls a week and a lot of her work is listening to their stories and pointing seniors in the right direction. The biggest mistake they make is underestimating how much savings they'll need for their senior years, which can easily cost $15,000 a month whether it's for assisted living or 24-hour at-home care.
Sometimes, she helps people who are living in assisted living and their savings have run out.
"I get the call from the home saying, 'We can't keep her here, you have to help her,'" says Kirby. "We go through the health authority and if it's urgent, she's given the first available bed, or if we're lucky, we can choose our top three choices… but sometimes those waiting lists for beds are one or two years."
Kirby says that senior housing is in extremely short supply, especially facilities with memory care units. There are homes that are cutting out memory care entirely because of all the resources involved in maintaining such demanding care.
"Between North Vancouver and Vancouver those types of accommodations are sparse and very expensive," she says of the type of housing that Webbe's in-laws needed. "And if you want subsidized, it's also very complicated, the waiting lists are long."
Real Estate News