Die-hard fans of the popular Canadian series "Schitt's Creek" could soon own a monumental piece of history from the show -- and no, it's not one of Moira Rose's fabulous wigs.
The property that plays the role of the Rosebud Motel in the hit TV series -- which swept the 2020 Emmys earlier this month with a record-breaking seven honours in a single season, including best comedy series, lead actor and actress for Eugene Levy and Catherine O'Hara, and supporting actor and best writing for Daniel Levy -- is poised to hit the market next month, owner Jesse Tipping confirmed to the Orangeville Banner.
---
Used as the filming location for the hit comedy series, the Hockley Valley property, which sits just over an hour north of downtown Toronto, features eight apartment-style rooms and a three-bedroom dwelling.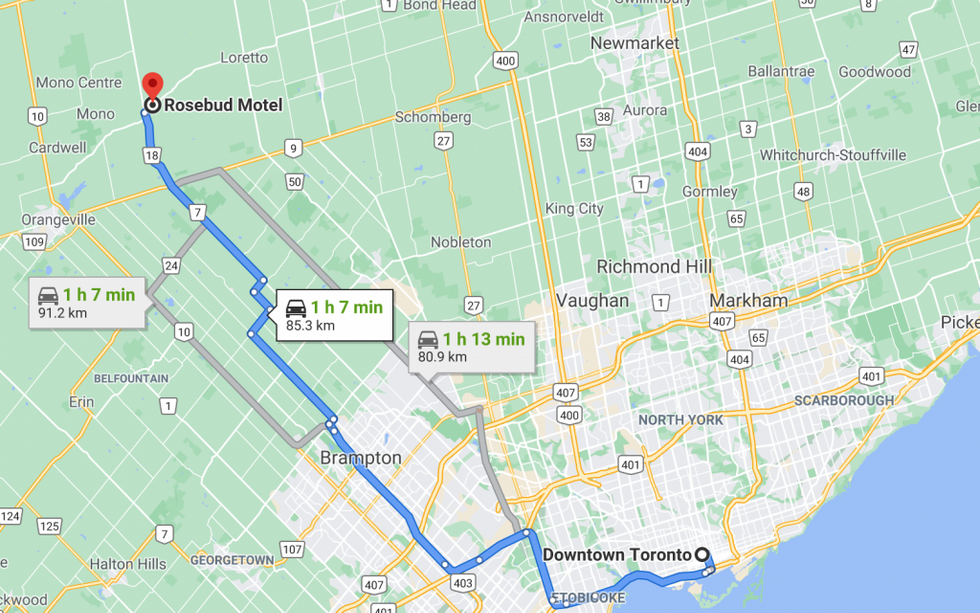 'Rosebud Motel', Hockley Valley
Tipping said he first bought the property in 2011 to house recruits for "what's become the most successful prep school basketball program in Canada." Over the years, former Orangeville Prep alum and budding NBA superstar Jamal Murray of the Denver Nuggets lived there for two years as did Miami Heat training camp invitee Kyle Alexander.
When Tipping made the purchase, the property was listed on a "filming location" database for television shows movies and has served as a set location for David Cronenberg's "A History of Violence" and television shows such as "11.22.63," and Netflix's "The Umbrella Academy."
READ: Let's Have A Cocktail With Dan Levy And Toast Schitt's Creek Farewell
Tipping says he has even rented rooms at the motel on Airbnb for a couple of years.
Regarding the Canadian hit show, Tipping says he received a call "out of nowhere" from a location scout and was told a group was looking to shoot a pilot for a show named "Schitt's Creek," and as they say, "the rest was history." The Schitt's Creek crew went on to rent out the motel for a full month every year for the past six years.
And with the famed show officially coming to a close, now might be the perfect time for the property to hit the market.
Sure, you won't see Johnny Rose (Eugene Levy) or Stevie Budd (Emily Hampshire) working the check-in desk or Alexis Rose (Annie Murphy) strutting across the gravel driveway in her stilettos, but the new owner will surely see daily visits from fans of the beloved show. Tipping says some have travelled from as far away as Australia and England.
While the asking price isn't available, if it weren't for the COVID-19 pandemic, Tipping says he would have already listed it for sale. Instead, he decided to open it up to a local organization in need of space for people to quarantine -- something we're sure the Rose family would approve of.
Real Estate News