Toronto
Real Estate News
"Unlike Anything I've Experienced": Ryan Serhant Talks Toronto Real Estate
"Toronto seems like one of the strongest real estate markets in the world," says Ryan Serhant in an interview with STOREYS.

The New York City-based celebrity realtor and bestselling author was in Toronto last month, making a guest appearance at an event to mark the unveiling of NTRY, a new virtual 3D real estate tool. The first-of-its-kind technology offers a futuristic real estate visualization platform to showcase, market, and sell properties online.
Once a struggling theatre actor, Serhant is now one of the most successful realtors in America. But his face is a familiar one outside of the elite real estate circles, thanks to his starring role in Bravo's series Million Dollar Listing New York and its spin-off Sell it Like Serhant. Serhant is also the founder of SERHANT, a vertically-integrated mega brokerage comprising an in-house film studio, education arm, marketing division, and technology platform, that launched in 2020.
While he closes multimillion-dollar deals all the time (he's no stranger to price tags over $100M) — everywhere from Manhattan's Upper East Side to Palm Beach — Serhant sounds genuinely intrigued by Toronto's current real estate market.
"It's unlike anything that I've personally experienced; where — when you put a new building on the market — they sell out towers, and you have incredibly high volumes of sales and contract assignments to the people who miss out," says Serhant of Toronto's housing market. "The market has gotten so heated that your government is literally thinking about closing out the country to foreigners for real estate investments. I've never seen anything like that personally; definitely not in New York."
New York's market is not nearly as dramatic as Toronto's, says Serhant. "Toronto's market is stronger than New York City's market; we don't put buildings on the market here and have them sell out in two hours — that doesn't happen," says Serhant. "Our inventory is huge; there's a lot of inventory in New York City. So, that's what's exciting about Toronto. And it's only an hour away by flight; it's so close."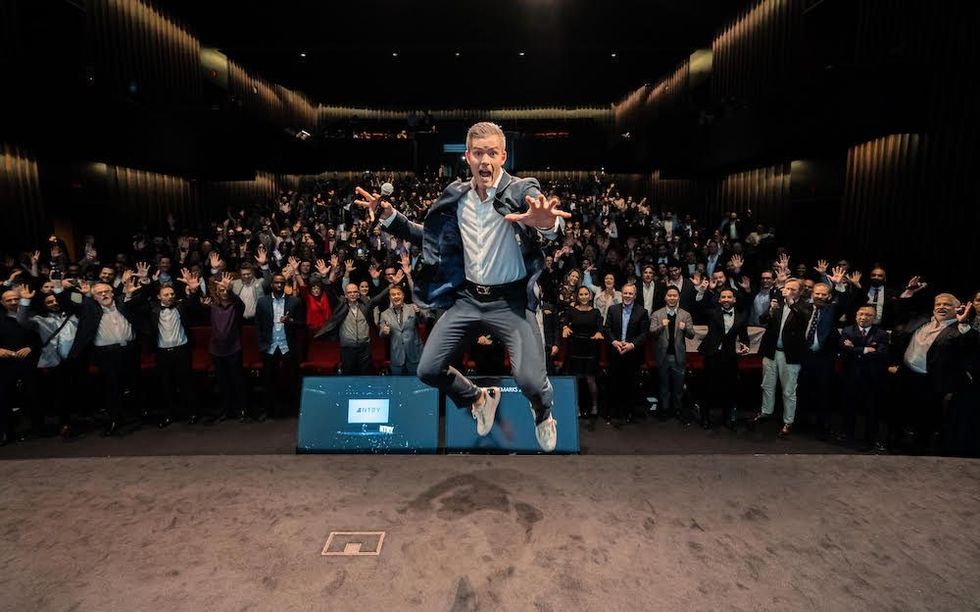 Toronto's recent red-hot market didn't necessarily come as a surprise to Serhant. "I think that Toronto is an amazing place," says Serhant. "From my first time there during the Toronto International Film Festival a couple years ago, I've found it an exciting city. Toronto is not that big, so any time a new project comes up, it's exciting and people want to jump all over it. I think rising inflation and rates will push more people to buy properties in Toronto; I think you could see another record year this year."
Serhant himself is seeing a heightened interest in Toronto from his own clients in the luxury market. "The world has changed in the last two years; you can get more for your money in Toronto," he says. "It's a great place to live; it's a great place to invest. We have had more interest from our clients in Toronto than I ever have in my career."
Emerging technologies like NTRY will only contribute to this international interest. "I think it's the future," says Serhant. "For the first time in history, you don't have to wait for clients to come to Toronto; you can bring Toronto to clients anywhere in the world. It's not the same when you're just bringing random renderings and floorplans. This way, you're bringing one-to-one scale of Toronto to people. I'm never seen anything like it; it's completely insane. I think it will revolutionize the way at least pre-construction is sold."
Virtual augmented reality will redefine what it means to sell real estate and produce notable changes, highlights Serhant. "I think we'll see projects come to market sooner; I think they'll sell faster; I think they'll sell more internationally. With selling real estate, it's often 'out of sight, out of mind.' It's difficult, especially during COVID, when people can't get to specific locations," he says. "I think the ability to bring a city to the masses in a way that feels very real will enable people to make quicker decisions — and realistic decisions — where it doesn't feel uncomfortable." 
Compared to other industries, the real estate world has historically been slow to adopt new technologies. As Serhant highlights, New York City still doesn't have an MLS system. But — propelled by the pandemic and its accompanying lockdown measures — the past two years have seen property technology (proptech) change up the game, often removing the need for a physical showroom or home tour from the equation.
"I think anything new is always difficult to understand right out of the gate. But like anything — whether it's the radio, TV, social media, or the internet — any new advance in technology can be scary to some and annoying to others," says Serhant. "But, at the end of the day, if it works and progresses our industry or species forward, it will be adapted and people will use it. So, you either have to embrace it quickly, or be the person in 1995 who said that the internet isn't going to be real."
In terms of using technology to switch up "business as usual," Serhant says that mobile video technology has been the biggest game-changer in the real estate world in recent years. "The most impactful tool has been mobile video. The ability to take video on your phone and get it to clients right away without having to just take photos or have someone else come and do it has enabled us to sell more real estate," says Serhant. "You can show people what they're dealing with and what they're going to get much, much faster. Mobile technology has done a lot for the real estate business as a whole but also my real estate business as a career."
Serhant posted about his trip to Toronto — and getting delayed at customs — on his vlog. Toronto content starts around the 4:00 mark
But a bad video can also break a deal. "The same way you want your real estate photos to appear — beautiful, bright, and inspiring — you want the same for your videos," says Serhant. "So, don't have shaky hands; don't film right into a window, it's going to be backlit or you're going to be blurry; try to have a nice aesthetic eye and make it beautiful — you want to sell the dream."
Taking it a step above, professionally-shot and quality video can be used for retargeted ads through YouTube as a funnel for customer acquisition, says Serhant.
At his real estate tech company SERHANT — which is at the intersection of real estate, media, and education — a top-of-funnel in-house film studio creates content all day, every day. "We produce 10-15 pieces of content for a day; just real estate, just focused, just retargeted and mass marketed at the same time," he explained to the Toronto audience at the NTRY event. "This acts as a funnel to drive customer acquisition for two things; salespeople (who come into the brokerage for education) and people who need sales people."
Next on tap for SERHANT on the tech-front is the creation of an app that allows agents to create property tours on their phones "in sixteen seconds," through videos that are fully edited and filtered, with music. They are also building their own metaverse ("now, I have weird feelings about ours, based on what I just saw," he joked at the NTRY launch), where agents or course members can scale virtual culture.
"We are no longer local agents in local markets; we're local agents with local knowledge of information and local access, in global markets," says Serhant.