Real Estate News
Plans for Brick 23-Storey U of T Student Residence Revamped
The University of Toronto's St George campus continues to evolve, with plans for a mixed-use student residence recently being revamped.
Last month, The Daniels Corporation submitted Site Plan Approval and Zoning By-law Amendments to City planners, which call for further refinements. The development is proposed to rise at 698 through 704 Spadina Avenue on the northwest corner at Sussex Avenue, which is currently home to low-rise brick buildings.
This includes a heritage building at 698 Spadina Avenue — which was formerly U of T's Ten Editions bookstore. According to the proposal, the east and southern façades of the building will be preserved and restored and incorporated into the new residence.
The proposal calls to build a 23-storey (70 metre), 230-bedroom residence, set above a 3-storey (9.4 metre) street-related podium, with ancillary commercial space and a 3-storey stacked townhouse complex.
READ: U of T Student Housing Proposed to Revamp Heritage Home
The two buildings, designed by Diamond Schmitt Architects, will be separated by a public laneway. The proposed residence would have its main residential entrance on Spadina Avenue, as well as grade-related retail, which will animate the street and provide for an enhanced pedestrian experience.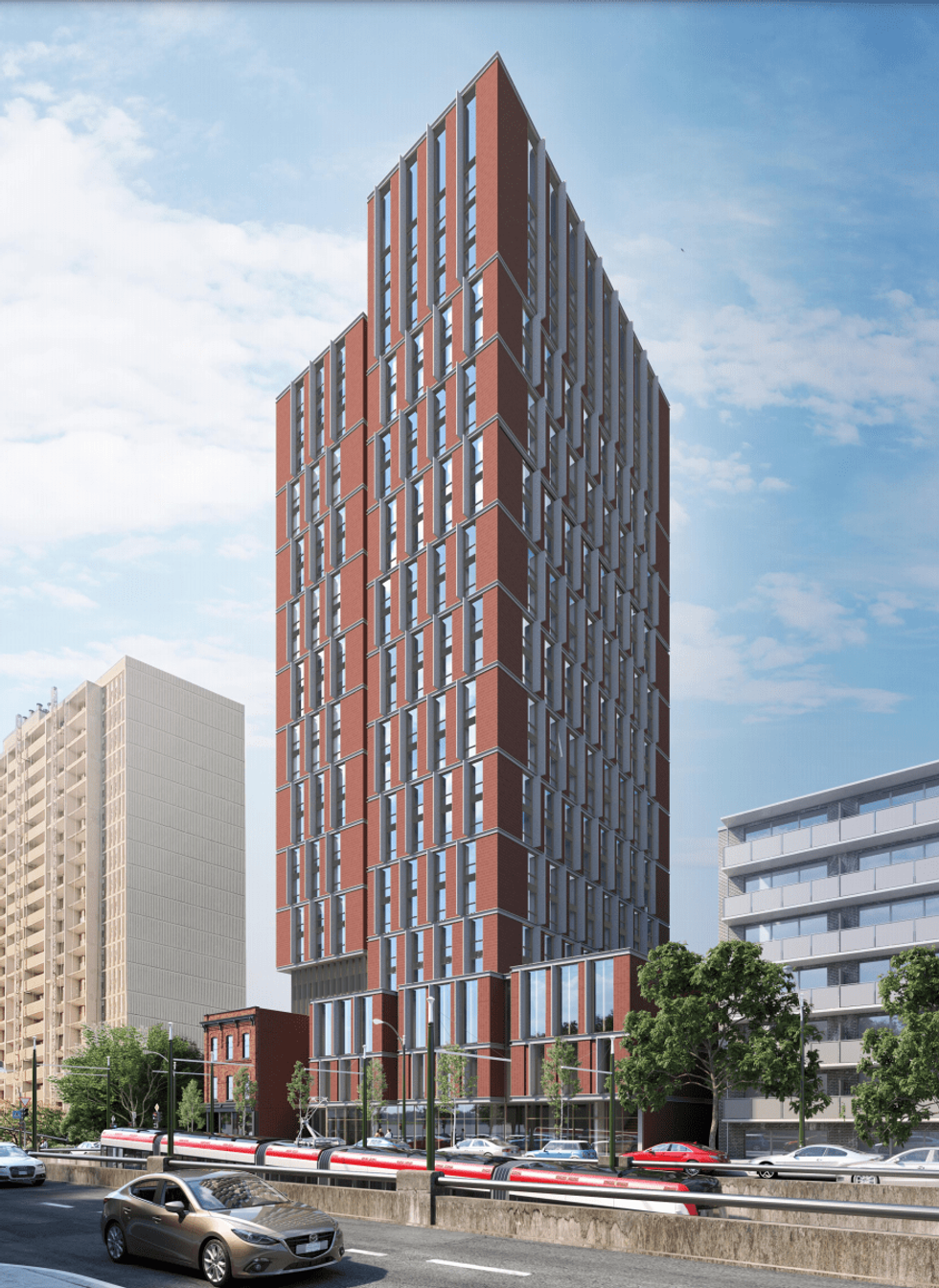 According to the proposal, the tower would have a total gross floor area of 17,065 m², comprising 16,660 m² of residential and 405 m² of retail.
The building would have space for meetings, games, and study rooms, as well as events, a café, and dining amenities on the 2nd level. The structure would also house 230 units, with a total of 508 beds, for students from the third floor and upwards.
The townhouse complex, which would be located on the west side of the property at 54 Sussex Avenue, has a total gross floor area of 892 m² and is comprised of 10 units, including six rental replacement units, offices, and meeting rooms.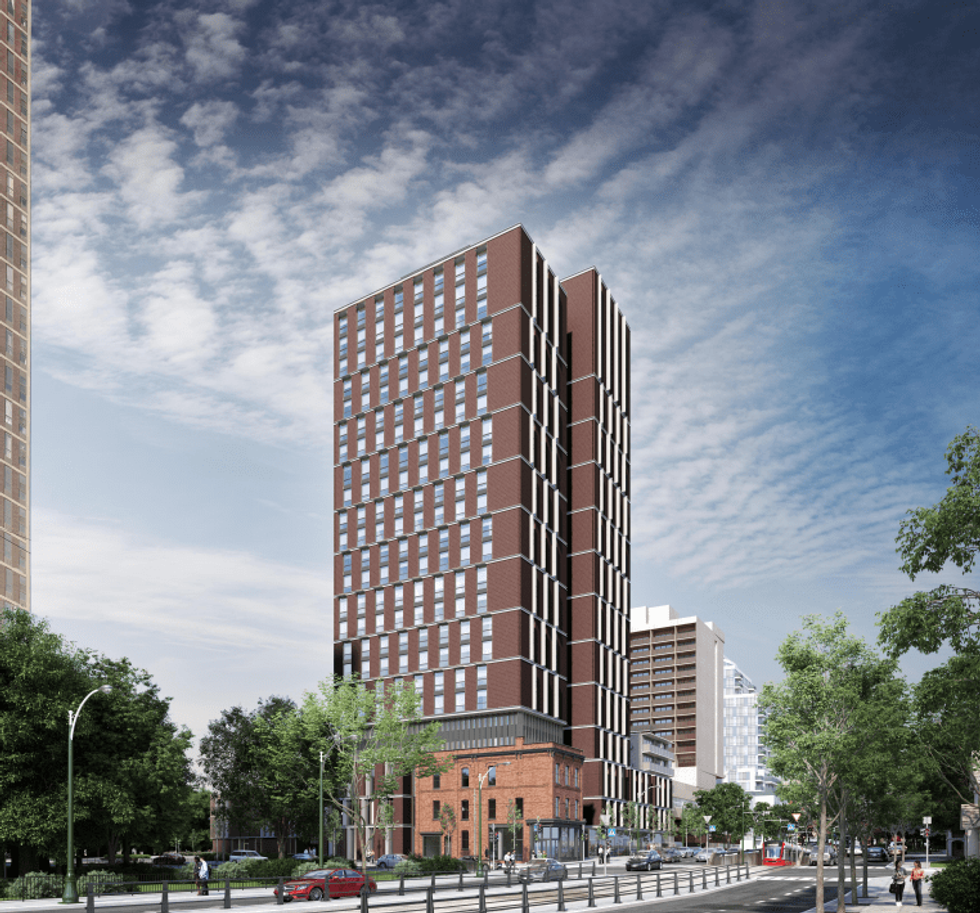 According to the architectural drawings, the residence building would feature a red brick facade with a smooth finish, warm grey precast concrete, vision glass, dark grey spandrel glass, and aluminum details. The heritage building incorporates a red brick and painted wood cornice and trims.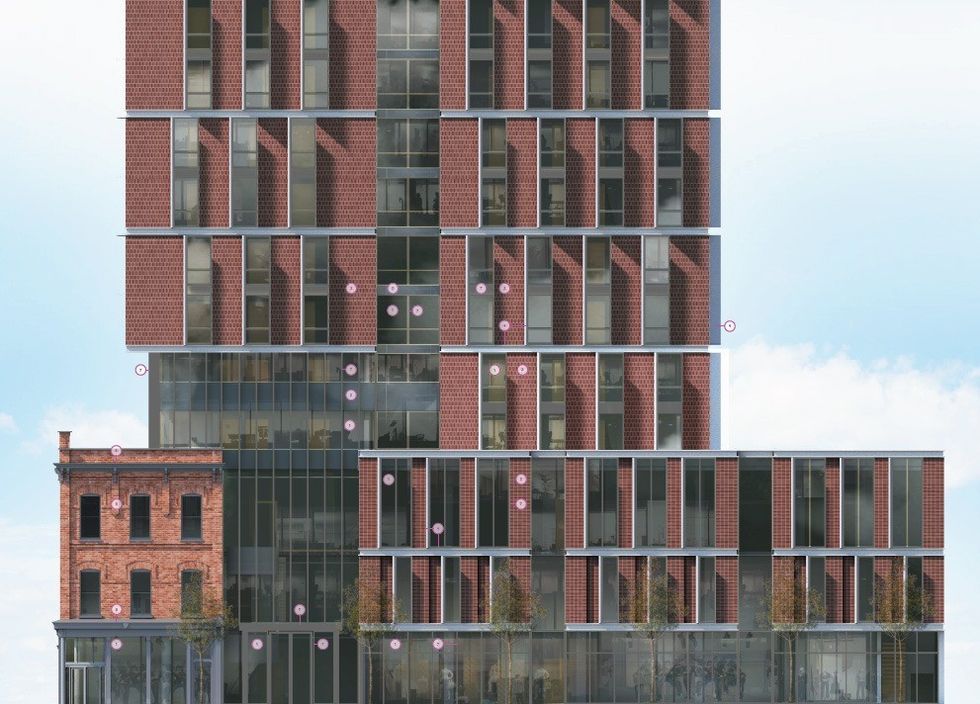 While there is no vehicular parking proposed in the building, there will be bicycle parking available, with 238 spaces located on the basement level.