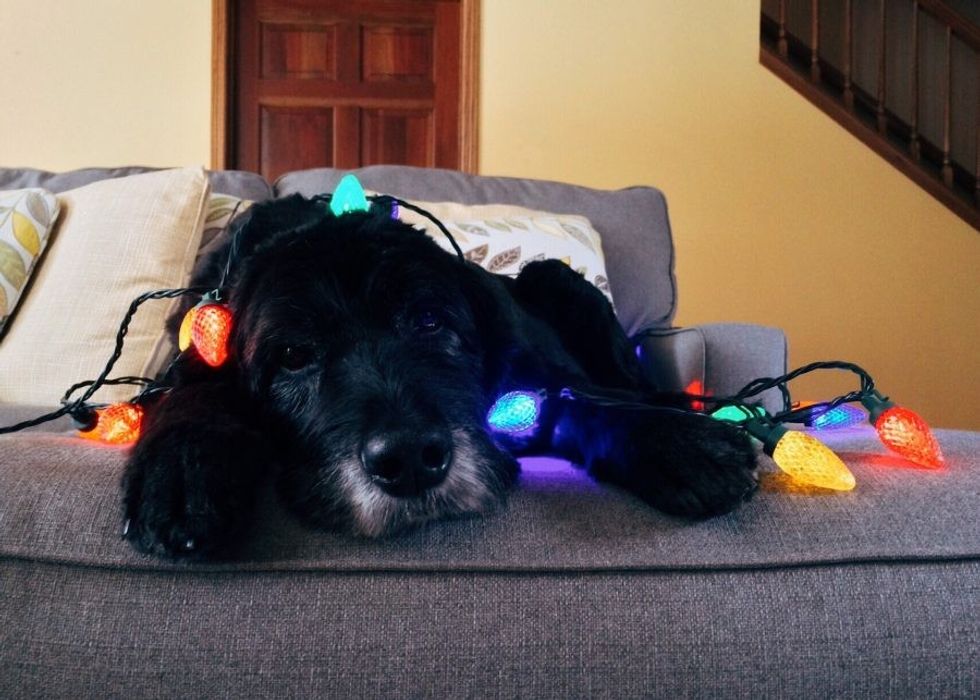 Untangling the Christmas lights is arguably the worst task when decorating for the holidays — and wildly time consuming when doggy gets involved.
Pick up a home or lifestyle magazine this time of year and you're guaranteed to see rooms festooned with the sparkle of the season.
---
Images of trees trimmed in elaborate ornaments and stockings skillfully draped along the mantel are complemented by an adorable dog, sleeping peacefully by a roaring fire.
Which means those pictures are all one big lie.
Anyone who's ever owned a pet knows trying to emulate the Pinterest-worthy perfection of a Canadian Living Christmas cover photo is a horror story waiting to happen. Because when your pet is your decorator, the holidays look a little different.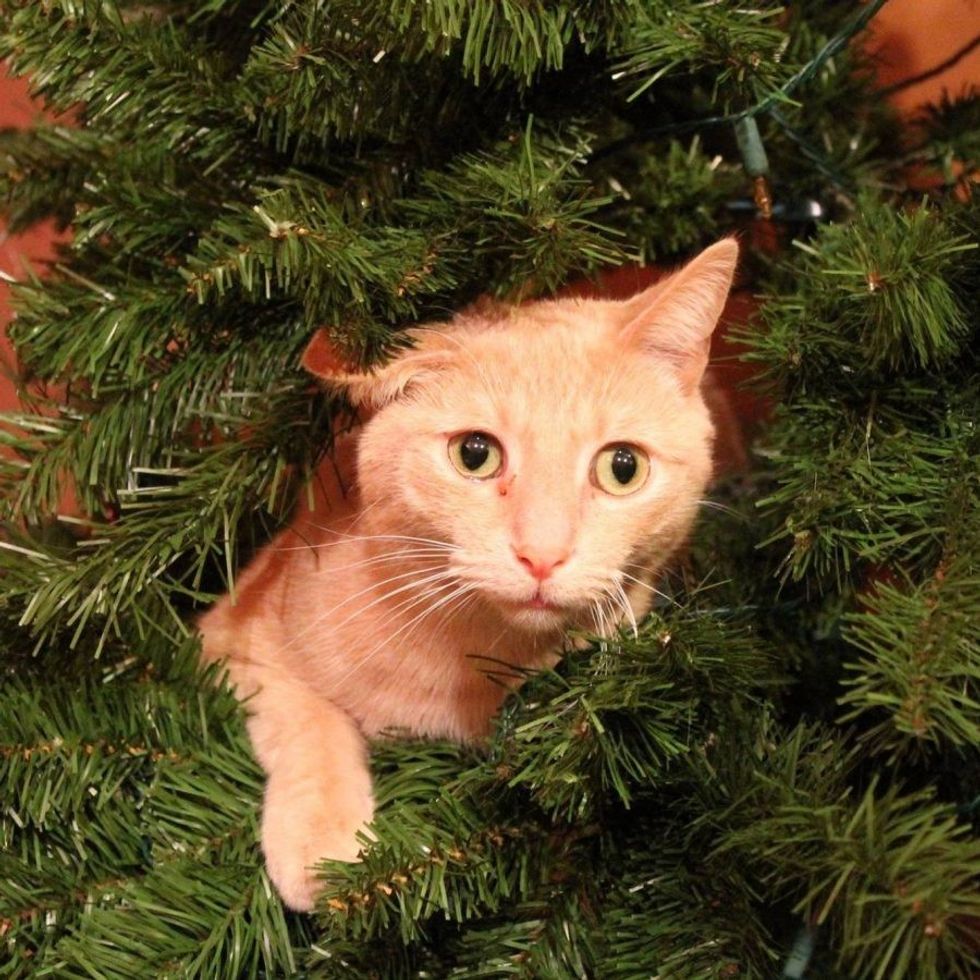 Breakable ornaments? Strings of lights? Clearly the Christmas tree is the perfect place to play hide-and-seek. (Photo by Maila Rible)
Batten down the branches
Do you like artificial, pre-lit trees with stands made of steel? Do you feel that plastic ornaments add a touch of whimsy that simply can't be matched by their glass counterparts? If you're a cat owner, the answer to those questions had better be a resounding "yes."
To you, that eight-foot balsam might look like the perfect place to hang Grandma's heirloom ceramic angels. To our feline friends, it's really just one big jungle gym. That Christmas cat tower on steroids will have them swinging from the branches, getting tangled in the lights, and batting at the super-breakable glass blubs.
Layer in some tinsel for an extra-sparkly surprise in the litter box or, if you're really unlucky, a trip to the vet's office on Christmas Eve. Since all that destruction can be thirsty work, opt for a real tree!
Enjoy refilling the reservoir in the tree stand six times a day, since kitty just can't resist the flavour of water infused with pine sap. Speaking of holiday indulgements ...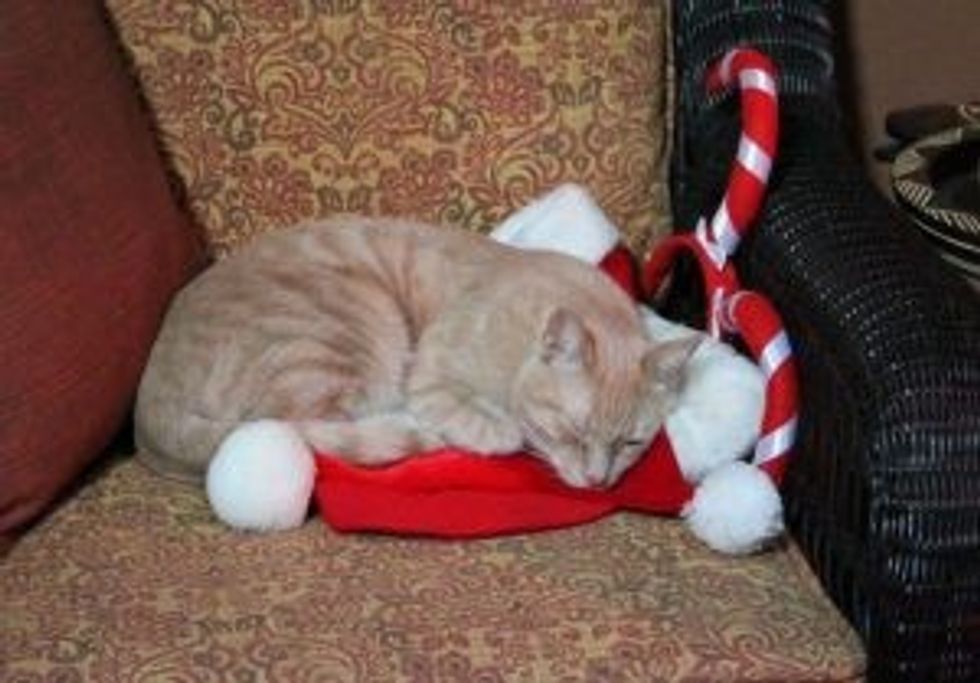 Be sure to have extra lint rollers on hand as the fuzzy fleece and felt of the holiday season is also the perfect place for cat naps. (Photo by Maila Rible)
No candy in this land
Advent calendars. Candy canes. Chocolate ornaments. The tastes of the season get an added boost of eye candy this time of year, as they're meant to be shown off all over the house. In a pet parent's home, however, treats need to be stored in double-sealed Tupperware.
A taste of holiday cheer can, at best, result in some quality time spent steam-cleaning the carpet. At worst, it can be fatal. Even small amounts of chocolate can be deadly for dogs. Not to mention the fact that Fluffy and Fido rarely take the time to unwrap treats before consumption. Fancy foil and plastic don't look nearly as lovely on a gastrointestinal X-ray.
There is some good news — your dog is an excellent excuse to keep the scourge that is fruitcake from entering your home. Most fruitcake recipes call for raisins or currants, which can be highly toxic to canines. Maybe encourage your guests to bring some festive lint rollers instead. They'll need them, because ...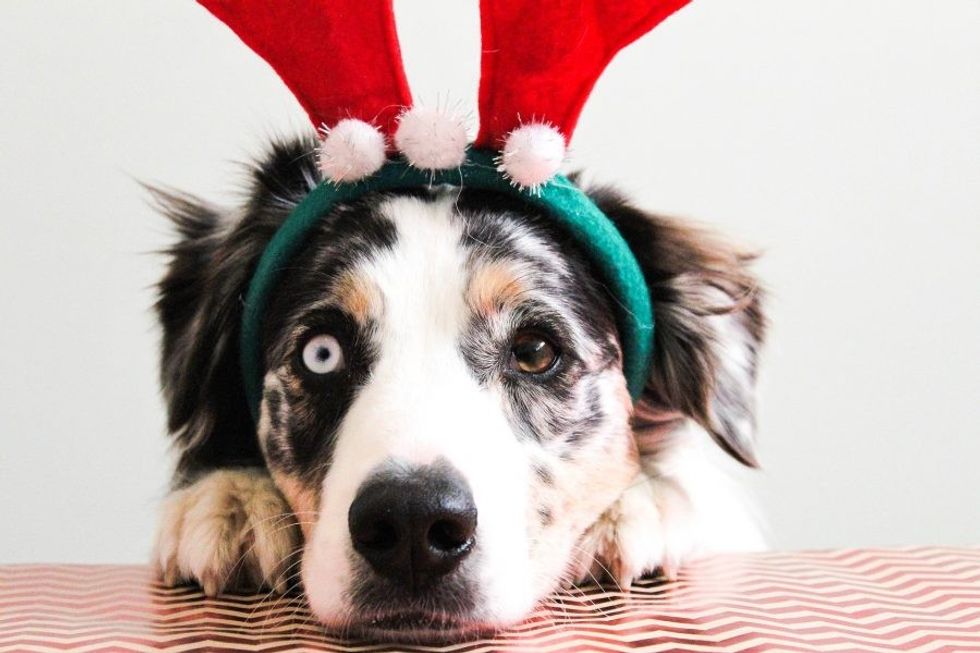 Be sure and tell your family that their guest towels and extra blankets are stored high up in the closet, and away from your canine's clutches.
Company take cover
'Tis the season to welcome friends and family into your home. Perhaps you have dreams of a basket of towels artfully placed at the end of a beautifully made bed, replete with throw pillows and a fluffy down comforter.
Unless you're fortunate enough to have a guest suite with a secure door, those towels are going to stay in the linen closet. If it looks warm and inviting to you, it's 10 times as awesome to a four-legged friend. With superior senses of smell, dogs and cats know when something's fresh and immediately must make it their own.
A basket of towels is clearly meant for Mr. Snuggles to curl up inside. That bedding is just begging to have Miss Whiskers tunnel underneath like she's in a prison break, shedding fur balls all the way. Your guests may enjoy fuzzy flannel, but a fine layer of pet hair is not going to enhance the post-shower towel experience.
As an added bonus, you'll have fun frantically whipping pet blankets off the furniture moments before guests arrive. You spent six hours with a vacuum cleaner, lint brush and packing tape defuzzing the couch, so you'd like to pretend for at least six minutes your pillows are always pet-hair free.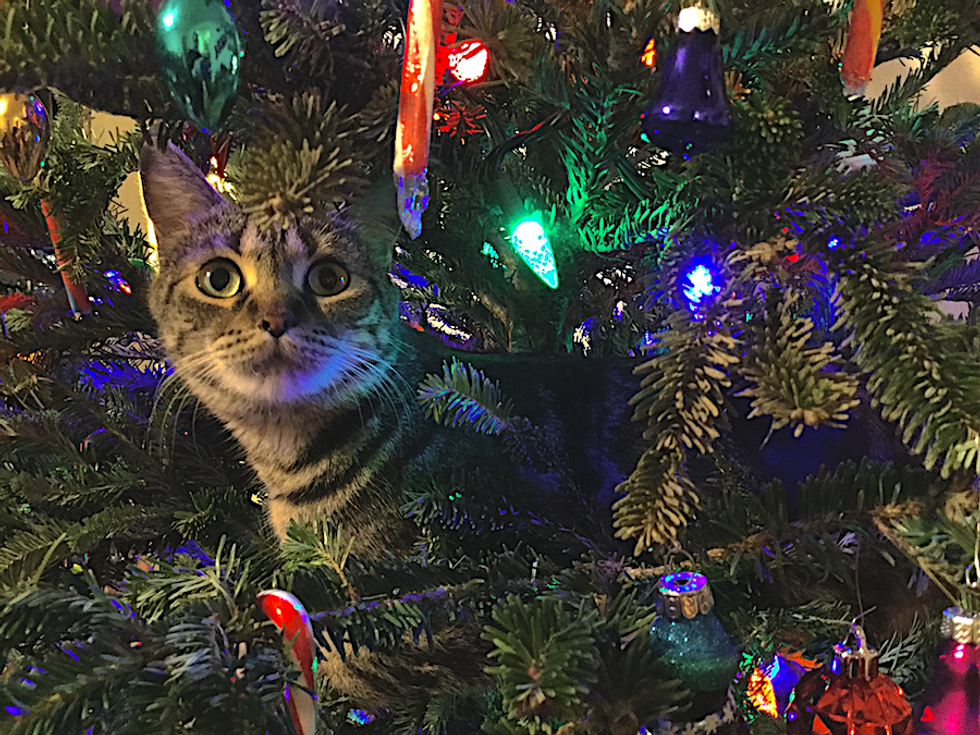 If you're a pet owner, hope you love plastic plants. Holly, mistletoe and poinsettias can be poisonous to our furry friends. (Photo by Maila Rible)
Forget the fire
Candles add a warm glow and even a touch of seasonal fragrance to the air ... of other people's homes. Candles and cats are a recipe for disaster. It's been said the real proof that the planet is round is that if the Earth was flat, cats would have knocked everything off of it by now.
From probing paws to tails that can pick up a flame, trying to manage a lit Menorah means building a perimeter that could keep a T-Rex contained. While many fireplaces do have secure screens to keep curious critters out of the flames, once that fire is done, be sure to secure the space.
Or you could just tell everyone at your next get-together those black paw prints on the carpet are just part of the pattern.
Toronto Condos & Homes