Last month, Oxford Properties and CT REIT submitted a Rezoning application to City planners seeking to redevelop an existing 9.2-acre site at Yonge and Eglinton in the heart of Midtown with a 3 million square foot mixed-use master-planned community called Canada Square.
Since then, supporting documents accompanying the application have been submitted to the City, painting a clearer picture of what to expect.
---
Located at the southwest corner of Yonge Street and Eglinton Avenue -- known as 2200 Yonge Street -- the proposal will deliver five mixed-use towers with new office space, street-related retail, thousands of new homes, new community amenities and landscaped open spaces, improved transit infrastructure, and a dedicated community space, in multiple phases.
According to the application, the five towers will house 2,701 residential units, approximately 59,000 m2 of office space, 2,000 m2 of retail space along Eglinton Avenue and Yonge Street, 1,000 m2 of community space, and 864 parking spaces located in an underground garage.
The proposal also includes a new public plaza at the corner of Yonge and Eglinton, an east-west open space linking Yonge and Duplex Avenue, a new "L-shaped" street running from Berwick Avenue to Duplex Avenue, and a new public park along Duplex.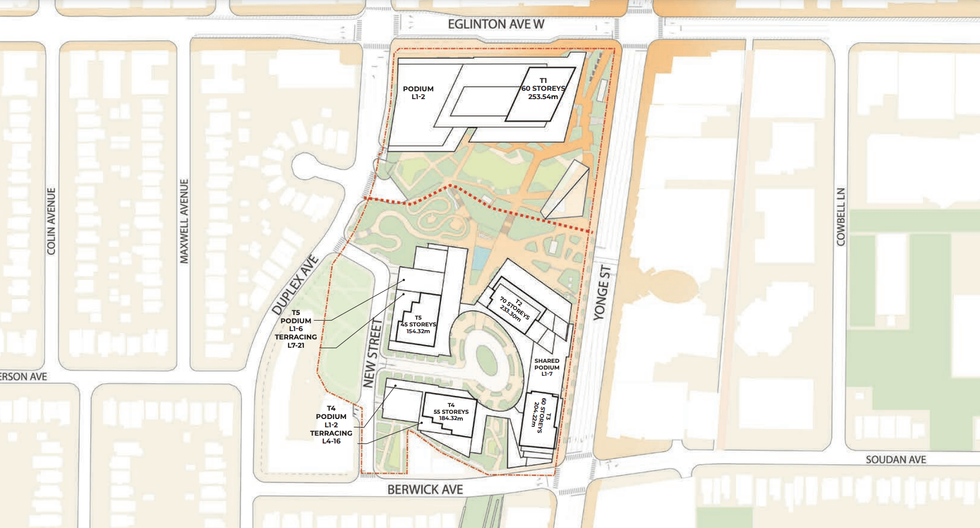 As revealed in our initial article, the development will take a phased approach to navigate the site challenges to construct the new public realm, amenities, and experiences at each stage of the project.
READ:Oxford Reveals Ambitious Plans for 3 Million Square Foot Mixed-Use Development in Midtown
If approved, the development would bring much-needed modern workspace, new housing -- which is planned to be predominantly rental -- transit infrastructure improvements, and create substantial new landscaped open space, including new parkland.
To bring the project to life, Oxford has created an award-winning team for the master plan, including an architectural design team led by Pelli Clarke Pelli Architects and Hariri Pontarini Architects, with Adamson Associates Architects on board as Executive Architect, and OJB Landscape Architecture will set the vision for the significant new open space and public realm.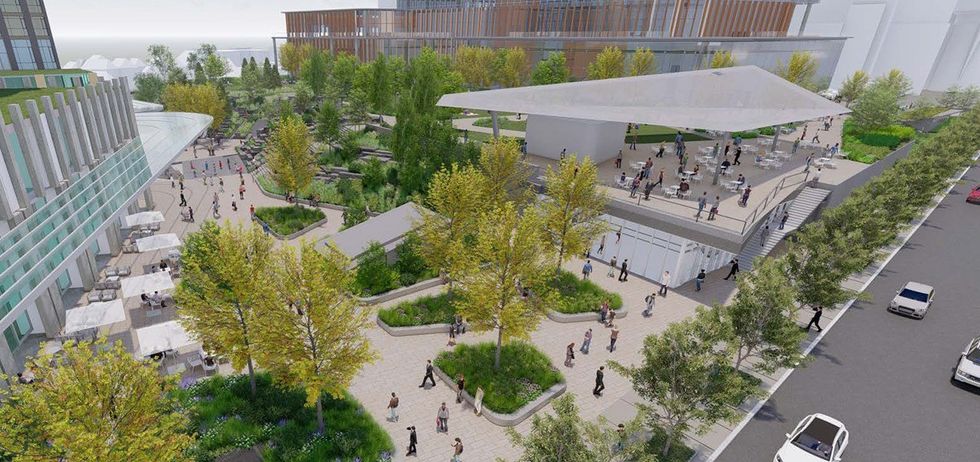 Canada Square Public Space
"Defined by a cluster of landmark buildings that peak at the Crossroads and shape the skyline, Canada Square will be an important centre of employment, delivering the largest investment in contemporary office space in over 40 years," reads the project's planning rationale.
"It will be a place for people, families, young professionals and retirees looking to take advantage of all that Midtown has to offer - a place with jobs, shops and transit at your doorstep."
At the heart of Canada Square will be a series of seamlessly connected open spaces anchored by transit and community spaces while offering a range of amenities. At about 2.0 hectares in size, Canada Square is said to be the largest new investment in outdoor open space within the community in a generation.
As per the project's application, the proposed development organizes at-grade uses to activate the public realm while responding to the surrounding context. Retail at-grade will line Yonge Street, Eglinton Avenue West, and parts of the open space. These spaces are designed with narrow store frontages to add variety and visual interest.
An indoor community use space will be located in the centre of the site, fronting the mid-block open space, and will provide an anchoring point for the central open spaces and mark the entrance to the residential buildings towards the south, while townhouse units that complement and contribute to the residential character of the adjacent neighbourhoods will line the south and western edges of the site.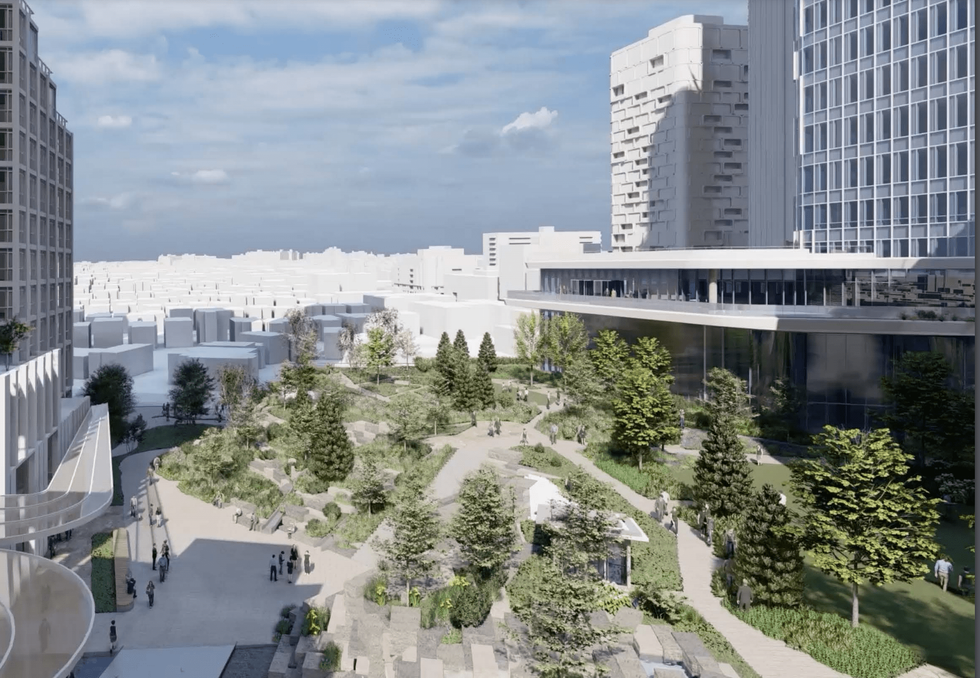 The tower's residential lobbies will face onto Yonge Street, Eglinton Avenue West, while the office spaces line the north edge of the site.
A number of TTC spaces and entrance facilities have been integrated around the edge of the site including an enhanced mid-block entrance which will support access for the growing number of users.
Andrew O'Neil, Vice President, Development at Oxford Properties told Toronto Storeys the first phase of the project -- which is expected to take between 4-5 years to complete -- could start construction after the Eglinton Crosstown LRT project is finished (expected fall 2022).
Future Developments