---
Canada's housing market correction has slowed considerably in recent months, leading analysts to believe that a bottom is not far off.
In a recently released Economic Viewpoint from Desjardins, Randall Bartlett, Senior Director of Canadian Economics, and Marc Desormeaux, Principal Economist, revealed that they expect sales to find a bottom in the second half of 2023, with prices rising shortly thereafter. Housing starts should bottom out in early 2024 before beginning a gradual climb.
The reversal, the economists believe, will be spurred by interest rate cuts from the Bank of Canada (BoC). The BoC is likely done raising rates, and a "prolonged pause" will ensue.
Nationally, the road to the bottom appears gradual. On a local level, though, the drop will be jarring.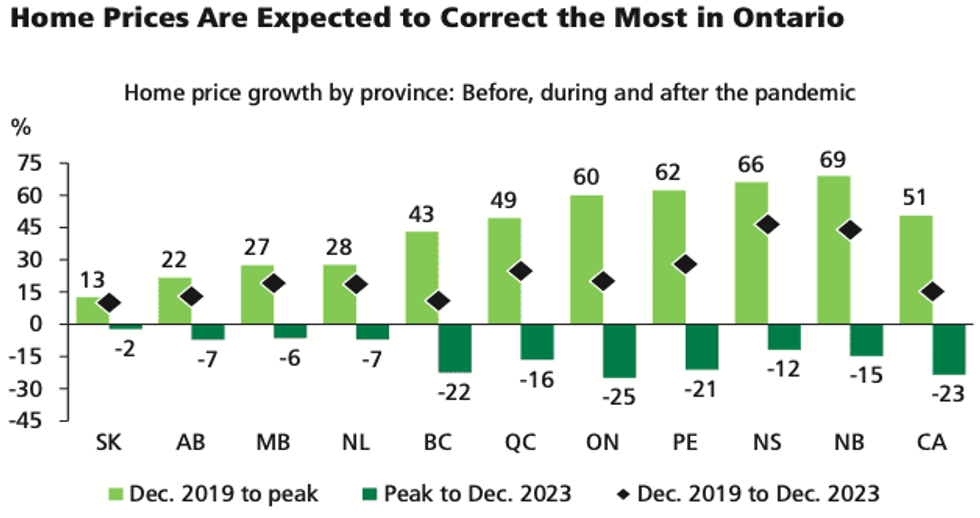 Desjardins
Ontario has already seen the biggest price decline of any province since the February 2022 peak, but Bartlett and Desormeaux expect home prices to fall further before the year's end.
By December, average home prices in the province will be 25% below peak levels, and just 15% above December 2019 figures. At the peak, they were 60% above pre-pandemic prices.
The decline will be even more significant in communities surrounding the Greater Toronto Area, the smaller municipalities that city-dwellers fled to in search of more space during lockdowns.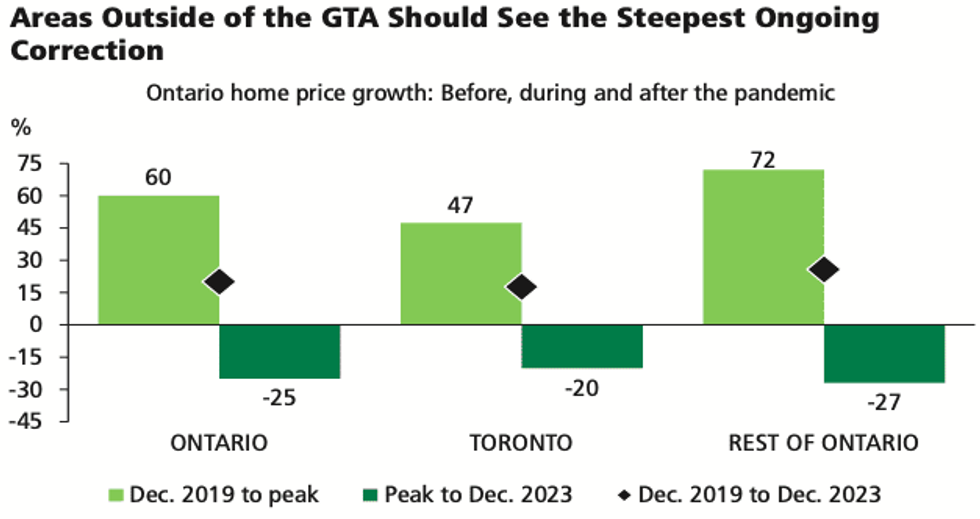 Desjardins
Between December 2019 and February 2022, average home prices in Windsor rose nearly 100%, and were up almost 90% in Oshawa. They increased by more than 80% in both Sudbury and London.
But from the peak to January 2023, average prices declined 20% in Sudbury, and roughly 25% in Windsor, Oshawa, and London. Prices in St. Catharines, after rising more than 75% at the peak, were down nearly 30% on average.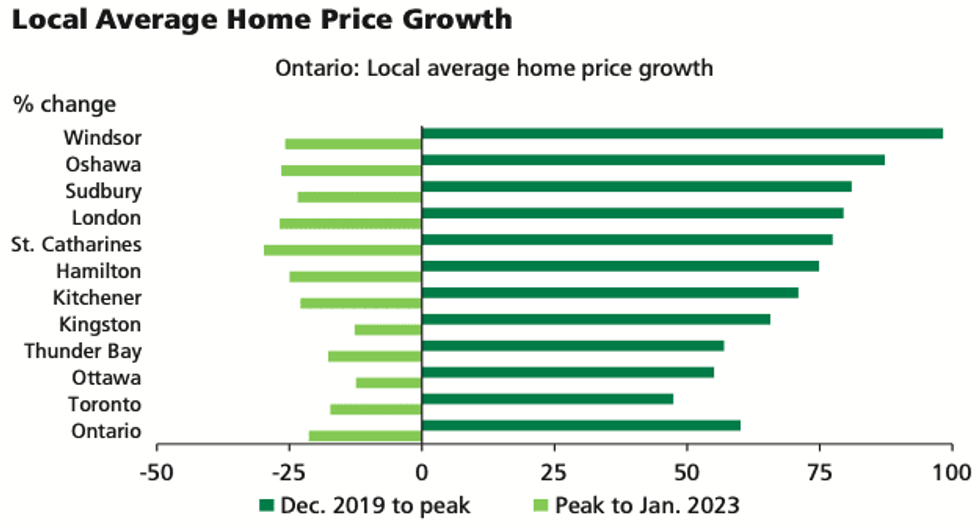 Desjardins
Despite these notable decline in home prices, the economists don't expect affordability to improve "by much" in Ontario.
"This is a very difficult time for households in Canada. In Ontario specifically, housing affordability eroded significantly during the pandemic, with the affordability gap with Quebec [the most affordable province] and the rest of the country widening considerably," Bartlett and Desormeaux said.
"While affordability in Canada's most populous province is expected to improve as home prices continue to fall and borrowing costs ultimately come down, we don't anticipate that it will return to its pre‐COVID level by the end of 2024."
Although Toronto remains the most unaffordable city in the province, the issue persists outside of the GTA, too. St. Catharine's is now the second-least affordable Ontario city, followed by Hamilton, Kitchener, and Kingston.
The decreased affordability has pushed many Ontarians not just out of major cities, but to other provinces altogether. Instead of leading to a decline in demand, and therefore less pressure on prices, the outflow has been replaced by an influx of international migrants and non-permanent residents.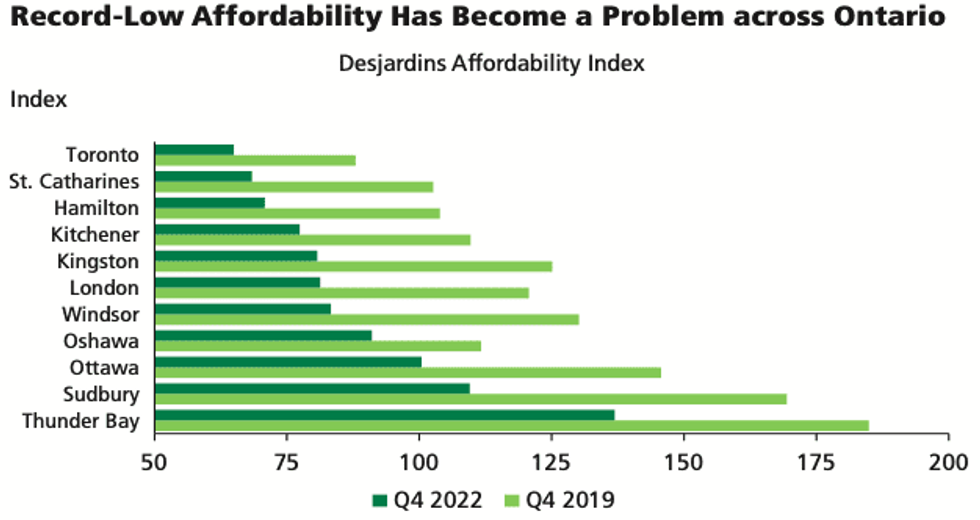 Desjardins
Ontario's rapidly rising population will keep housing demand strong, the economists said, even amid high interest rates. Coupled with the downturn in housing starts -- a trend that is expected to persist throughout 2023 -- already dwindling supply will fall short of demand.
"This is truly a lost opportunity, as the comparatively low density of the GTA and surrounding cities suggests there is plenty of room to increase construction even within existing urban boundaries," Bartlett and Desormeaux said.
"Policymakers should take up the mantra 'location, location, location' and focus their affordability measures on overpriced markets."
Real Estate News