Toronto
Listed
One-Half of Famed Twin Residential Development For Sale in Roncesvalles
Another well-known Toronto home has officially hit the market… well, one-half of it, anyway.
Nestled in the heart of sought-after Roncesvalles, in Toronto's vibrant west end, 118 Sorauren Avenue is one-half of a recognizable, twofold residential development designed by Ancerl Studio and completed in 2019.
Today, the set of homes stand where a pair of dilapidated semi-detached houses once stood, with one of the homes, 118 Sorauren, seeking new owners.
From a distance, the separate homes visually appear as a single unit, as they each have angled roofs that look like one pitched roof from afar. But as soon as you get up close and bask in all their glory, you'll see the homes are separated by a very distinct gap.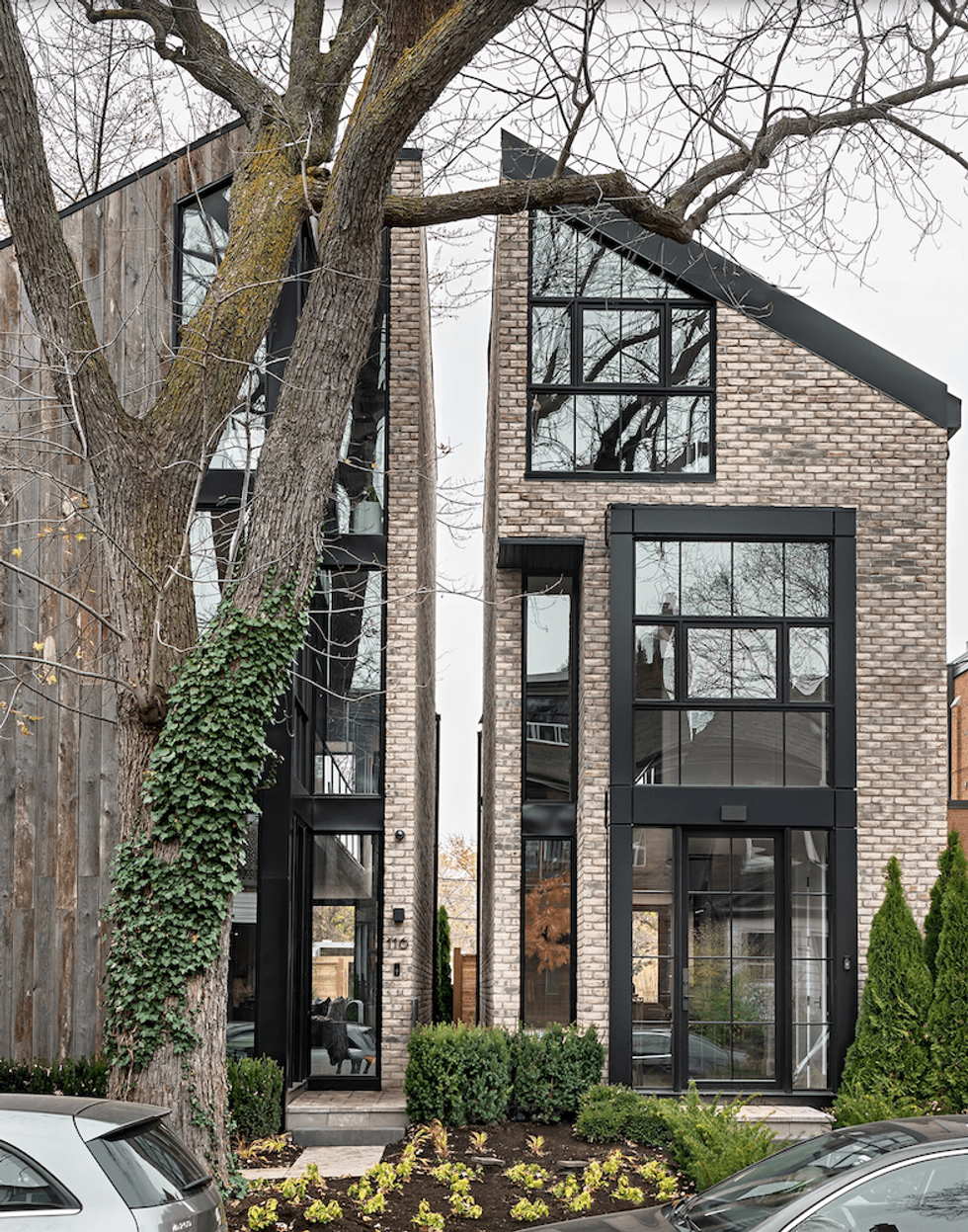 Rising three storeys, 118 Sorauren is both narrow and compact, but despite its smaller demeanour the interior has been designed to feel spacious. Indeed, spanning upwards of 2,500 square feet, the home has three bedrooms and four bathrooms.
READ: Toronto's Most Famous Laneway House Hits the Market with Full-Size Asking Price
The exterior features a mixture of brick, black steel accents, and expansive industrial windows, which flood the home with natural light, further creating the illusion of more space.
Inside the custom home, you'll find soaring ceilings up to 30 feet high with exposed beams, plus a variety of finishes — including steel, reclaimed wood, and weathered bricks — that make the multileveled abode feel more like a reclaimed hard loft than a traditional detached home.
Specs:
Address: 118 Sorauren Avenue
Type: Detached
Bedrooms: 3
Bathrooms: 4
Size: 2000-2500 sq.ft
Price: $2,499,999
Taxes: $10,063 /yr
Listed by: Right At Home Realty Inc., Brokerage
The main level features a modern, open-concept living and dining area boasting a soft contemporary feel, while the water vapor fireplace adds a touch of warmth to the space. From here, the room effortlessly transitions into the sleek kitchen, making this floor an entertainer's dream. The kitchen is a true delight and includes a cherry wood-panelled fridge and dishwasher, a concealable cooking space, and a brick wall adorned with exposed shelving.
On the second floor you'll find an "exquisite" laundry space, storage, a bathroom, and two bedrooms. Then, spanning the entire third floor, there's a living space with a walk-out to a private balcony overlooking the backyard below and the neighbourhood beyond.
Cross the bridge overlooking the storeys below and you'll find a contemporary, spa-like ensuite complete with a double vanity, a deep standalone soaker tub, and a spacious glass-enclosed shower. Below the home, you'll find a cozy basement with a rec room, utility closet, ample storage, and an additional bathroom.
Perhaps the biggest draw — for some — is the home's prime location, which is just steps from the eclectic restaurants and boutiques found on Queen Street West, while High Park and the local amenities of Roncesvalles are just moments away.
And with an asking price of $2,499,999, this one-of-a-kind designed home could be yours. But trust us, you're not going to want to sleep on this one.
EXTERIOR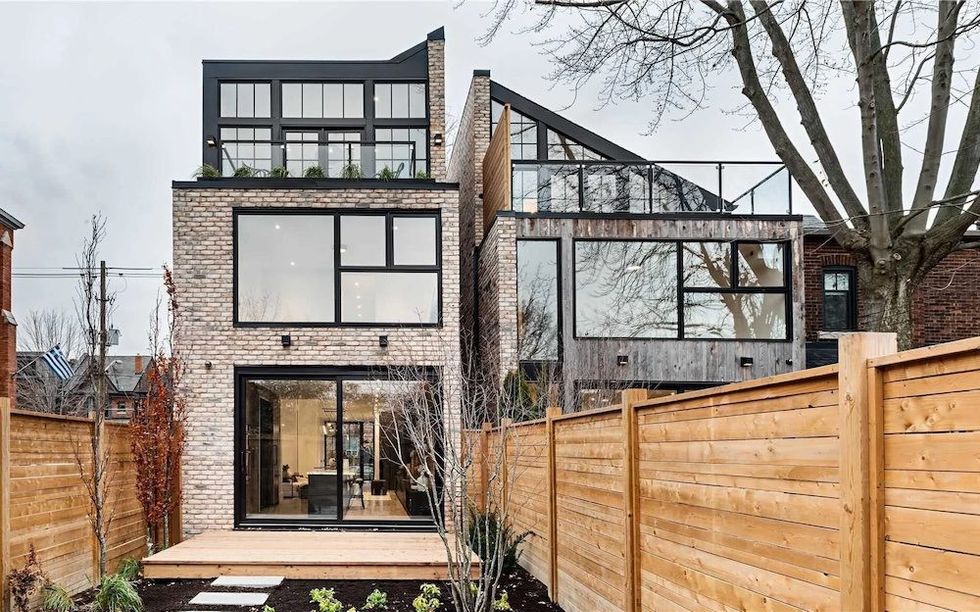 INTERIOR