Burrard Place, the three-building development that has taken over the city block between Burrard Street and Hornby Street in the heart of downtown Vancouver, has reached a new milestone.
---
The first building, a residential building, was the first to finish construction, and residents are about to start moving in. The office building next door that finished construction this year is also now full, with tenants also expected to begin operating very soon. A second residential building further down the street is expected to be completed later this decade, but all units are now reportedly sold out.
Now that the project is closer to the end than the beginning, here are all the details.
One Burrard Place
Located at 1289 Hornby Street on the corner of Drake Street, One Burrard Place completed construction in 2021 and, at 550-feet tall, is the third tallest building — and tallest residential building — in Vancouver. The building consists of 900,000 square-feet, split amongst approximately 400 studio apartments, one-bedroom, and two-bedroom units.
According to floorplans, studio apartments are generally less than 500 sq. ft, with exceptions, while one-bedroom units range anywhere from 500 sq.ft to 1,000 sq. ft, while two-bedroom units are generally over 1,000 sq. ft.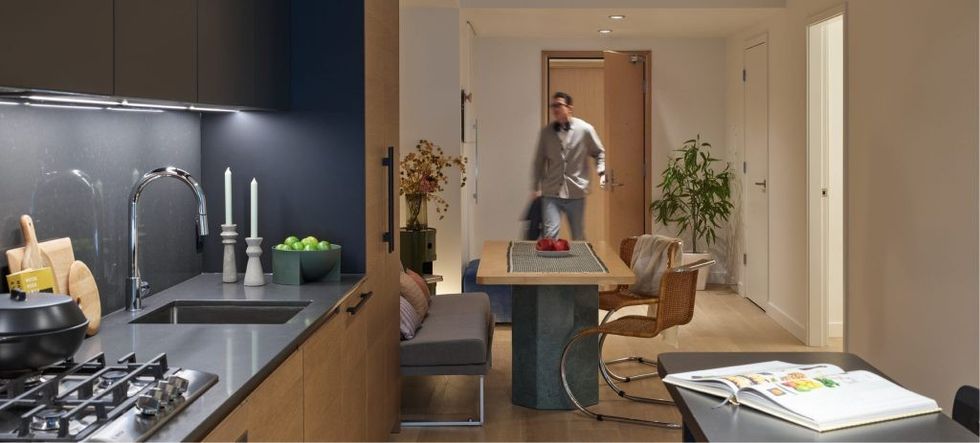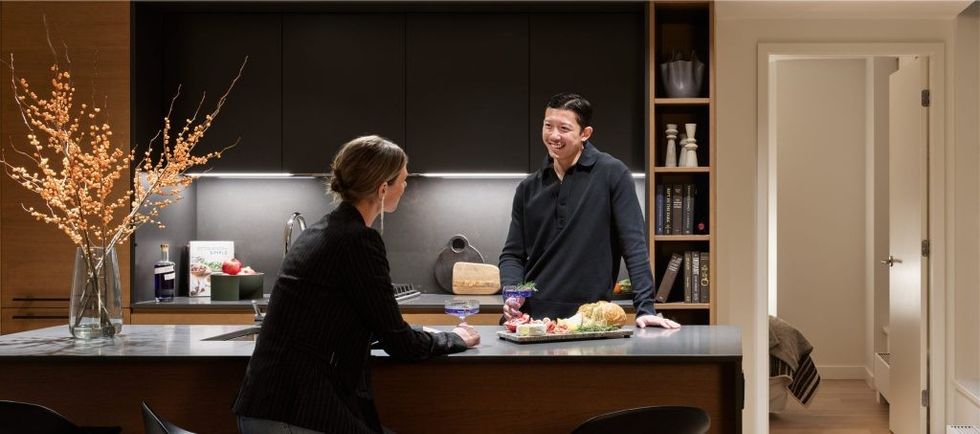 Units will also include built-in and flexible furnishing such as a bed that converts into a desk, modern design elements such as motion sensor lighting and smart home controls, and high-end finishes such as a smoked-glass shower and chrome faucets.
Residents also get access to Club One, a 30,000 sq. ft clubhouse that consists of amenities you'd expect, such as a weight room, pool, and sauna, as well as amenities you may not expect, such as private dining facilities, wine cellars, and music rooms. Furthermore, Club One also provides access to an in-house concierge, butler, private chef, sommelier, mixologist, and event planner.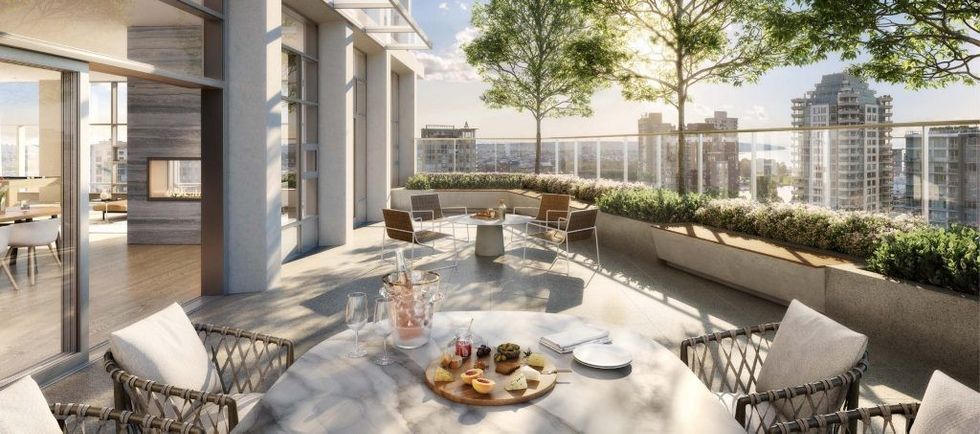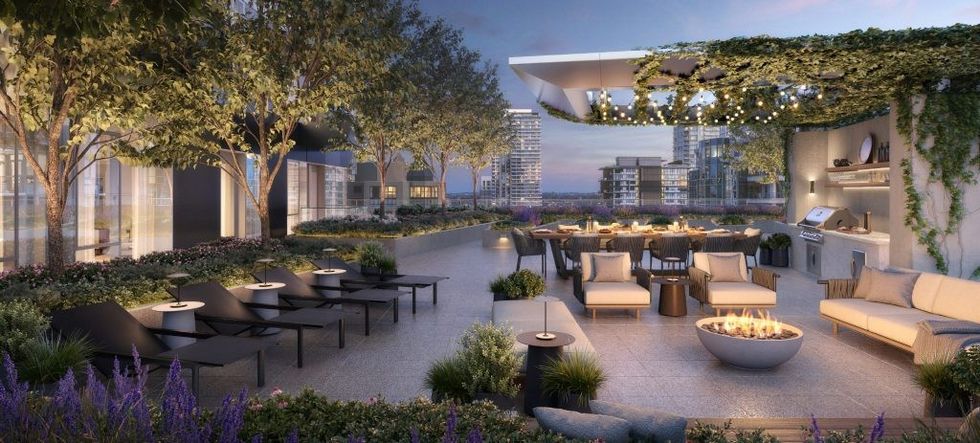 After selling out quickly when units first became available, One Burrard Place in downtown Vancouver is now fully-occupied, with residents picking up their keys this past Friday, the Residential Leasing Manager for Reliance Properties, Morgan Lyon, confirmed to STOREYS.
Burrard Place Offices
Located on 1280 Burrard Street, the 13-storey Burrard Place Offices building was designed by the late Bing Thom, a renowned architect and urban designer born in Hong Kong, but with ties to Vancouver that go as far back as the 1950's. Thom previously designed the Chan Centre for the Performing Arts at the University of British Columbia, the Surrey City Centre Library, as well as the Aberdeen Centre mall in Richmond, and more.
The AAA office building consists of over 140,000 sq. ft of space, three high-speed elevators, outdoor lounges, as well as access to One Burrard Place's Club One, via a skybridge.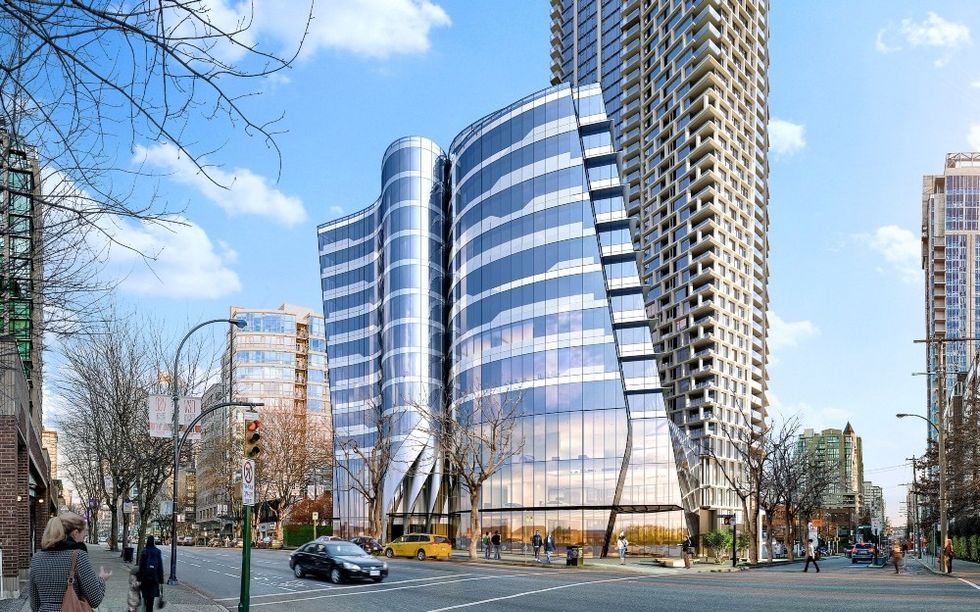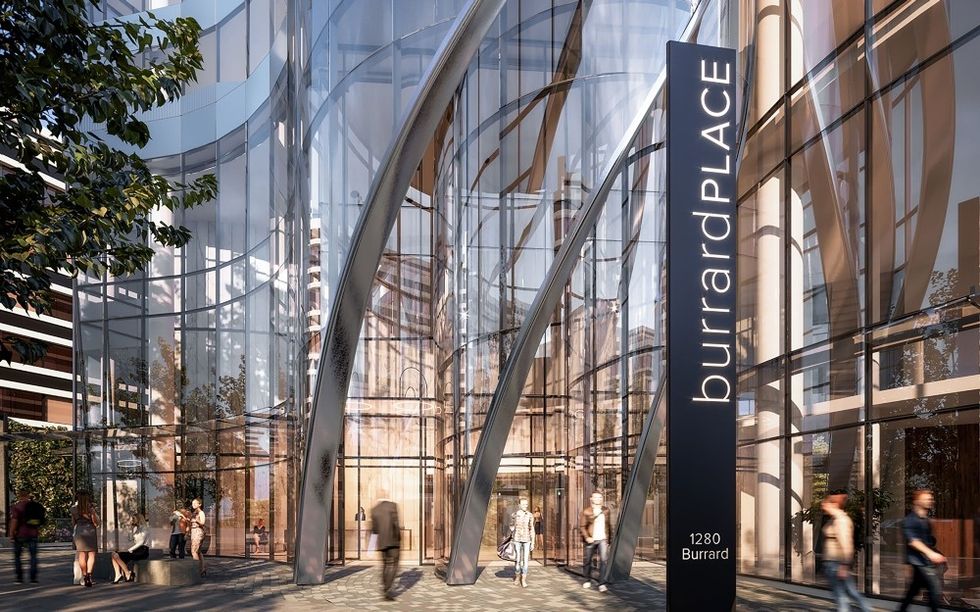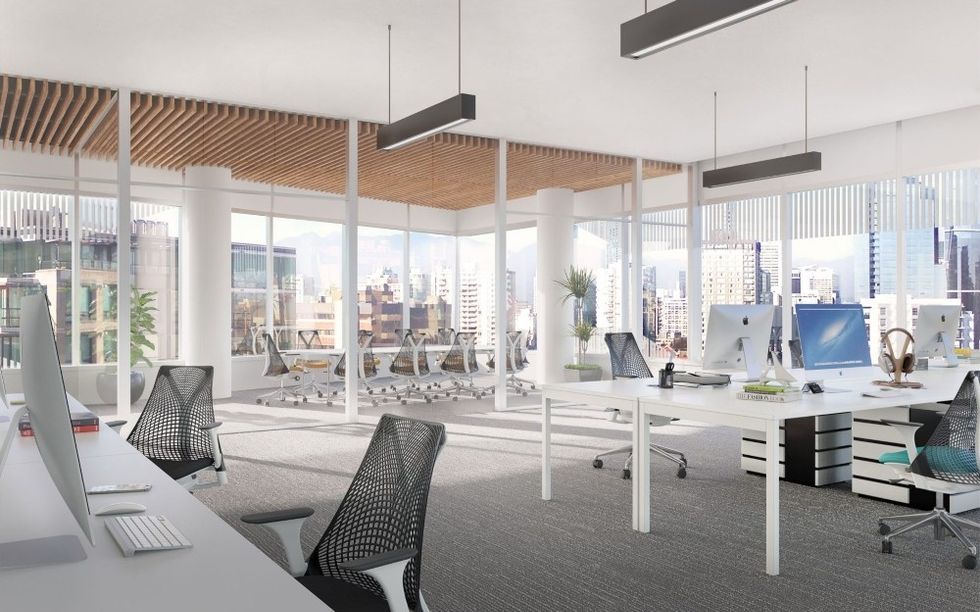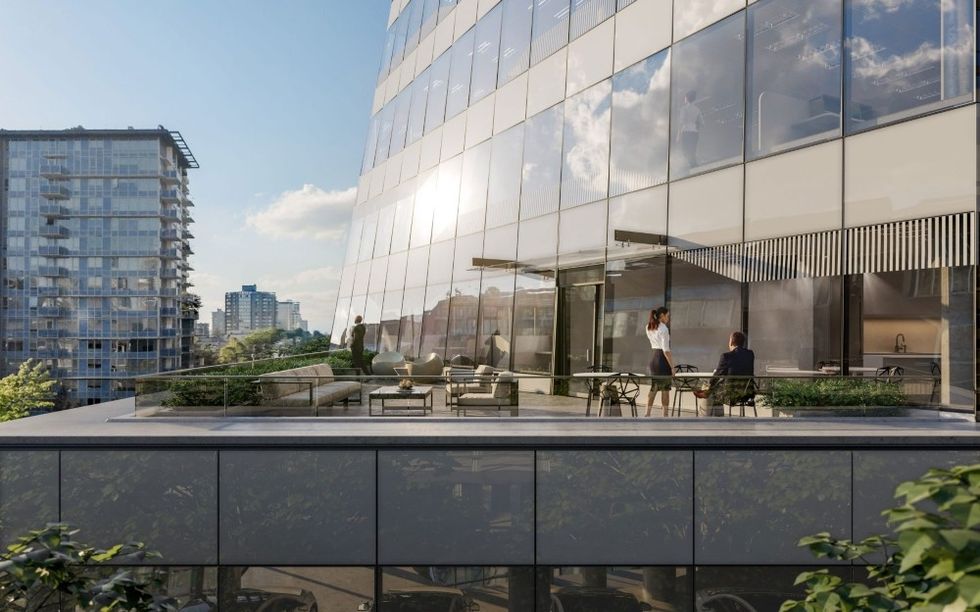 A Jim Pattison Toyota dealership occupies the building's first three floors, re-opening operations earlier this week, and also extends underground with a multi-level service centre.
Lululemon signed on this June as the biggest tenant of the building, taking over nine of the 10 office floors, for a total of 120,000 sq. ft. Luke Moran, Director of Leasing for Reliance Properties, tells STOREYS that the Vancouver-based athleisure giant is slated to begin operations as soon as Q4 2022.
Lululemon will occupy the fourth floor, and then floors six through 13, while Harrison Healthcare will occupy the fifth floor and begin operating in September, Moran said. He also told STOREYS that there are ongoing discussions with local restauranteurs about the 3,000 sq. ft restaurant space on the ground floor, which includes a patio. An announcement is expected in the coming months.
2 Burrard Place
Now all that remains is 2 Burrard Place, on 1277 Hornby Street, which is not expected to complete construction until approximately 2025. It will be 36-storeys and consist of 239 residential units, including one-bedroom, two-bedroom, and three-bedroom units, as well as some office space.
When units first became available in June 2021, 100 of the 239 units were reportedly sold in the first two days. By November, 85% of units were sold, according to an official Instagram post. A celebratory invite-only party last week confirmed that 2 Burrard Place has also since completely sold out.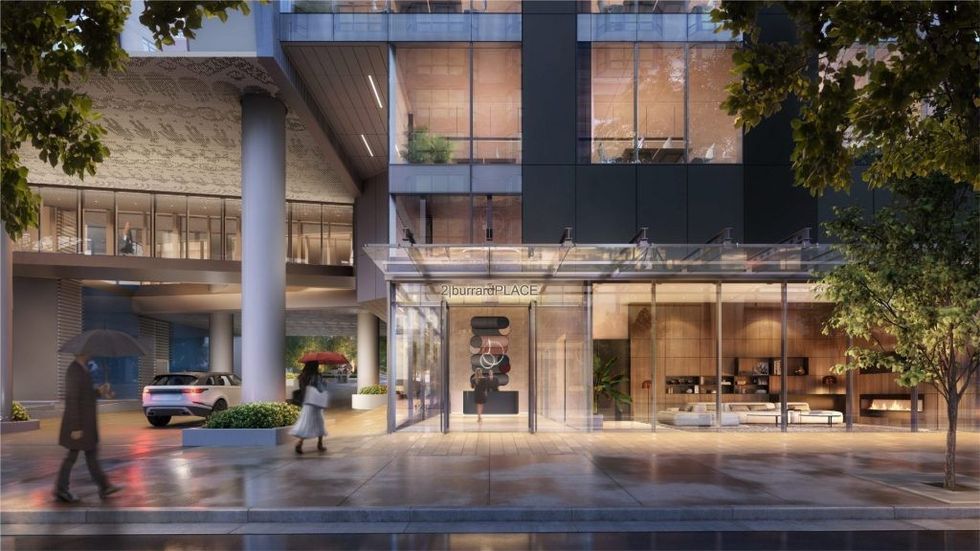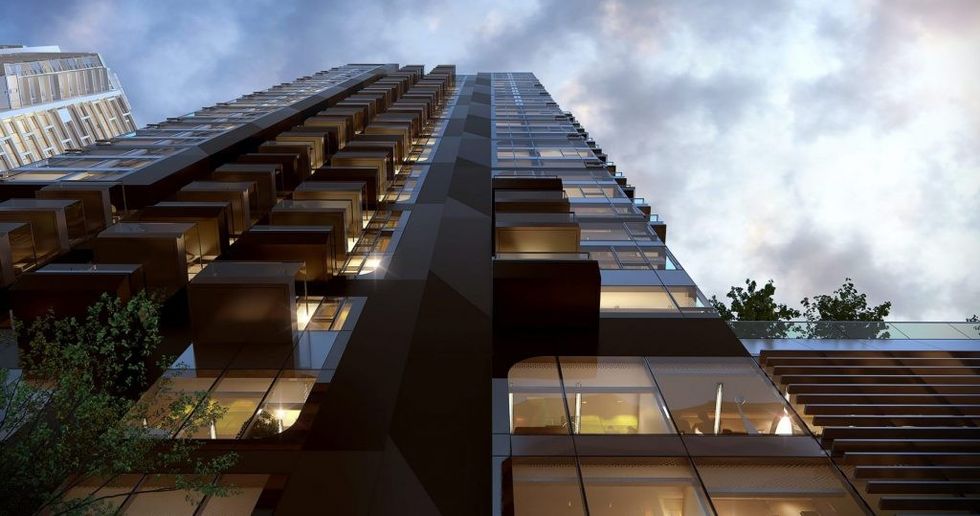 Many of the design elements for residential units from One Burrard Place will be carried over to 2 Burrard Place, according to developer brochures, such as the floor-to-ceiling curtain wall window system, central air conditioning, and Gaggenau kitchen appliances. Like residents of One Burrard Place and The Offices at Burrard Place, residents will also have access to Club One and its various amenities and services.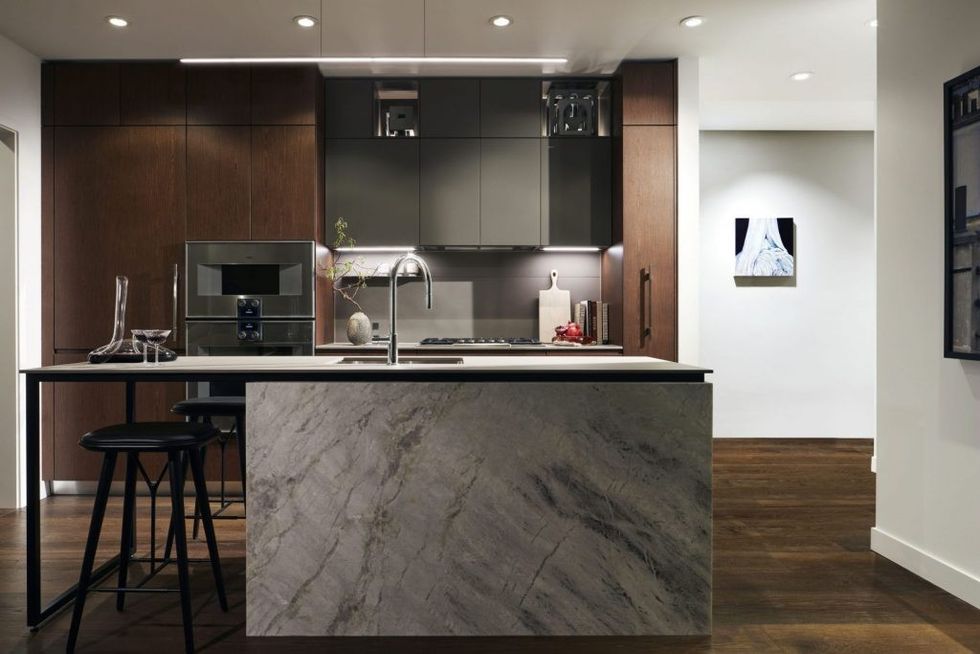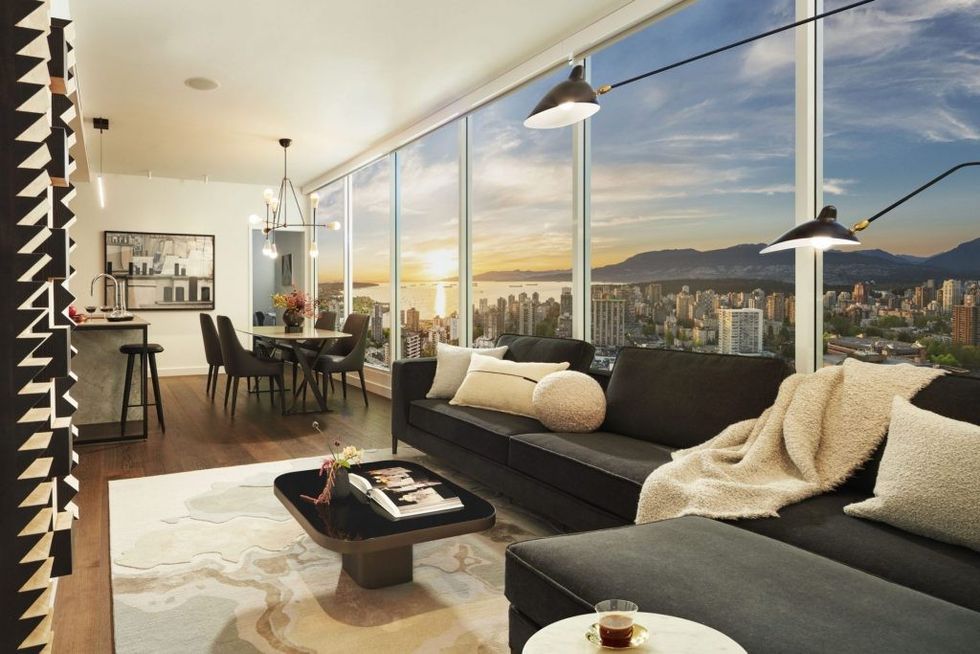 Overall, the three-building development was one of the city's largest development projects to date, and was helmed by Reliance Properties and Jim Pattison Developments, along with multiple architecture and design firms for each of the three buildings.
It's a development project that has captivated the attention of Vancouverites for some time now, considering its prime location in downtown Vancouver, and by the time the final building is completed, the entire project will have spanned about 10 years -- a full decade. By the looks of things, as the tenants start moving in, they'll probably think it was worth the wait.
Office