---
A revised proposal is in the mix with respect to a vacant lot at 1365-1375 Yonge Street -- a site that was initially in store for a 17-storey nursing home. The resubmission asks for a 50-storey mixed-use tower containing 655 condo units.
Prepared by Goldberg Group on behalf of Yonge and Rosehill Inc. (the site owner) and filed with the City of Toronto at the end of May, the proposal also specifies a building height of 170 m (inclusive of the mechanical penthouse) and a total gross floor area of 45.919.7 sq. m.
Of the total GFA, 45,534.9 sq. m would accommodate the residential component -- a mix of 31 bachelor units, 262 one-bedrooms, 296 two-bedrooms, and 66 three-bedrooms -- while the remaining 384.8 sq. m would host a retail component.
Also included in the plans are 204 vehicle parking spaces, 721 bicycle parking spaces, 2,264.3 sq. m of indoor amenity space, and 356.3 sq. m of outdoor amenity space to be located on the roof.
Renderings prepared by Turner Fleischer show a six-storey podium facing Yonge Street and Rosehill Avenue and a 10-storey podium facing the rear, both clad in brown masonry. Atop is a light grey precast concrete tower, which is described in the proposal as "highly articulated" and "well-crafted."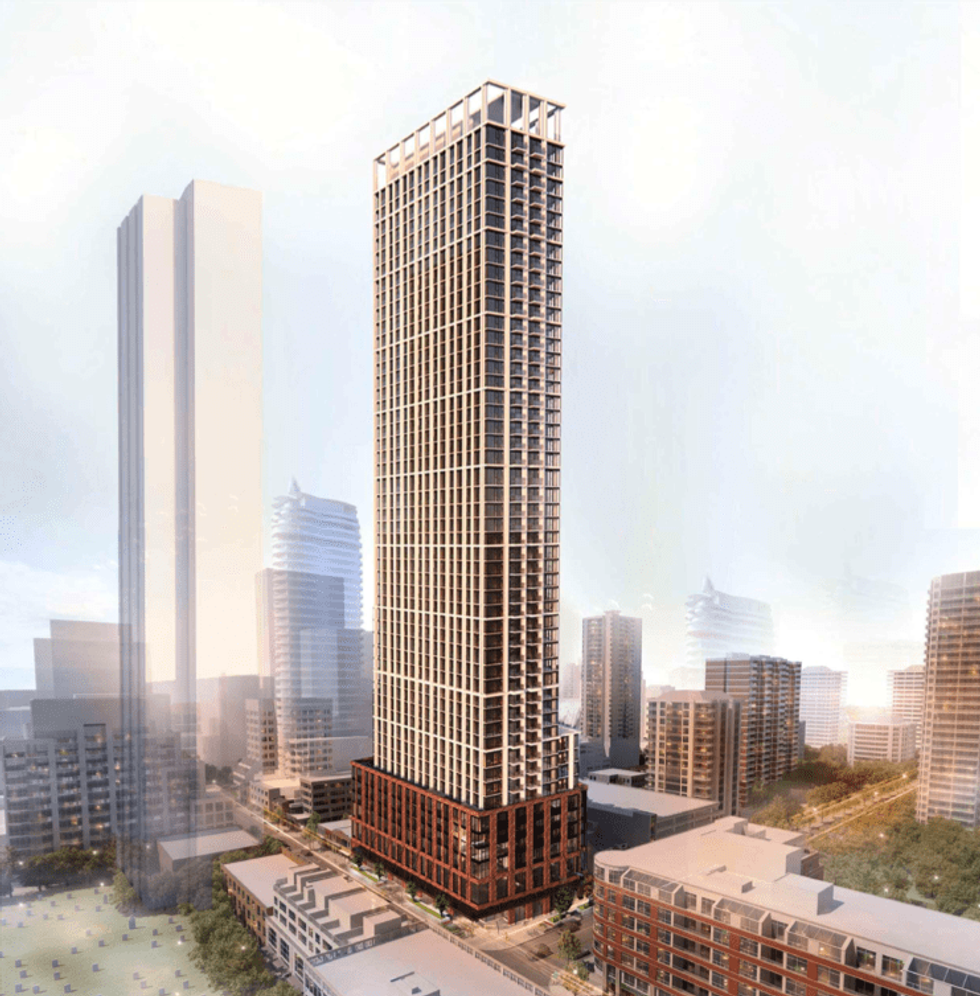 Aerial view (Turner Fleischer)
Bronze and light bronze spandrel glass windows with aluminum mullions monopolize the entire development on all sides. Projecting balconies are depicted in the renderings, however, the proposal states that "further details on balconies will be explored as the application progresses."
The architectural drawings also show a terrace slated for the seventh floor, as well as a residential lobby at the southeast portion of the building.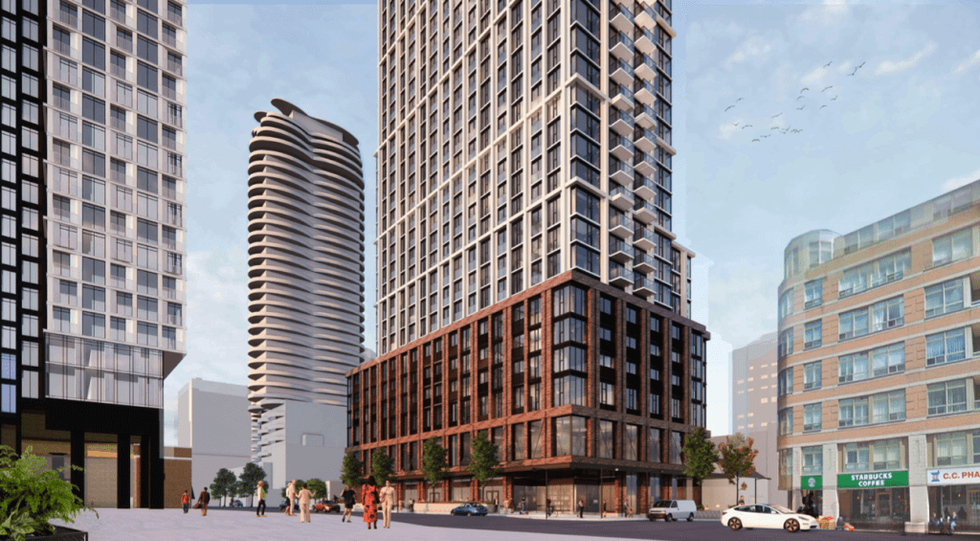 View at Yonge Street looking north (Turner Fleischer)
It's worth noting that the nursing home that was originally proposed for the site was green-lit by City Council in late 2020, with above-grade construction scheduled to start this summer. At the time, plans called for 123 assisted living units and 116 memory care rooms.
The revised proposal doesn't specify any senior-centric attributes. That said, it notes that the revised plan "responds to the evolving built form context and policy vision of the immediate and surrounding area" and "contemplates additional height and density on the subject site while generally maintaining many of the approved building conditions, including but not limited to access, setbacks, public realm space, and separation distances."
Toronto