Real Estate News
North York Surpasses Toronto Proper as Priciest City in Canada to Rent 1-Bed Apt
It appears Toronto has been dethroned as the most expensive city in the country for average monthly rents for a one-bedroom after North York surpassed Canada's largest city in October.
On Friday, Rentals.ca and Bullpen Research & Consulting released their latest National Rent Report, which revealed that year-over-year, the average rent for all property types — which includes single-family housing, townhouses, rental apartments, condominium apartments, and basement apartments — listed on Rentals.ca in the country is down by 8.1% in October — but an uptick was recorded in the average rent for all Canadian properties at .7% month-over-month to $1,782, after four months of almost no change.
"We continue to see an increase in listings nationally, which tells us that supply is outpacing demand. This market imbalance suggests soft rental market conditions will continue for the rest of the year," said Matt Danison, CEO of Rentals.ca.
What's more, the latest data has shown that a number of Canada's largest real estate markets are now experiencing declining rental rates, and in turn, secondary markets are seeing their average rents increase, as more tenants work from home and continue to look for larger, but less expensive units in smaller communities.
READ: Average National Rent Price Increases After Months of Remaining Flat
In October, average Toronto rents for all property types continued to nosedive with one-bedroom units falling 17% year-over-year and declining every month since January, while two-bedroom units down 14% annually and declining month-by-month since July.
According to the report, North York overtook Toronto for the highest average monthly rent for a one-bedroom home after increasing 7% month-over-month to an average of $1,945.
However, Toronto still finished second on the list for average monthly rent for a one-bedroom home in October at $1,922 and for average monthly rent for a two-bedroom at $2,531.
The October report also looked at how average rents for select municipalities — and former municipalities — have changed over the past year. In October of last year, Oakville, Vancouver, North York, Toronto and Mississauga all saw rent levels increase by 5% to 14% annually for all property types. In October 2020, all of those areas experienced declines of 5% to 17%.
According to the report, this data backs up the "Urban Exodus" theory in Ontario — which is when people move to rural areas from large towns and cities — with average rents declining by 8% in North York, 15% in Etobicoke, 17% in Toronto, and 20% in East York, while cities such as Kitchener, Hamilton, and London are still seeing double-digit rent growth during the pandemic, with annual increases of 14%, 15%, and 17% respectively.
What's more, in October of last year, it cost more than $200 more to lease the average property in Toronto than in North York, while during the same time this year, rent in North York is higher than Toronto by approximately $25 per month on average.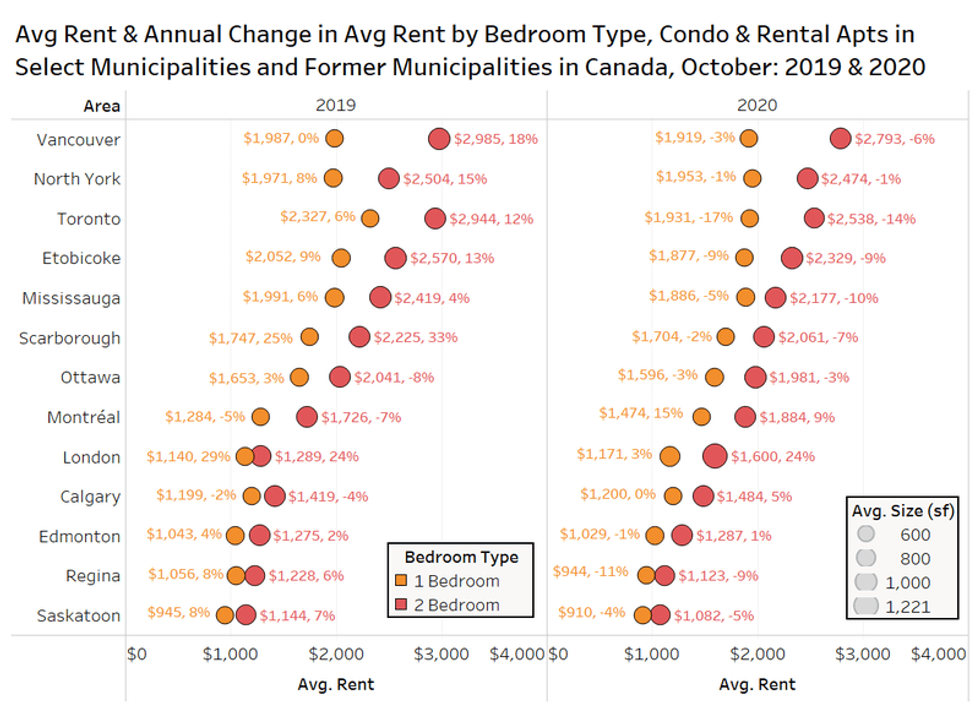 When looking at the monthly changes for condo and rental apartments, North York has the most expensive one-bedroom units at $1,953 per month, topping both Toronto and Vancouver, as a number of new purpose-built apartments are starting pre-leasing programs, pulling the average up.
However, it is important to note that comparing North York and Toronto can be difficult because the make-up of listings has shifted dramatically. According to the report, both areas have seen declines in listings for the more expensive single-family segment, but North York has seen a decline in condo listings year over year, while listings for condo apartments on Rentals.ca in Toronto has increased by 45% annually.
"The rising rents in several smaller municipalities, as well as the significant increase in web traffic on Rentals.ca in Ontario, suggests many prospective tenants are widening their search area when looking for a rental property," said Ben Myers, president of Bullpen Research & Consulting.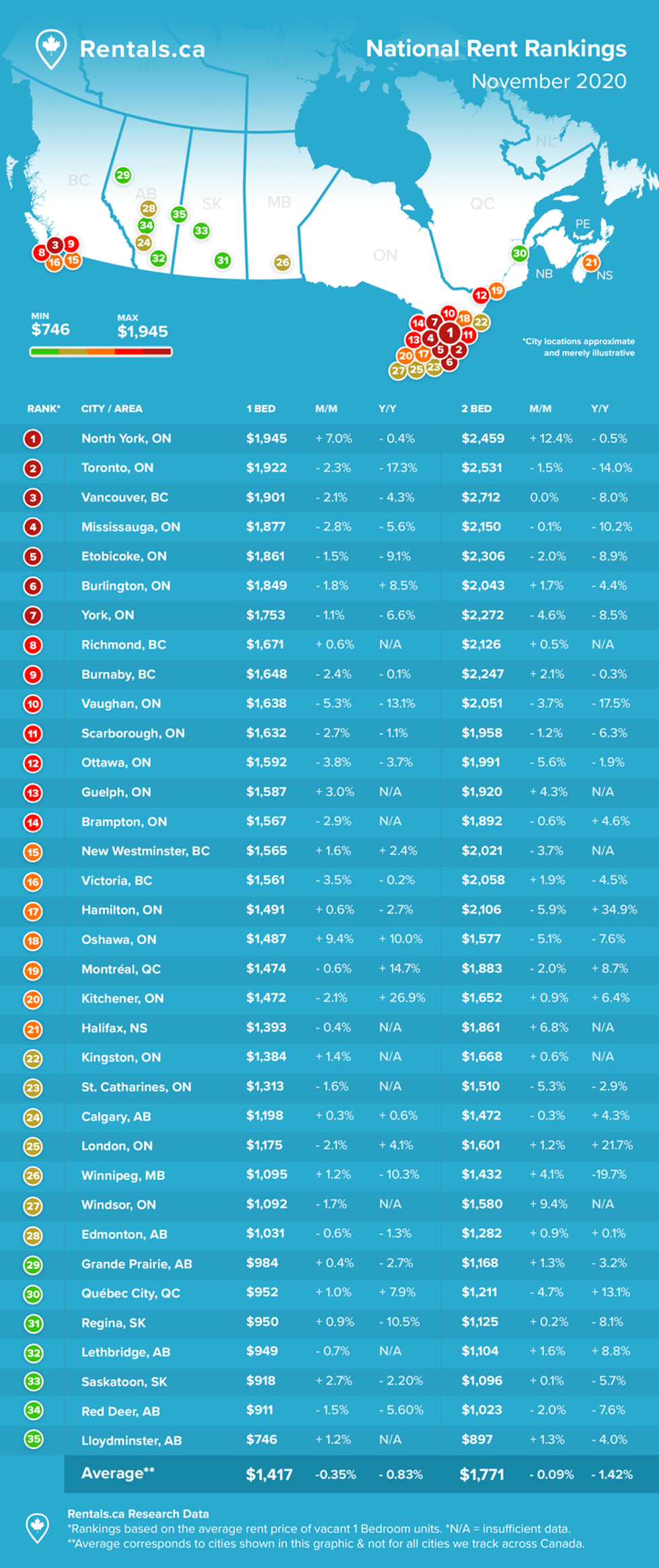 You can read the full national rent report here.