While it's still quite some time before construction begins on the new condo development taking over the corner of Mercer Street and Blue Jays Way, recently released renderings of the project paint a better picture of what to residents can expect.
---
[Want to see more stories like this? Sign up for our weekly newsletter!]
Taking over space that currently houses Wayne Gretzky's and The Second City, the condo development, dubbed 55 Mercer, will stand 45-storeys high and bring 543 condominium units to the area, ranging from studios to three-bedrooms, with the cheapest units starting from the mid $500,000s.
Toronto's IBI Group is working as the architect behind the project, CentreCourt is the project developer, and figure3 is spearheading the interior design of the building.
READ: 47-Storey Condo Tower Coming to Heart of Entertainment District
Preliminary images of the project were revealed last year, followed by a high-quality rendering of the project last month, which shows the building's proximity to the entertainment district, transit, and easy access to the Financial District and over 50 office towers via the PATH pedestrian network entrance, which is just 150 metres away.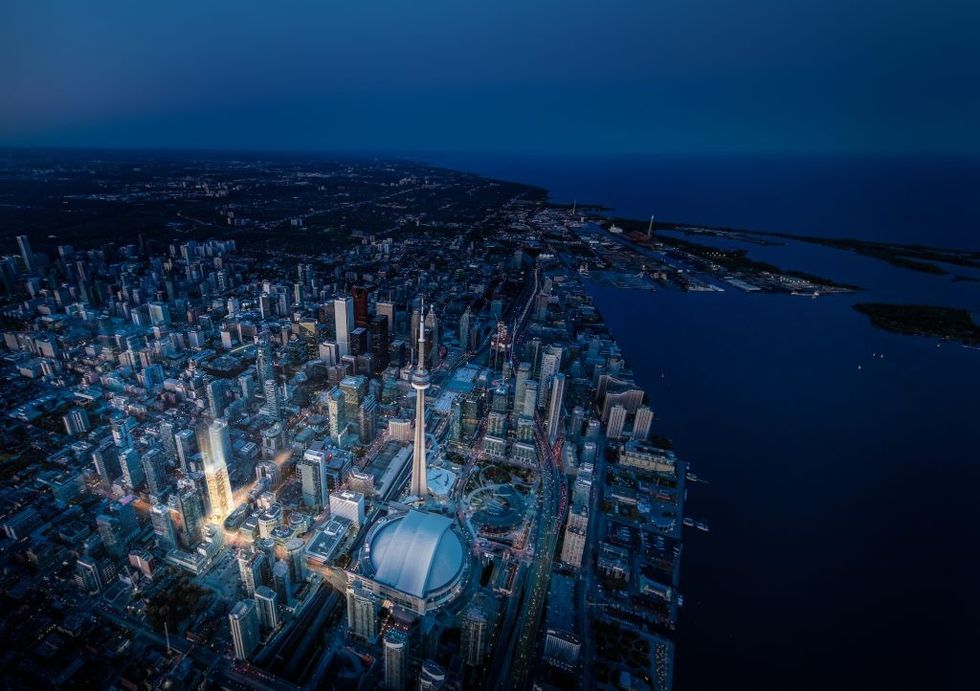 Rendering courtesy of CentreCourt
And now, a new rendering has been released providing a more detailed look at the building's architecture. The new image shows the building's lower-level podium, which appears to feature a mix of dark grey brick in one section of the podium and red brick in another section, possibly a nod to the other preserved heritage facades in the surrounding area.
The residential units appear in the tower above, which also includes a red brick facade and a mixture of white trimmed and divided-light windows.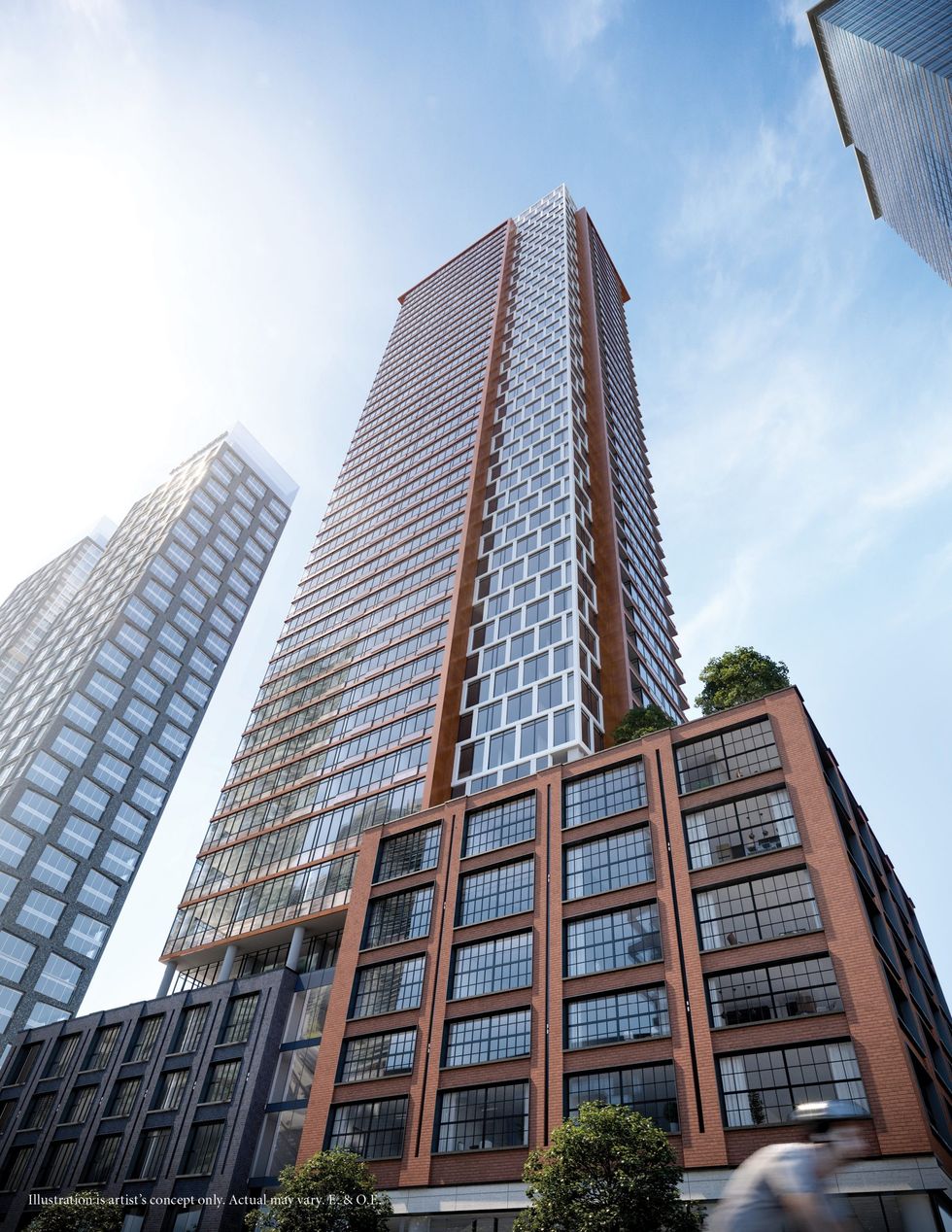 Rendering Courtesy of CentreCourt
A rendering of the building's lobby shows a soaring ceiling, sandy coloured walls accented by reflective patterns, various light fixtures, a marble concierge desk, and a seating area.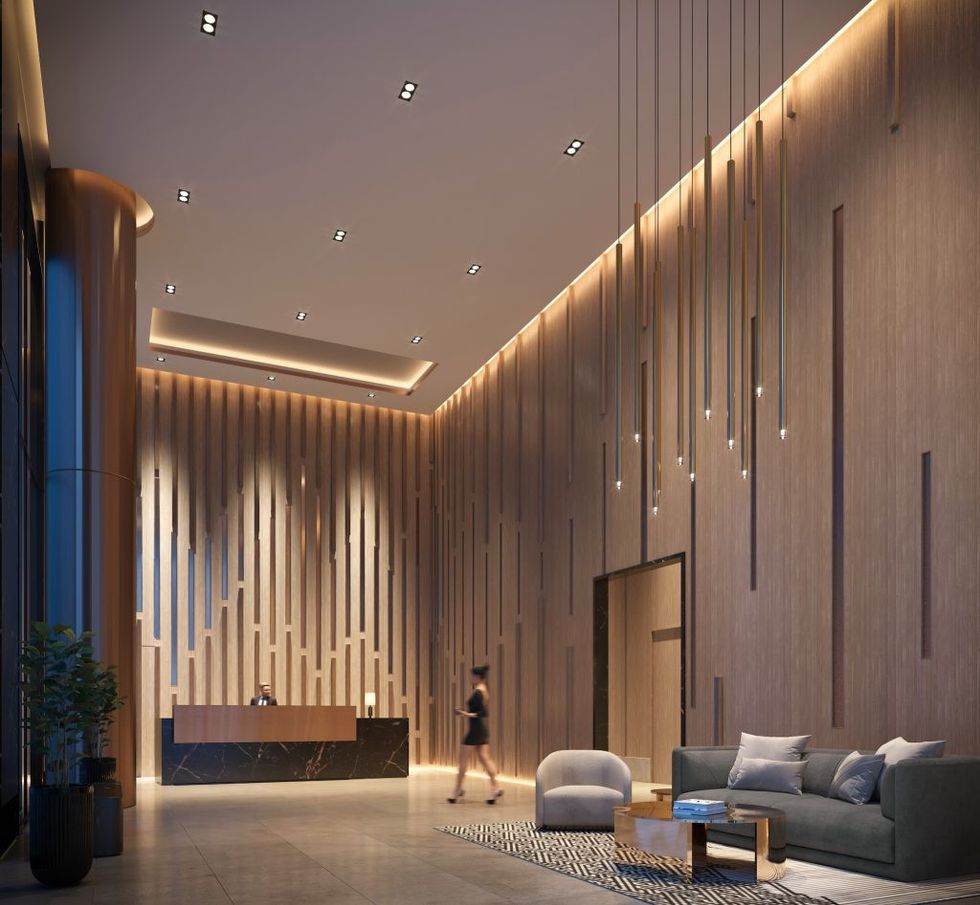 Rendering courtesy of CentreCourt
As far as amenities go, the building will have an expansive program spanning three levels. This will include an outdoor and indoor gym with Peloton bikes, a basketball court, a co-working space, a dining room, a boardroom, and outdoor BBQs and fire pits.
The project site is where the city's popular Wayne Gretzky's restaurant and The Second City are currently located. The improv comedy hub will be moving to a new location in the fall of 2020, while Gretzky's will be closing its doors permanently later this year.
Interested residents can register for more information online here.
Future Developments