---
For the first time since before the start of the COVID-19 pandemic, new home prices have fallen across Canada on an annual basis.
According to data from Statistics Canada, the new housing price index dropped 0.2% annually in April, the first year-over-year decline in the national index since November 2019.
The dip, which is significantly lower than the 9.4% annual increase recorded in April 2022, can largely be attributed to declines in Canada's two largest housing markets -- Toronto and Vancouver. The cities saw prices drop 0.3% and 0.8% year over year, respectively, in April.
Including the aforementioned municipalities, 16 census metropolitan areas (CMAs) saw either an annual decline or no change in new home prices in April, the most since May 1996.
The largest year-over-year decline was seen in Victoria, at 2.7%, followed by Kitchener–Cambridge–Waterloo at 1.5%, and London at 1.0%. Meanwhile, the most significant annual increases were seen in Québec (3.9%), Halifax (1.8%), and Montréal (1.4%).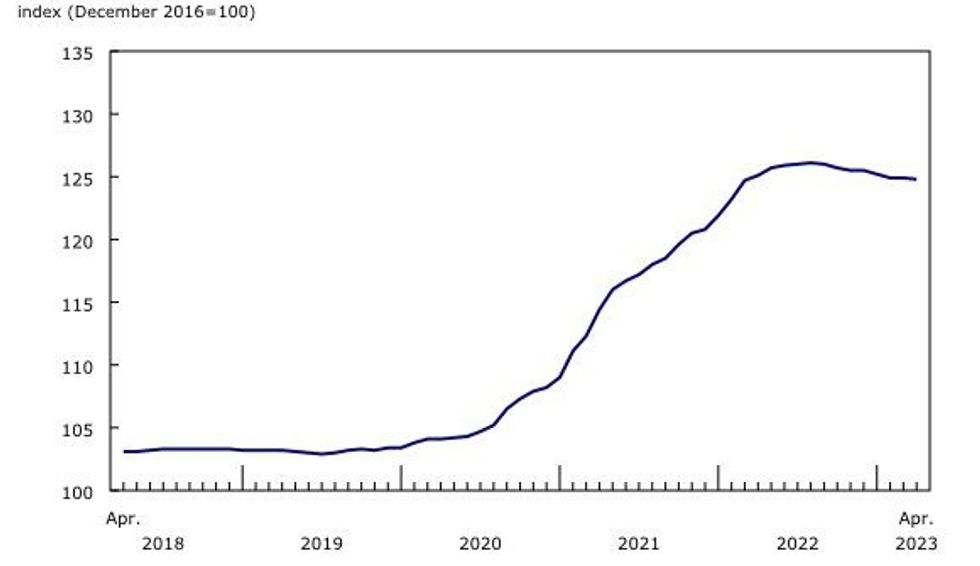 New Housing Price index, Statistics Canada
On a monthly basis, the national index edged down 0.1% in April, the sixth dip since it peaked in August 2022. On a local level, prices fell or were unchanged in 20 CMAs.
At 1.0%, London recorded the largest monthly decline, followed by Guelph, which saw new home prices fall 0.8% from March to April. Builders attributed the declines to "weak market conditions," StatCan said.
New home prices remained unchanged in Toronto and Vancouver on a monthly basis, while Québec experienced a 2.0% increase and Winnipeg reported a 1.1% jump in April. Regarding the latter two CMAs, builders pointed to rising construction costs -- which have seen double digits gains for two consecutive years -- as the reason for the gains.
Following the rapid rise in interest rates and subsequent housing correction that began in the spring of 2022, the Canada Mortgage and Housing Corporation reported a 63.2% annual increase in unabsorbed inventory in April.
Real Estate News