The Canadian National Exhibition is known for its crazy foods. Remember the cricket hot dogs of 2016 ? Or the strawberry shortsteak of 2017? Or how about the 24-karat gold ice cream that took over last summer?
The CNE always brings out the best and craziest food creations Toronto has ever seen, and this year is no exception. Here we round up five new CNE foods that are so crazy, they just might work!
---
If you're heading to the EX this year , be sure to prepare your tastebuds for these over-the-top creations.
1. Frozen Cookie Dough Spaghetti
Photo courtesy of the CNE
If you can get past the fact that this sweet dessert looks like spaghetti, then you're in for a treat! The "spaghetti" is made of cookie dough ice cream that's topped with either chocolate, strawberry or caramel sauce and sprinkled with icing sugar. The latter is meant to resemble parmesan cheese. Brilliant, right?
2. Spicy Peanut Butter Cookie Dough Bacon Burger
Say that three times fast! This odd combo of burger toppings might not appeal to everyone, but to a few brave souls, it could be the ultimate sweet-and-salty creation. The signature beef patty by Bacon Nation is topped with chocolate chip peanut butter cookie dough and jalapeno bacon. And all that is sandwiched between a sweet brioche bun.
3. Pickle Lemonade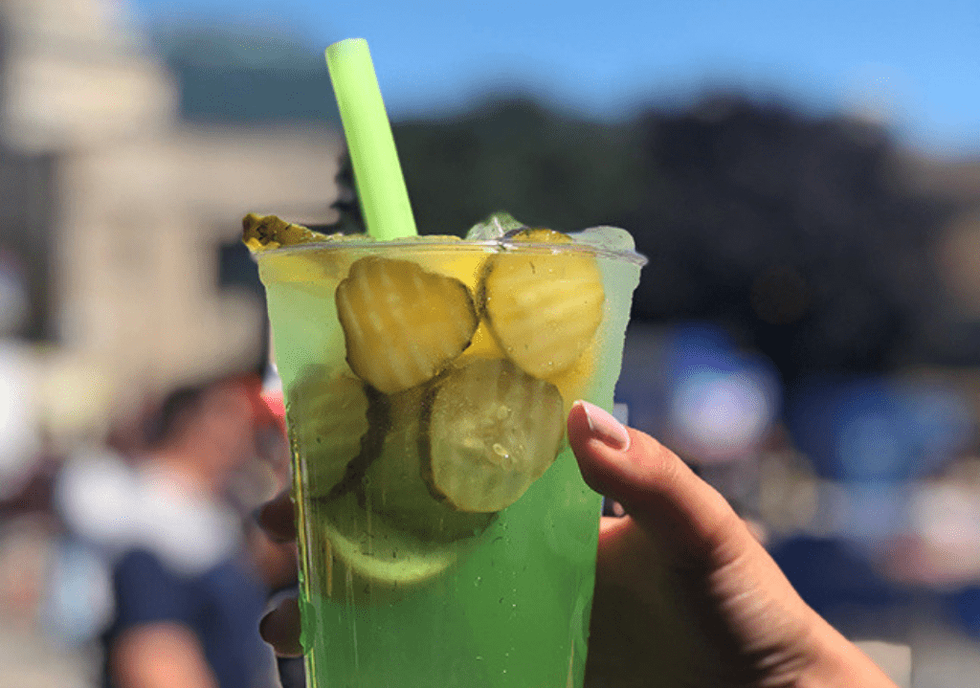 Photo courtesy of the CNE
Pickle Lemonade by Splash is exactly what it sounds like. It's lemonade mixed with pickles and pickle juice. The zestiness of the lemon and the salty, acidic taste of the pickles create the perfect sour drink.
4. Wasabi Spice Cream
Those who like it hot will love giving this new ice cream a try! Wasabi Spice Cream by Black Halo comes with different levels of spice, including wasabi, sriracha, and scorpion pepper. The hot and cool sensation from this treat will certainly awaken your taste buds!
5. Pickle Pizza
Pickles are just one of those foods that you either love or hate. Those who love them will be very excited about this pickle-inspired pizza. Not only is this pie topped with homemade, specialty dill sauce by R&J Concessions, but it's also got crunchy dill pickles and dill weed seasoning sprinkled on top.
Toronto