The annual pace of national housing starts increased in October following a slower September, according to the Canadian Mortgage Housing Corporation (CMHC).
---
On Tuesday, the national housing agency revealed that housing starts across the country reached 222,734 units in October, up 3% from the 214,372 units in September. The seasonally adjusted annual rate (SAAR) of housing starts rose to 214,875 units last month compared with 208,715 in September, the national housing agency said.
CMHC said that single-detached houses in cities such as Toronto and Montreal contributed to the upswing in overall housing starts.
READ: 2020 'In the Running' to Be Best Year on Record for Canadian Home Sales: CREA
"The national trend in housing starts increased in October following a pause in September," said Bob Dugan, CMHC's chief economist.
"Higher single-detached SAAR starts in October drove the overall trend higher, offsetting a second consecutive decline in monthly multi-family SAAR starts. Single-detached starts trended higher in several major centres, including Toronto and Montréal."
According to the latest numbers, the annual rate of urban starts rose 3.5% last month to 202,584 units. The pace of urban starts -- which includes apartments, condos and other types of multiple-unit housing projects -- decreased by a slight 0.2% to 144,796 units in October while single-detached urban starts increased by 14.3% to 57,788 units.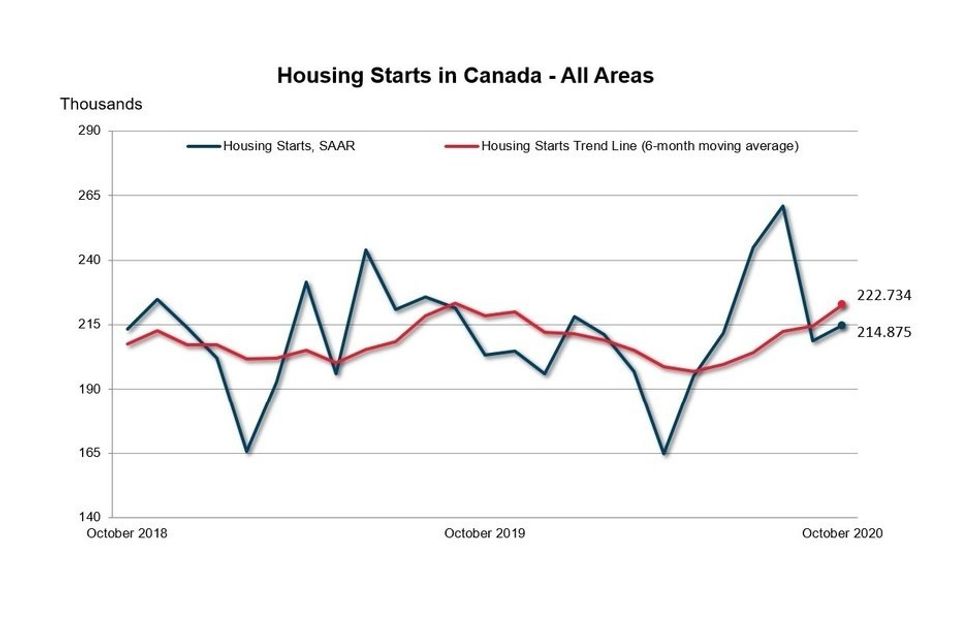 Housing Starts in Canada - All Areas (CNW Group/Canada Mortgage and Housing Corporation)
According to CHMC, Toronto is leading the country for SAAR dwelling starts, after recording 36,214. Canada's largest city is followed by Montreal (24,802), Edmonton (17,411), Vancouver (15,015), and Calgary (11,837).
CHMC's new data follows a home sales report from the Canadian Real Estate Association, which showed that while National home resales were down in October from September's record-high, they were still up 32% annually, while prices set a new record of $607,250, up 15.2% from the same month last year.
Real Estate News