Muskoka
Muskoka
"One of the Best May Levels on Record:" Muskoka Property Sales Continue to Soar
Summer is just around the corner for most of Ontario, but in Cottage Country, it's basically been the steamy season for well over a year now.
According to the Canadian Real Estate Association, Muskoka real estate activity maintained ultra-hot temperatures last month — as it has done, since early last spring — resulting in one of the best Mays in recorded history.
To begin, residential non-waterfront sales activity recorded through the MLS System for the Lakelands region reached 396 units in May 2021 — that's a 69.2% uptick year-over-year. What's more, the total rests 25.5% and 32.7% above the month of May's five-year and 10-year averages, respectively.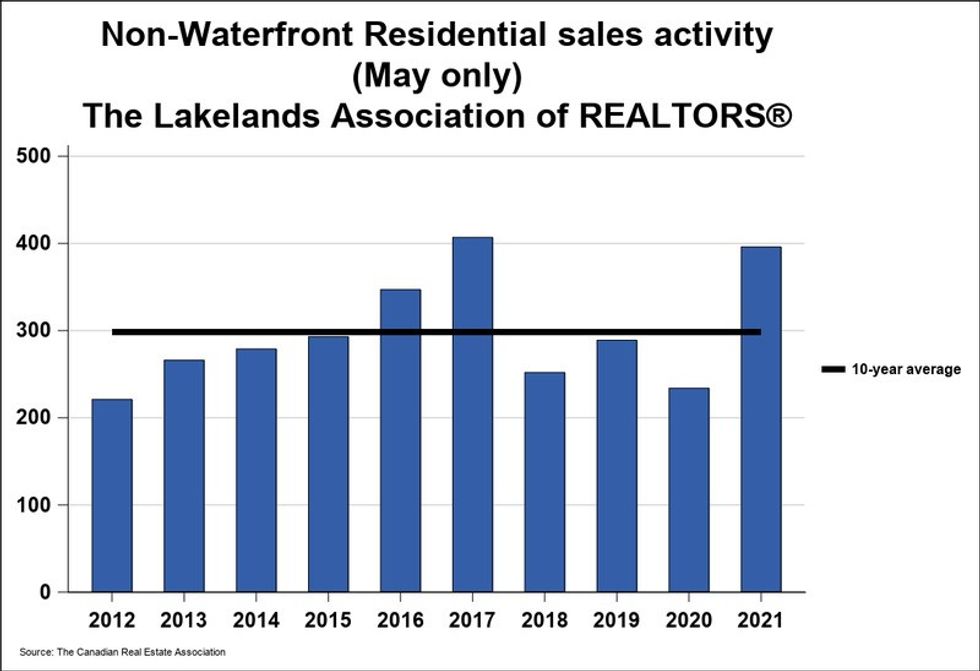 READ: Sprawling Lot on Lake of Bays is Ideal for a Vacation Home New-Build
Waterfront property sales, meanwhile, totalled 275 units last month. This category of homes also saw an uptick from last year, in this case of 27.9%. The sum sits 13.8% above May's five-year average, and 17.8% above the month's 10-year average.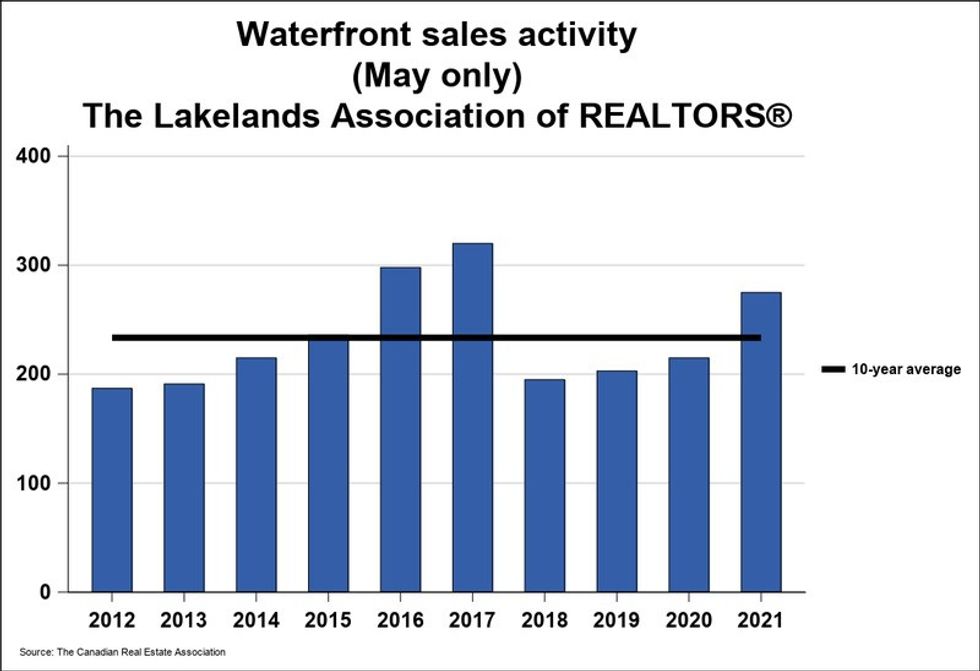 "Sales of residential non-waterfront and waterfront properties both posted one of the best May levels on record," said Chuck Murney, President of the Lakelands Association of Realtors.
"As has been the story for several months now, there just isn't enough supply coming onto the market to offset the current pace of demand. With inventories still at record lows and competition still heating up among potential buyers it's no surprise that price gains for both non-waterfront and waterfront properties remain well into the double digits."
Where year-to-date data is concerned, non-waterfront property sales were up 73.2% from the same period in 2020, reaching a record 1,602 units in the first five months of the year. Waterfront sales totalled 922 units from January through May, surpassing the levels of 2020 by 110%.
The MLS Home Price Index (HPI) — which tracks price trends far more accurately than is possible using average or median price measures — reports the overall MLS HPI single-family benchmark price was $606,200 in May. This total shows a year-over-year jump of 48.8%.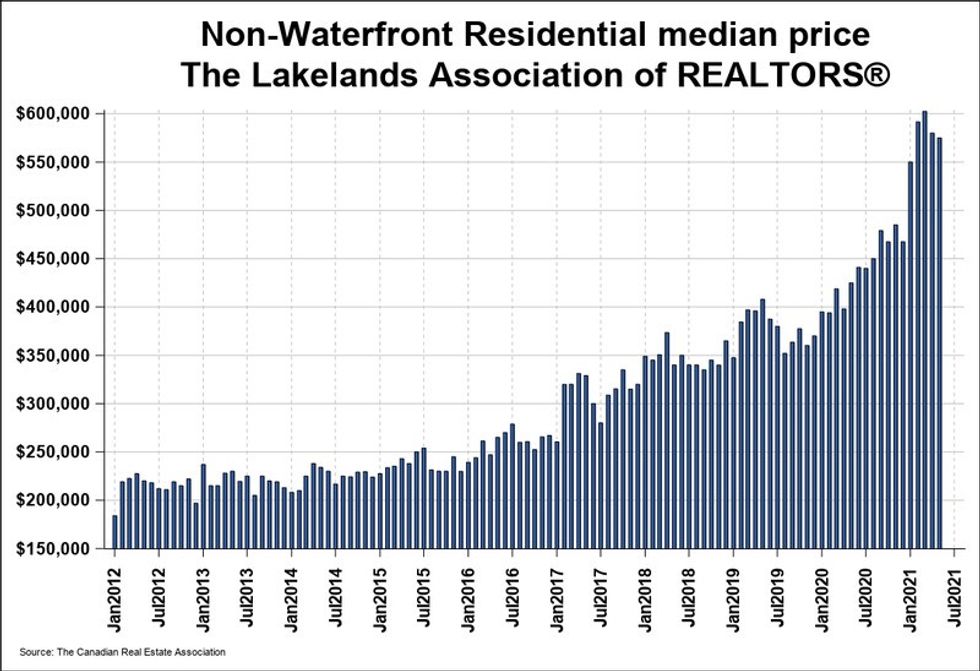 Residential non-waterfront property sales showed a median price of $575,000 last month, surpassing that of May 2020 by 35.3%. The same measure for waterfront properties reached $925,000 — that's an increase of 56.8% year-over-year.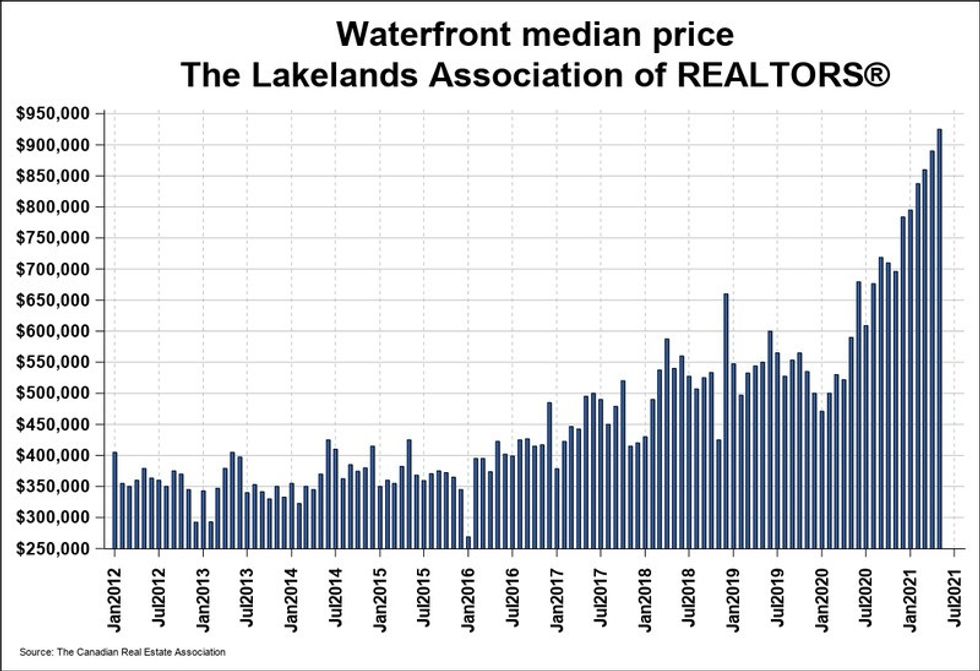 Zooming out once again to a year-to-date view — which, for median prices, provides a more comprehensive perspective than monthly data — non-waterfront median prices advanced 42.3% from the first five months of 2020, reaching $580,000. Waterfront median prices from January through May reached $881,500, surpassing the total from the same period last year by 64.8%.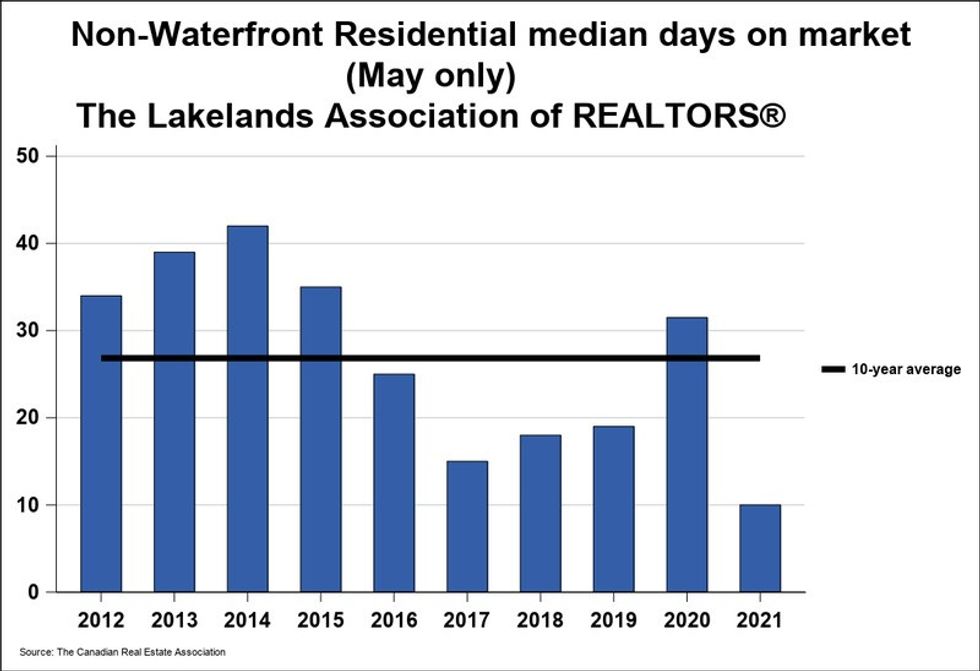 Finally, total dollar values recorded last month for non-waterfront sales more than doubled those of May 2020, increasing 131% to $249.6 million and setting a new record for the month of May. Also setting a record for the month, the total dollar value of waterfront sales hit $328.5 million, a 64.4% year-over-year increase.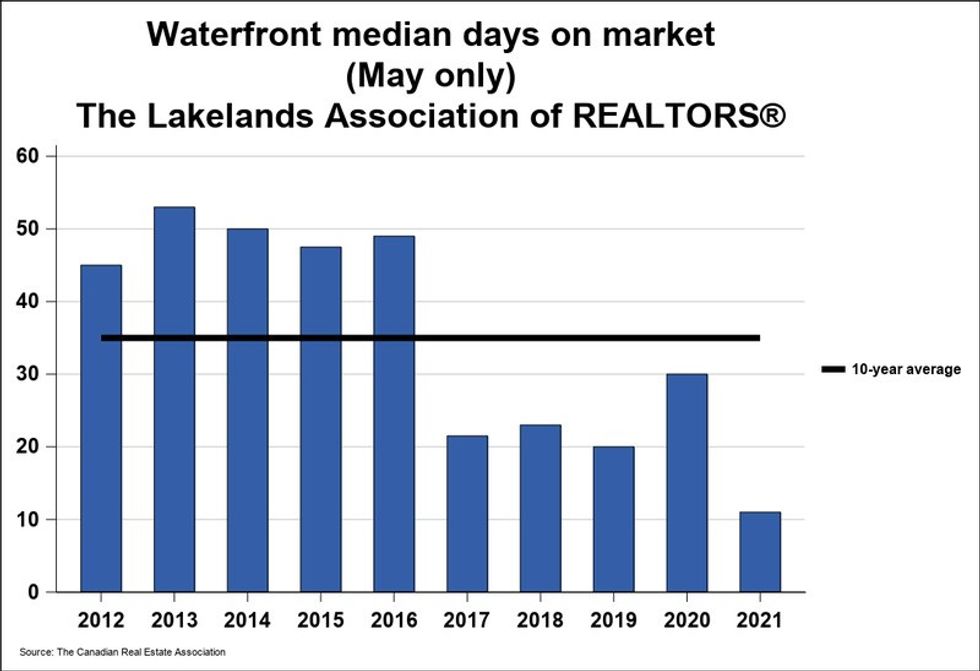 "[We saw a] drop in buyer demand for vacant building lots due to skyrocketing lumber and paint prices, increased cost, unavailability of qualified construction trades, and local township backlogs to secure new site plan approvals, building permits and variances," reflects Sotheby's International Realty's Ross Halloran.
"Buyer and buyer agents [have experienced] increased wariness, and refusal to be drawn into offer-holdback, multi-bid situations. Continuing low inventory [is] driving a continued sellers market," he explains.