If you have an electric vehicle (e-vehicle) or are in the market for one, it's about to become a lot more convenient – and reassuring – to make the drive from Toronto to Muskoka and beyond.
Three shiny new e-vehicle fast-chargers now grace the Sobeys parking lot in Gravenhurst (155 Edward Street) at the south end of town.
---
Skyline Retail REIT and Ivy Charging Network – a partnership facilitated by Hydro One and Ontario Power Generation – installed the universal fast chargers, which will officially open to the public on Tuesday, July 7.
The chargers can charge any type of e-vehicle, offering 380 kilometres of range in less than 30 minutes. The cost to charge your car is currently set at a fixed rate of $.30/minute.
Prior to the addition of these charging stations, the region's fast-charging stations were found along highway 400. There were charging stations in Barrie and Huntsville – but few in the over 100 kilometres between the two destinations. For the eco-friendly cottage-bound set driving the distance, the fear of running out of juice was a legitimate one.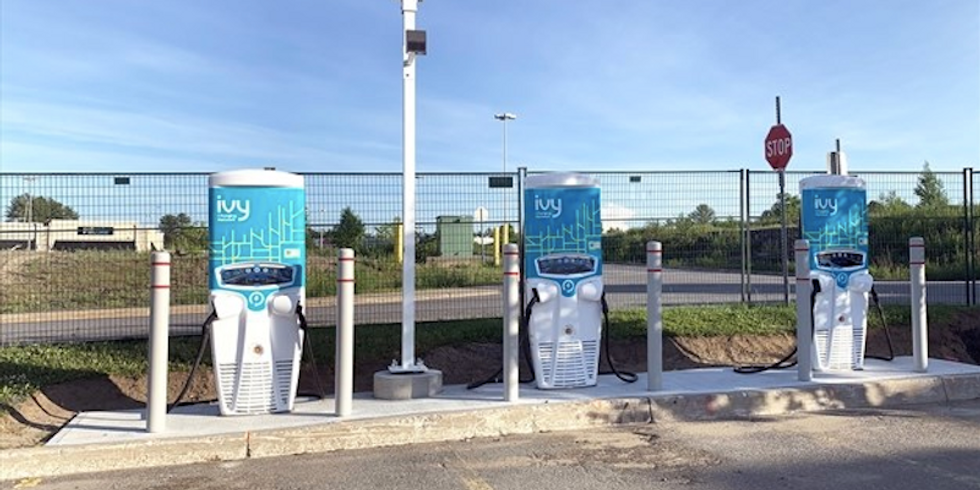 Image: Sarah Law/Torstar
The new stations in Gravenhurst could not only make electric car ownership more appealing and convenient for locals and cottage-goers but could also promote local tourism and shopping.
"I think we are a fabulous mid-way tourist spot and destination for electric vehicles. If we don't have chargers, those drivers are going on the 400 first and staying on it because that is where the alleyway of electric chargers are," Gravenhurst Councilor Jo Morphy told My Muskoka Now. "Having these in town would make us the first off-shoot off Highway 11, where you can stop on your way to North Bay or Algonquin and come in and enjoy our businesses and restaurants."
Cottage country's first Ivy fast-charging station opened in September 2019 in Huntsville in the parking lot of the Harvey's and Swiss Chalet restaurant chain. A Parry Sound location is expected soon.
The addition of the fast-charging stations is part of Ivy Charging Network's commitment to roll out 160 stations at 73 locations across Ontario by the end of 2021. The program contributes to the federal government's zero-emission vehicle infrastructure program. A strategy released at the beginning of the year aims to have 100% of Toronto vehicles electric by 2050.
Judging from the increasing popularity of e-vehicles (even Porsche makes fully electric cars now), we have a feeling that cottage country will get a lot more populated with charging stations.
Muskoka