Muskoka
Muskoka
"Diverging Trends" Evident in Muskoka's November Real Estate Activity
Following months of record-breaking activity, Muskoka's real estate market maintained busy status in November.
But not without some nuance.
According to new data from the Canadian Real Estate Association (CREA), residential non-waterfront sales recorded through the MLS System for the Lakelands region in November were down 10.2% from the record achieved in the same month last year, totalling 492 units.
When 2020's record was set, residential non-waterfront sales came in 9% above the five-year average, and 18.8% above the 10-year average for November.
READ: How to Get the Most out of Your Winter Vacation in Cottage Country
Waterfront sales, meanwhile, reached 101 units sold last month — a count that's also down year-over-year, but is "more in line with historical averages for the month" than last year's sales were. This year's activity comes in 5.4% below the five-year average, and 1% above the ten-year average for November.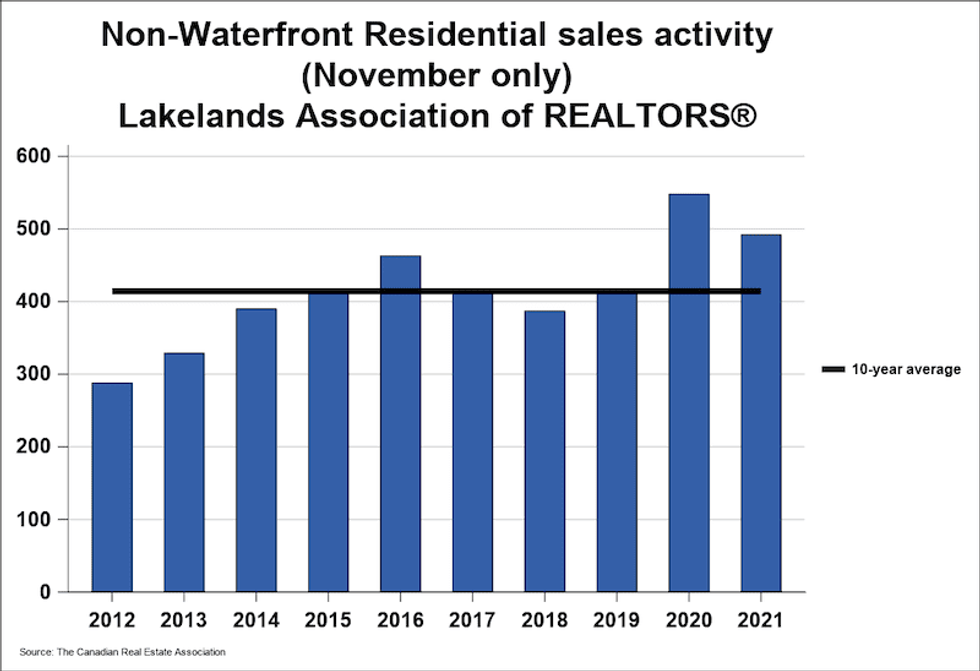 "We are beginning to see diverging trends in our market between non-waterfront residential activity and waterfront properties. Non-waterfront activity is still going strong and posted the second best November on record, while waterfront sales are back down to more normal seasonal levels," said Chuck Murney, President of the Lakelands Association of Realtors.
"Trends in prices are also on divergent paths, as median price levels continue to rise to new records for non-waterfront home sales while median prices have turned a corner and are edging off their highs for waterfront homes. Supply levels for both types of properties are still trending at their lowest on record."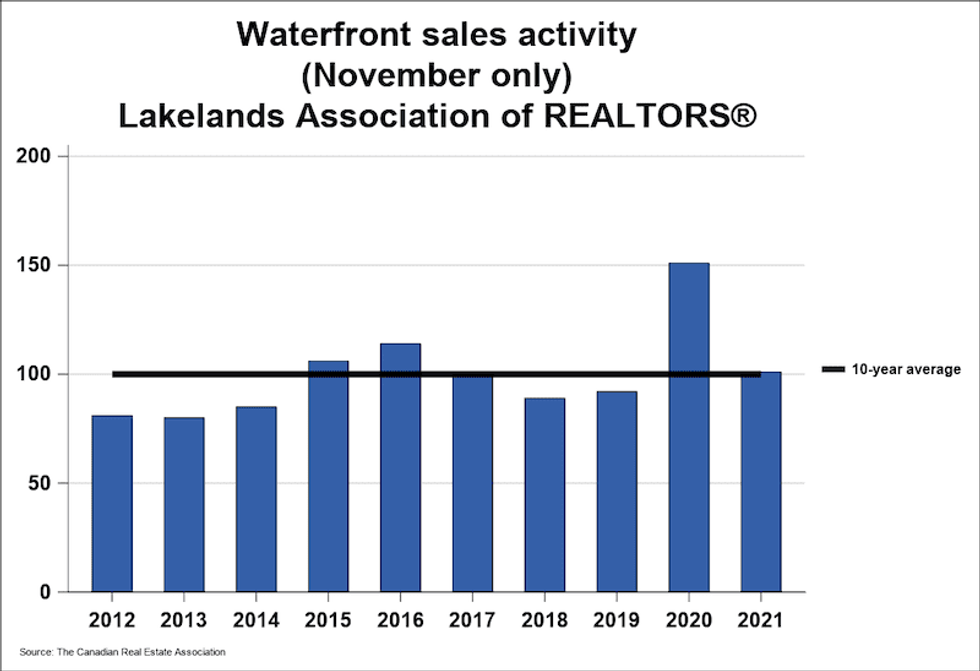 Where year-to-date sales are concerned, residential non-waterfront activity rose 3.7% year-over-year, and hit a record total of 6,754 units over 2021's first 11 months. In the same timeframe, waterfront sales totalled 2,124 units — a slight decline of 4.1% from 2020.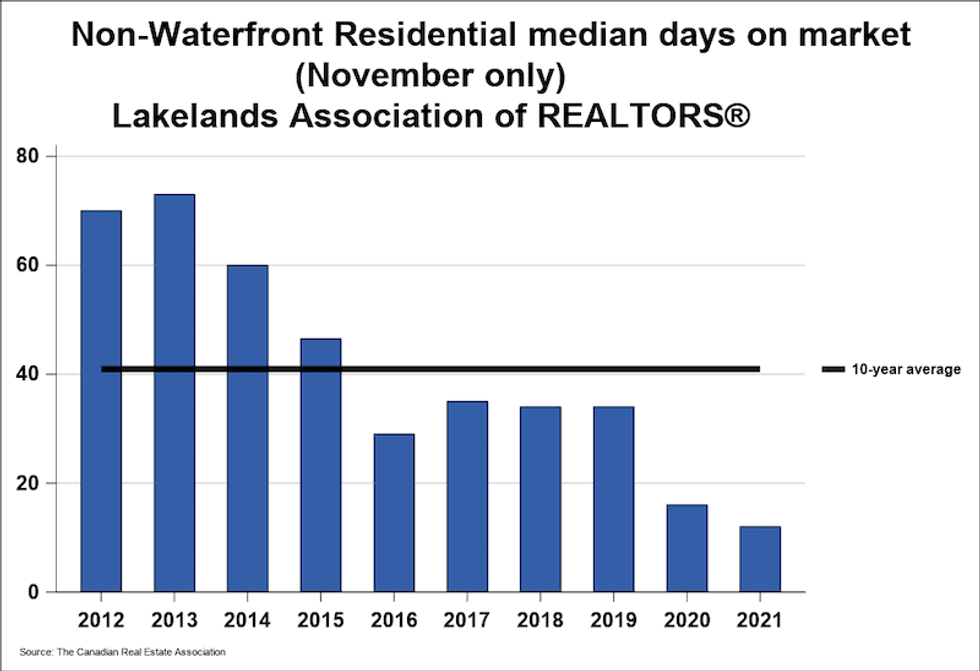 The MLS Home Price Index (HPI) — which tracks price trends far more accurately than is possible using average or median price measures — reported its overall composite benchmark price was $632,300 in November 2021; a rise of 31.4% from November 2020.
The benchmark price for single-family homes jumped a sharp 31.6% year-over-year, reaching $646,000 last month. To compare, the benchmark price for townhouse/row units rose 40%, hitting $584,300, while the benchmark apartment price was $481,600, up 26.8%.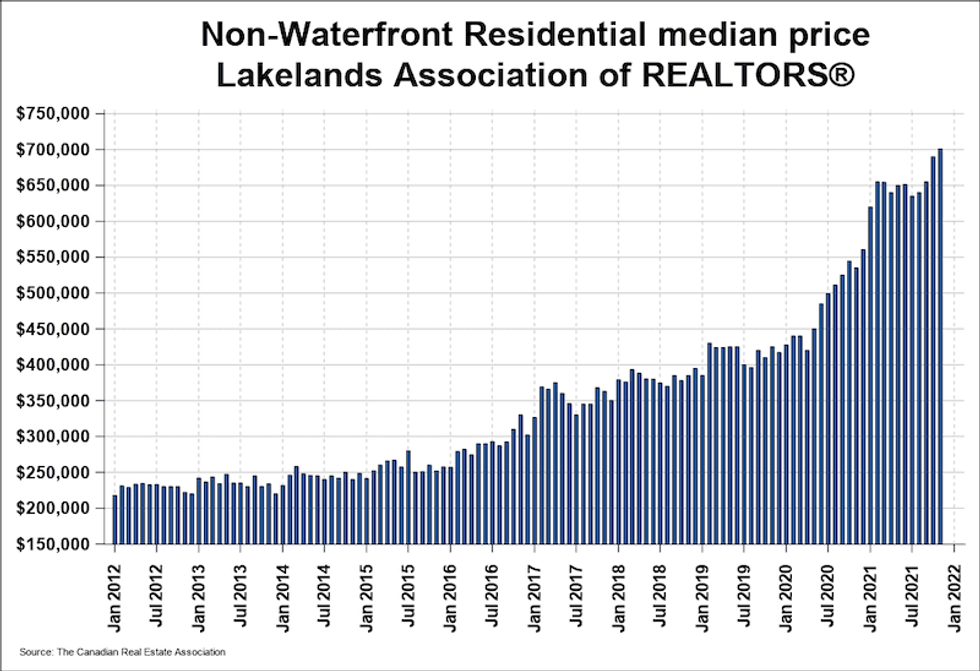 Ross Halloran, Broker and Senior VP sales at Sotheby's International Realty Canada's Muskoka-based Halloran & Associates, notes these price increases — and the sale volumes contrasting them — are influenced by the seemingly ever-present battle of demand vs. supply.
"Buyer demand remains high against limited inventory, resulting in increased average sales prices per unit sold against a fewer number of transactions, resulting in lower overall year-over-year sales volume," Halloran says.
For residential non-waterfront sales, the November's median price was a record $701,000, or a 31% increase from the same month last year. The more comprehensive year-to-date residential non-waterfront median price, meanwhile, was still a gain on last year's data: a 32.3% increase to hit $651,000.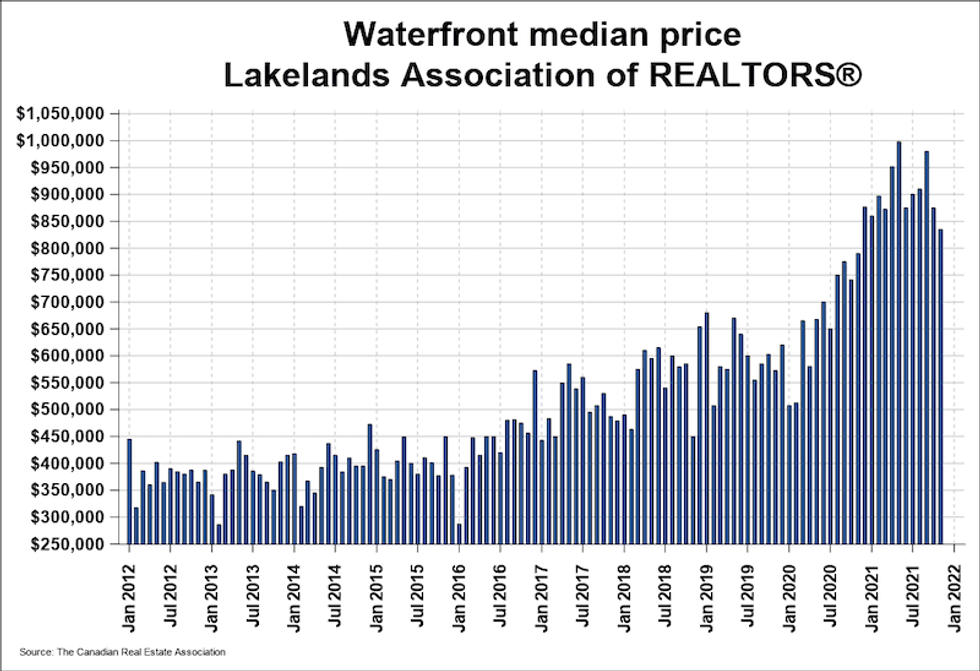 The same November metric for waterfront properties rose 5.7% year-over-year, reaching $835,000. On a year-to-date basis, the waterfront median price hit $907,650; a y-o-y increase of 29.7%.
The total dollar values recorded last month were $391.7 million and 103.5 million for non-waterfront and waterfront sales; or a year-over-year increase of 12.4%, and decrease of 32.9%, respectively.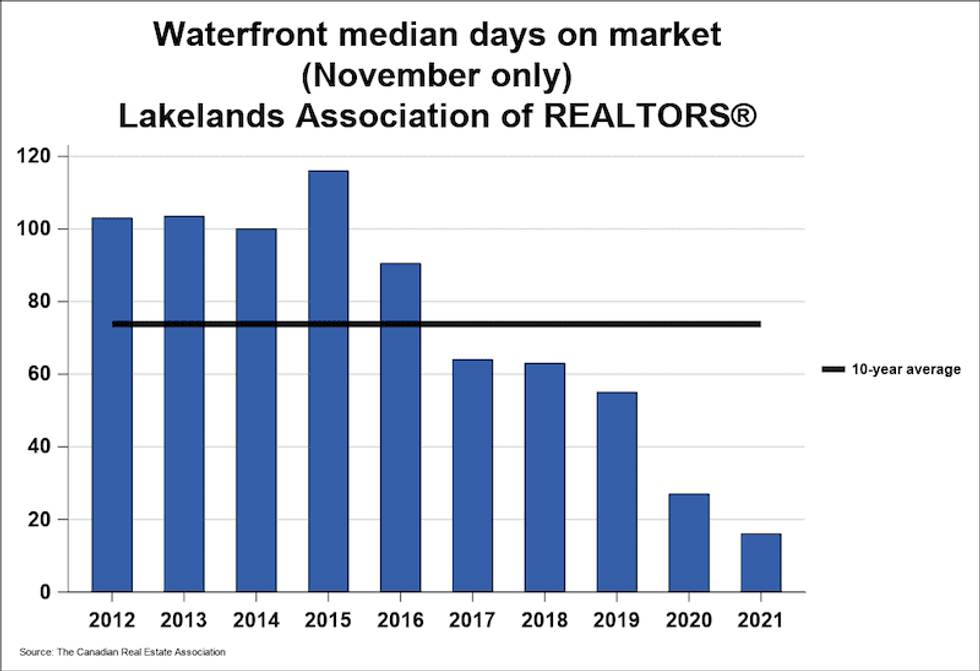 Looking ahead, Halloran predicts the picturesque region won't see its prices lowering anytime soon. In fact, he expects they'll continue to climb.
"Continued strong consumer demand and low inventory will likely cause an early spring market kickoff at the beginning of February 2022, resulting in many multi-offer bids on premium waterfront properties in Muskoka, Haliburton, and Kawarthas," he says. "[This would cause] average per-unit sales prices to increase by 15% to 20% year-over-year by the end June, plus an additional 10% increase from July 1st to the end of December 2022."