A commercial plaza in the Scarborough neighbourhood Woburn could see some new life if plans to build a multi-tower condo development are approved.
Earlier this month, Vermilion Developments submitted an application to City planners for Site Plan Approval, to build three mixed-use buildings ranging in 20-30 storeys in height at the site of 1221 Markham Road, which is currently home to an existing single-storey commercial plaza containing a range of non-residential uses, including restaurants, medical offices and personal service shops.
---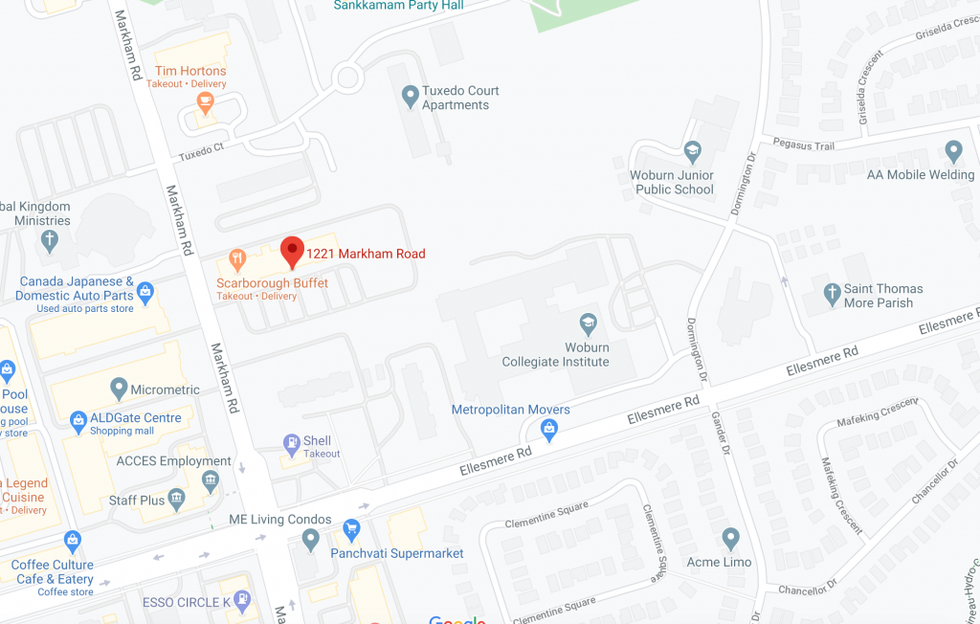 1221 Markham Road/Google Maps
According to documents submitted to the City, the Local Planning Appeal Tribunal (LPAT) previously approved a three-building project on the same site with 733 residential suites back in 2011. Now under new ownership, the project has since been revised with a new architect on board – Richmond Architects Ltd.
READ: 35-Storey Condo Tower Proposed for Scarborough's Golden Mile
Now, the revised development will consist of a total gross floor area of 73,807 square metres, of which 72,992.4 square metres is residential gross floor area and 814.6 square metres is non-residential gross floor rear, resulting in a density of 3.9 FSI (gross).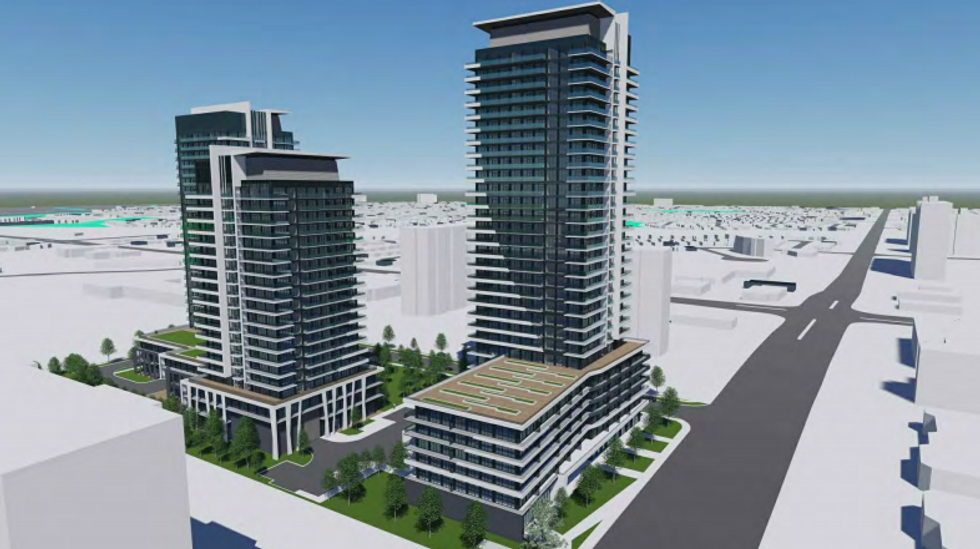 Rendering submitted to the City of Toronto
The development will consist of three towers, which will stand 20, 26, and 30 storeys in height, and collectively contain 866 dwelling units. Of the 866 dwelling units proposed, 409 are one-bedroom units, 237 are one-bedroom plus den units, 157 are two-bedroom units, and 63 are three-bedroom units.
Non-residential space (retail) is also proposed at grade level along Markham Road and a new 18.5-metre public street is proposed along the subject site's south and east property boundaries.
The tallest building, Block A, will stand 30 storeys, of which, 24-stores will house 345 residential units that will sit on top of a six-storey podium. The podium will provide 8,768 square feet of non-residential gross floor area as retail space, neighboured by a vehicular drop-off area and a surface parking lot with 20 spaces.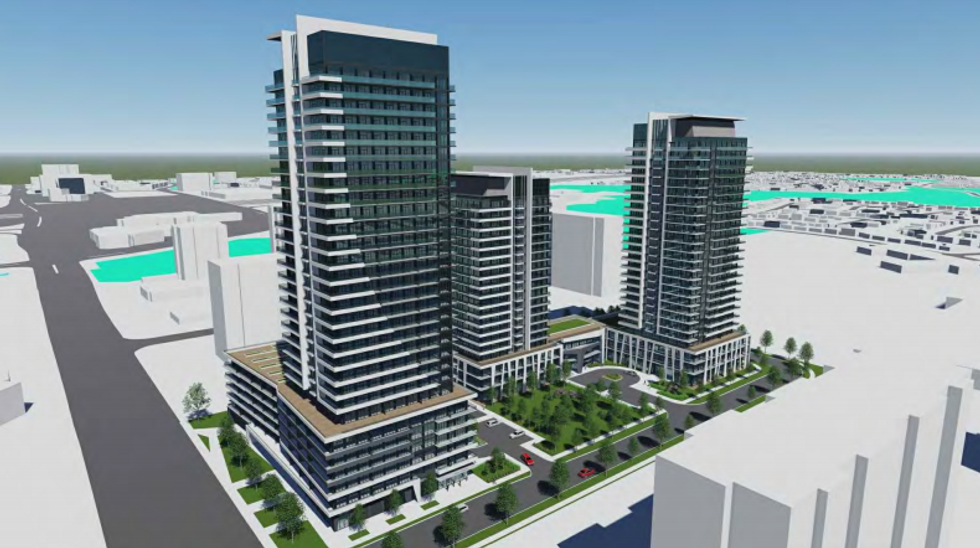 Rendering submitted to the City of Toronto
The other two towers, Block B and C, will share a three-storey podium with 17- and 23-storey towers on top with 521 units between the buildings. Another circular vehicular drop-off area and a smaller surface parking area will exist between the towers.
Indoor and outdoor amenity spaces will be incorporated into various levels of the three podiums, totalling 47,425 square feet.
Two levels of underground parking is also proposed that would contain 723 parking spaces, the majority of which would be reserved for residential use. A total of 641 bicycle parking spaces and 681 lockers would be included.
Future Developments