A neighbourhood in Old East York could see the addition of 73 rental units if a proposal to build a mid-rise purpose-built rental project is approved by City planners.
Last month, developer Busta Ventures Inc. submitted a Zoning By-law Amendment and Site Plan Approval application to construct a seven-storey, mixed-use rental building at 380 Donlands Avenue.
---
If approved, the mid-rise building would be located at the southwest corner of O'Connor Drive and Donlands Avenue --municipally known as 380 Donlands Avenue.
Spanning 0.36 acres, the site is currently occupied by a 1-storey Beer Store and associated surface parking, with loading along the western facade of the building. Vehicular access is provided from both O'Connor Drive and Donlands Avenue.
The developer is seeking to redevelop the lot with the proposed development, which would have a total gross floor area of 60,014-sq.ft. and consist of approximately 4,243-sq.ft. of retail and 55,771-sq.ft. of residential.
READ: Soaring 'World-Class' Mixed-Use Tower Proposed to Rise on King West
The building, which was designed by TACT Architecture, would house 73 new rental residential units that would include a mix of rental sizes including 27 1-bedrooms, 39 2-bedrooms, and 7 3-bedroom units. The building would also have space for roughly 3,143.06-sq.ft. of combined indoor and outdoor amenity space.
According to the architectural plans, the building would have a residential lobby entrance located off of Donlands Avenue, providing pedestrian access to the indoor amenity space, a bike room, and a pet wash area.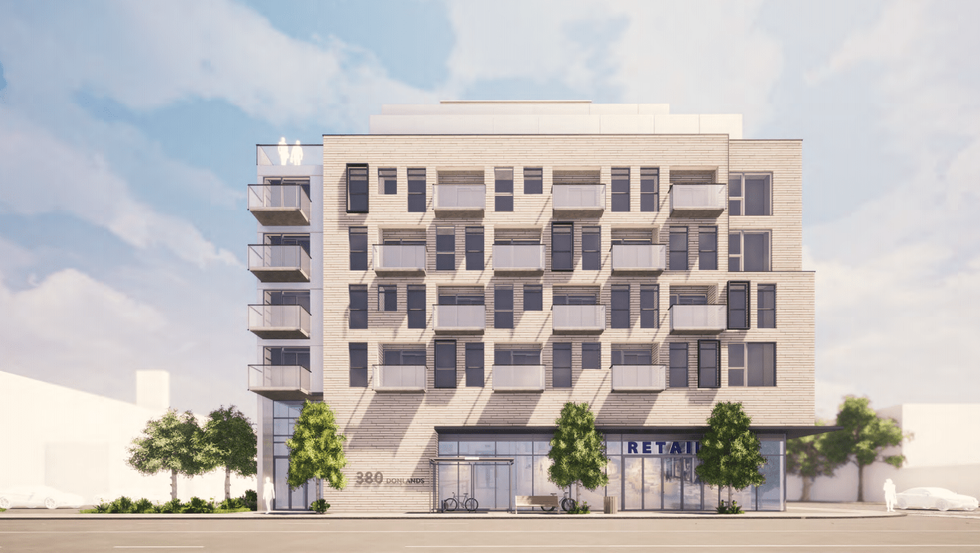 The building's design is described as 'attractive' and would consist of a range of materials to reflect a "high-level of quality and contribute to the existing and planned residential and commercial architectural character of the area."
The proposed building design would provide visual interest through a mixture of facade materials, such as glass, curtain wall glazing, light-toned masonry, spandrel, concrete, and back-lit glass. The proposed design also incorporates a mixture of contemporary colours on all sides of the proposed building to further enhance visual interest.
Overall, the proposal aims at redeveloping and intensifying the site, while integrating with the existing and planned developments in the surrounding area. The development is also described as being "consistent and complementary" to the neighbouring residential, office, and mixed-use buildings.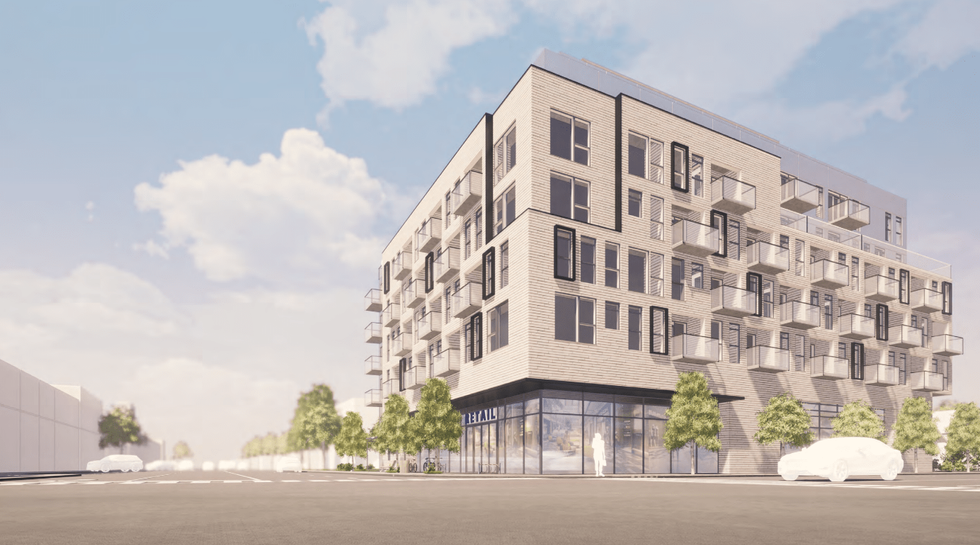 A total of 58 parking spaces, inclusive of 3 barrier-free parking spaces and 14 visitor parking spaces, would also be built within 2-levels of underground parking.
Additionally, the development would add 110 bicycle parking spaces, of which, eight are located at grade for short term parking, while the remaining 102 spaces would be housed internally for long term parking.
Toronto