Changes could be coming to Toronto's Parkdale neighbourhood if a proposal for a mid-rise condo building at the intersection of Close Avenue and Queen Street West is approved.
---
The Zoning By-law Amendment application for the project was submitted to the City in March and, if approved, the building will stand 8-storeys and include a mix of commercial retail and residential space.
READ: Plans Resubmitted for Mid-Rise Luxury Boutique Condo on Davenport Road
Skale Developments is developing the project, with Giannone Petricone Associate on board as the designer. According to documents submitted to the City, the proposal was made after receiving comments from staff during the pre-consultation meeting held earlier this year.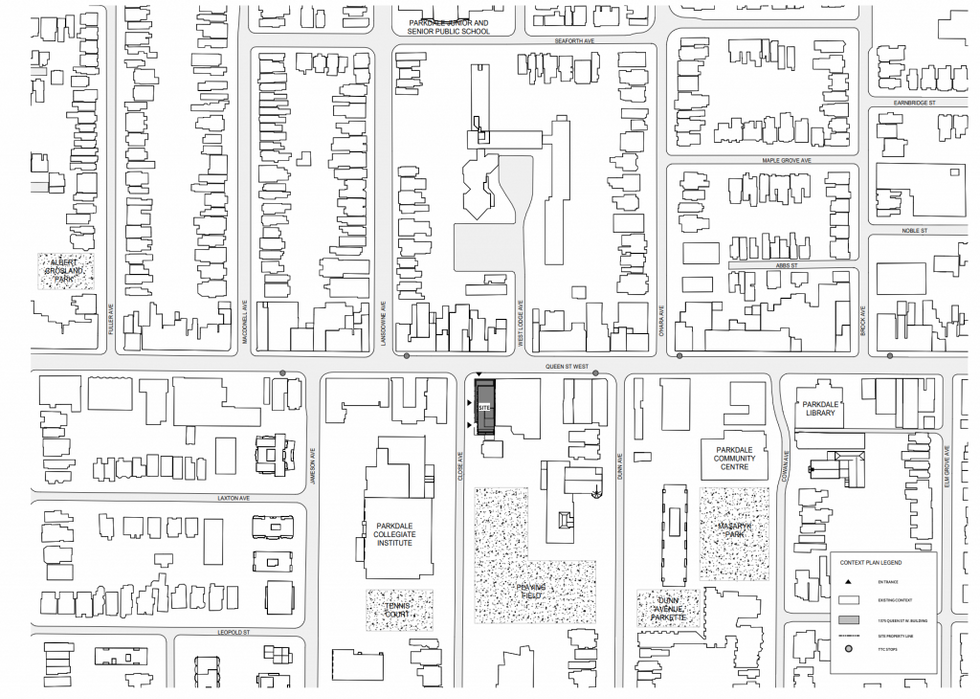 Submitted to City of Toronto
Proposed to rise at 1375 Queen Street West, the project would add to a neighbourhood that is currently experiencing a slight development push, with a number of other towers already under construction including 57 Brock Condos and XO Condos.
The submitted plans reveal the project will include a mid-rise tower that will be built atop a brick-clad base, most likely a nod to the other heritage buildings in the neighbourhood.
The building will house 46 rental units, on levels two through eight, and will include 34 1-bedrooms, seven 2-bedrooms, and five 3-bedrooms.
As for size, the 1-bedrooms will range from 450-600 sq.ft; the 2-bedrooms will be 650-860 sq.ft, and the 3-bedrooms will be 900-1100 sq.ft.
There's also a total of 448 m² of retail space proposed that would be located at ground level along Queen street.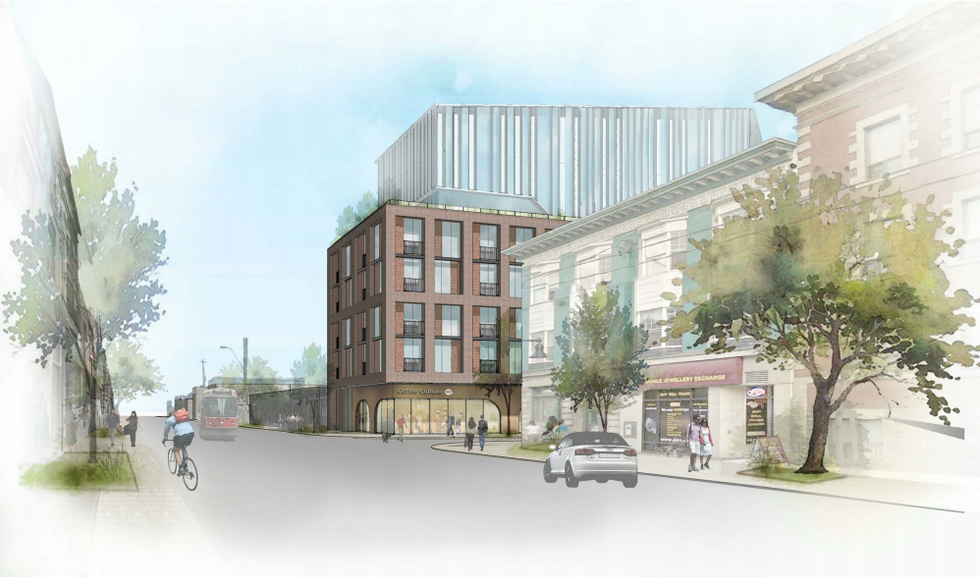 Rendering submitted to City of Toronto
While there's no underground parking proposed, there is a single below-grade level to house a mix of amenity, mechanical, and additional commercial space for the retail located at street-level above.
However, there is parking proposed for the rear of the building, which would contain space for an electric vehicle car-share in addition to 50 long-term bicycle parking spaces backing onto a laneway at the south end of the project site.
Future Developments