---
The Hamilton LRT has been a long time coming, and Metrolinx is finally making moves to bring the transit system to fruition. The latest is the planned demolition of 13 Metrolinx-owned buildings along the future LRT route.
The pending demolitions, which will begin later this month after permit approvals are obtained, come after similar work was carried out on 23 other Metrolinx-owned properties last year. The 13 buildings, largely located along King Street East and Main Street West, are all currently vacant. They're a mix of residential and commercial buildings, including the former Popeyes restaurant on Main Street West, the former Martin's Bowling Alley on King Street East, and a number of auto service locations.
"The demolitions will prepare acquired properties for future staging and construction and ensure community safety, as the demolitions will reduce or eliminate the risk of fire, vandalism, and illegal activities in these vacant properties," Metrolinx wrote in a blog post on Thursday.
"These properties will be required for station stops, infrastructure, and widening to accommodate the future LRT right of way. In the short term, demolition sites will be restored, secured with fencing, and monitored by security contractors."
These won't be the last of LRT-related demolitions either. Metrolinx is expected to begin the process of acquiring additional properties along the route in the coming weeks "as property requirements continue to be confirmed."
The full list of the 13 properties is as follows:
1203 King Street East
85 Paisley Avenue South
918 Main Street West
930 Main Street West/160 Bond Street South
940 Main Street West
670-674 King Street East
676-680 King Street East
692 King Street East
696 King Street East
787-789 King Street East
924 King Street East
1030 King Street East
1407 Main Street East
Once complete, the Hamilton LRT will bring 14 km of rapid transit from McMaster University in the west to Eastgate in the east, with 17 stops, including a connection to the Hamilton GO station, planned along the route.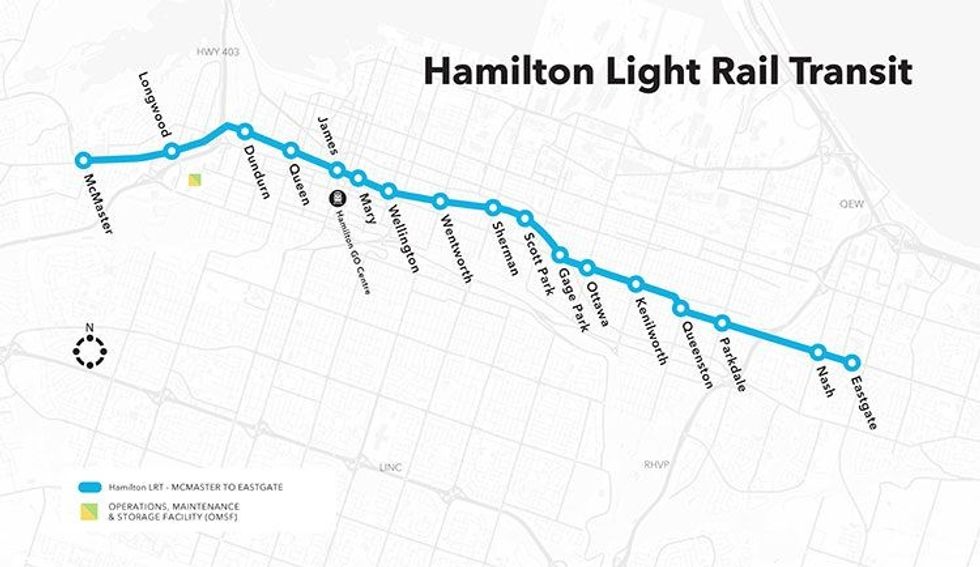 Metrolinx
Funding for the project was initially earmarked by the provincial government in 2015, but due to rising costs, the plans were scrapped in 2019. But early last year, the Province re-upped its interest in the LRT, committing to funding half of the expected $3.4B price tag with the federal government agreeing to contribute the remaining $1.7B. By September, the project was officially given the green light from Hamilton City Council.
Construction was initially expected to begin sometime in 2022, but Metrolinx stated earlier this year that supply chain issues may impact both the timing and cost of the project.
Transportation