---
Is the industrial real estate market in Vancouver losing its momentum?
According to a national industrial report published by CBRE last week, the availability rate of industrial space in Vancouver rose to 2.4% in Q2, up from the 1.9% seen in Q1.
After hitting a low of around 0.8% in Q3 2022, the availability rate -- which takes into account current vacancies as well as space set to come into the market soon -- is nearing a high not seen since Q3 2020, when it was just below 3%. The availability rate has now seen an increase in three consecutive quarters.
What do they say? One is chance, two is luck, but three is a streak?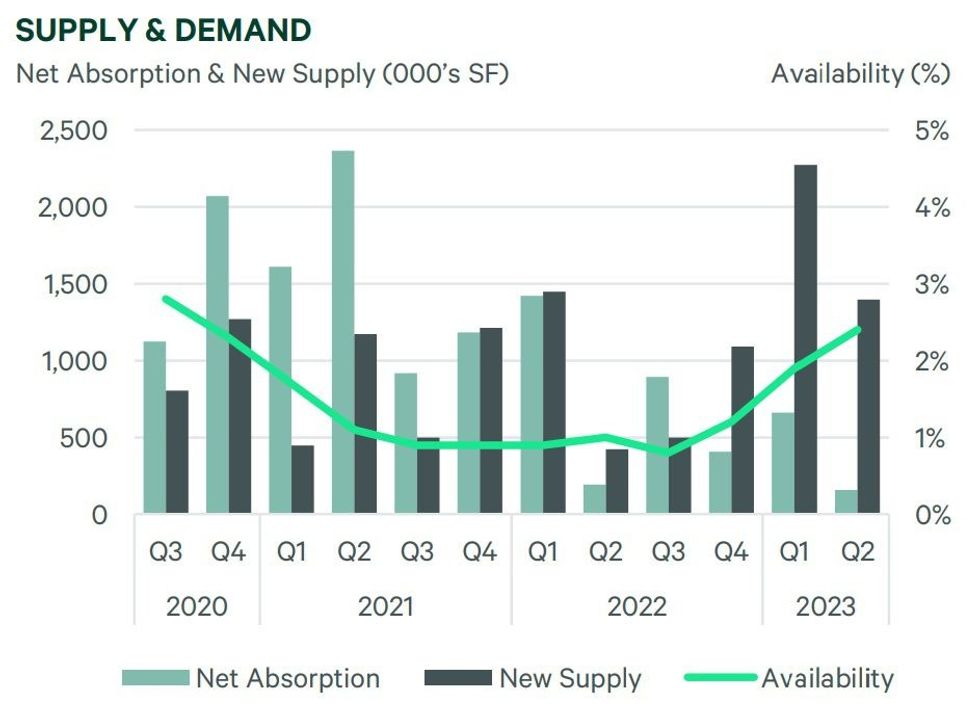 (CBRE Canada)
In a Canada-wide context, the industrial availability rate in Vancouver is now above the national average of 2.1%, after being at exactly the national average of 1.9% in Q1.
Unlike the housing crisis, however, the issue does not appear to lie on the supply side of the equation. Although the amount of new supply added saw a drop-off from Q1 to Q2, it was still one of the higher amounts we've seen in the past three years, at a bit under 1.5 million sq. ft.
The net absorption, however, fell a full 1% from Q1 to Q2, and is now at a low we have not seen in years. (Although Q2 2022 came close.)
CBRE attributes the rising availability rate to "decelerating deal activity in both the sale and leasing markets" and "numerous vacancies over 100,000 sq. ft."
Jason Kiselbach, Executive Vice President and Managing Director of CBRE Vancouver, thinks this may just be a regression to the mean and not a cause for concern.
"This is really a result of the fact that over the past two years we experienced some of the highest levels of demand from industrial occupiers in response to consumer spending patterns, supply chain issues, and a desire to have more inventory on-hand," he says. "The decrease is a normalization to demand levels that we witnessed prior to 2020."
Kiselbach adds that the increasing availability is "taking some pressure off of occupiers looking for space to relocate and grow their business" and that an availability of 2.4% is still fairly low.
CBRE's report also attributes the rising availability to the "vacant delivery of strata developments," and the pricing trends also seem to indicate a cooldown in the strata industrial market.
While average asking net rents are still as high as they have ever been, up from $21.33 per sq. ft in Q1 2023 to $22.09 per sq. ft now, the average sale price for strata product has decreased over three consecutive quarters and is now at $575.00 per sq. ft, after peaking at about $675.00 per sq. ft in Q3 2022.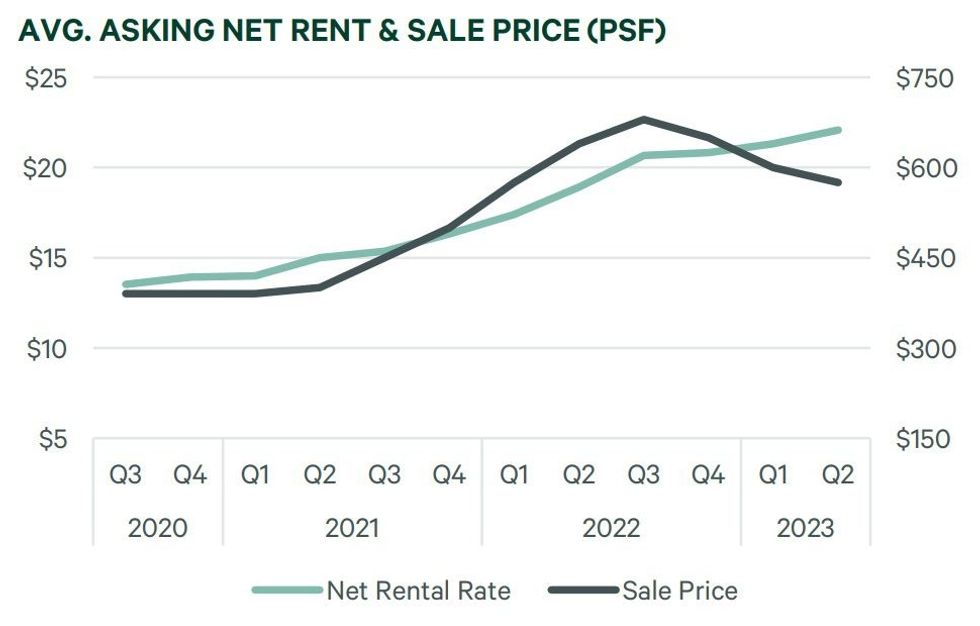 (CBRE Canada)
Asked how much strata industrial space was delivered vacant in Q2, Kiselbach said that 201,000 sq. ft of the 419,000 sq. ft of strata product delivered in Q2 was vacant -- 47.9%.
"Over the past number of years, while interest rates were at historic lows, both investors and owner/occupiers were very interested in strata purchase opportunities creating an environment where many strata projects would sell out before construction completion," he says. "This demand has pulled back a bit with the current lending environment."
Sales are still happening, though, Kiselbach notes, and he believes there is the potential for a supply shortage in the near future, with fewer new strata projects launching than in previous years.
READ: Frontline CEO Amyn Bhayani On The Firm's Future, Fraser Valley Industrial Real Estate
Before then, the overall availability rate could very well continue to increase if absorption does not pick up, considering the amount of industrial development Vancouver has under construction.
CBRE reports that Vancouver currently has 8,385,524 sq. ft of industrial space -- strata and non-strata -- under construction, which is the second-highest amount across the 10 markets included in the report and accounts for about one-fifth of the 44,416,697 sq. ft of industrial space under construction across Canada.
Only time will tell if the streaks continues.
Industrial