---
Welcome to Meet the Agent, an ongoing series profiling real estate agents from across Canada. With more than 150,000 agents, brokers, and salespeople working in 75 different boards and associations across the country, we thought it was about time they had a place to properly introduce themselves. If you or someone you know deserves the same chance, email agents@storeys.com to apply.
THE DETAILS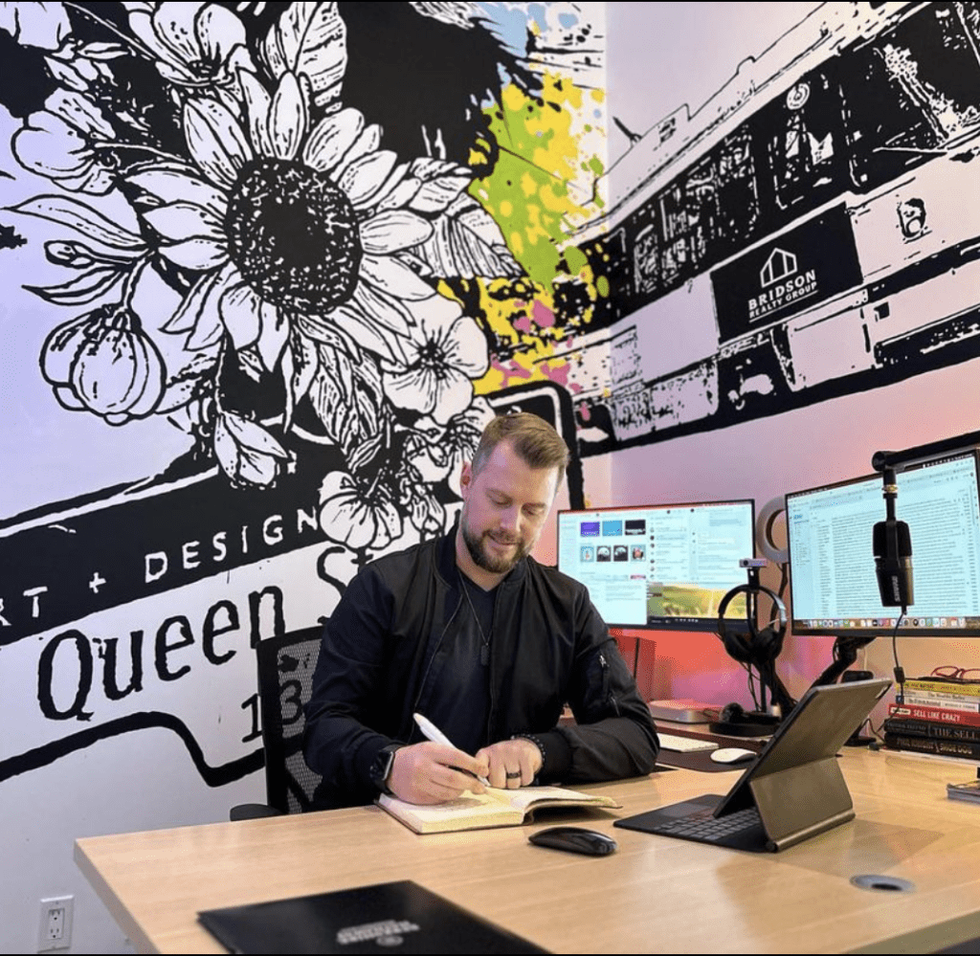 Kyle Bridson/Instagram
Name: Kyle Bridson
Brokerage:Berkshire Hathaway HomeServices Toronto Real Estate
Personal website: queenwestliving.com
Instagram | LinkedIn
Years of agent experience: 6
Areas of focus: GTA, Toronto, Focus on Queen West Neighbourhood
THE INSIGHTS
Where did you grow up?
I grew up in Unionville, in the suburbs of Toronto.
What neighbourhood do you live in now?
I live in Bloordale currently, and the Berkshire Hathaway HomeServices office that I own and operate is located in Queen West, so it's convenient for me to get back and forth.
What made you want to become a real estate agent?
I worked in the corporate sector for over 10 years and, although it was a great experience and I learned a lot, it wasn't for me. I wanted to choose my own destiny, I knew the harder I worked [in real estate] it would directly affect my business. No ceilings, no politics, no one telling me it wasn't my time!
What's the biggest challenge you see facing the market today?
The biggest challenge I see in the market is lack of inventory. This drives the prices higher on the re-sale side due to supply and demand and doesn't allow first-time buyers to enter into the market.
READ:Meet the Agent: Kendra Connelly, Sotheby's International Realty Canada
What's the single best advice you have for sellers? 
Hire a Realtor that specializes in listing properties and provides a full concierge service like our Team does. The services that we offer our clients allow us to sell quickly and for top dollar. Our goal is to take the stress away from our clients and allow them to continue with their lives while we do the heavy lifting with our full white glove service.
What's the single best advice you have for buyers? 
Don't wait to get into the market, do whatever it takes to buy your first property. Whether you have to partner up with a friend or family member or purchase a property that isn't perfect, the key is to just get in and wait.
What's the best thing a realtor can invest in for their brand (a bus bench ad, a solid Instagram strategy, etc.)?
The best thing I ever invested in for my business was a coach. Someone that has been there and done it before, it helped me exponentially grow my business year-over-year and allowed me to elevate faster than I would have on my own.
Who do you look up to in the industry and why? 
I look up to agents that have been in the business for 15, 20, 25 years and are still going strong. Everyone thinks this industry is easy but in reality it's cutthroat and very competitive. Any agent that has a long, successful career and has built a solid business I both commend and look up to.
READ: Meet the Agent: Kevin Wong, Right at Home Realty
Is there anything you wish people knew or understood about realtors that you think they're constantly getting wrong? 
Some realtors get into this business as a "side hustle" to make some extra cash on the weekend or get an easy sale from a friend or from a family member. From my experience those are the realtors that tend to make mistakes, don't know how to transact professionally, and give other full-time realtors a bad name. I take this business very seriously and I want to ensure that my clients are given the best possible services and duty of care that I would give my friends or family.
Tell us about your favourite (or most memorable) sale.
My most memorable sale has to be from last spring. We had a listing on Argyle St. in the Queen West area. The property had been listed with seven other realtors over the last two years. It was a brand new build that had some stigma in the neighbourhood. Our team did a fantastic job prepping, staging, and marketing the property and I was the last agent to list that property because we sold it!
What are the three words you hope your clients use to describe you?
Our team's core values are being Relentless, Approachable, and Knowledgeable or "RAK". We use those values everyday with all of our clients and colleagues.
What's your favourite thing to do outside of selling houses?
Outside of real estate I love to travel with my wife and soon-to-be baby girl. Whether it be up to the family cottage in the summers or overseas to new countries, I've always enjoyed being cultured and experiencing something new that travelling offers. I've even partnered up with a Berkshire Hathaway HomeServices in Cabo, Mexico where we frequently visit. I figured because I went there so often and love the lifestyle why not help Canadians and Americans navigate the market and provide the same level of service that has got me to this point.
This interview may have been edited for both length and clarity. The views and opinions expressed in this article are those of the interviewee and do not necessarily reflect the views or positions of STOREYS.
Meet the Agent