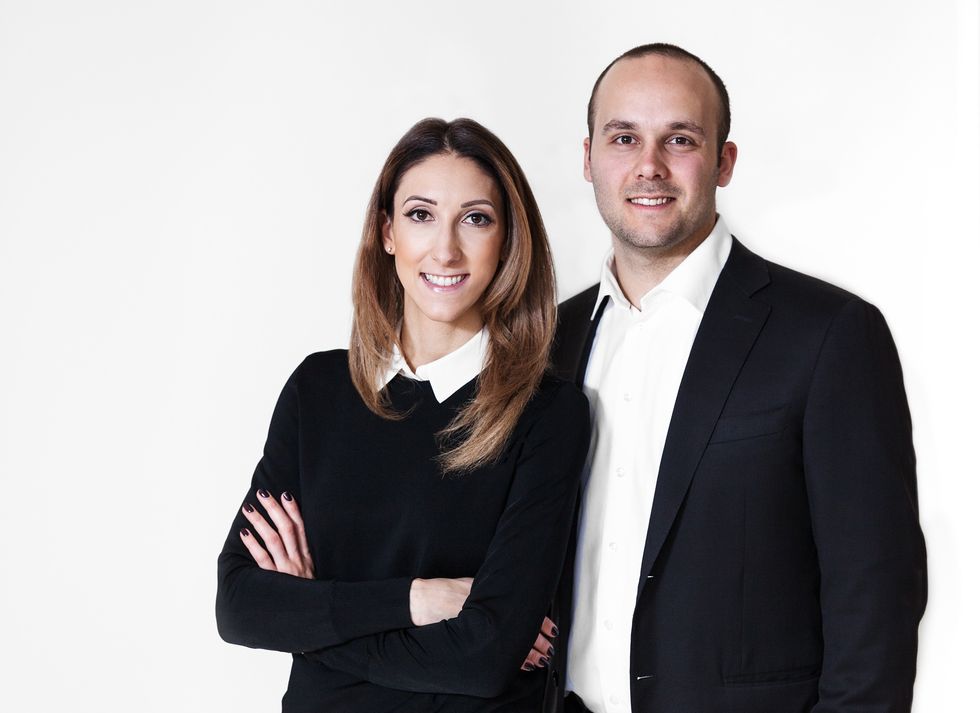 Lina and Frankie Porretta honour their late father every day through their second-generation family real estate company, The Porretta Group, a division of Forest Hill Real Estate.
---
The Porretta Group isn't just about selling houses, nor is it just a division of Forest Hill Real Estate Inc. It's about something much bigger — carrying on a father's legacy.
Growing up, real estate was all Lina and Francesco "Frankie" Porretta ever knew, having inadvertently attended a master class on the business for the majority of their lives.
"Our father owned his own business for a number of years … it was beside my school, his secretary would pick me up on lunch break and we would hang out, so we were really in the environment of real estate. It's not like our father just went to work and came home," says Lina Porretta.
"One year in our shoes and we would see more deals than the average agent does in six or seven years before us. When we got into the business, our father was doing 60, 70, 80 ends. That's a lot of clients and if we were sitting in that number of listing presentations and that number of multiple offer presentations or whatever it might be, you would see so much and you would learn so quickly …" says Frankie Porretta.
So when their father, Nick Porretta, was diagnosed with pancreatic cancer in 2010 and succumbed to the disease just six months later, there was only one thing, among the tragedy and upheaval of such a profound loss, that made sense. Lina and Frankie would carry on as The Porretta Group, with their mother, Sylvia, as their executive assistant.
Seven years have passed and this second generation of Porretta realtors has maintained the drive to elevate the company their father started, consistently performing at the top of their industry as stewards of a strong repeat and referral business.
"Our father never pushed us into this. If anything, he showed us how hard this business was. Our parents always encouraged us to follow our dreams and explore the passions that make us happy, but real estate is our passion and neither of us can really imagine doing anything else," says Lina.
They recently described to Storeys the joys and challenges of taking on such a changing, fast-moving industry and how they move through it together, side-by-side and with family at the heart of it all.
What initially attracted each of you to real estate?
Frankie: I think it's a little different for both of us. At the time I'd just quit my job in heating and air conditioning and I was in a position where I didn't really know what I wanted to do. This is the reason why my dad said, 'You know what? Why don't you go get your real estate license and work with me.'
Lina: For me, it came pretty naturally. We grew up with our father in the business, so every meal the talk was real estate. Our mother was our father's assistant. I went to university at the University of Toronto for a few years before I left and got a job at HSBC. It was there I realized that I was more into business than what I was studying, which was art. My father said, 'Go get your license, work with us,' so I did that full time for a couple years. Then I decided to go back to university for my formal education while I was still working in real estate.
What do you each think clients most commonly misunderstand when using a realtor to buy or sell a home?
Frankie: Oh boy, I'd love to add my two cents to that. I think the majority of the time most people believe a real estate transaction is extremely simple. I think real estate agents and real estate lawyers make it all look simple, but actually there's a lot of moving parts in a real estate transaction. Everything from making sure we have the financing conditions fulfilled, making sure we get the deal to so-and-so to making sure we're in compliance with FINTRAC. It's a lot of paperwork and a lot of moving parts and people don't realize that.
What issues or innovations are you seeing that will have a profound effect on the industry in the future?
Lina: I think everything is going the way of technology. Making videos for properties is happening and using the drone is the next coolest thing for a lot of these agents. Every day you wake up and it's something new. Everything is moving very fast. I'm even seeing purchasers buy sight-unseen because the market's so competitive.
Frankie: I get a text message from my sister-in-law with a photo on my phone. It's of a house on my street that's for sale. There's no For Sale sign and it's not on MLS yet. Sure enough, she found it on a buy-sell group she belongs to on Facebook. It just goes to show how fast social media moves. I'm the real estate agent and my sister-in-law who just likes to belong to groups on Facebook knows there's a house for sale on my street before I do.
What's Toronto's most overrated or underrated neighbourhood?
Lina: I think it's easier to say what's underrated as opposed to overrated. For underrated I would say North Etobicoke. Underrated meaning you can still get in at a reasonable price and the neighbourhood is still up and coming. I think also the east end of The Danforth and the Birchmount neighbourhood. I just sold a property there not too long ago and it's a neighbourhood where there's so much growth potential.
Frankie: I was going to say West Etobicoke. Everything from Mimico north to Markwood is probably the most underrated — largest lot at the best price without a doubt.
What do you love most about what you do?
Lina: I think it's helping clients find the most important purchase they're going to make ... Frankie and I, if we don't think a property is the right property for our clients, we will tell them that. We won't just sell them anything. I think it's going to bed at night knowing you did a good job. It's not about the quantity of deals, it's about doing a great job for your clients and I love working with my brother. Nothing is better than that.
Frankie: I think it's probably the most emotional transaction of the lives of many of our clients. It's special to be a part of it and knowing you made a difference in their lives.
What annoys you most about what you do?
Frankie: There are a lot of agents out there that make a bad name for us and it's one of the things that ticks us off the most. There are a lot of people getting their license and a lot of people who do nothing with their license that probably annoys us as well. Ever since the Competition Bureau allowed individuals to put their listing on MLS for a flat fee and not use a realtor, it's been one of those annoying items where I have a buyer that finds a property listed on the MLS system, but the seller won't pay a commission to me, being the buyer-broker. You have a buyer, you show them a million properties and put a lot of work into it, but it just so happens they find a listing where the seller is unwilling to give you any money at all and you have to negotiate a commission with your own buyer, which is sometimes not the easiest thing and puts you in an awkward position.
What's your best advice for people looking to buy or sell a home in Toronto's notoriously competitive market?
Frankie: Whatever you buy, buy it with the longest possible closing date and when you sell your house, sell it near that longest possible closing date, so your house goes up in value while you're waiting to close on another home. Plus, the house that you just bought, you bought it at a price that it won't be at six months from now.
Lina: People need to stop dreaming about the 25 per cent or 50 per cent correction. You can't save at the pace the market's moving up. If you say to me, "Lina, I'm going to save for a year and buy next year." I know you're going to come to me and say, "I should've bought last year." You can't save at the rate prices are going up and I really don't see that correction coming to us in the near future and certainly not at that amount. Not enough that it would make any sense to hold off for a year. Buy what you can afford, build equity and in a few years, maybe you can buy something in Toronto or somewhere more preferable.
Industry Profiles