On a winter night in the 1860s, a horse-drawn taxi driven by a drunk individual veered off the road toward the Don River and flipped. Inside was The Globe and Mail's founder and future father of Confederation George Brown. Close to plunging into the icy waters, Brown was saved by a 22-year-old William Peyton Hubbard. After saving his life, Hubbard was offered a job as Brown's personal driver.
---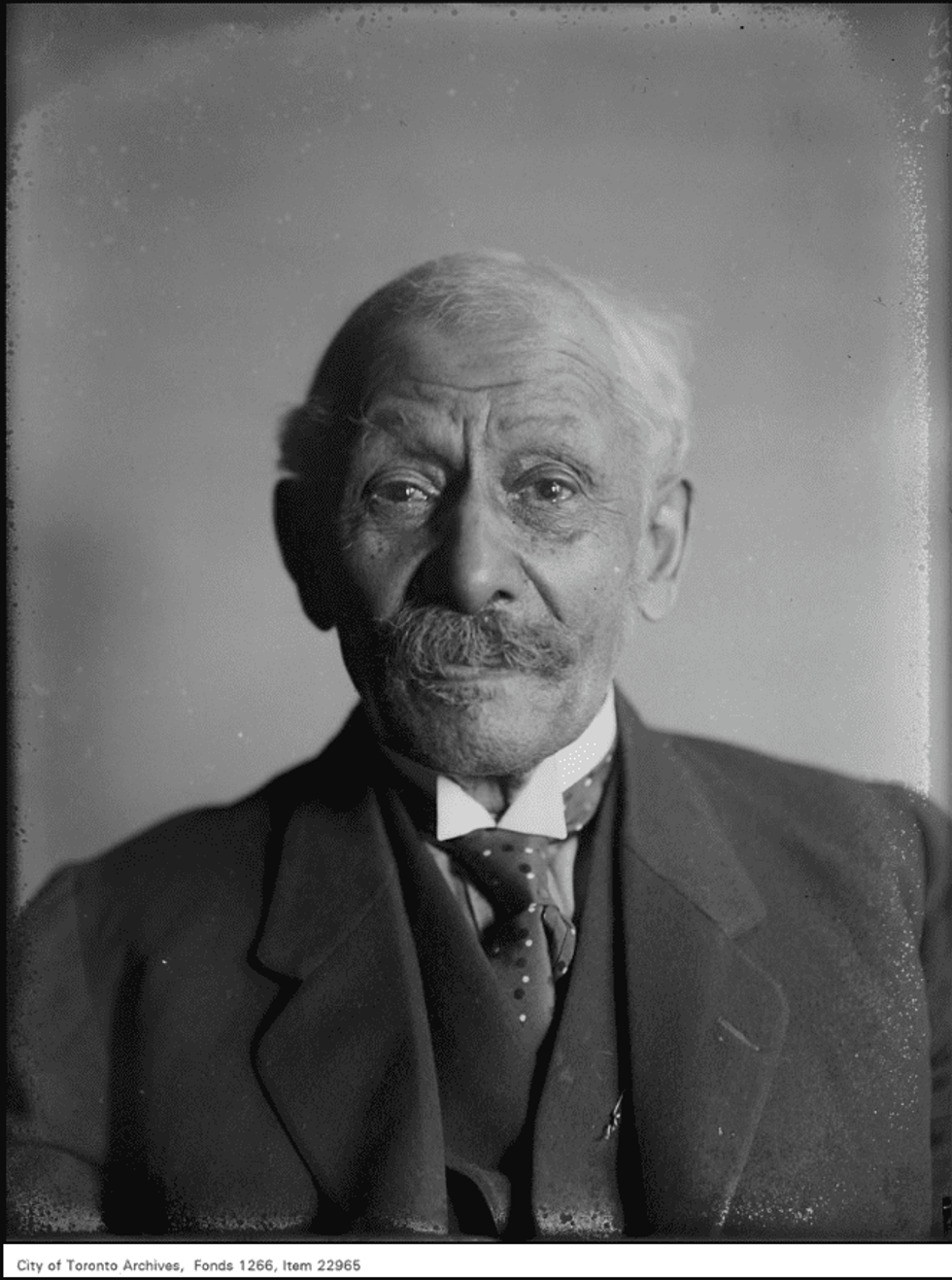 Brown's rescue is a widely told tale, but also a Toronto urban legend. In the March 28, 1934 edition of The Globe, reporter Judith Robinson did a piece on a 92-year-old Hubbard, who recalled a different story. There was no daring rescue, but a message to his brother Alex's horse-drawn taxi company from Brown requesting a sober driver who "would not mistake the river for the road on the return journey, like the last one did."
No matter the circumstances, the two developed a friendship which saw Brown encourage Hubbard to run for office. In the late 1890s, Hubbard became Toronto's first black elected official at time when black individuals where not welcome in establishments like hotels and restaurants.
Baker, Inventor, Driver, and Historic Politician
Born in 1842, Hubbard grew up in the Bloor and Bathurst area. He was one of nine children and his parents were salves who escaped Virginia through the Underground Railroad.
Growing up in Toronto, Hubbard first became a baker and specialized in cake making. His baking experience led him to invent the Hubbard Portable Oven, which later became a business founded and run by his brothers called Hubbard Portable Oven Company of Canada Limited. According to a bronze oven pull, "Hubbard Ovens Make Jolly Bakers," and for good reason as the portable commercial oven was praised for its easy set up and take down, ability to be used on any surface, and taking up a third the space of a brick oven.

Hubbard's first run for office in 1893 was unsuccessful, but the following year he won -- becoming a Toronto alderman (councillor). His political career would span 15 years, 14 of which were consecutive.
READ: Legendary Houses: The Teenage Home of Olympian Fanny "Bobbie" Rosenfeld
He built a reputation with his policies, advocacy, and speeches. His speeches gave him the nickname "Cicero," after the Roman orator, and he was one of four men on the Board of Control, a body overseeing political spending. He was acting mayor in 1906 and 1907, served as a member of the Toronto Harbour Commissioners, and was president of the Ontario Municipal Association.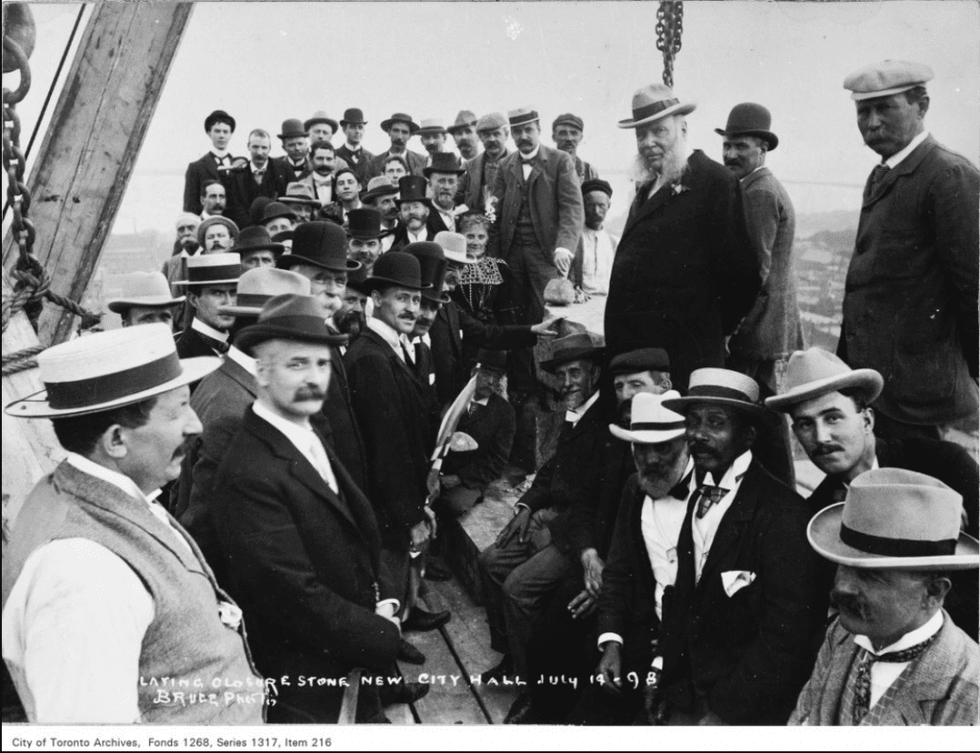 Hubbard also helped to pass almost 100 municipal initiatives and famously pushed for a publicly owned hydro system, leading to the creation of Toronto Hydro. He also protected the rights of minorities who were being unfairly treated and targeted.
He was defeated in the 1908 election, but was re-elected in 1913 before exiting the following year. After his loss in 1908, Hubbard commissioned a home be built that still stands on Broadview Avenue.  
The Home of William Peyton Hubbard
Broadview Avenue is known for many landmarks. The northeast corner of Broadview Avenue and Danforth Avenue has a century old bank and as one continues south to the Riverdale neighbourhood, the street begins to wind and curve around Riverdale Park, known city-wide for its Instagram worthy views of the downtown skyline and its sunsets. Further south, is the historic Don Jail, East Chinatown, and Riverdale Library, while the northwest corner of Queen Street East is graced by the historic -- and revamped -- Broadview Hotel.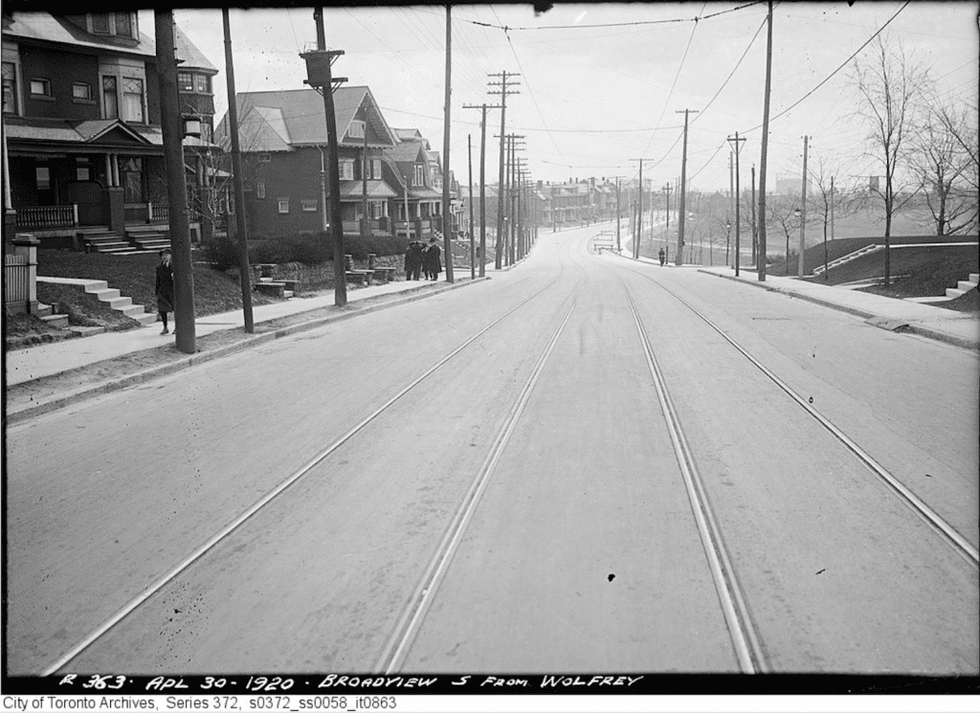 The southern view of Broadview Avenue that Hubbard would have seen, courtesy of Toronto Archives
The homes along Broadview Avenue are a mixture of historic houses, apartment complexes, and mixed retail and residential spaces. In 1909, William Peyton Hubbard's home was completed at 660 Broadview Avenue by architect G.W. Gouinlock, whose largest body of work is found on Canadian National Exhibition grounds.
Hubbard's home is a single detached structure known for its red brick cladding, stone, and wood trim. It features bay windows on the eastern and southern facades, a gable roof, a small porch with pillars and balusters enclosing it and a front door with a transom above.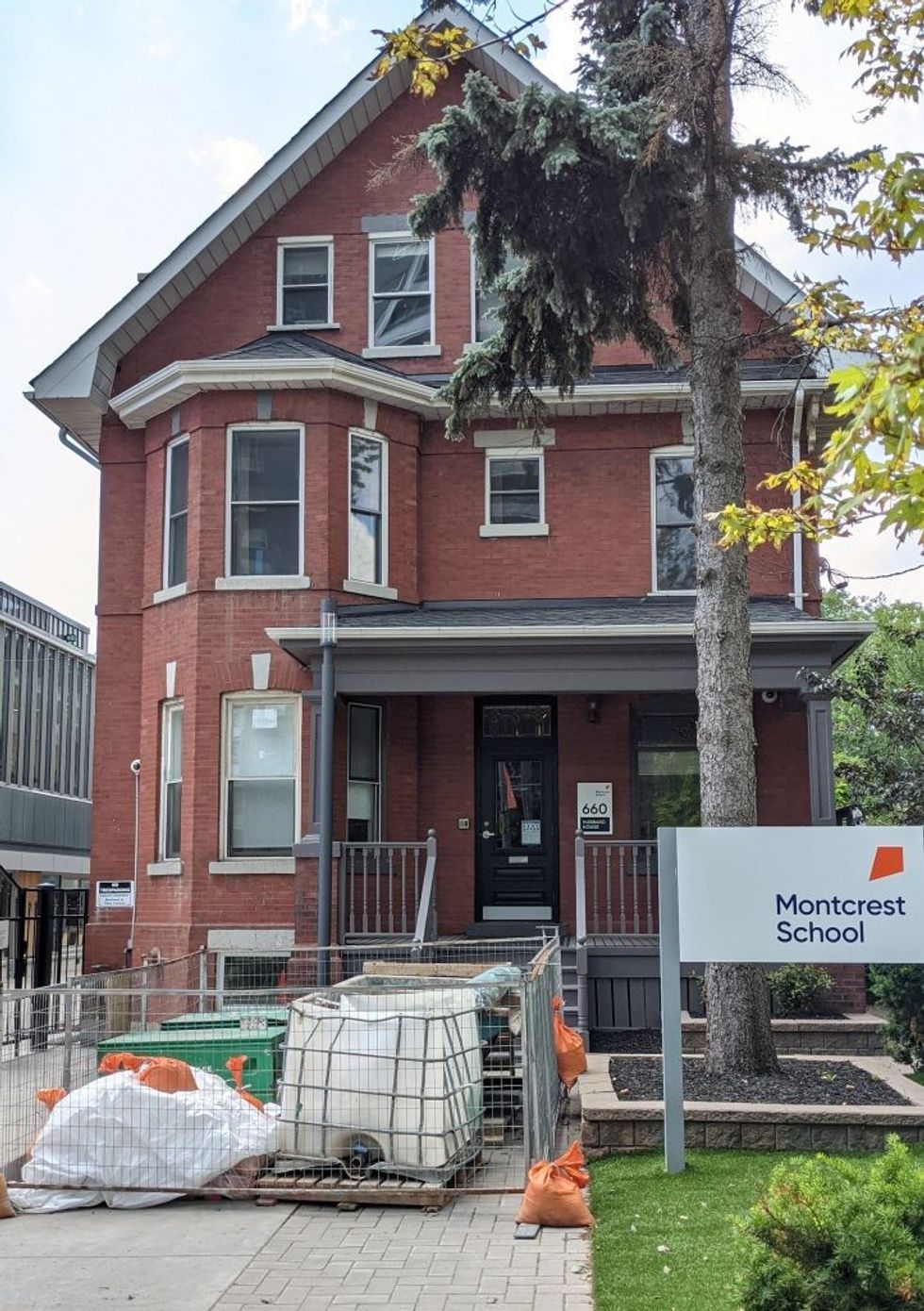 William Peyton Hubbard's house in 2021
Hubbard died in 1935 and was buried at Necropolis Cemetery. During the six decades since his death, the house switched between family homes and medical offices. In 1995, Montcrest School purchased it, adding the home to its campus that occupies other historic houses on the block. The independent school was founded in 1961 and teaches students from junior kindergarten to grade eight.
The Hubbard House, as Montcrest has named it, is occupied by the school's grade five students. An interactive tour of the campus confirms the home was heavily retrofitted. While the tour is not of the entire house, it's safe to assume the interior has lost almost all its historic elements as it features white characterless walls, grey windowed doors, and lockers cluttering the hallways. Hubbard's backyard has also been transformed into a sports field.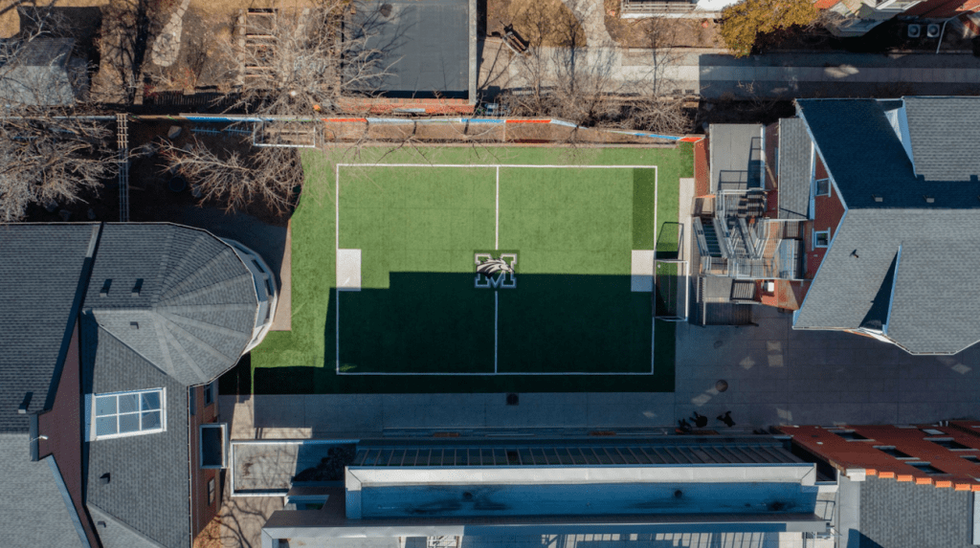 Aerial view of Montcrest School field behind William Peyton Hubbard's house (right), courtesy of Montcrest School.
Though not much remains of Hubbard's time at the property, in front of the house by the sidewalk is a plaque dedicated to him. One of many ways Toronto has honoured him.
Remembering Hubbard
Hubbard's legacy can been seen in many ways through awards, scholarships, plaques, public spaces, and in pop culture.
In 1987, the City of Toronto established the William P. Hubbard Race Relations Award for individuals and non-profits to celebrate the achievements of those challenging racism. Hydro One hosts The William Peyton Hubbard Memorial Awards, a scholarship of four annual awards given to an outstanding black undergraduate student attending an Ontario post-secondary institution in fields related to engineering and technology.
Hubbard has even made an appearance in the popular CBC drama series Murdoch Mysteries, portrayed by Rothaford Gray for two episodes in season nine.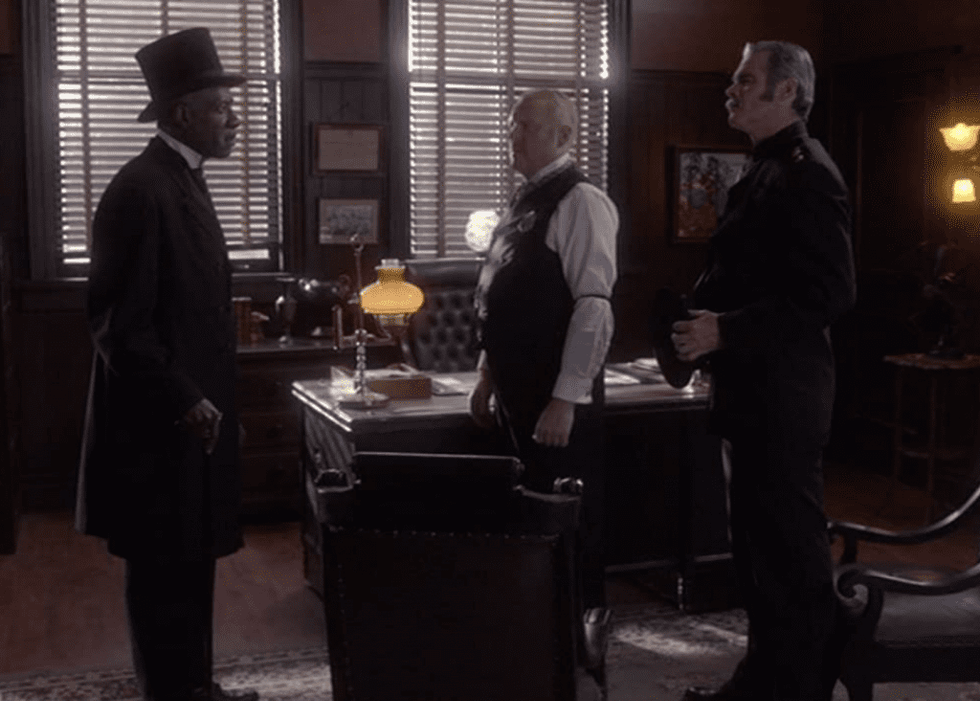 Rothaford Gray as William Peyton Hubbard (left) in an episode of Murdoch Mysteries, courtesy of IMDB
In 2016, in front of city councillors and 16 members of Hubbard's family from across North America, a sign for Hubbard Park was unveiled in front of Bridgepoint Active Healthcare, blocks from his home at 660 Broadview Avenue. While the politicians told stories about his career and accomplishments, his ancestors gave a rare look into his life as a family man.
Whether it was in the inventions he developed, the friendships he made, or the speeches he gave advocating for the citizens on Toronto, Hubbard was an influential figure who left a lasting mark on this city that can still be felt today.  
Legendary Houses