If Muskoka won't quit, the Kawarthas are bringing their fiercest competition out to the realm of head-spinning cottage country real estate activity.
---
While the number of homes sold through the MLS System of the Kawartha Lakes Real Estate Association in March don't quite reach Muskoka's total of 210, the region is boasting a nearly-there number of 197, according to new data from CREA.
This more than doubles the region's levels from March 2020, showing a surge of 105.2%. The number of new listings posted through the month showed strong gains too, rising 69.6% year-over-year to reach a total of 273.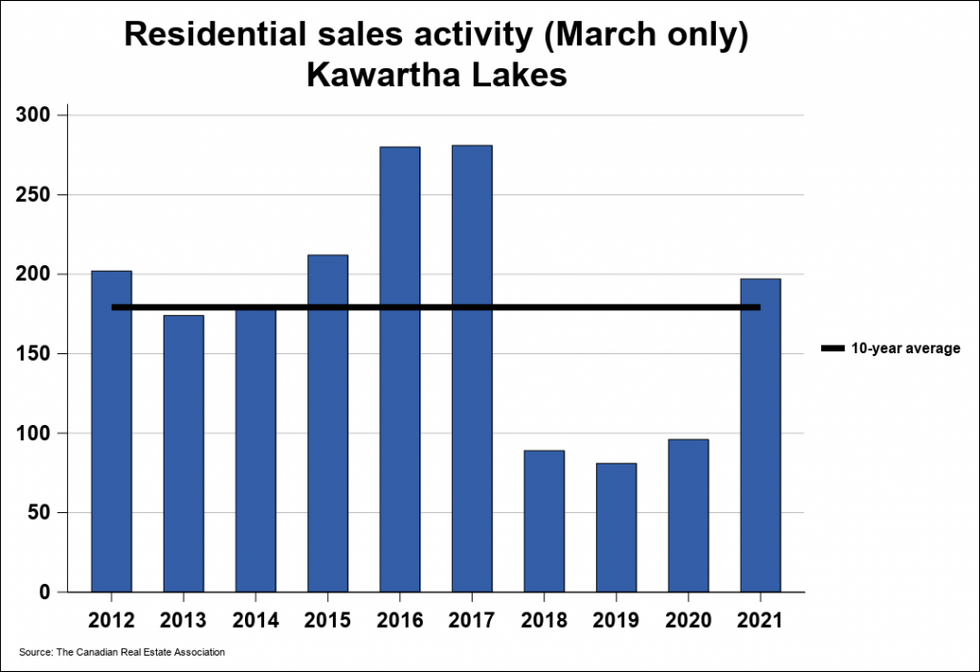 At the end of March, active residential listings totalled 133 units -- a sharp, 52.8% decline from the same month last year. In fact, CREA says, active listings haven't been this low in the region for more than 30 years.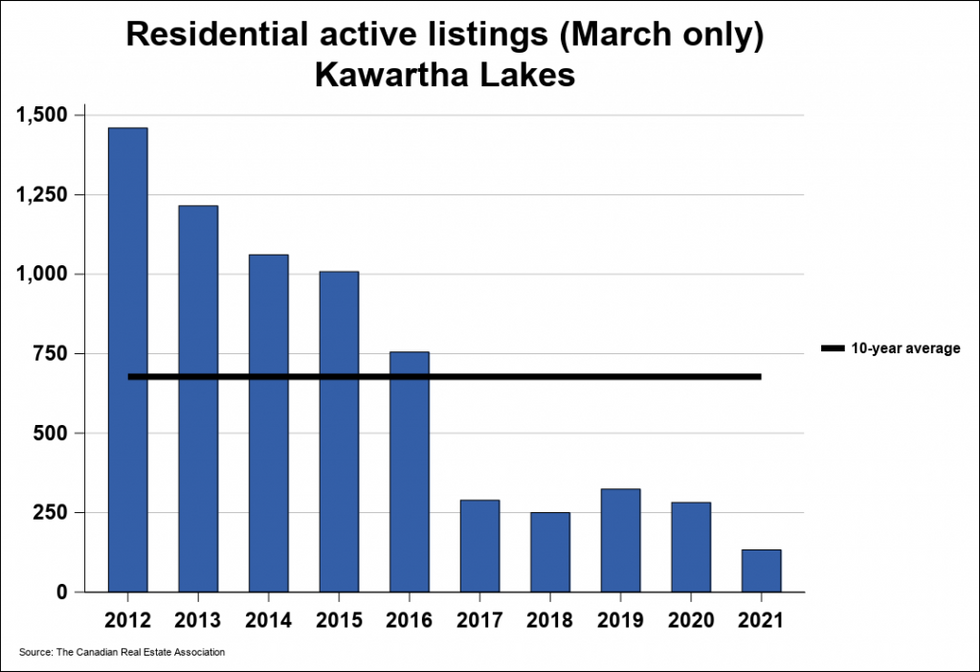 Months of inventory (MOI) -- or the number of months it would take to sell current inventories at the current rate of sales activity -- rested at 0.7 at the end of last month.
Again, this shows a drop from the same month a year ago, when an MOI of 2.9 was recorded. Also, the current MOI is well-below "the long-run average of 3.9 months for this time of year."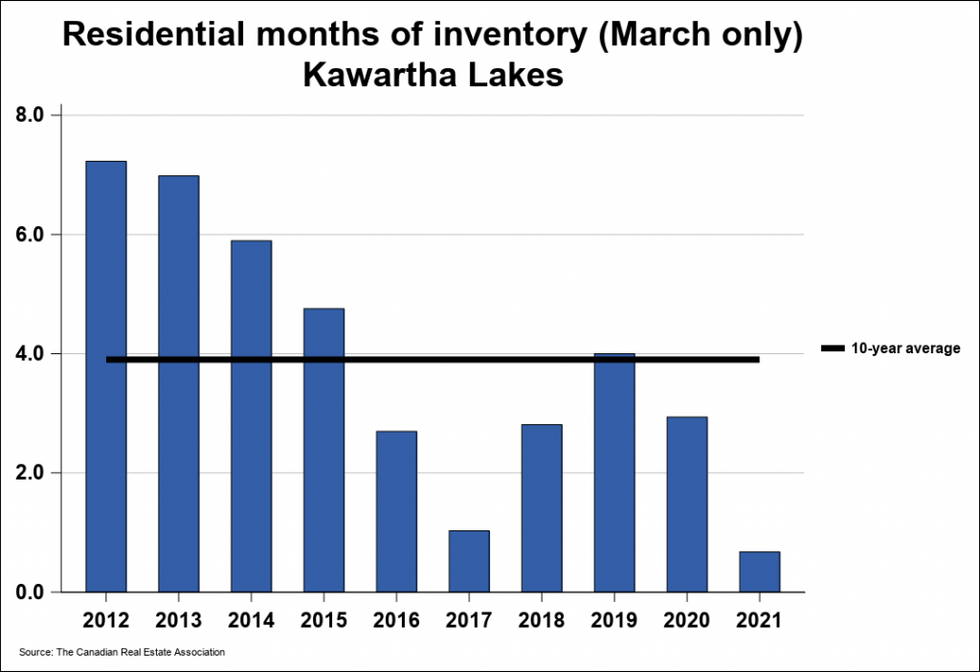 Where costs are concerned, The MLS Home Price Index (HPI) -- which tracks price trends far more accurately than is possible using average or median price measures -- shows the the overall MLS HPI composite/single-family benchmark price was $553,400 in March 2021. This is a 36.9% bump from last March's records.
Meanwhile, the dollar value of all home sales in last month was $137.9 million, which more than doubles the levels of March 2020; in fact, the increase totals 238.2%, and sets a new record for the month of March en masse.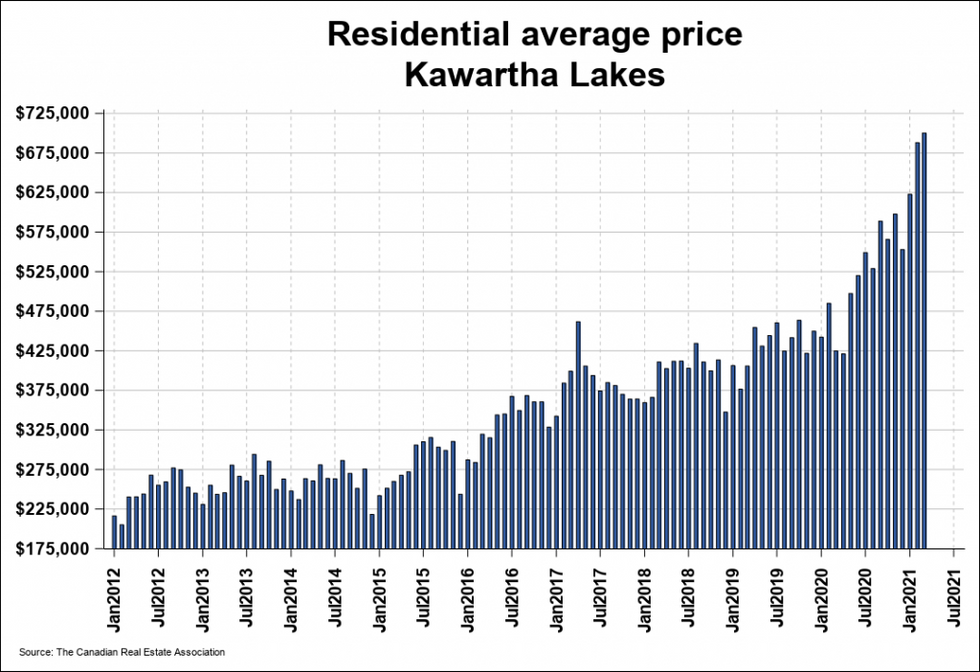 Zooming out to review year-to-date activity, a total of 378 home sales have been recorded through the first three months of 2021, rising 68.8% over data from the same period last year.
Indeed, the trend of cottage country lovin' has been holding on tight. And with another summer of distance likely on the horizon, it only makes sense the collective desire for lakeside space will continue. This energy flowing through an already-competitive real estate market is squeezing its conditions ever-tighter and, Ross Halloran of Sotheby's International Realty notes, is pushing some participants to the [water's] edge.
"Agents desperate to secure new listings are now "buying" listings, or "bidding up" list-price values way above any reasonable market values when assessed against recent comparable sales," he explains. "Once these listings come to market, they are then further "bid up" by several buyers — and their agents, in the current multi-offer environment — in a desperate bid to secure the property at any cost (usually well above market value.)"
When the going gets tough, it would seem, the tough get savvy.
Kawarthas