---
Cottage Country real estate activity continues to blaze, and not on the shores of The Big Three Lakes.
According to new data from the Canadian Real Estate Association, the number of homes sold through the MLS System of the Kawartha Lakes Real Estate Association Inc. totalled 174 units in May.
This count surpasses that of May 2020 by 62.6%, reaching heights the region hasn't seen in five years for the month.
In fact, the number of home sales recorded last month sits 24.1% above May's five-year average, and 13.9% above the ten-year average.
READ: "One of the Best May Levels on Record:" Muskoka Property Sales Continue to Soar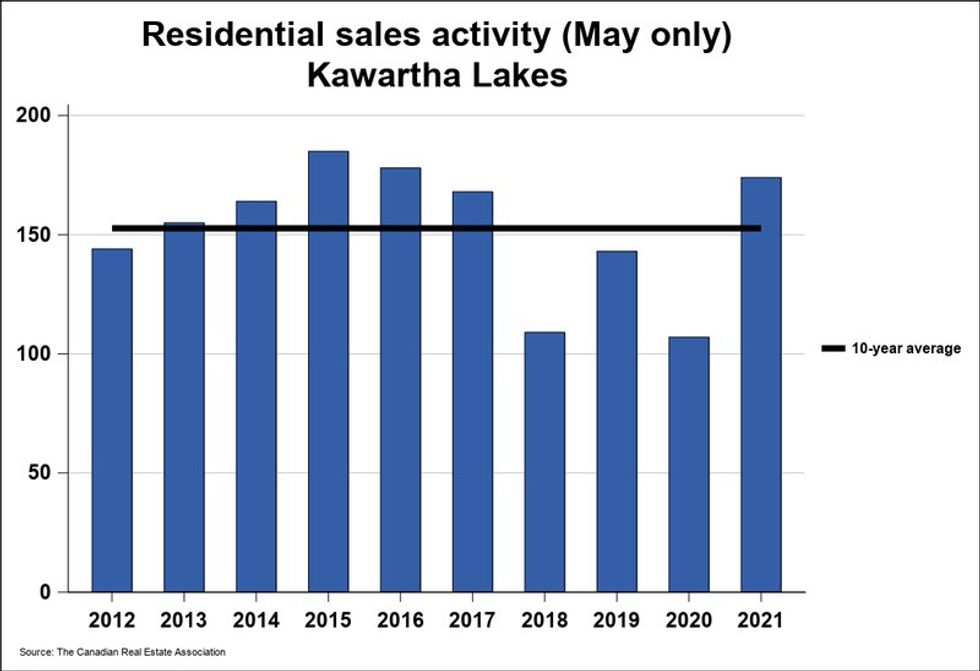 What's even more impressive, where year-to-date data is concerned, the region has recorded 767 units changing hands over the first five months of 2021. This total surpasses that of the same period last year by a whopping 95.2%.
Meanwhile, the MLS Home Price Index (HPI) -- which tracks price trends far more accurately than is possible using average or median price measures -- shows the overall MLS HPI composite/single-family benchmark price was $593,600 in May 2021. Again, this datapoint shows a marked increase of 44% year-over-year.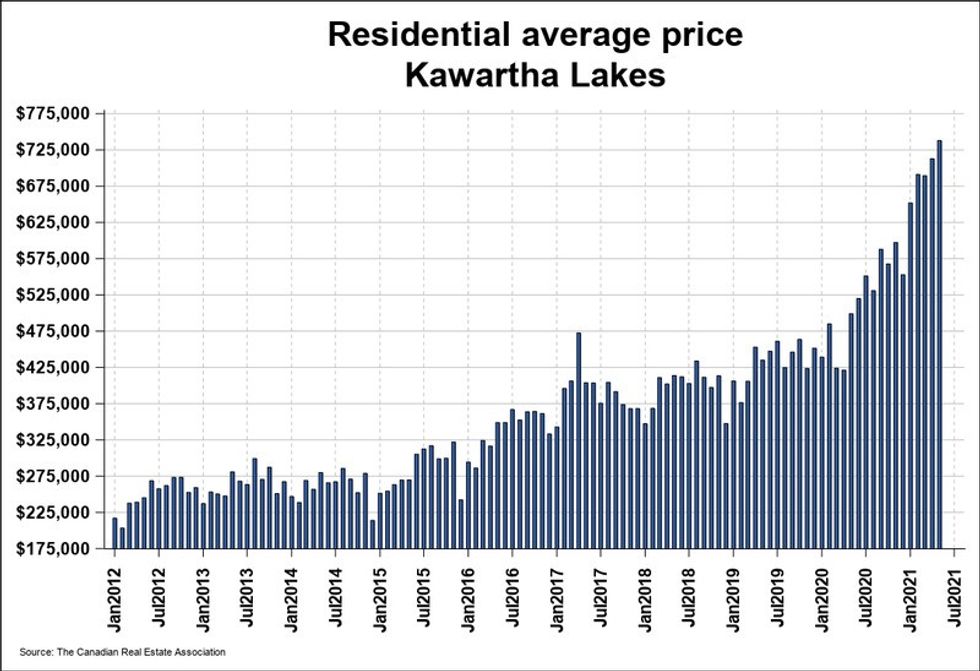 The dollar value of all home sales in May 2021 more than doubled that of last year (and set a new record for the month), surging 140.5% to reach $128.4 million.
New listings, too, were up a sharp 54.8% from May 2020, totalling 209 new residential listings last month.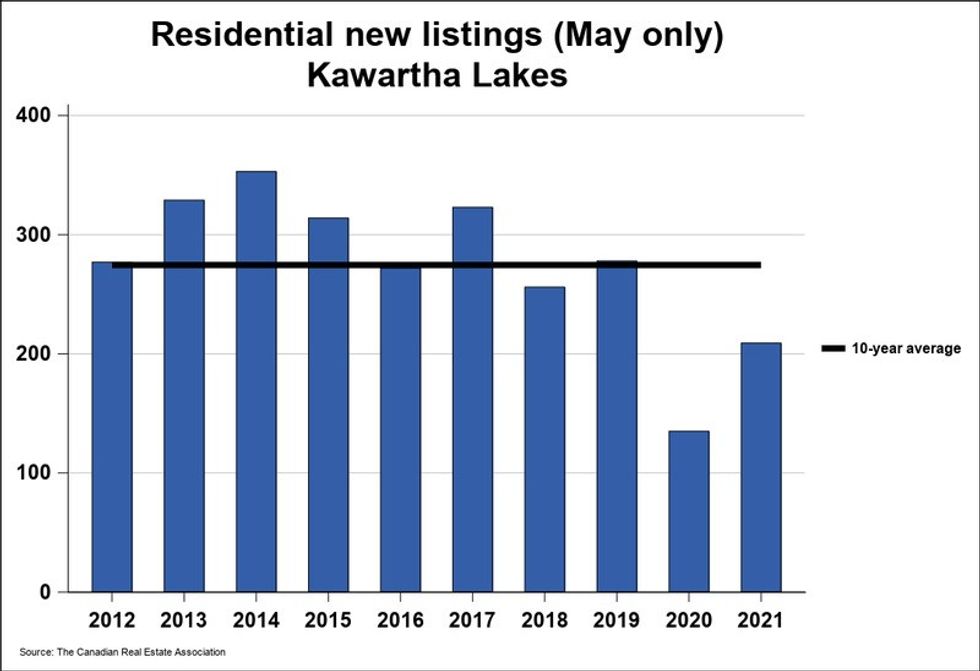 Looking at lowering points of data, active residential listings numbered 153 units at the end of last month, which shows a substantial year-over-year decline of 43.5%.
"Active listings haven't been this low in the month of May in more than three decades," CREA reports.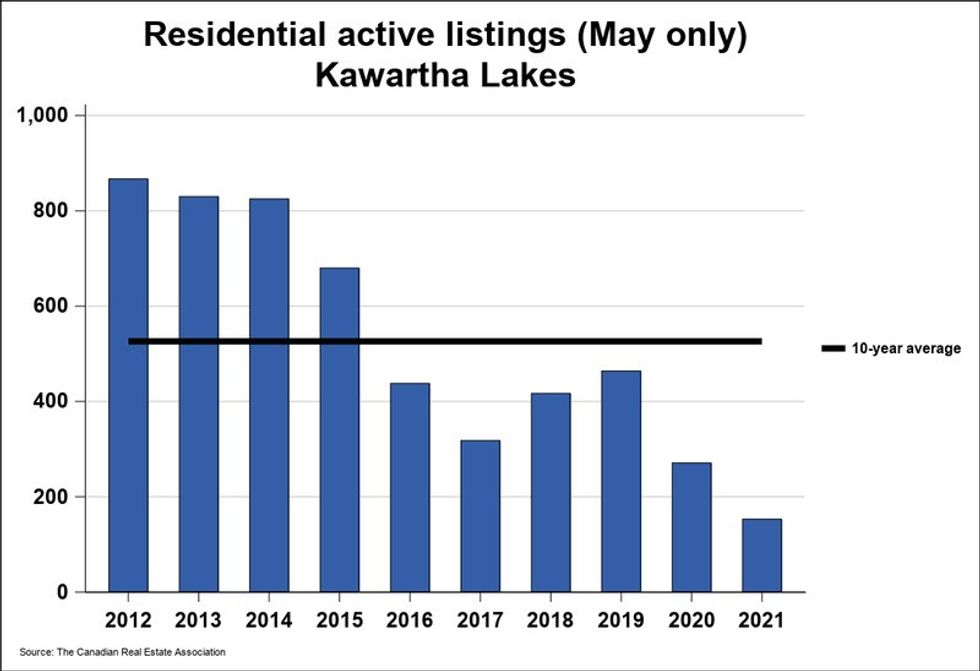 Comparing the counts to more recent history, active listings rested 52.9% below the five-year average, and a whole 70.9% below the 10-year average for May.
"[We saw a] drop in buyer demand for vacant building lots due to skyrocketing lumber and paint prices, increased cost, unavailability of qualified construction trades, and local township backlogs to secure new site plan approvals, building permits and variances," reflects Sotheby's International Realty's Ross Halloran.
"Buyer and buyer agents [have experienced] increased wariness, and refusal to be drawn into offer-holdback, multi-bid situations. Continuing low inventory [is] driving a continued sellers market," he explains.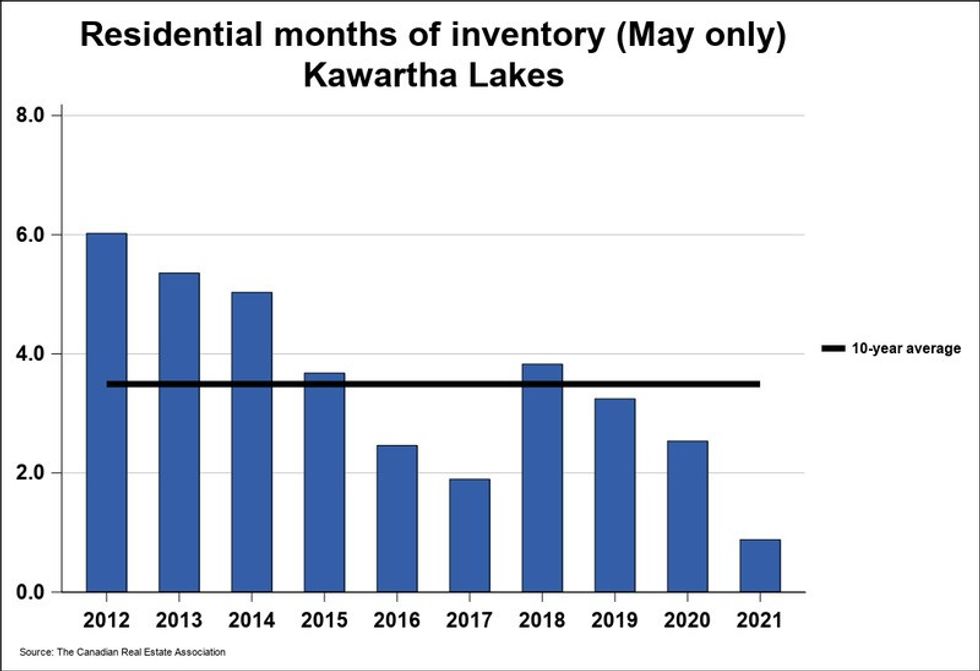 Months of inventory (MOI) -- or the number of months it would take to sell current inventories at the current rate of sales activity -- were down 2.5 months year-over-year at the end of last month, numbering just 0.9.
The MOI also lays below the long-run average of 3.5 months for this time of year.
Kawarthas