Toronto
Commercial
Innovation With a View: Inside Microsoft's New Canadian Headquarters
Microsoft opened the doors to its brand new Canadian headquarters today, a gargantuan 132,000-sq. ft facility located on floors 41-44 of the CIBC SQUARE building at 81 Bay Street.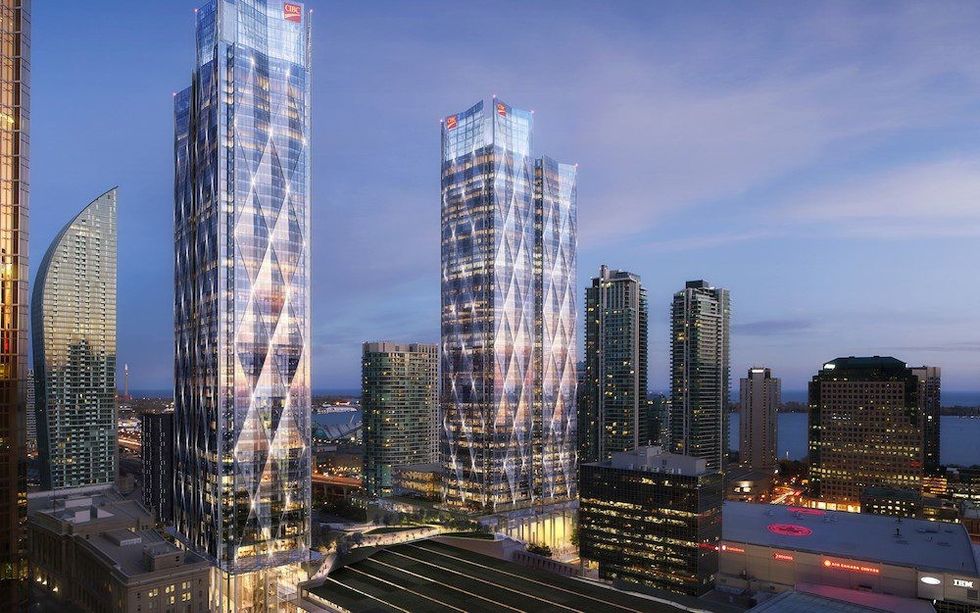 As one would expect from the home base of one of the globe's largest tech leaders, this sparking office compound is outfitted with the latest in cutting-edge workplace technology and amenities. In addition to connectivity and communications systems throughout to ease employees' work flows, the space has been selected to host Microsoft's first Data Innovation Centre of Excellence (DICE), a dedicated hub with a focus on innovative data, AI, and mixed-reality technology solutions.
The new headquarters will also be an innovation centre for technology startups, students, and community organizations from across the Greater Toronto Area and Canada.
READ: An Inside Look at IBM's New 63,000-Sq.-Ft Downtown Toronto Office
"Microsoft has been deeply rooted in Canada for nearly 40 years and our commitment to help grow Canada's innovation economy has never been stronger," said Kevin Peesker, President of Microsoft Canada. "With the launch of our new headquarters, official opening of our Data Innovation Centre of Excellence and expansion of our regional presence, even more organizations of all sizes and sectors can leverage the power of cloud and data to accelerate their organization's growth and drive new economic opportunity for Canada."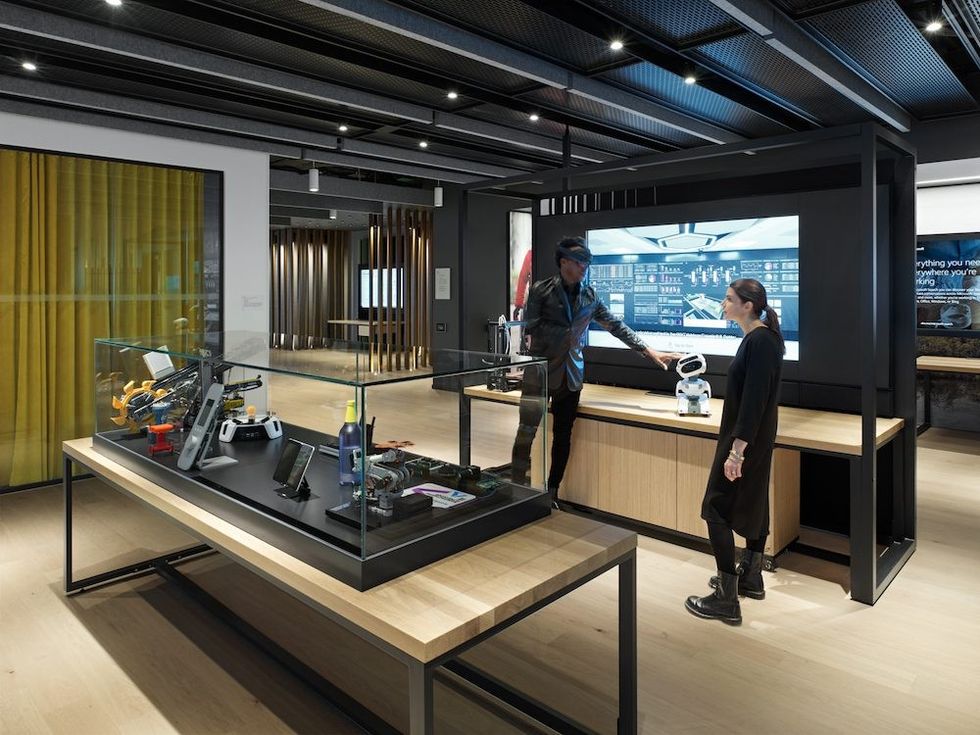 Toronto Mayor John Tory was also on hand for the opening ceremony, acknowledging the investments the company has made over the past four years in Canada; the tech company accounts for more than 300,000 jobs, and contributes $37B to the nation's GDP.
"The official opening of Microsoft's new downtown headquarters is the next milestone in our city's continued growth as one the leading technology hubs in North America. We're so pleased to see this new Microsoft office opening. It will mean more innovation across Toronto's world class network of universities, start-ups and incubators — all of which will help us continue our strong economic recovery from the pandemic," Tory stated.
"Microsoft's announcement of a brand new Canadian headquarters is another example of how the technology sector is fueling economic growth across the country. As the demand for digitization and new technology continues to grow across all industries, major companies like Microsoft continue to choose Canada for the ingenuity of our talent and the ambition of our innovation agenda," stated the Honourable François-Philippe Champagne, Minister of Innovation, Science and Industry.
A Sleek, Connected Space
As has been the recent trend in office space design, each floor features a variety of open-concept and hotdesking stations, punctuated by focus meeting rooms — all outfitted with the latest tech to enable communication and connectivity.
Employees can take a well-deserved mental health break in a number of private meditation and wellness rooms, or find inspiration in the Growth Mindset Library, a "quiet nook" located on the 44th floor that can be used for break time, or informal gatherings. Those seeking deep focus spaces can find it in a number of "zone rooms", outfitted for individual, head-down work, or collaborate with team members in dedicated conversation and incubation spaces. The space is also outfitted to promote social connection, with "kitchenette"-style hubs peppered throughout.
We have a feeling the most popular spot, though, will be the Cloud Bar on the 44th floor, where workers can grab a complimentary cup of joe, and take in the sweeping views of downtown Toronto.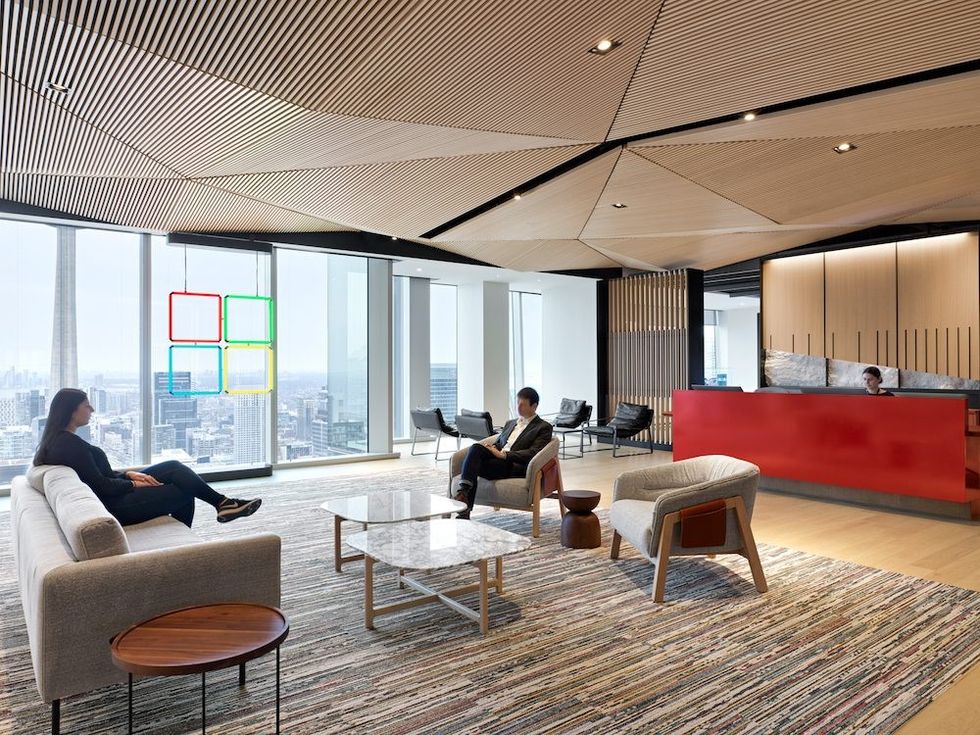 A Clearly Canadian Aesthetic
You could also be forgiven for mistaking this office space for an art gallery, with a notable design aesthetic featured throughout featuring mixed media, acrylic, sculpture, and murals. The art shares the theme of Canadian geography, and includes works from renowned artists such as Shaheer Zazai, Janna Watson, Rande Cook, and Kristiina Lahde.
The space has also been outfitted with over 3,000 sensors tracking water use, energy consumption, and carbon emissions, as part of Microsoft's commitment to become carbon negative by 2030, and to remove more carbon than they've emitted since their founding by 2050. The company also announced it will pursue purchasing green power and carbon offsets for 100% of the project's energy for a minimum of five years.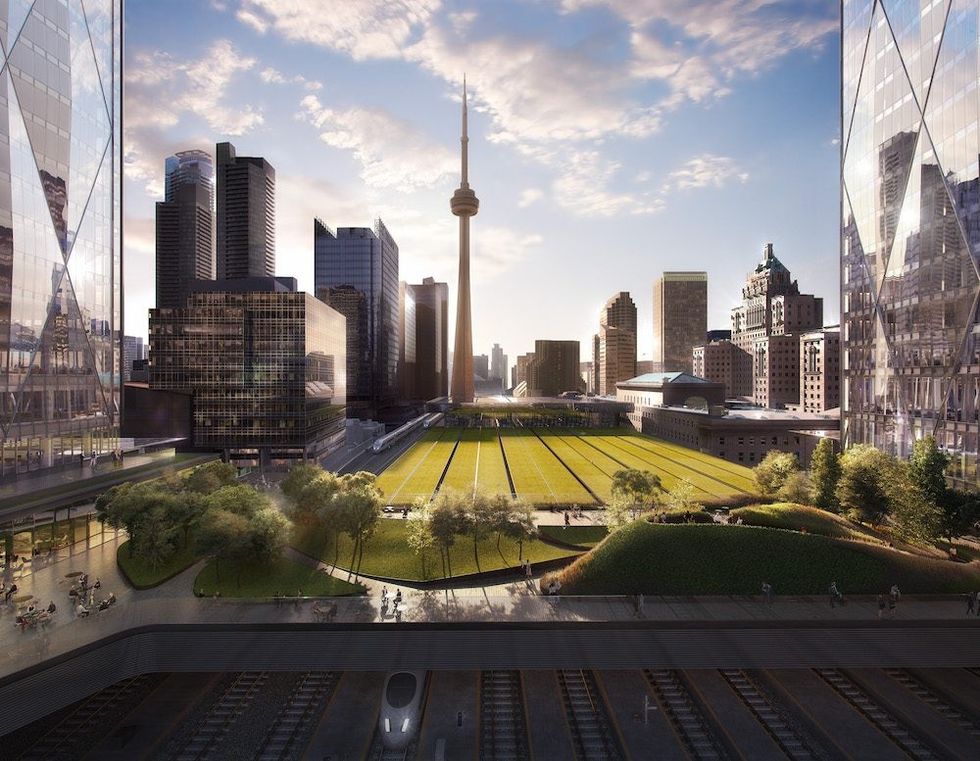 "A big reason we chose CIBC SQUARE for our HQ is proximity to transit, amazing talent and also because this building leads Toronto in the largest reduction of greenhouse gas emissions city-wide," states the company in a fact sheet.
The new headquarters is the latest addition to Microsoft's considerable Canadian footprint, which also includes a research and development lab in Montreal, a Government Innovation Centre in Ottawa, three gaming studios, a development centre in Vancouver, and two data centre regions in Toronto and Quebec City