Anyone that's ever shopped at IKEA understands what a process it can be.
Store locations are typically on the edge of cities or in the suburbs, meaning shoppers need vehicles to not only get there but also to transport their purchases back home, because who wants to lug a huge box or blue bag of goods on public transit. Then, once you're there, you have to spend hours wandering through the massive store that's basically a never-ending maze of furniture, knickknacks, crying children, people breaking up, and Swedish meatballs.
---
But with the world (hopefully) moving toward more environmentally habits and more and more people choosing to live without vehicles, trips to IKEA could soon become a thing of the past for many.
With this change in customer behaviour in mind, the Swedish company is shifting toward opening more urban stores, which are smaller locations in downtown cities that cater to those who not only drive less, but also don't live near the chain's traditional big box stores.
This includes a new store concept in Vienna's Westbahnhof Station, which will cater to urban dwellers who take public transportation.
Designed by Querkraft Architekten, the seven-storey store, which is currently under construction, will be eco-friendly and have a sprawling green rooftop that will serve as a public park open to citizens even when the store is closed.
This is in addition to the 160 trees that will be planted on terraces to sustainably influence the climate and the seamless connections to the Austrian capital's subway and tram, which are close in proximity to the store.
Scheduled for completion in 2021, the store aims at attracting pedestrians, cyclists, and customers coming by public transportation, and promises to deliver purchased items to their homes within 24 hours.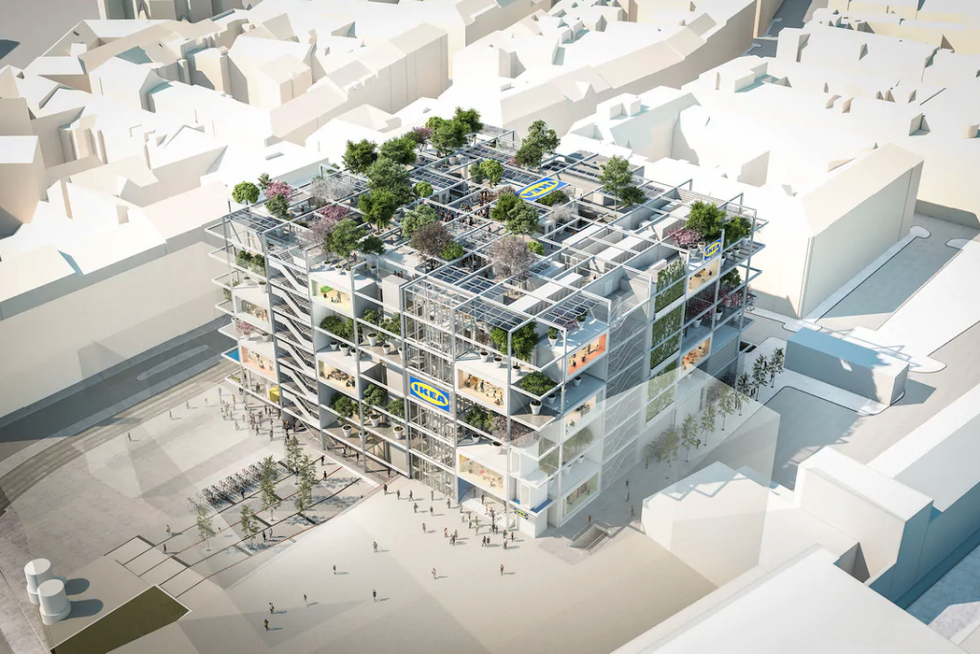 Rendering courtesy of IKEA
"The concept focuses on the current megatrends and takes into account the dramatically changed shopping behavior, as well as a new form of mobility without a car. Customers have little time and appreciate convenience and comfort. This is clearly noticeable in the furnishing area: More and more customers no longer even think about carrying their purchases home themselves. You can have them delivered," reads the Swedish company's website.
READ: Toronto architecture with a global approach
The new concept in Vienna is part of IKEA's commitment to becoming more sustainable, with the retailer already beginning to take similar approaches in other large cities.
Last year, the Swedish retailer announced its plans to open one of its smaller-format stores in downtown Toronto in the coming years. Here, customers will be able to get their furniture and other products delivered to their homes, or to a network of new pick-up points in the city.
While full details of the new Toronto store have yet to be announced (like parking and distance from public transit), after looking at the store opening in Vienna, it's clear Canada's largest city could benefit from a store that's more eco-friendly and targeted toward customers who rely on public transportation.
If you've ever driven through Toronto, you know how congested it can get. Downtown parking, when you happen to find some, is more often than not a nightmare, not to mention the city's rapid development brings with it delays in your commute. This could be why so many residents choose to take either public transit, with the TTC's monthly ridership averaging 51.2 million trips, or choosing to walk or cycle rather than drive.
And considering Toronto is currently in the midst of a 50-year rental unit construction high, with the number of purpose-built rentals under construction in the GTA reaching 12,367 units, current and future residents would benefit from having a downtown store to serve the ever-increasing number of people who live in the urban centre. Beyond this, the city's tech sector continues to drive job growth to unprecedented heights -- meaning more people living and working in the downtown core.
This IKEA's sustainable and eco-friendly design would be a great fit in a densely populated downtown, on top of which (literally) it would bring with it another public green space for a city continually trying to find space for more.
Plus, the addition of a eco-friendly store would fit in quite nicely in Toronto, as there's already a condo development coming to King Street West with a very similar green-forward design.
Here's to hoping we see one of these new concepts showing up in Toronto sometime in the next decade.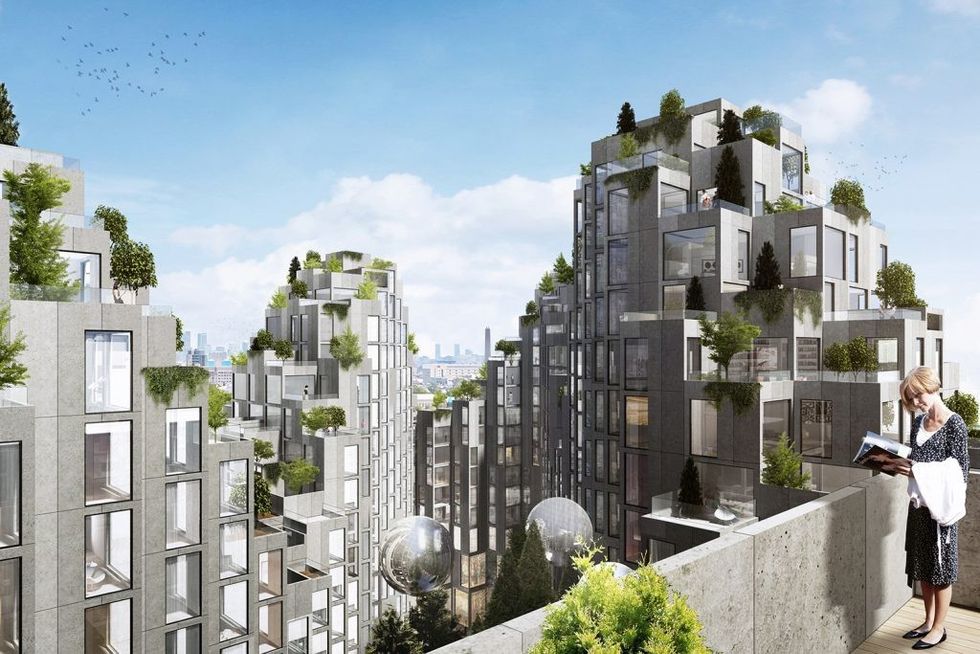 Photo Credit Westbank
Toronto