Canadian real estate market dynamics have shifted dramatically since rate hikes began, with many markets slipping into official buyers' territory last month. Prices have behaved pretty predictably as a result, either slowing or slipping in markets across the country.
On a national basis, the latest house price index from Teranet and National Bank experienced just a 0.7% increase (seasonally adjusted) between August and September.
---
Daren King, Senior Wealth Advisor and Portfolio Manager at National Bank Financial, notes in an analysis of the data that the slight rise puts prices just 1.6% off of their April 2022 peak.
"However, with real estate activity slowing, price growth moderated compared to the previous month for the third consecutive month, with September's 0.7% increase less than half than seen in August," he also says.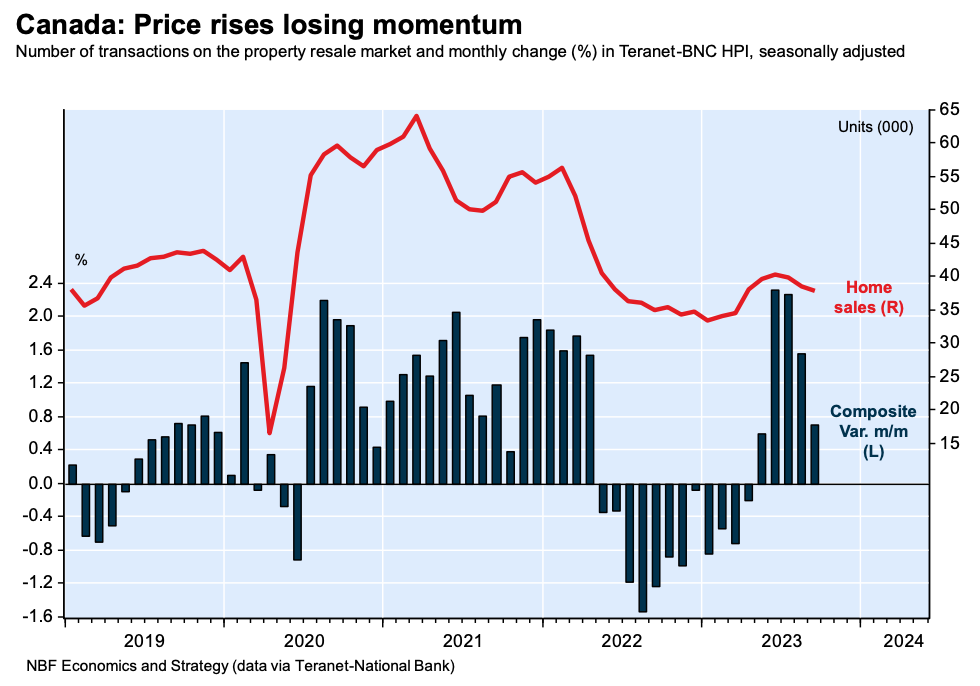 Before adjusting for seasonal effects, however, the index actually dipped by 1.3%, marking the first month-over-month decrease in six straight months.
The composite index is a "weighted average" of observed or registered home prices in the country's 11 largest CMAs, including Victoria, Vancouver, Calgary, Edmonton, Winnipeg, Hamilton, Toronto, Ottawa-Gatineau, Montreal, Quebec City, and Halifax.
All 11 of those markets reported some degree of month-over-month price gains last month, led by Halifax (+1.9%), Ottawa-Gatineau (+1.7%), and Victoria (+1.7%). Smaller increases were recorded in Vancouver (+1.1), Calgary (+0.9), and Toronto (+0.5). The smallest increases were recorded in Montreal (+0.1%), Hamilton (+0.1%), and Edmonton (+0.2%).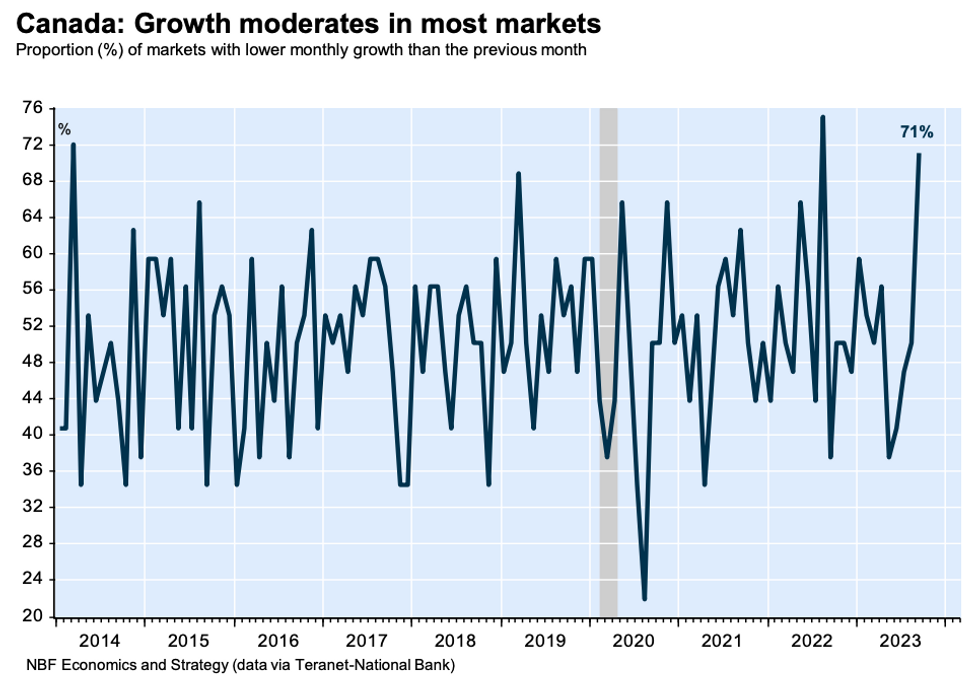 In addition to those 11 major markets, Teranet and National Bank track price trends across 20 secondary CMAs, which are not used to inform the national composite.
Of those markets, gains were observed in 12, with the most dramatic increases observed in Sherbrooke (+5.2%), Lethbridge, (+3.6%), and Guelph (+2.5%). Prices dipped in the remaining eight CMAs, led by Sudbury (-5.8%), Saint John (-5.2%), and Moncton (-2.8%).
"Of the 31 cities covered in September, 71% experienced slower growth than the previous month, the most generalized slowdown since July 2022 and the second most widespread in the last nine years," says King.
"Given the growing impact of policy rate hikes, the recent increase in longer-term bond rates, and the less buoyant economic context, there is reason to believe that price declines could occur by the end of the year. However, they should remain limited thanks to the support of historical demographic growth and the persistent lack of housing supply."
Real Estate News