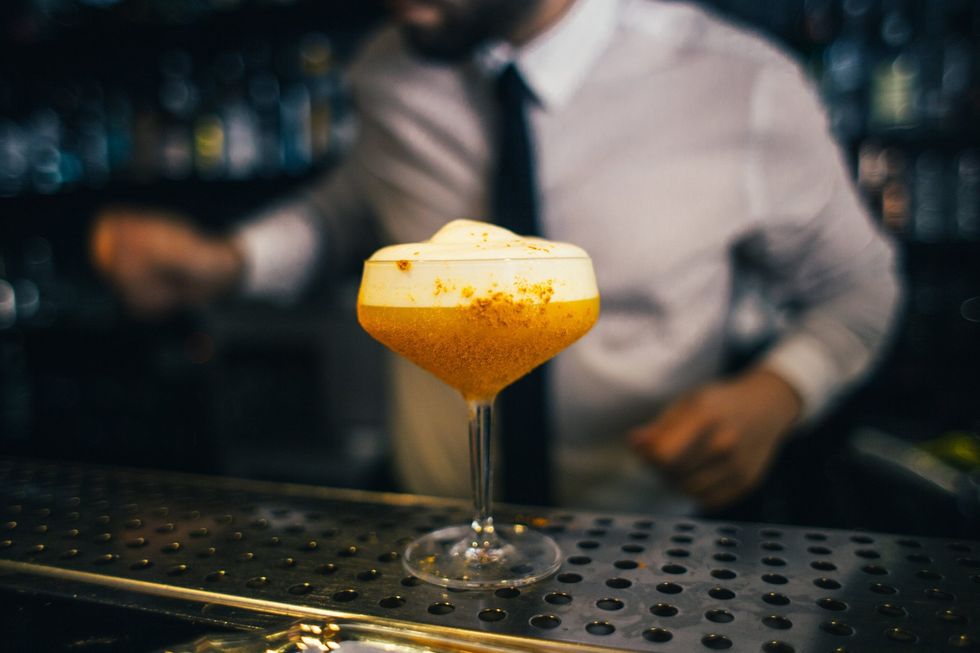 Still looking to book your holiday bash? We round up the venues across Toronto everyone's talking about, where you can clink your fancy cocktails together and celebrate a year well done.
It's that time of year again. The holidays are coming in hot, and if you haven't gotten on the task of booking your company's holiday party, then you're likely racking your brain for what's hot, trendy and notable, with a great rep.
---
Every week I'm invited to various events across the city, and I've noticed I'm more likely to attend if the venue is noteworthy. They say it's the company that matters most, but let's be honest, it's the drinks and food and music and design and vibe that no doubt set the tone for a sweet fete that we can rave about to friends, family and our social followers alike.
Here is a curated list on the top, beautifully designed spots in Toronto to book your holiday party (and why).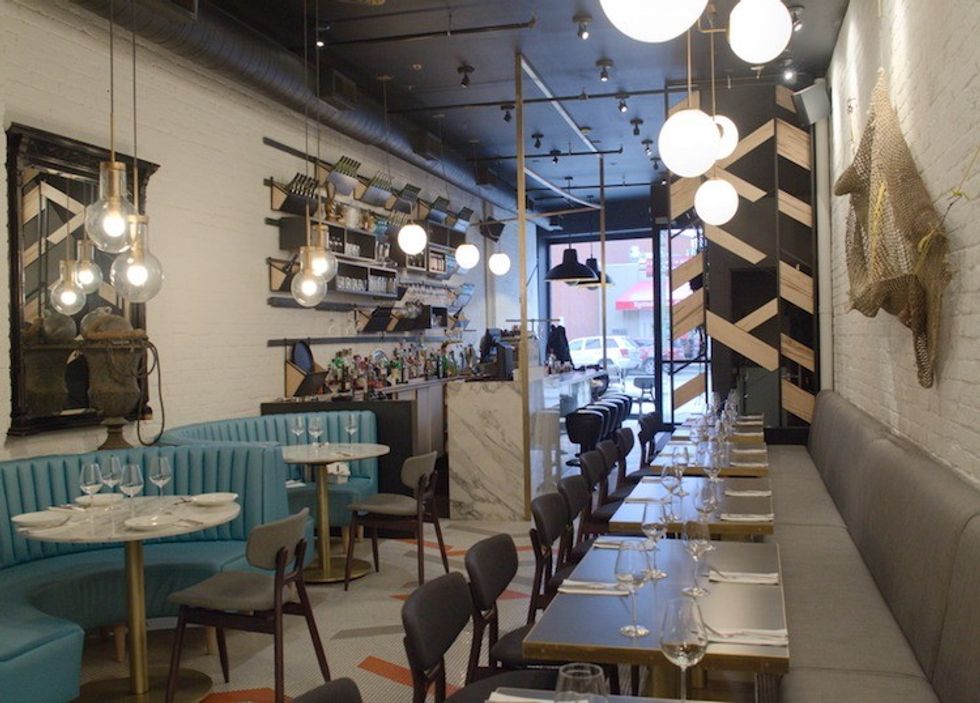 Ufficio (Photo by Tara Noelle)
Toronto's West End
Location: 1214 Dundas St. W.
Capacity: 1,100 sq ft., 44 seats plus the bar
Details/Perks: Custom menu designed by Chef Ivana Raca, space for a DJ (though they have a killer playlist). The spot itself is intimate, stylish, has a great bar and attentive staff.
Why it's the perfect holiday party spot: Perfect for people wanting exclusivity, and for those who appreciate design. They have innovative cocktails, affordable wines and a unique menu. You get full use of the dining room and bar, and it's conveniently close to a number of bars and dance clubs should you want to continue the night. Since it's not in the heart of the city, parking's not an issue and isn't costly. It's also TTC accessible.
Design: Commute Design
Vibe: I call this spot the perfect place for "pretty young things." The owners, the chef, the servers and everyone in attendance are always attractive and well put together, as are the beautifully designed dishes and space itself. It's also a great, intimate spot for vegetarians and pescatarians alike. The dishes are flavourful, the cocktails well-crafted, and the booths inviting.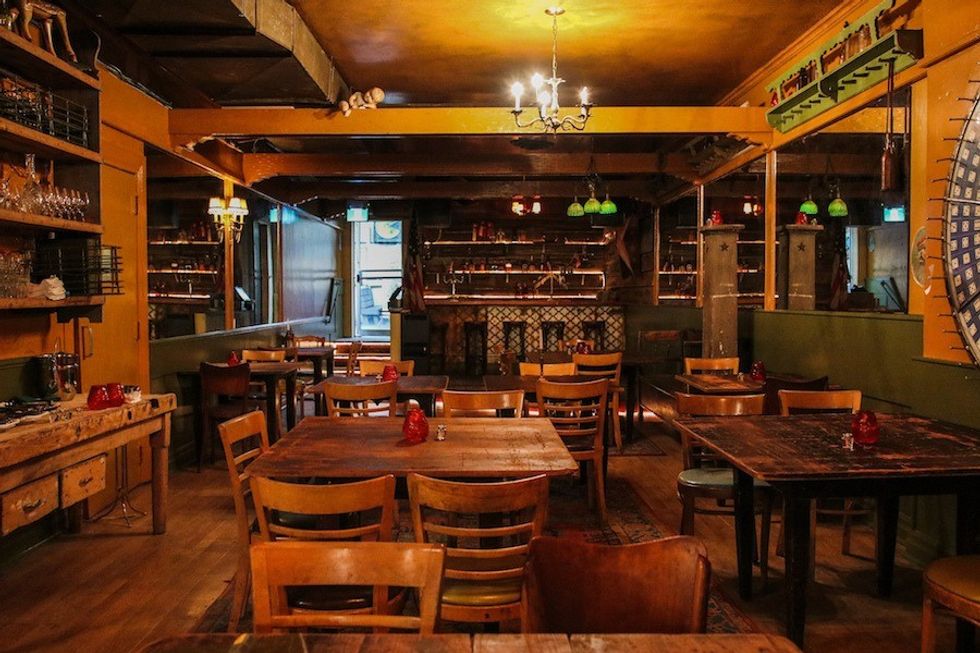 Tennessee Tavern (Photo by AJ Fernando)
Location: 1554 Queen St. W.
Capacity: Space for 12 people in a room dubbed The Cathedral, or you can rent out the entire 140-person venue.
Details/Perks: This Eastern European spot in Parkdale prepares pretzels! Pickled plates! Pepperettes! Pierogies! Those in the know, know that this is one of the city's top spots, but for the many who don't, be the first take show them this hidden gem.
Why it's the perfect holiday spot: Eastern European comfort food, with an amazing cocktail and beer list and live music in there too and have — hands down — the best cabbage rolls in town.
Design: Grant van Gameren, Max Rimaldi and Alec Colyer — the three owners (mainly van Gameren, but they all weighed in).
Vibe: It's eclectic and filled with vintage flea market finds. It's fun, a bit quirky and super, super delicious. Perfect for companies that want to shake things up and get people outside of their work cliques without spending an insane amount of money.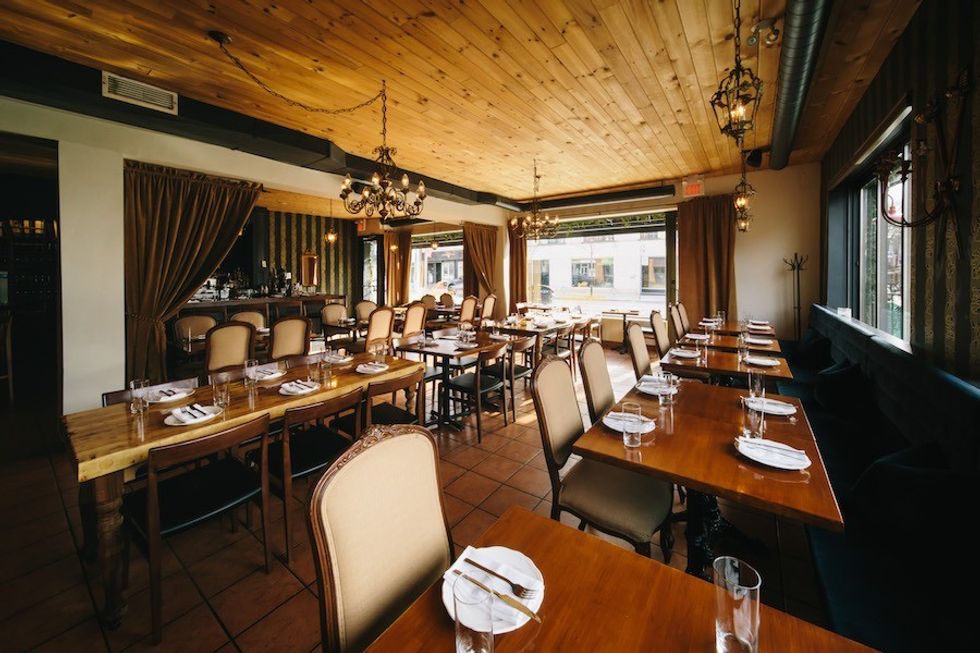 Campagnolo (Photo by Rick O'Brien)
Location: 832 Dundas St. W.
Capacity: 60 seated; 90-100 standing.
Details/Perks: Full-service event management from catering and wine selections by their in-house sommelier John-Paul Jarvis, to music selection, special decor and rentals.
Why it's the perfect holiday spot: Every year Campagnolo is decorated with layers of greenery and garlands. If you're lucky to get a snowfall on the night of your event, the corner windows make for fabulous views of the Trinity Bellwoods neighbourhood. It's cozy and warm, and inspires the feeling of being part of a scene in your favourite holiday movie.
Design: Co-owner and interior designer Alexandra Hutchison.
Vibe: Friendly and inviting. Perfect for every special event from shared group dinners served family-style, to intimate weddings, Christmas parties and work events. The highlight though is co-owner Chef Craig Harding's menu. There isn't one thing that isn't remarkable and memorable about any of his dishes. I had the delight of going there on a night he was testing a new menu and was in awe about the care he put into every flavour and detail.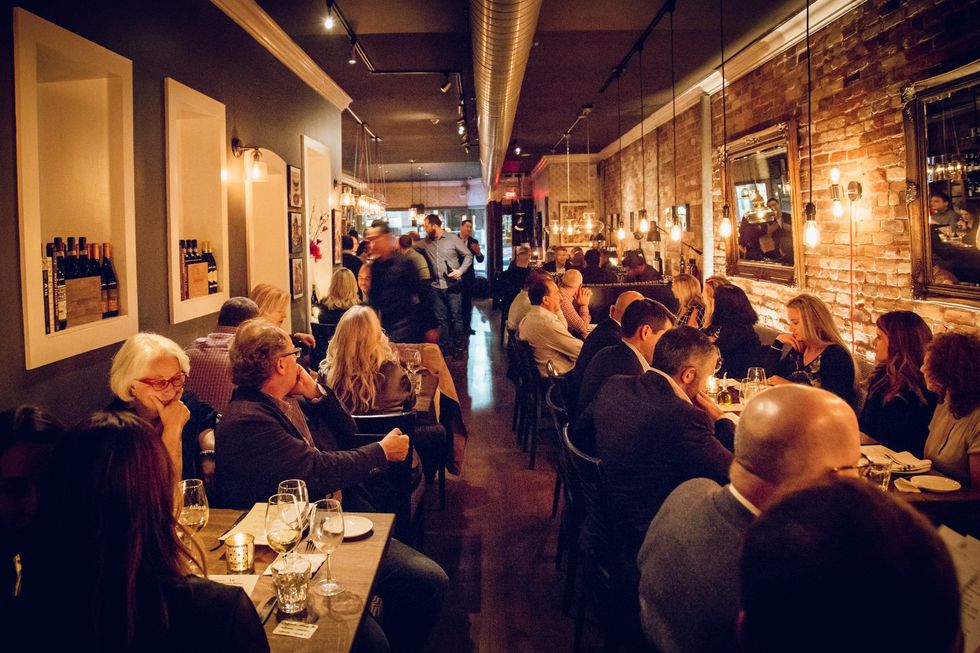 L'Unita (Photo by Rick OiBrien)
Yorkville/Annex
Location: 134 Avenue Road
Capacity: 60 guests seated for dinner or 90 guests for a cocktail reception (standing).
Details/Perks: Holiday decor by Teatro Verde and sound system (or space for a band or DJ) and custom menu designed by Chef Rob Rossi.
Why it's the perfect holiday party spot: Very warm and cozy ambiance (perfect for this time of year), full use of the dining room and bar, extensive wine collection, and close to popular hotels.
Design: Space is designed by owner David Minicucci and his team.
Vibe: Exposed brick, plush fabrics and deep lighting. Some call it vintage NYC. It's perfect for neighbourhood groups, Bay Street firms, small companies and groups travelling to Toronto.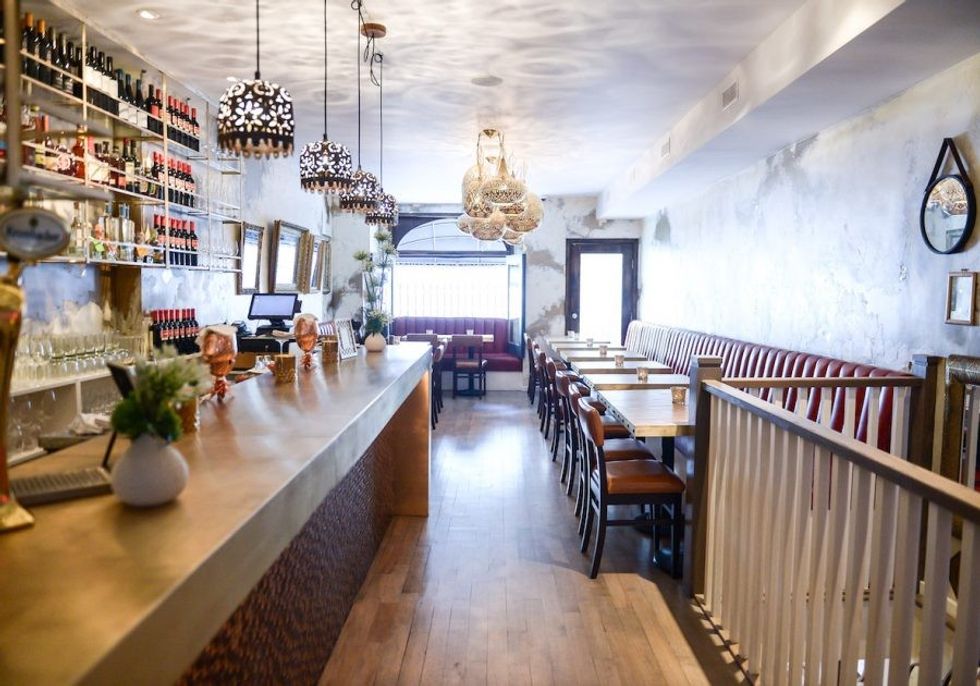 Bar Reyna (Photo courtesy of Bar Reyna)
Location: 158 Cumberland St.
Capacity: Featuring an all-season back patio and two floors of indoor dining, Reyna can host upwards of 90 guests for a seated dinner or 120 attendees for a cocktail event. Moroccan Den (2nd floor): 32 sit-down; 40 cocktail. Secret Garden (all-season back patio) 45 sit-down; 60 cocktail.
Details/perks: The minimum spend includes all food and drink. A DJ, photographer and flowers can be added for extra charge.
Why it's the perfect holiday party spot: The back patio is all-season and takes you straight from the dead cold of winter to the warmth of the Mediterranean. Each space is individual and can create a unique experience for your guests.
Design: Solid Build & Design
Vibe: Bar Reyna is influenced by the contemporary metropolitan snack and cocktail bars of such cities as Barcelona, New York and Miami. The raw interior walls have been splashed with gold paint; jewel tones abound in the luxe leather chairs and banquettes; the lighting, including authentic Moroccan lanterns and repurposed decanters, cast an intimate atmosphere throughout the historic building. Bar Reyna was designed as an energetic gathering place where the vibe, food and drinks intermix to create a wholly unique restaurant experience. The menu features an eclectic mix of table snacks and larger plates that traverse the Mediterranean.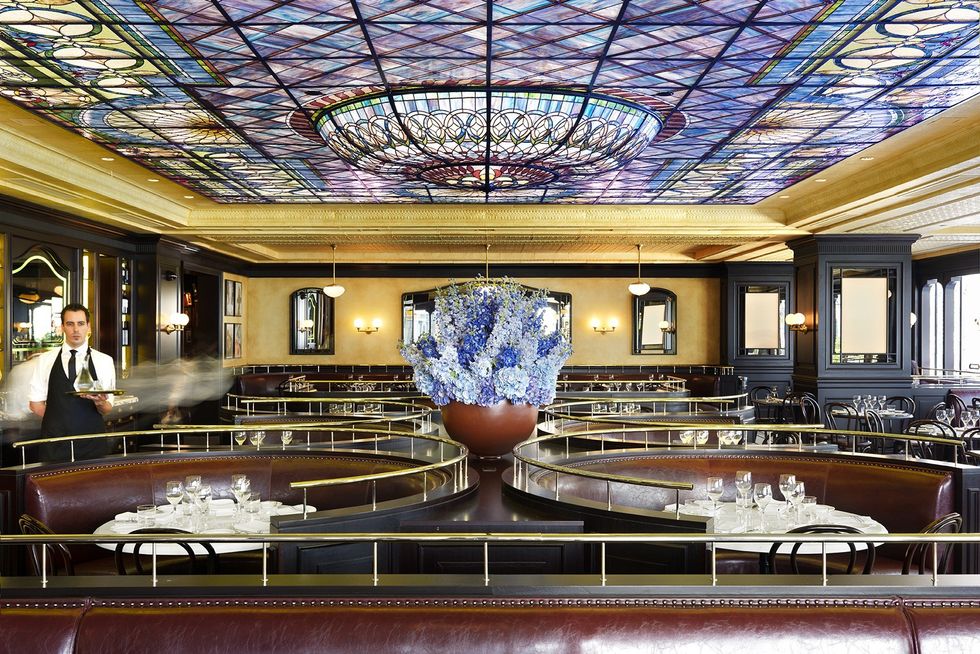 La Société (Photo courtesy of La Société)
Location: 131 Bloor St. W., Toronto
Capacity: La Société can host 175 guests in the main dining room banquet-style, 48-62 guests terrace banquet-style, 80 guests patio banquet-style, 500 guests full-venue reception-style and 30 guests in its private dining room.
Details/Perks: Located in the Heart of Toronto's Yorkville neighbourhood but inspired by travels to France, La Société boasts a custom designed 20- by 30-foot illuminated stained-glass ceiling that could rival the beauty of the Eiffel Tower at night. Guests have the choice between two European-style terraces, with a perfect view of Bloor Street's glamorous pedestrian culture and luxury retailers.
Why it's the perfect holiday spot: Dining at La Société is an opportunity to experience the finest French food in a stunning setting of dark mahogany and intricately placed marble mosaic tiles. Attentive staff ensure patrons experience the buzz of a popular establishment and French flare while maintaining privacy and unwavering service.
Design: Studio Munge created the 1920s Parisian bistro theme of La Société's interior design.
Vibe: The space is posh with a huge stained-glass ceiling, and offers French bistro fare, plus a fixed-price menu. La Société is pure elegance.
Downtown Core
Location: 117 Peter St.
Capacity: They have a capacity of 134 seated (including bar seating) Nor 194 standing throughout the whole venue. They also have a semi-private space, The Library, which can accommodate up to 24 seated or 50 standing for smaller scale events.
Details/perks: The cost is inclusive of food, beverage and staffing. Their whole menu can be customized to best suit a vision, in alignment with their elevated pub fare.
Why it's the perfect holiday party spot: The location is right downtown and is within easy access to public transit. They have 12 televisions throughout with AV capabilities and designated speaker systems for each area of the venue to allow for a fully customizable experience. They also have an onsite venue manager who will plan each event with you personally from inception to close, and will be there day-of to ensure everything runs smoothly.
Design: Lisa Ho Studio and Steven Fong Architect, inspired by Berners Tavern in London.
Vibe: The Anne Boleyn is a space for all, whether it be a corporate group for a cocktail reception or a small team looking for a private family-style dinner. They take pride in their versatility with food and beverage offerings and the ability to push boundaries for each individual event to bring a client's vision to life.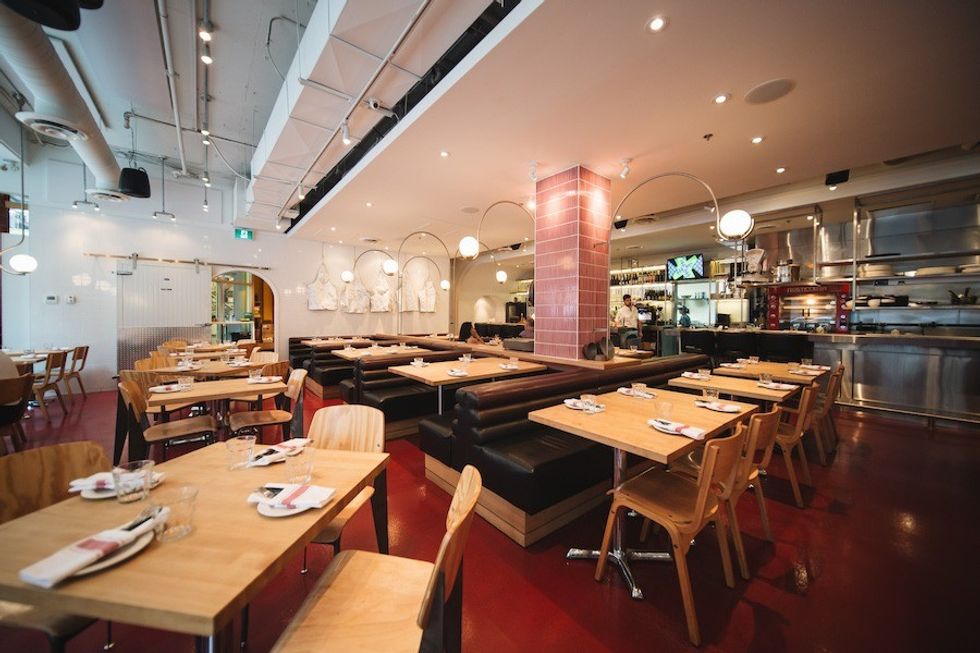 Locale Mercatto (Photo courtesy of Locale Mercatto)
Location: 330 Bay St.
Capacity: 70-80 seated (with some guests in booths); 110 standing for cocktail; the private dining room accommodates 12 seated.
Details/perks: Custom playlist, access to preferred vendors for rentals, DJs and florist options, AV equipment for presentations or speeches, complimentary coat check, Wi-Fi, full-service event management including specially tailored menus and wine pairings.
Why it's the perfect holiday spot: Centrally located in the financial district, conveniently located near the Toronto Eaton Centre and several offices. Offers classic Italian dishes and a new autumn/winter cocktail menu launched this month with six delicious cocktails created by La Palma's mixologist Daniel Castro.
Who designed it: Studio Munge by Alessandro Munge
Vibe: Business casual. The restaurant was designed to resemble a local Italian butcher shop with deep red floors and clean, white-tiled walls. There are even a couple of art installations including painted butcher aprons by designer Marcia Lue and hanging butcher blocks in the private dining room.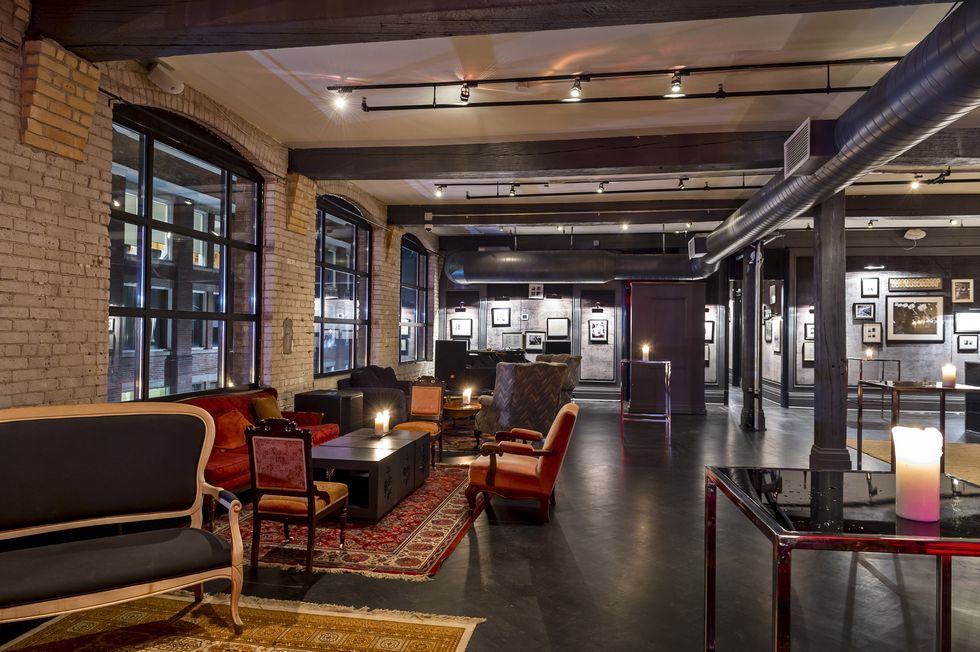 Storys Building (Photo courtesy of INK Entertainment)
Location: 11 Duncan St.
Capacity: Divided by two floors, the Storys second floor can accommodate 165 guests banquet-style, 200 guests theatre-style, 225 guests reception-style. The third floor can accommodate 165 guests banquet-style, 200 guests theatre-style, 225 guests reception-style. There is also the option to combine the two floors.
Details/Perks: This 170-year-old classic brick and beam building maintains the integrity of its original heritage while seamlessly integrating elements of progressive design to create a refreshing interpretation of modern Toronto. The building boasts more than 14,000 square feet of versatile event space over multiple floors. Full service in-house and offsite catering is available with valet parking available.
Why it's the perfect holiday spot: Using seasonal ingredients of the highest quality, Storys offers a customizable menu ranging from canapés and food stations to set menus.
Design: The inside is open concept, with exposed brick, and low tables and couch seats create a supper-club type feel. There's a lot of room in the space for rows of chairs to be placed, or clear it all out for a dance floor. Feliz Navidad!
Vibe: Conserving its 170-year-old heritage with elements of progressive design, numerous TIFF parties, weddings, corporate and other personal events have been hosted in the Storys Building.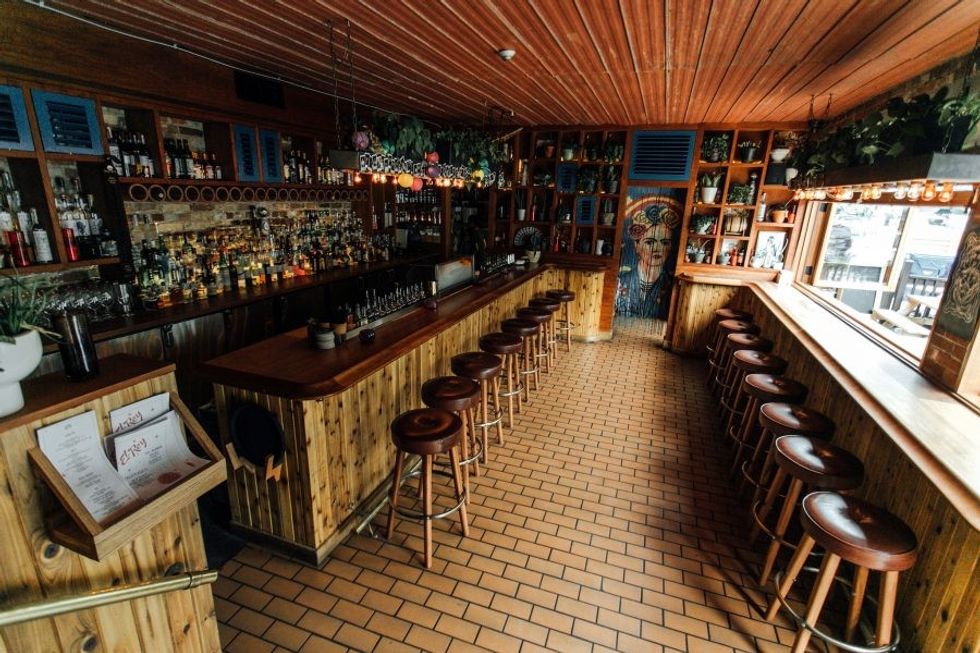 El Rey (Photo by AJ Fernando)
Kensington Market
Location: 24 Kensington Ave.
Capacity: Up to 50 people.
Details/perks: Private parties are great at El Rey. Usually some feature cocktails, wine options, and classic Mexican dishes.
Why it's the perfect holiday spot: Of all the spots on this list, El Rey is the most fun and has the best street cred. If you have a team of 20- and 30-somethings, this is the spot to book, bar none. I was at a private event for a media preview at the ASC Public Relations office, and Suzanne Cohon, principal, brought in El Rey's head mixologist to create cocktails to coincide with her client's new collection. The drinks were exquisite and demonstrates the talent and high standards of the El Rey team. (Also, if Cohon is working with them, you know it's a solid spot.)
Design: Grant Van Gameren and his team
Vibe: Perfect for fun, casual vibes, El Rey would be an amazing office-party spot for a young workplace — a startup, a tech company, a PR firm.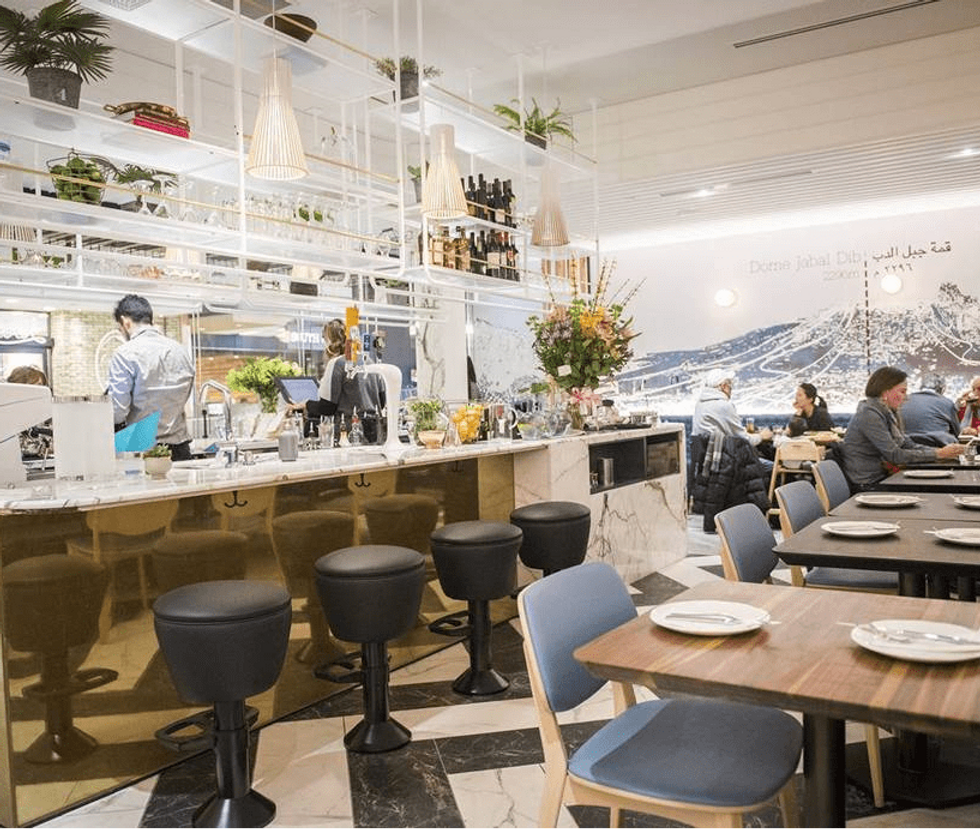 Tabulè Middle Eastern Cuisine (Photo courtesy of Tabulè Bayview Village)
Uptown
Location: Bayview Village Shopping Centre
Capacity: Capacity is 80 but due to the mall location staff can only accommodate groups of up to 25 people.
Details/Perks: Located in a prestigious shopping venue, Tabulè joins together foodies, fashionistas and décoristas. A sweet spot for offices north of the city. Plus it was voted Best Middle Eastern Restaurant in NOW Magazine. Shop from over 110 luxury retailers before the party (get your blowout at one of the mall's several hair salons and a gift for your boss — think Dana Jordan or Belle de Provence — before heading over to the party).
Why it's the perfect holiday spot: The bar allows for a 360-view of the restaurant, on top of tables with marble, floating shelving and comfortable rows of banquets with decorative succulents. Ample parking as well as valet to arrive and park in style.
Design: Commute Design
Vibe: Enjoy traditional Middle Eastern dishes in a warm, inviting atmosphere, plus great cocktails, local craft beers, fresh juices and a luxe wine selection.
Community