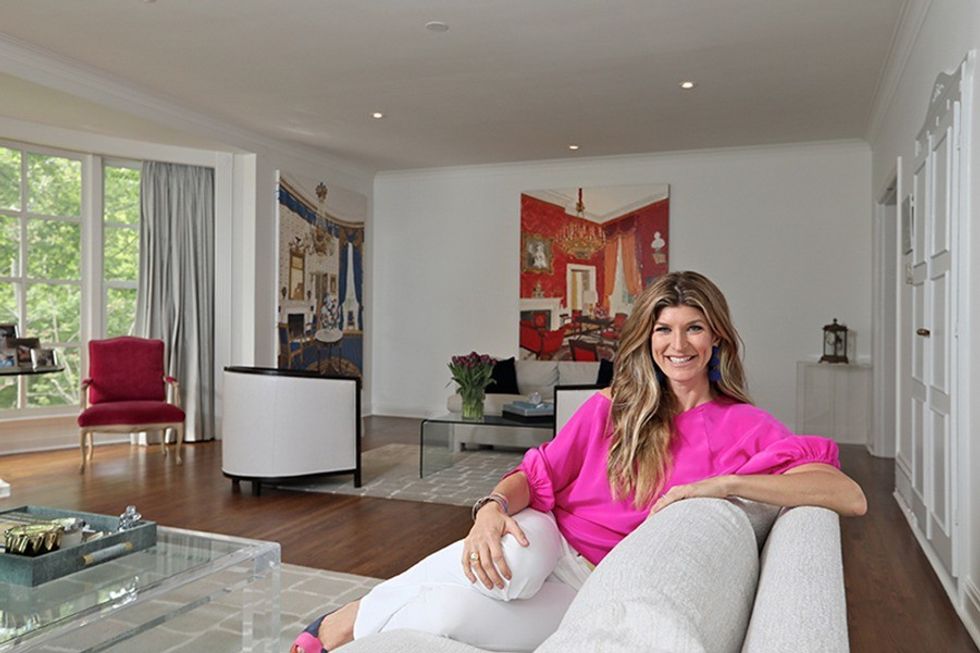 Suzanne Cohon, principal, ASC Public Relations, in her (rented) Rosedale home she shares with her husband Mark Cohon,11-year-old daughter and German Shepherd. Behind Cohon is The Red Room and The Blue Room, two of three cherished paintings of rooms at The White House. (Photos by Jordan Prussky)
---
Suzanne Cohon has the house bug bad: the serial mansion hunter and renovator has racked up five addresses over 15 years of marriage.
The Toronto public relations maven and hubby Mark Cohon, former CFL commissioner and current chair of CARAS (the Canadian Academy of Recording Arts and Sciences, which hands out the Juno awards), live in a Rosedale ravine stunner with their 11-year-old daughter, Parker, and a German Shepherd.
She says this time, they are settling in for the long haul.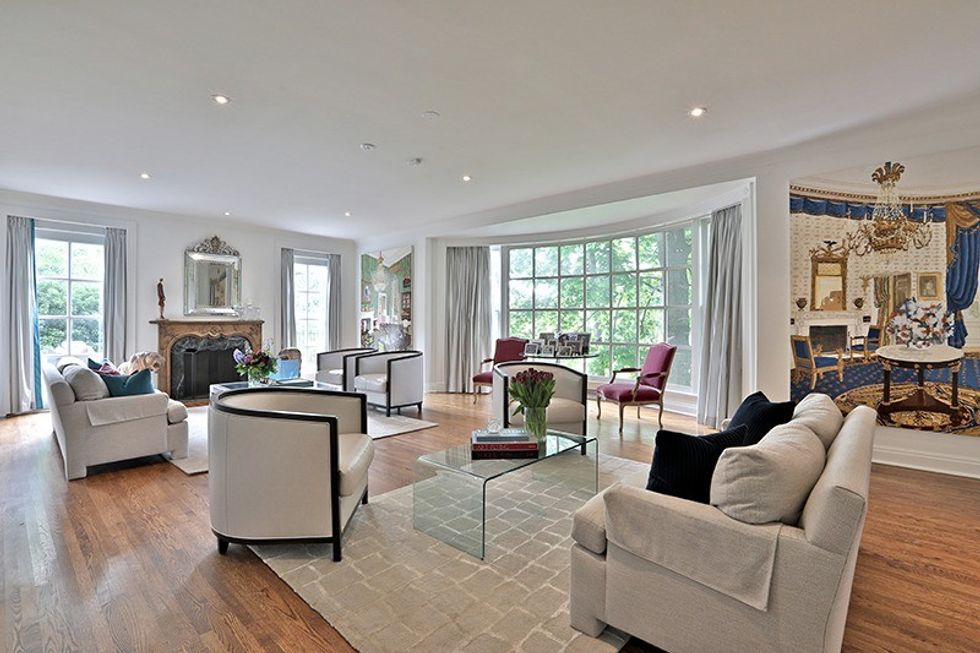 In Cohon's favourite room, large bay windows allow for incredible views and light that changes with the seasons, while the chairs and throw pillows give the room a pop of colour. Family photos rest on a dainty glass table. On the right side of the window is The Blue Room painting, and on the left is The Green Room.
"Mark and I will argue tirelessly over what to have for dinner," says Cohon. "But if it is about buying a house and ripping it apart and putting it back together again, we are on the same page."
There is a refreshing pluck and verve to Cohon, and in this town where we tend to lop the heads off of tall poppies (or gossip derisively about them), she stands out for how much everyone seems to like her. She told Toronto Life that when Mark first met her, he thought she looked like Crystal Bernard from Wings , the '90s sitcom.
Indeed, the reference is apt: there is sunny all-American glow to Cohon. Tanned and with legs for days, she is wearing a vibrant fuchsia blouse that matches the occasional chairs set in front of a gigantic bay window flooded with springtime greens.
"In the winter," she says of the south-facing living room, "you can see the whole skyline, but then in the summer you feel like you are in a treehouse. And the light changes throughout the year. As the canopy fills in it gets darker but in winter this space is lit up like a Christmas tree."
And it is wild.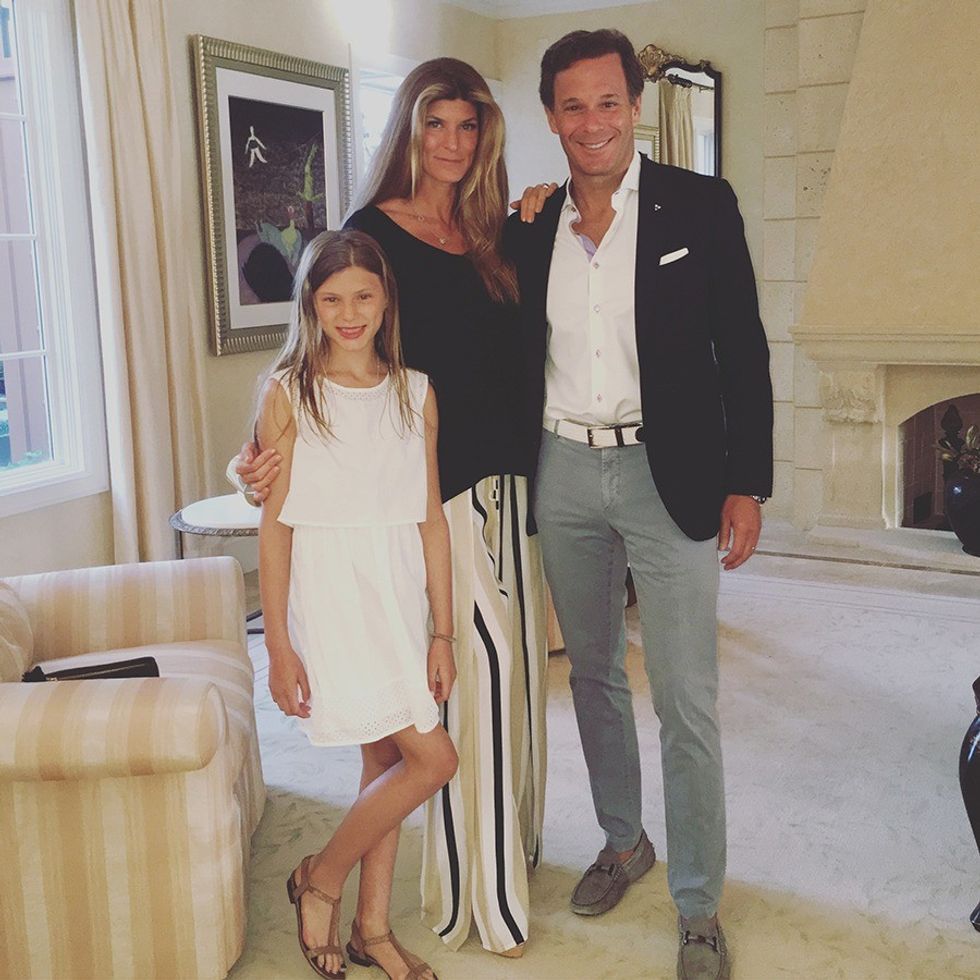 The Cohon family: Suzanne and her husband, Mark, along with their daughter Parker. (Supplied photo)
"We have coyotes, hawks, wolves, deer. The dog goes nuts," says Cohon.
The location was part of what drew the couple to this home. The Cohons call themselves "retired New Yorkers," and they have tried on everything from a rambling Victorian to condo living on Bellair in Yorkville to an open-concept gut-reno of a townhouse on Rosedale's Dunbar Road. They hadn't moved beyond a three-kilometre grid, but like Goldilocks, they had tried out many different sizes and modes of living within those boundaries.
In the end, they decided to embrace what is great about this city.
Says Suzanne: "Toronto is a residential city and it is so special you can have a home and walk to work and walk to shops and restaurants."
So when a couple knocked on the door of their Dunbar home unexpectedly with an offer, they took it, arriving here in north Rosedale two and a half years ago.
"It was really quick and easy, extremely positive and seamless. And that took a lot of pressure off.
"We are renting right now. We saw it and it was falling apart," she says.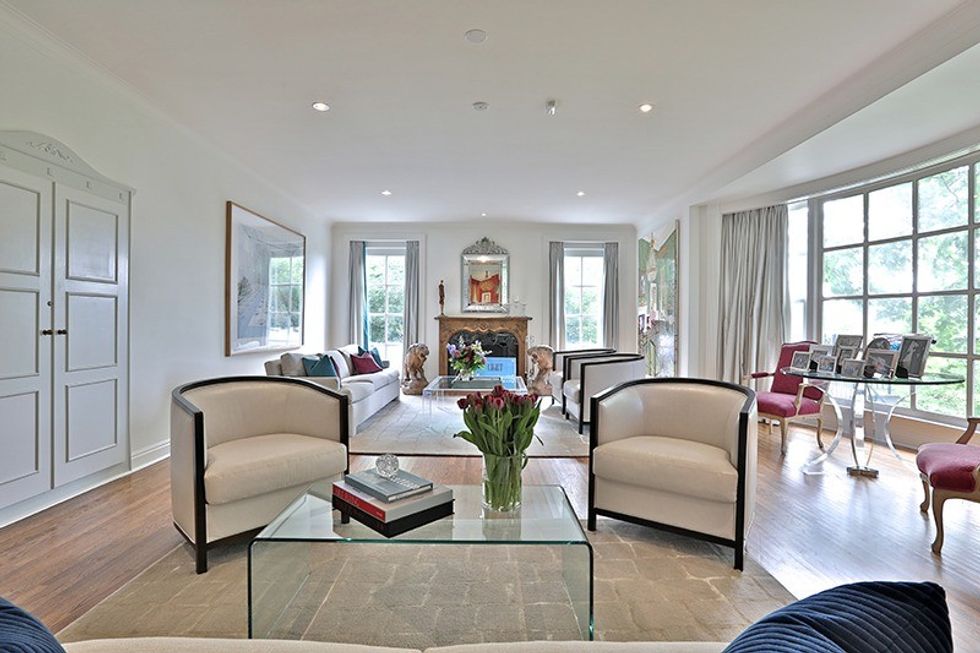 The four white club chairs are the only pieces of furniture that haven't been re-purposed, purchased at Elte by the couple when they were first married.
So they did something else rather unusual: "We knew we wanted to be here for some time. So together with owner, we collaborated, and did a big reno . We just love it. We hope we can break them down and they will sell it to us, eventually."
When it came to decorating, with its open space and large, tall walls for art, Cohon says she turned to her friend, interior designer and fellow New York transplant James Davie, to help her inject some colour.
"He walked in and said "So much grey! He has a much more English sensibility."
Almost all of the furniture in the room has been passed down from Cohon's in-laws, McDonald's Canada founder George Cohon and his wife Susan. The giant wood cats were bought by the senior Cohons on travels through Thailand, and now flank Suzanne and Mark's fireplace.
"The lines of all these pieces are great. Everything has been re-covered and re-purposed. Except for the four club chairs, which were our first big purchase, at Elte, when we were first married."
One constant through the couple's moves has been a trio of painting by Los Angeles artist Kirsten Everberg. And they are one of the reasons the pair always looks for tall walls with big display space. She says together they have the knack for seeing a home's potential.
"We are very obsessed with proportions, ceiling height, walls, that is what we're looking at touring a house."
And that is how they have had success in moving through so many different sizes and scales of home. "They are three rooms of the White House," says Cohon of Everberg's pieces, "The Red Room, The Green Room and The Blue Room."
"They are perfect in here. We own them, but they go to the L.A. MOCA (Museum of Contemporary Art) when we kick the bucket."
Meantime, they have done their own tour of Europe on loan.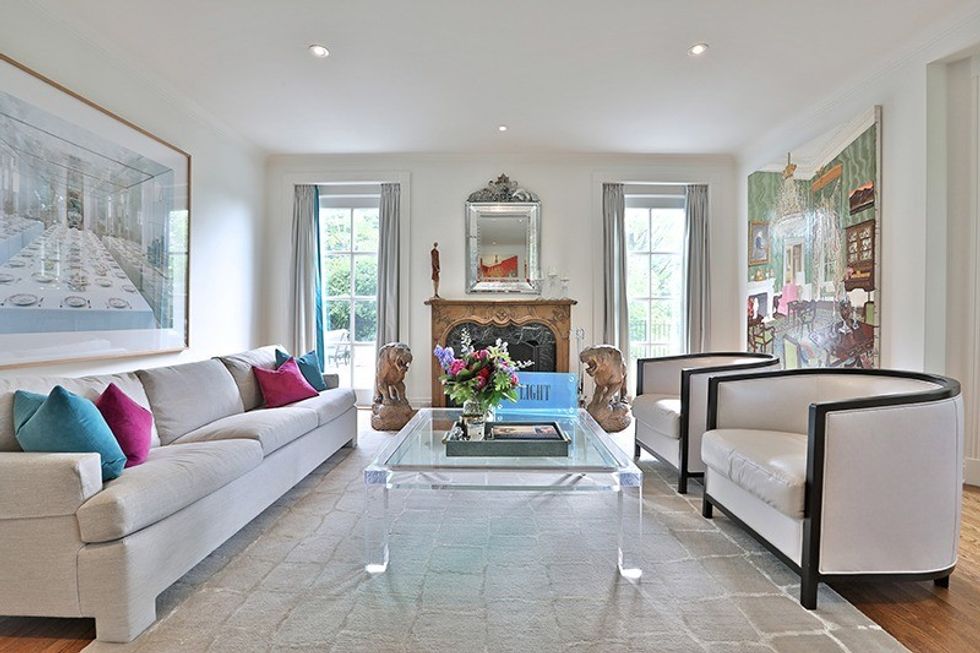 The perfectly put-together seating area by the fireplace, where the large wood cats from Cohon's in-laws stand guard. Behind the couch is a photograph from a gallery in Germany of a princess's set of china.
Behind the couch is a photograph by Candida Hofer.
"She is German," says Cohon, "and it is from a gallery in Germany and it is of a princess's set of china. It is set up house of mirrors. It has always notoriously been in our dining room, but fits in with history and White House pieces."
It is a piece you could look at for a very long time and always take something different away.
Just beyond the frame outside the living room door is a sculpture of shoes by Willie Cole that looks like an African tribal mask if you catch it at the right angle.
And there are some enthralling word paintings by Turner Prize-nominated British artist Fiona Banner in the dining room — one is of a transcribed porn script, so it took all of Cohon's deft distraction skills to direct her daughter to the other painting in the pair as she was learning to read.
Grace is one of Cohon's more striking qualities. When I frown at the gloppy, bright lipstick print I have left on my white coffee cup, as if by magic, Cohon somehow deftly turns her own mug to face me. On it is a discreet little smudge of perfect nude lip colour. A natural hostess move, to make people feel at ease.
As a leader, and mentor, of women, she is aware that what comes out of her mouth matters. And she stays remarkably on message. Her official bio for the 12-year-old firm she co-founded, ASC Public Relations , uses words like dynamic, high energy, enthusiastic, optimistic and fast moving to describe both Cohon and her team. They are all bang on.
But what is more important is approachable. Cohon the working gal is the opposite of a brittle socialite. She chooses polished gear over trendy labels on purpose, appropriate over flash.
While Cohon counts such large-scale clients as Calvin Klein and Tiffany & Co. on her roster, she has also worked on fundraising initiatives for Ronald McDonald House and the Science Centre, and mentors at-risk young women.
This is because ASC has a roster of current and former clients that includes Calvin Klein and Ann Taylor, Tiffany & Co. to Forever 21. And this fall, she is one working alongside Peter Freed to bring the new Toronto Fashion Week to Yorkville as a multiplatform fashion show slash cultural three-day event in September just before TIFF (and deliberately ahead of the international circus of fashion weeks beginning in New York).
A New Yorker, Cohon came to Canada from a high-profile career as a media advertising sales executive; when she first landed as a new bride she worked on the launch of The Spoke Club. Her charitable endeavours have included fundraising roles for Ronald McDonald House, the Science Centre and she is active in mentoring at-risk young women.
As the photographer packs up his gear, Cohon laughs as a dog goes bananas behind a hidden door. Mailman is here. The house is perfect down to the bold floral arrangements from Emblem, so there is no reason for her to show us the spot where the dog has tried to claw his way out to greet visitors. But that is Suzanne Cohon's knack: a little crack in a flawless veneer is the key to relatable.
Industry Profiles