---
Following a series of aggressive interest rate hikes this summer, home buyers are unsurprisingly jaded, with many taking a step back from the real estate market.
This is according to a new report from RBC Economics, authored by Assistant Chief Economist Robert Hogue, which also expressed that "fewer -- and more budget-constrained -- active buyers in the market are taking steam out of prices."
With buyers on the defensive, there was very little resale activity in August. Home resales fell for the sixth month in a row to 443,000 units (seasonally adjusted and annualized) in August, reports the Canadian Real Estate Association, making it the quietest month for home resales in the past three and a half years.
READ: National Home Sales Decline for Sixth Straight Month, Price Down $180K from Peak
Additionally, the national composite MLS Home Price Index (HPI) dropped another 1.6% between July and August. Since reaching a peak in February, HPI has fallen to 7.4% -- "within striking distance of the 8% peak-to-trough decline recorded during 2017-19 downturn," says RBC.
"We see that trend continuing in the near term with the Bank of Canada poised to stay in tightening mode until the end of this year. We have updated our policy rate call to 4% by December, up from the 3.5% we previously expected."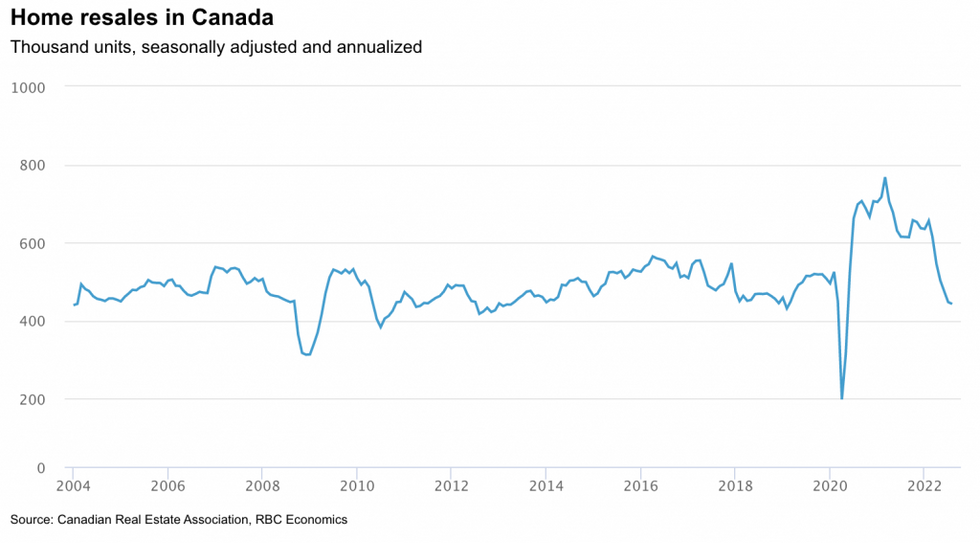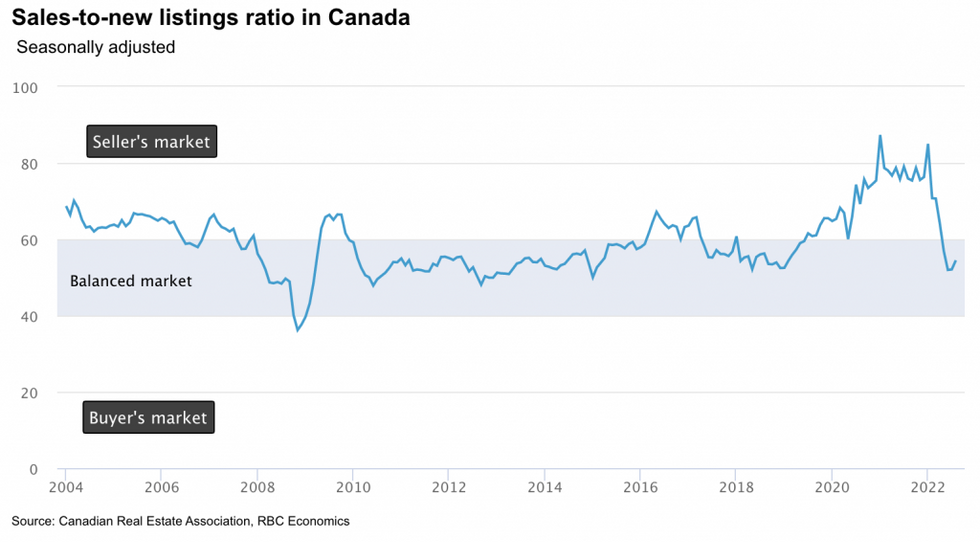 Although Ontario and BC are observing the softest market conditions in all of Canada -- both are facing "especially significant" price corrections, with the composite MLS HPI plummeting 19% in Cambridge, 16% in Kitchener-Waterloo and London, 15% in Brantford, 13% in Guelph, 14% in Chilliwack, and 9% in the Fraser Valley -- other provinces are now following suit.
In particular, Quebec and parts of Atlantic Canada saw activity in August that was below pre-pandemic levels.
"The weakening in property values is a more recent phenomenon in Quebec and Atlantic Canada (and some parts of the Prairies) and the pace of decline is generally more subdued," reads the report. "This is largely thanks to demand-supply conditions having stayed tighter for longer compared to Ontario and BC."
While Montreal's composite MLS HPI fell by 3.3% in the past three months, it declined by 5.8% in the Greater Toronto Area over that same timeframe.
"Still, downward pressure is intensifying in Eastern Canada," says RBC. In Halifax, the HPI fell by 6.3% in the last three months, dropping 3.9% in August alone. In Saint John, that metric fell by 4.2% in August. Conversely, Prince Edward Island and St. John's markets are holding steady so far.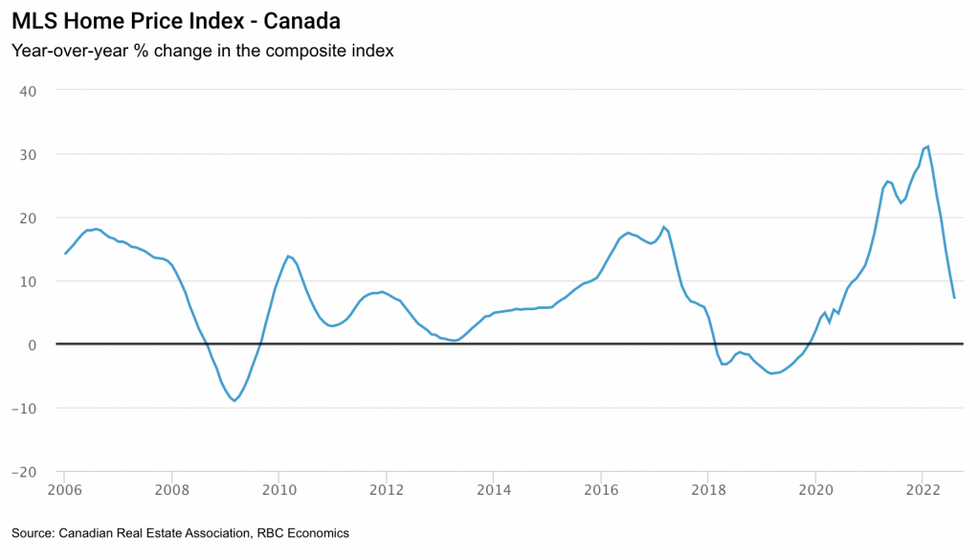 With all of this said, property values are "above year-ago levels" in most Canadian markets, and this is particularly true of markets in Atlantic Canada. (The one exception is Kitchener-Waterloo, which saw a 1.7% decline in MLS HPI compared to years past.)
"For many potential buyers, home purchasing prospects remain grim," says RBC. "The partial reversal of earlier massive price increases is small comfort at a time when sharply higher interest rates cut deeply into affordability."
RBC also cautions that last week's interest rate hike won't be the last in this cycle, and it's likely that we will see the rate drop deeper into restrictive territory by the end of the year. This will keep buyers on the defensive as purchasing power shrinks. As a result, RBC forecasts that home resales will plummet further, falling another 23% this year and another 15% next.
"We think the market will adjust to higher interest rates by early 2023," concludes RBC. "Any recovery will likely take a few months to tighten demand-supply conditions, placing the bottom for prices around spring time (overall for Canada). We expect benchmark prices will be down approximately 14% from the recent peak nationwide. On a provincial basis, we project Ontario and British Columbia to record the largest peak-to-trough declines at -16%, and place Alberta and Saskatchewan at the other end of the scale at -4%."

Real Estate News