New condo sales in the Greater Toronto Area (GTA) had a sleepy start to the year, according to a new report from Urbanation.
The Toronto-based research and consulting firm reported on Tuesday that 6,727 new condo units were sold in the first half of 2023, marking a 59% decrease from the first half of 2022. Combined Q1 and Q2 sales also came in 42% below the 10-year average for the first half of the year, "representing the slowest first six months of the year since 2013."
---
Shaun Hildebrand, President of Urbanation, additionally notes that the GTA's "12-month running total for new condo sales" has slipped to the lowest level since 2009.
When looking at Q2 exclusively, new condo sales in the region, at 4,610 units, increased 118% from the quarter prior. However, Q2's sales fell 35% year over year and came in 28% below the 10-year Q2 average.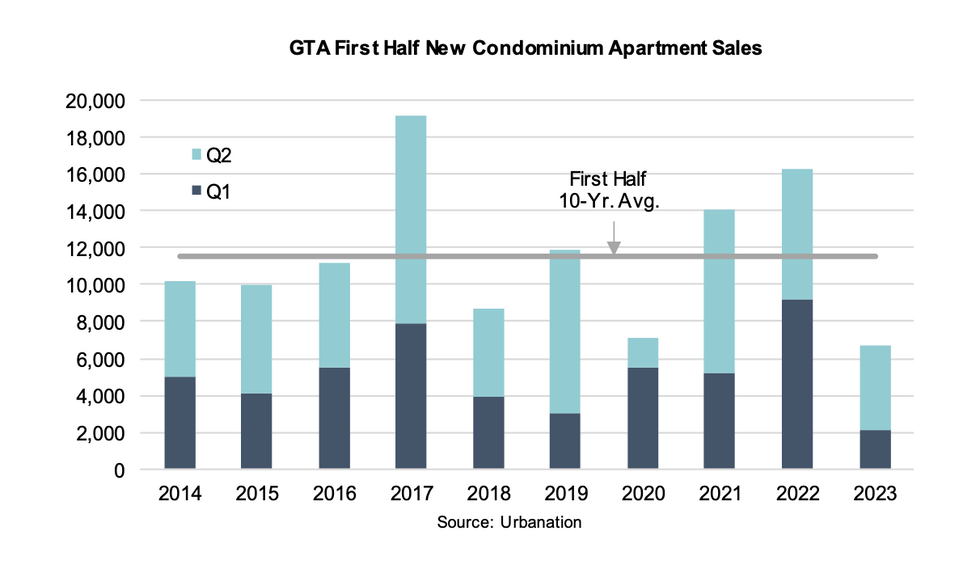 Still, the second quarter saw sales improve to a "four-quarter high" thanks to the presale launches of 27 new projects, which accounted for 7,349 individual units. That particular unit count was 27% below the year-ago measure, but more or less in line with the 10-year average.
"While a number of new projects brought to market during the quarter were successful in selling the majority of their units, the overall performance of new launches in Q2-2023 remained tepid as buyers once again became concerned over the market outlook with the Bank of Canada resuming interest rate increases in June," says the report.
New launch absorption in the second quarter fell below the 57% absorption observed in Q2-2022, as well as the 10-year average absorption of 60%. This trend, cautions Hildebrand, "will soon begin to impact construction and eventually cause serious supply shortages in a few years, the extent of which will depend on how long the current slowdown in presale activity persists."
Prices Slip As Affordability Challenges Mount
Tuesday's report also reveals that new condo prices decreased 1.3% in Q2 on a quarterly basis and 2.2% year over year to $1,411 per sq. ft (psf). The annual drop in particular marks the first price decline for GTA new condos in 10 years, and is indicative of faltering demand amongst prospective purchasers.
As such, many condo projects continued to offer purchaser incentives in combination with price reductions last quarter, notes Urbanation, including cash back or credits on closing, mortgage rate guarantees, and free or reduced parking, locker, and/or unit upgrades.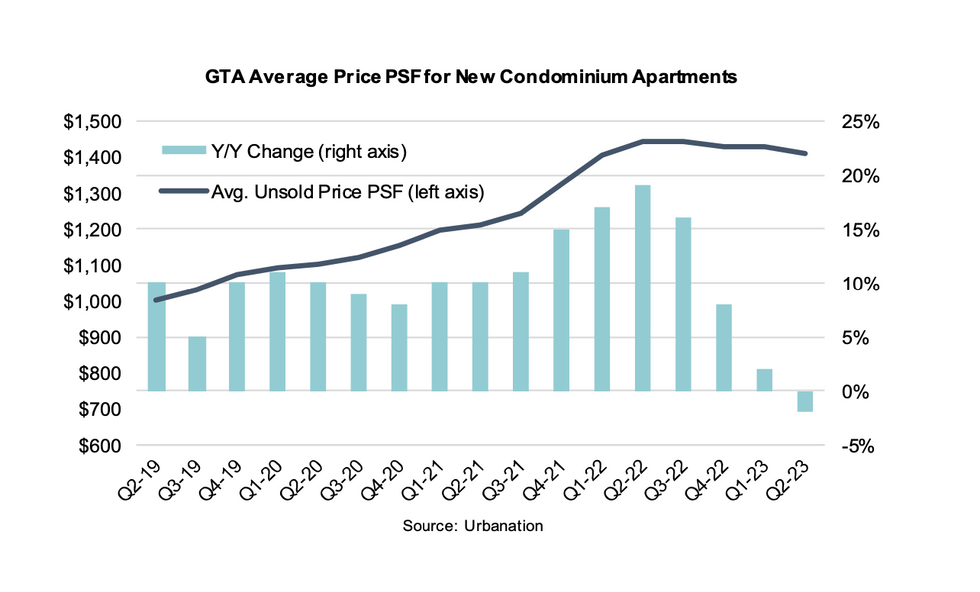 Confronted with additional interest rate hikes in June and July, buyers are quite clearly gravitating towards lower-priced projects, the data also shows.
Transactions in the 905 region, for example, represented 60% of the GTA's new condo sales in Q2-2023 -- "a record high." Meanwhile, the former City of Toronto (where prices are around 30% more than in the 905 region), comprised "a record low" of just 14% of sales.
In that same vein, the average sold price for new launches fell to a seven-quarter low of $1,236 psf in Q2. That price is down 8% annually, and 13% below the average of $1,426 psf for projects launched in Q1-2022.
In addition to affordability-related headwinds, the GTA's condo sector is facing "significant resource constraints as the number of starts continues to run well ahead of the capacity to deliver new units," says Urbanation. "Over the last four quarters, construction starts totalled 27,537 units, more than 10,000 units above the number of completions over the same period (17,117 units), pushing the total for condos under construction to a record high 102,448 units."
Real Estate News