When it comes to hostess gifts, everyone gravitates towards the thing: a bottle of wine. Don't get us wrong, there's nothing wrong with a bottle (or eight) of vino but why not give your host something a little more personal? After all, they are opening up their home to you.
This year, instead of stopping by the LCBO on your way to your friends' house, surprise them with a token of appreciation that speaks to their personality. Below, we rounded up 15 affordable holiday gift ideas for your host or hostess. From decorations to accessories, there's no shortage of great gift ideas for under $50.
---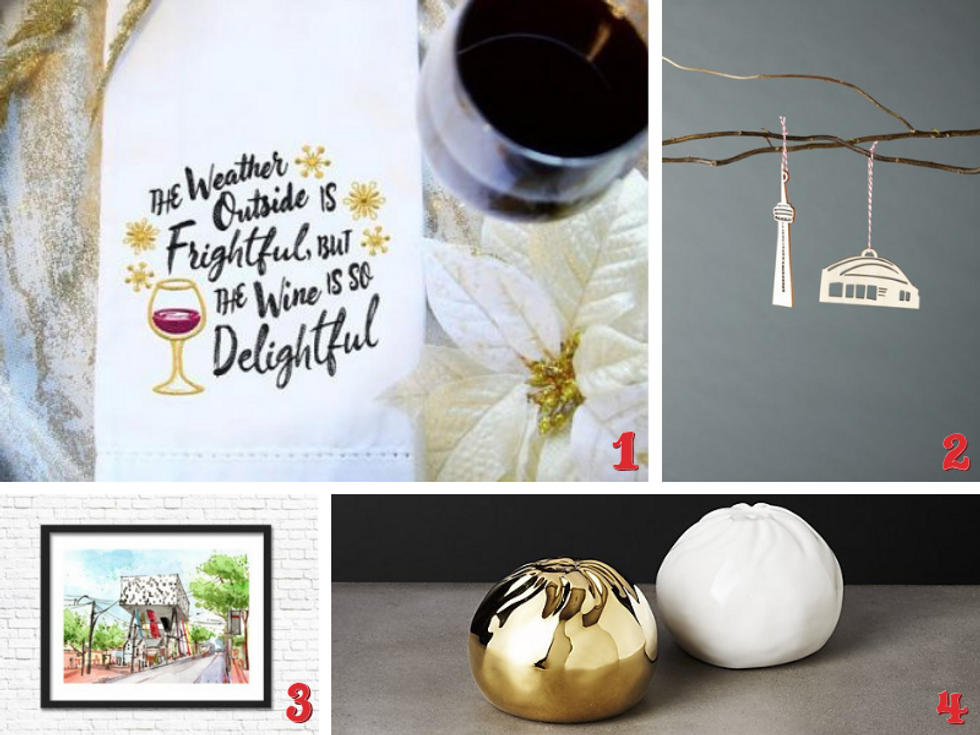 1. A Dish Towel
We said no wine, but we didn't say anything about wine-themed gifts. This festive dish towel is sure to bring a smile to your hosts face—no wine needed.
Price: $22.12
Get it from the One Of A Kind Online Shop
2. CN Tower Ornaments
Help your host show off their love of the 6ix with this cool one-of-a-kind ornaments. Looking for something a little less Torontocentric? Check out the artist's other designs at the One Of A Kind Show between Nov. 22 and Dec. 2.
Price: $14
Get it from the One Of A Kind Online Shop
3. A Print Of Their Favourite Spot In The City
Artwork can be costly, but you can't put a price on a beautiful design. This beautiful print of the OCAD building in Toronto would make a great addition to your host's study or bookshelf and it won't put a dent in your wallet.
Price: $25
Get it from the One Of A Kind Online Shop
4. Cute Salt And Pepper Shakers
An adorable addition to the table, these dumpling shaped shakers are a real conversation starter. At such an affordable price you could use them every day but, since they look so high-end, your host might want to save them out for special occasions.
Price: On sale for $13.56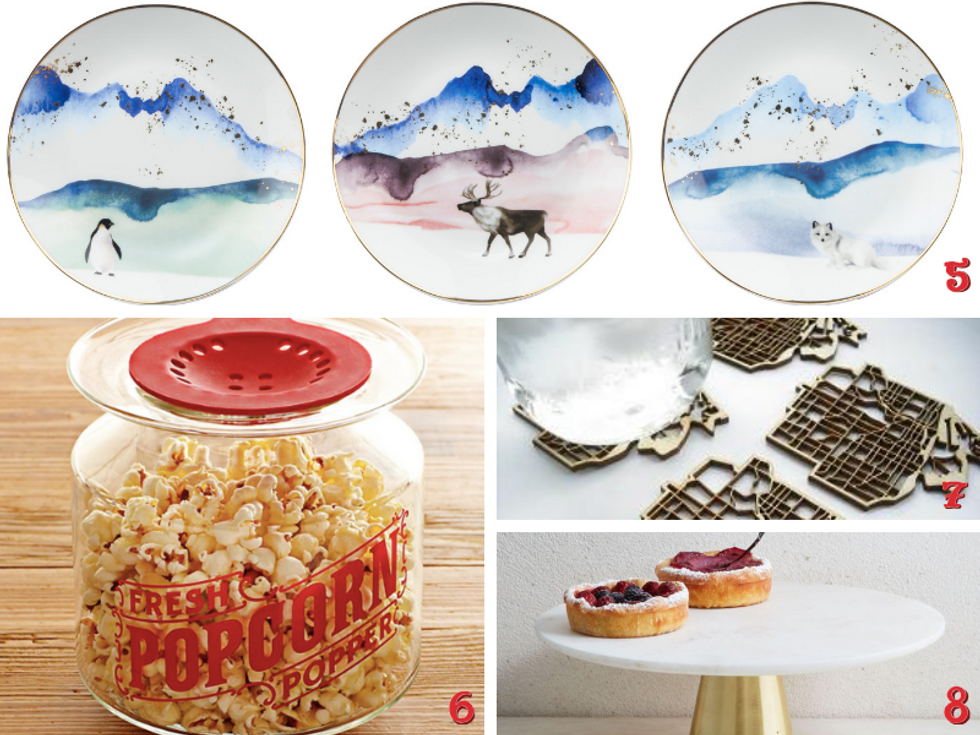 5. Festive Dinner Ware
Help your host set the table in style with these festive side plates. At such an affordable price, you can buy them a set or prepare a dish to serve on them. Either way, every time the host looks at them they'll be reminded of you.
Price: $5 per plate
Get it from PC Home.
6. A Popcorn Maker
This glass popcorn popper is a healthier and more stylish alternative to buying bags of microwave popcorn. In just three minutes your host can be lazing on the couch snacking on perfectly popped corn.
Price: $30
7. Toronto-Themed Coasters
If there's one thing every host needs, it's a reliable set of coasters. These laser cut coasters come in sets of four with a removable and reusable wooden backing.
Price: $41
8. A Marble Cake Stand
No party is complete without cake. Help your host take their dessert table to the next level with this stunning and oh-so-stylish cake stand. You'll be a shoe-in for guest of the year if you actually bake a treat to sit on top of it.
Price: $43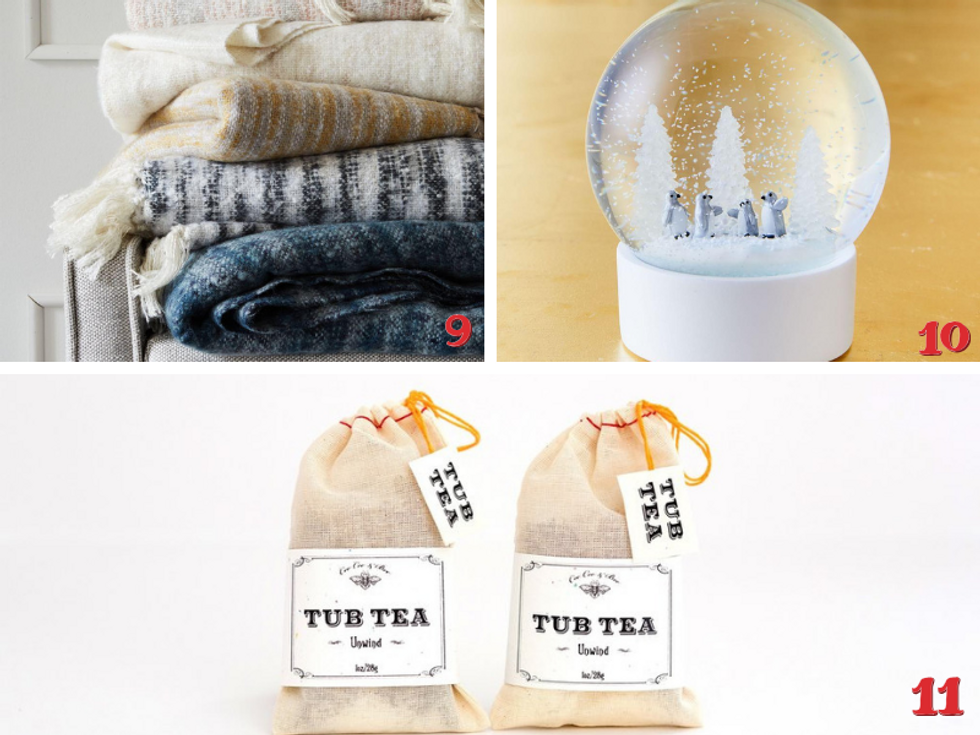 9. A Cosy Throw
With our Canadian winters, you can never have too many blankets. These irresistibly soft throws will look great on the couch, the edge of the bed or even just wrapped around you as you wander about the house.
Price: On sale for $41
10. A Festive Snowglobe
This elegant vintage-looking snowglobe adds a touch of holiday cheer to mantels, shelves or tablescapes. But trust us, it won't stay on the table for long, both the host and their guests won't be able to resist picking it up and giving it a good shake.
Price: $34
11. Tub Teas
Hosting is hard work, so show the hostess how much you appreciate them with a gift that invites them to kick up their feet and relax. Just like an actual sachet of tea, these packets soak in the water releasing a soothing blend of chamomile, mint and Epsom salts.
Price: $21 for two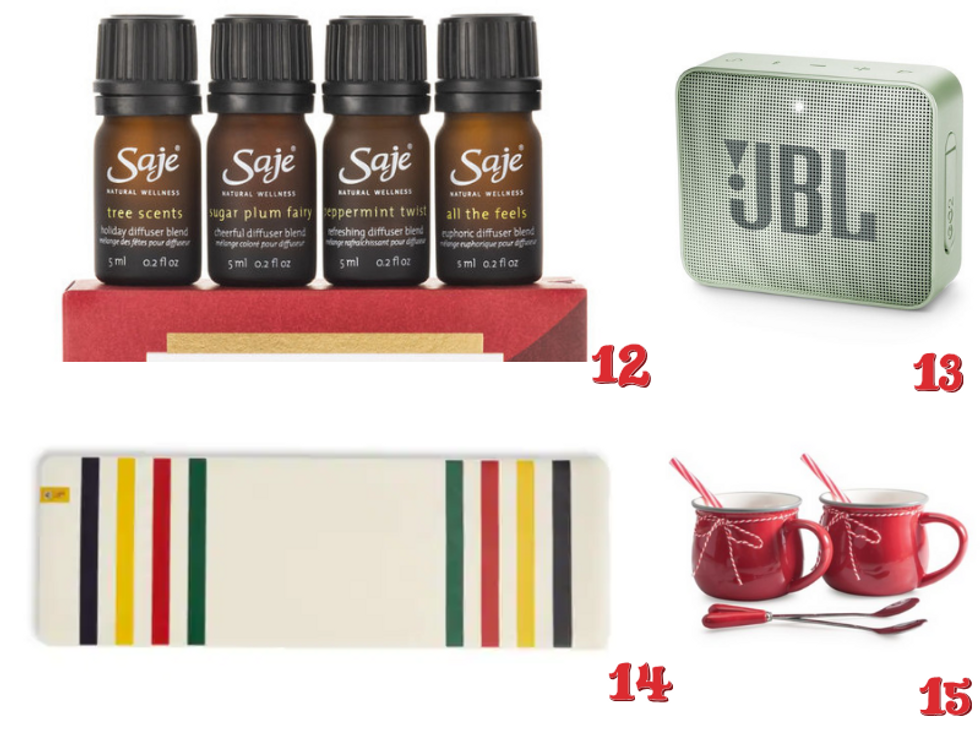 12. Essential Oils
Forget those scented aerosol sprays, these essential oils disperse festive aromas throughout the house all night long—making it the perfect gift for those who love to throw house parties.
Price: $44.95
13. A Waterproof Portable Speaker
If they like to entertain, chances are they also know how to put together a killer playlist. This JBL speaker will help them set the mood at future parties and ensures you'll always end up on their guest list.
Price: $49.99
14. A Canadiana Yoga Mat
First things first, before you buy this make sure your host actually does yoga. If the answer is yes, proceed with the purchase. Any yoga-loving hostess would love this Lole X Hudson's Bay mat, with its classic design it'll look great in class and in your home.
Price: On sale for $42
15. A Hot Chocolate Set
On cold winter nights, few can resist the temptation of a warm mug of cocoa. This mug set that includes two mugs, two reusable striped straws and two stainless steel spoons making it a great little set for those intimate nights in.
Price: $19.99
All of these gift ideas can be picked up in store, but if you'd prefer to shop online you might want to order early. With Canada Post's rotating strike in effect, package and mail delivery delays are to be expected.
Toronto