Toronto
Sponsored
No Longer the Final Frontier: Space is Now the First Stop for Homebuyers
As two weeks turned into months (and months) of stay-at-home orders with the onset of COVID-19 in Toronto, the city's condo-dwellers began to take inventory of their spaces in the sky.
Some got creative, turning already-small condos into functioning living and working spaces. Others upgraded to larger units once rent prices started to drop significantly throughout the city. And some relocated (for the time being, at least) to the suburbs and beyond.
Whatever the case, the common theme is that space has taken on a different meaning in the past year, thanks to the relentless pandemic and its control measures. In short, there is a collective craving for more room to live, work, and simply be. Naturally, this has affected the "must-haves" on the list of condo-seekers: space for a home office (or two) with decent acoustics, functional outdoor areas, inspiring views, and an abundance of natural light are now not just nice to have – they're deal-breaking essentials.
It's consideration of details such as these that have long made leading Greater Toronto Area (GTA) developer Tridel a popular choice for suites that aren't merely made to be as compact as possible, but instead are designed with consideration of how inhabitants will actually live. And now, living in a pandemic world, the intentional way Tridel crafts city-dwellers' homes is ever-more inviting, and all the more important. 
Let's begin where just about everyone's attention is focused these days: space. Where space is concerned, most of Tridel's one-bedroom properties start from the mid-500- to +600-square-feet. And this is a value that's been held up since long before COVID.
"We don't believe in building anything smaller," says Winnie Chan, Vice President, Sales Management at Tridel. "It looks perfect on paper when it's two-dimensional. But once you move in, we believe the tiny units could have a livability issue for some."
Conversely, Tridel is also known for its large home-size suites, which range from 1,500 to over 4,600-square feet; abodes like these, the team has been creating for years.
Whether one opts for a namesake sprawling suite or, instead, a still-quite-sizeable one-bed, the square footage provided means ample room for implementing an at-home work space.
This factor is important in today's home-buying considerations, even as the light at the end of the COVID tunnel glimmers brighter. While a return to "business as usual(ish)" draws closer, preparing to breathe life into Toronto's vacant office buildings, COVID-19 has inspired a need for a home office, and that isn't likely to disappear when the virus does. Economists and developers alike believe a post-pandemic work culture will resemble a hybrid model for many industries, whereby time is divided between the home and the office.
As such, developers will increasingly take this into account when designing future condo buildings – even if that "office space" looks like a functional and well-lit nook in a one-bedroom unit. Furthermore, co-working spaces – especially sizable ones that allow for physical distancing – will become increasingly important amenities moving forward. This is according to Naama Blonder, an architect, urban planner, and urban designer at Smart Density.
Another ever-important design consideration – one made more imperative by the pandemic – is a need for quality outdoor spaces in condo suites and buildings. "Balconies and terraces are must-haves now more than ever. They're essentially condo dwellers' backyards and can really impact quality of life," says Blonder.
"There's a lot that goes into the design of a balcony to make it a space worth spending time on – or even having in the first place. Effective balconies should be carefully designed with respect to everything from the right dimensions and orientation, to the materials used on the railings."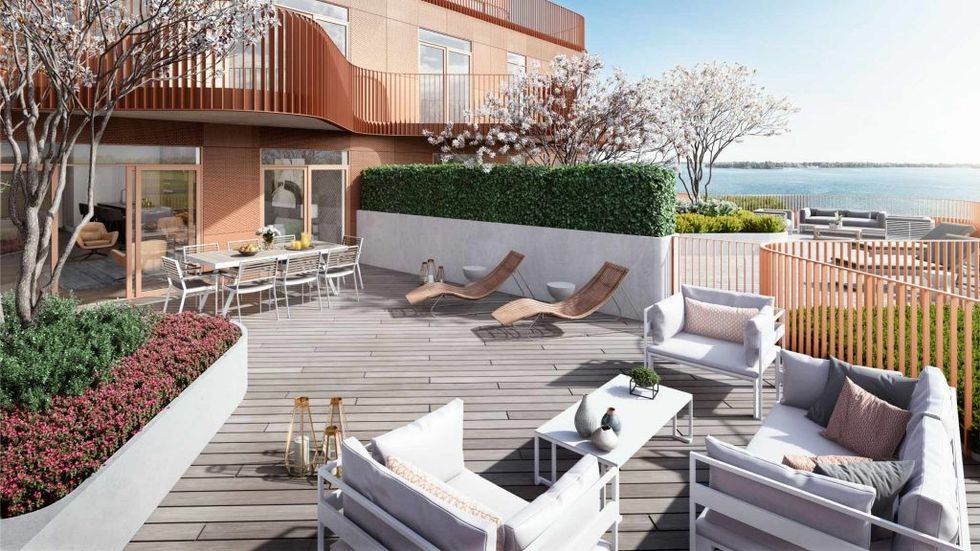 For example, transparent railings – something Blonder believes will increase in popularity – offer a sense of being as connected to the outdoors as possible.
"With transparent railings, you can see through the railing when you sit down," she says. "Concrete railings cut off the visual experience when you're sitting or even for a standing child."
Beyond views, the removal of concrete barriers also provides a sense of openness to residents, allowing for deeper visual (and a sense of physical) interaction with the surrounding environment. This is a feature that's always ideal, but is even more-so these days, when any opportunity to feel a little less confined is worth reaching for.
Multiple terraces as shared amenity spaces – ones large enough to facilitate physical distancing – may also become more common in the design of condos and vertical communities, Blonder predicts. These private open spaces – now often designed with safety measures incorporated to protect the well-being of residents – facilitate a sense of community, the importance of which has become glaringly apparent during the perpetually isolating pandemic.
"We're seeing multiple outdoor common spaces of a variety of sizes, shapes, and orientations," says Blonder. "For example, some may be more dog-friendly, some more family-friendly, others more conducive to entertaining."
Meanwhile, focusing our attention indoors, another increasingly important pandemic-inspired must-have is for smart phone-connected and touch-less condo buildings. Long before COVID-19 became a staple term in our collective vocabularies, Tridel was actually a local pioneer in these connected buildings – something the team introduced back in 2012 with its development at Ten York Street.
Today, Tridel Connect allows residents of many newer Tridel condominiums to control various features of their home from anywhere, with their phone. Features like hands-free entry, simple home alarm activation, licence plate recognition, and efficient parcel delivery are all possible with the touch of a button. The upcoming Aqualuna condo – the final installation of the developer's luxurious Bayside waterfront community – features this technology, alongside those aforementioned communal outdoor spaces.
But while many feel called toward the condo lifestyle and environments that revolve around shared spaces, Blonder also highlights the demand for townhomes — places with a little more privacy built into them — is heightening these days.
"Not surprisingly, townhomes are increasingly popular right now for those seeking a compact and convenient way of living in more space than is typically afforded in a condo unit," says Blonder. "Rooftops are often more desirable than even having a backyard for some people. Some terraces and unit rooftops are actually more private and functional than a typical Toronto backyard."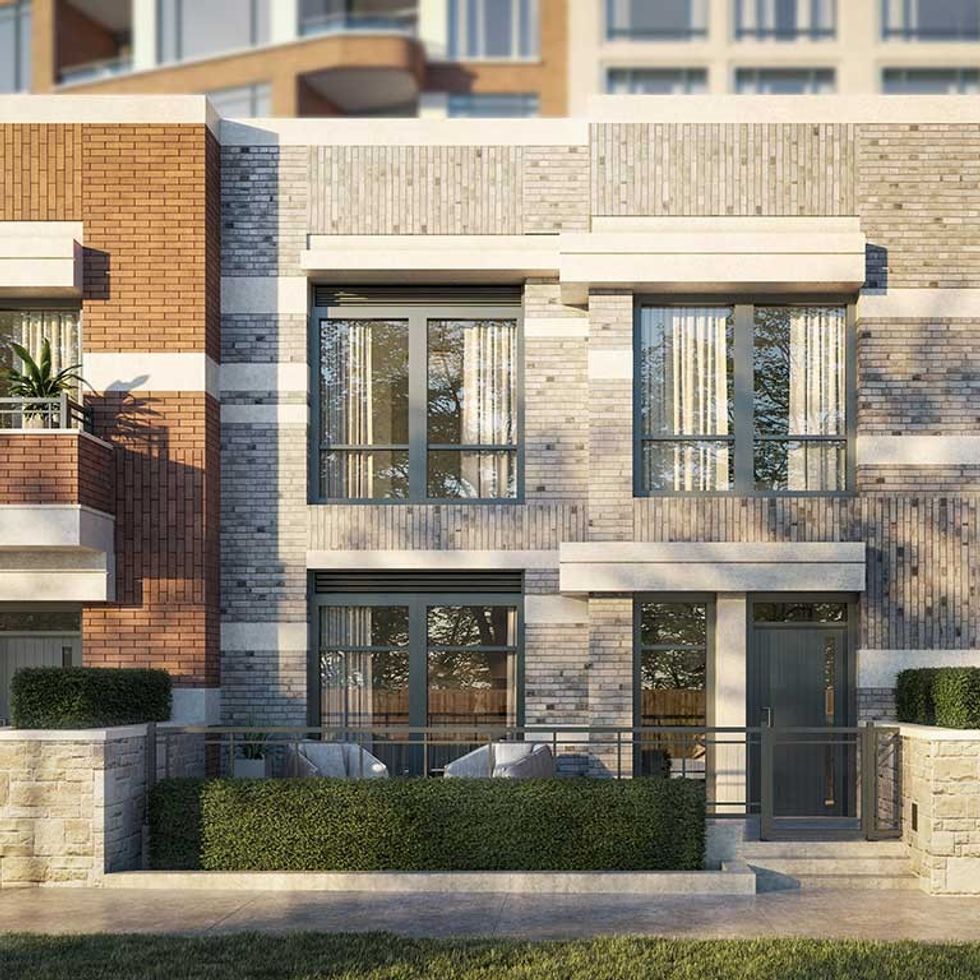 Tridel's Edenbridge development – a boutique nine-storey development located in Toronto's leafy Kingsway neighbourhood – features coveted garden townhouses with large terraces and a private entry. The two-storey ground-level homes offer the outdoor space, privacy, and square-footage (at 1,500 to 1,800-square-feet) of a home, but with all the perks and conveniences of condo living.
Naturally, condo and townhome developments in the GTA are popular options for empty-nesting downsizers – or, as they're more appropriately called, according to Chan, "smartsizers."
"Most smartsizers are looking for boutique-size buildings – as opposed to skyscrapers with hundreds of residents – where the unit sizes are relatively uniform throughout the development," says Chan. "For many of them, moving from a family home doesn't mean a downgrade at all (hence the term 'smartsize'); rather, it provides an opportunity to upgrade in terms of everything from interior design and state-of-the-art appliances, to coveted amenities."
For example, Thornhill's sophisticated and stylish Royal Bayview development is located next to and not on the ninth hole of a pristine golf course, and features home-sized condo units, making it a popular choice for smartsizers. With all of the homes comparable in size and price – all units are 1,100-4,800-square-feet and range from $1.2 to $6-million – this upscale development isn't your typical all-ages condominium.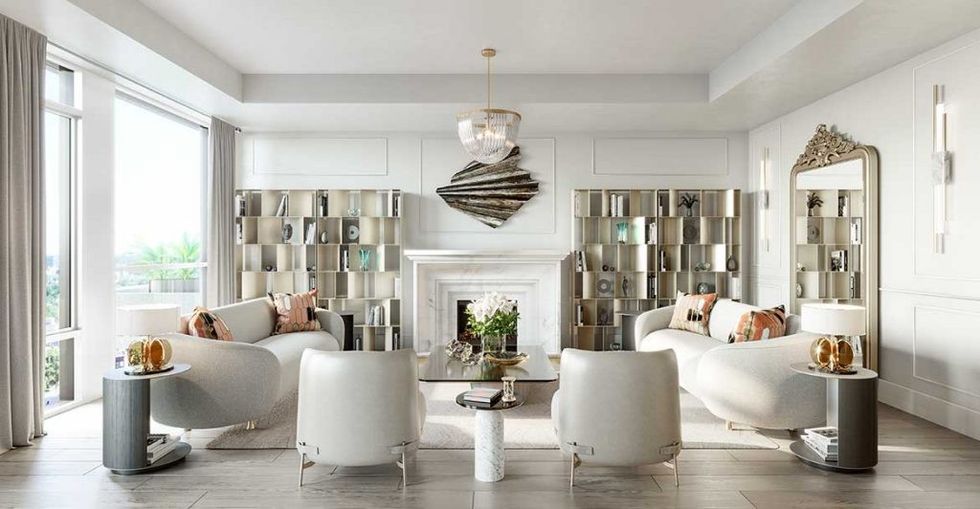 A common trend among smartsizers is a desire to customize their pied-à-terre, says Chan. Luckily for them, Tridel offers an 8,000-square-foot Design Studio, where condo and townhome purchasers can work one-on-one with design experts to personalize their future home with a wide array of fixtures, finishes, and upgrades.
As for the lonely micro condo, though they're not in Tridel's wheelhouse, there will still be a market for these spaces when the city returns to some semblance of pre-pandemic life, Chan says. She points to professionals who may own houses outside of the city but need to keep a small condo or crash pad in Toronto (or an "urban cottage" she says), or individuals with contract work in Toronto, for example.
In the meantime, the collective quest for space – now far from the final frontier – continues for homebuyers.