The calendar and the weather app appear to (finally) be in agreement: spring has officially sprung.
---
Over the last few weeks, the balmier air, longer days, and promise of summer have been palpable; it makes sense if you've been inspired to lean into the seasonal shift with cracked windows, brighter clothes, and rain-resistant footwear.
As warmer weather descends, it's also long been tradition to tidy up around the home. "Spring cleaning," when done with the windows thrown open and some tunes playing in the background, can feel less like a chore and more like a joy. It's an opportunity to care for the place that cares for you.
READ: Spring Has Sprung: 3 Ways to Enhance Your Home this Season
If you're looking to take that energy one step further this year, we have a few recommendations on how you can upgrade your abode going into the spring and summer seasons. Read on for three ways to ride that spring-cleaning wave into the realms of spring deep cleaning, spring renovations, and spring backyard projects.
Clean Deeper
A good dust, vacuum, or sweeping session feels great, of course. But the spring season invites us to push Saturday tidying time a bit further -- and then to reap the benefits of doing so. That's right: we're encouraging you to go at the grout, scrub the baseboards, pull out the stove (and face what's behind it), and to power wash the deck.
It doesn't need to all happen at once; tacking one "deep" clean task onto your weekly routine will mean just a little bit of extra time spent each weekend and, come summer, your home will truly be sparkling -- even in the corners and under the appliances.
Go for a Reno
If an object in motion stays in motion, then a homeowner in cleaning-mode ought to dive into a long-awaited renovation as well. It's science.
But really, if your time spent indoors this past winter left you feeling uninspired by one of your spaces, now is prime time to make a change: freshness is in the air, and big projects have ample time to pass through the beginning, middle, and end stages before cold weather comes around again.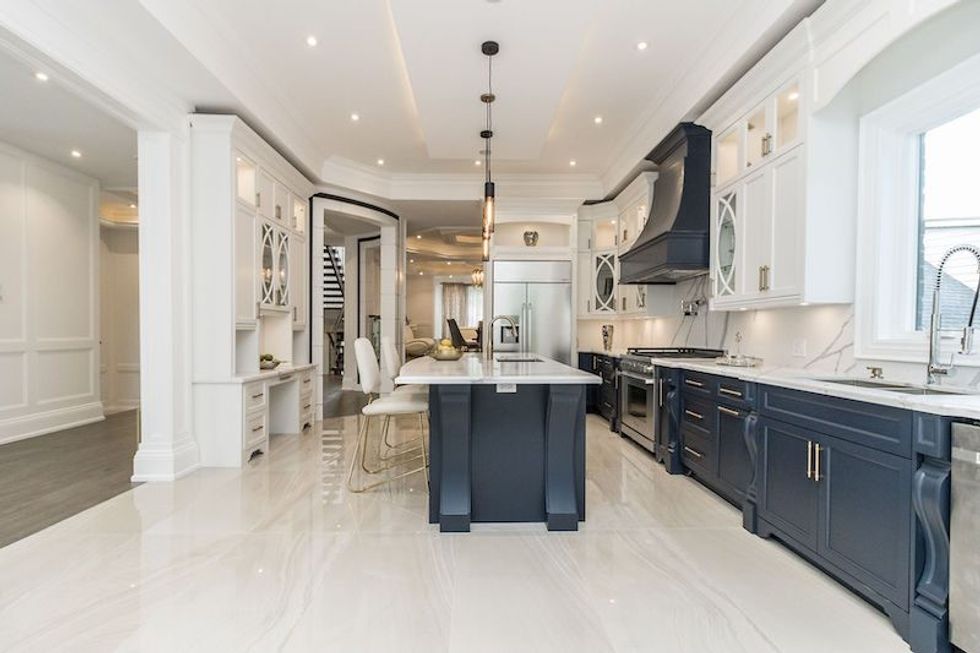 Kitchen & Bath
If you're zeroing in on enhancing your cooking space, or you'd like to create a spa-like retreat within your own home, Toronto-based Kitchen & Bath is a perfect place to turn. As one of the city's top kitchen companies, this team provides high-quality renovations and remodels, but without aggressive price-points. The company's services include kitchen and renovation and remodelling, toilets, and whole-house renovation, with cabinetry, countertops, and more incorporated into the process.
Lay a Patio
In anticipation of summer, it's high time to secure some patio stones and lay the foundation for your warm-weather gatherings. From granite to slate to limestone, and everywhere in between, the aesthetic options for a backyard patio are all but endless.
READ: Ring In the Spring With These 3 Home Improvement Projects
Whether you prefer a crisp and polished layout, or a more organic and natural look, adding a patio to your outdoor space brings an essence of intention, warmth, and completion. You can even build a fire pit, integrate flower or vegetable gardens, or introduce a pond with a babbling fountain.
No matter which route you choose for enhancing your home -- or perhaps you'll explore all of the above! -- taking advantage of spring-cleaning season lays a foundation for a summer (and many seasons beyond) of comfort and fun.
Cover image: Pille R. Priske/Unsplash
---
This article was produced by the STOREYS Editorial team in partnership with our Affiliate Programming. STOREYS may receive a commission based on links in this article.
Renovations