The black population of Toronto may be at higher risk of eviction, according to a new study.
---
Earlier this month, the Wellesley Institute released the report Forced Out: Evictions, Race And Poverty In Toronto, which included data based on eviction filings at the Landlord and Tenant Board from 2010 to 2018.
The study found that eviction filing rates are higher in neighbourhoods with a significant black population, more poverty, and lack of subsidized housing, which continues to be of serious concern in Toronto.
READ: Majority of Torontonians Who Contracted COVID Live in Lower-Income Households
According to the study, 190,000 formal eviction applications were filed within the City of Toronto between 2010 and 2018 — with over 20,500 filed in 2018 alone.
What's more, currently in Toronto, 87% — or 122,250 — of low-income tenant households are living in unaffordable housing are paying over 30% of their income on rent. Almost half of these households are living in severely unaffordable housing, paying over 50% of their income on rent. The report notes precarious situations means unexpected job loss or illness can leave to households unable to pay their rent in full, triggering an eviction filing.
The study also found that Toronto's black population may be at higher risk of eviction, as eviction filing rates are double in neighbourhoods where black renters make up 36% or more of households when "compared to census tracts with 2 per cent Black households, even after controlling for poverty and other important factors."
Most of Toronto's 140 official neighbourhoods have an eviction filing rate between 2 and 6%, though a number of neighbourhoods in the city have significantly higher eviction filing rates, including the Weston area, which has a 13% rate -- the highest in the city.
Woodbine-Lumsden, York University Heights, Black Creek, Mount Olive-Silverstone-Jamestown, Morningside, and Beechborough-Greenbrook also have eviction application rates above 10%.
What's more, areas with high eviction applications and filing rates include Jane-Finch, Downsview, Rexdale, Weston-Mount Dennis, Woburn, Morningside, Scarborough Village, Malvern, and Parkdale.
The report says these neighbourhoods tend to be home to higher numbers of tenant households, and in particular, more low-income renter households.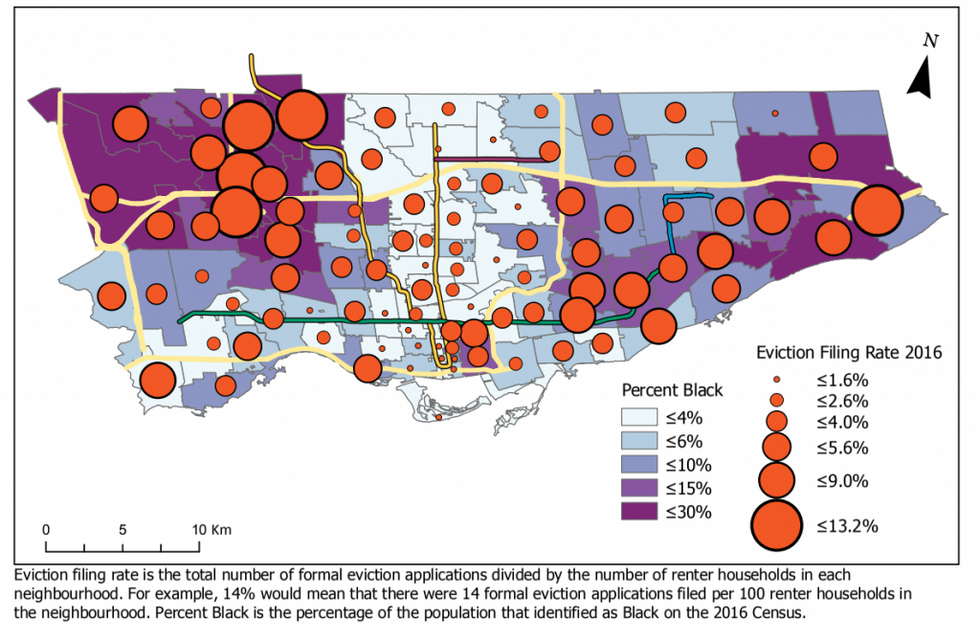 Scott Leon and James Iveniuk, who prepared the report, said an explanation for the correlation between eviction filing rates and the percentage of black-led renter households is racial discrimination.
"Studies continue to show that systemic and individual anti-black racism exists in Toronto, and that they continue to affect the housing and life chances of Toronto's 200,000 Black residents (City of Toronto 2017, Hulchanski 2002, Hogan and Berry 2011, Census 2016). Anti-black racism reflects and reinforces prejudice and stereotypes that can deprive racialized populations from equality in rental housing."
The Wellesley Institute report comes as it could become easier for landlords to evict tenants after the Ontario government introduced Bill 184 earlier this summer. Though, on Friday afternoon, the province announced its intention to introduce legislation that would freeze rental increases across Ontario in 2021.
Real Estate News