---
Picture this — it's a snowy December in Toronto, and you're in desperate need of some groceries. You have two choices: you can either order food online and pay delivery fees, or layer up and make the dreaded trip to the grocery store. 
But what if there was a third option? For future residents of E2 Condos, there will be: you'll be able to take your building's indoor connection and walk directly from your condo to the nearby supermarket—all without having to step outside once.
E2 Condos, a new build that's coming to Yonge and Eglinton, is providing future residents with one of the most well-connected luxury condo experiences the city has to offer. 
Located in the heart of midtown, this modern development will be directly linked to a wide range of shopping, restaurants, and entertainment, all accessible through an indoor route that allows you to complete errands without ever having to brave the elements.
READ: Vibe Shift: Change is Coming to Danforth Village and This New Build Sets the Stage
Just steps from your doorstep, you'll be able to stock up on liquor at the LCBO, or pick up a new bronzer at the Sephora in Yonge Eglinton Centre. 
On date night, you can see a movie at the Cineplex just steps away from your home, or plan a board game night at Snakes and Lattes just down the street. With over 60 restaurants and cafes to choose from, there's a place nearby for every taste or budget.
In addition to shopping and entertainment, the development is in close proximity to a number of transit options, so when you're in the mood to venture a bit farther from home, you can hop on the subway and get to the downtown core in less than 10 minutes.

The soon-to-be-completed LRT will also be accessible through E2 Condos' indoor passage, making it the first community with direct access to both the subway and LRT.
But the central location, vibrant neighbourhood, and easily-accessible transit aren't the only things that E2 Condos has to offer; the building itself boasts a variety of indoor and outdoor amenities that make the community even more comfortable and convenient for active lifestyles.

For instance, residents can enjoy an expansive outdoor terrace that's perfect for hosting celebrations, summer barbecues, or quiet dinners with the family. Or, when the weather gets cold, the party can move inside to the indoor party room, equipped with a chef-inspired kitchen, expansive dining area, and a pool table for some after-dinner entertainment.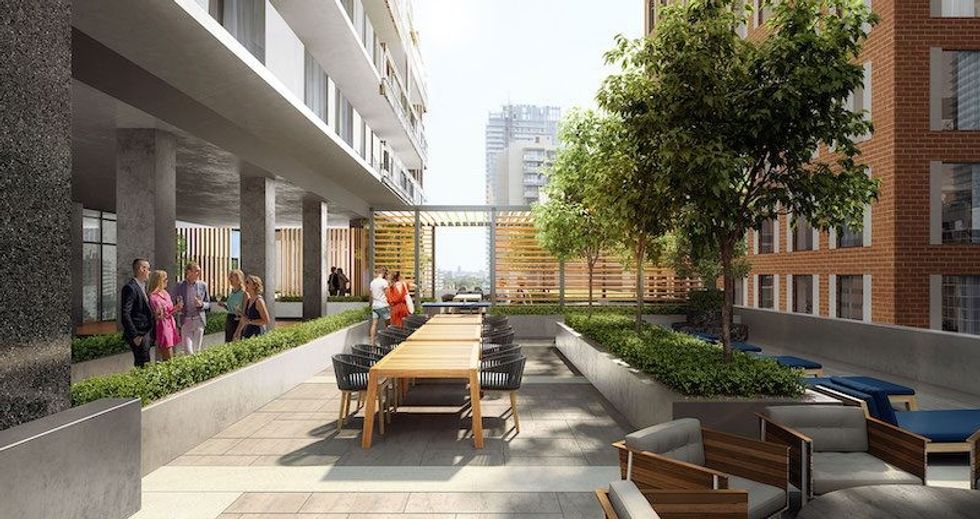 E2 Condos
For families with young children, there are a number of kid-friendly amenities, including a trampoline room, rock climbing wall, arts and crafts centre, and a two-storey playhouse. 
Teenagers have their own spaces, too. On site there's a teen lounge with WIFI, a big screen TV, and a reading nook, so socializing with friends is an option, without the need to venture too far from home. 
At E2, the suites themselves are modern, airy and bright, boasting nine-foot ceilings, laminate flooring, and wide windows that offer sweeping views of downtown Toronto and Rosedale Valley. Modern kitchens are equipped with quartz countertops and deluxe appliances, including an integrated fridge and dishwasher that gives the kitchen an open, seamless look. 
As the city's most well-connected luxury condo, these suites are the perfect fit for city dwellers who adore being part of the action. If convenient urban living is calling your name, a limited selection of two-storey penthouse suites are now available for sale. 
Click here to learn more about E2 Condos.
---
This article was produced in partnership with STOREYS Custom Studio.
Future Developments