---
The 'Design Trend of the Year' is Part 4 in an annual week-long STOREYS editorial series. Check back tomorrow to find out what our '2022 Commercial Deal of the Year' is.
For decades, concrete has been the go-to material for developers, one of the most consumed resources on the planet. The earth has paid a price. Cement, which is the main ingredient in concrete, is responsible for 8% of the world's carbon dioxide emissions.
Finally, in cities throughout North America, mass timber is getting its day in the sun as a viable material for an increasing number of developers, including Toronto, which had been slow to embrace the new method. It wasn't easy. Although recent wood technology has generated a catalogue of mass timber products that are as durable and strong as concrete, and even highly fire resistant, old habits are hard to break. The industry kept going back to cement because it was familiar, readily available, and cheaper. After a lot of talk and considerable hype, mass timber has become an actual option, even for the residential sector.
The driver?
The high cost of concrete is helping to drive demand for mass timber construction, according to industry experts. The economic fallout from world events, including breaks in the supply chain, has made mass timber suddenly look more appealing. The competition for concrete has put the squeeze on small and midsize developers, says Paul Johnston, realtor for Unique Urban Homes.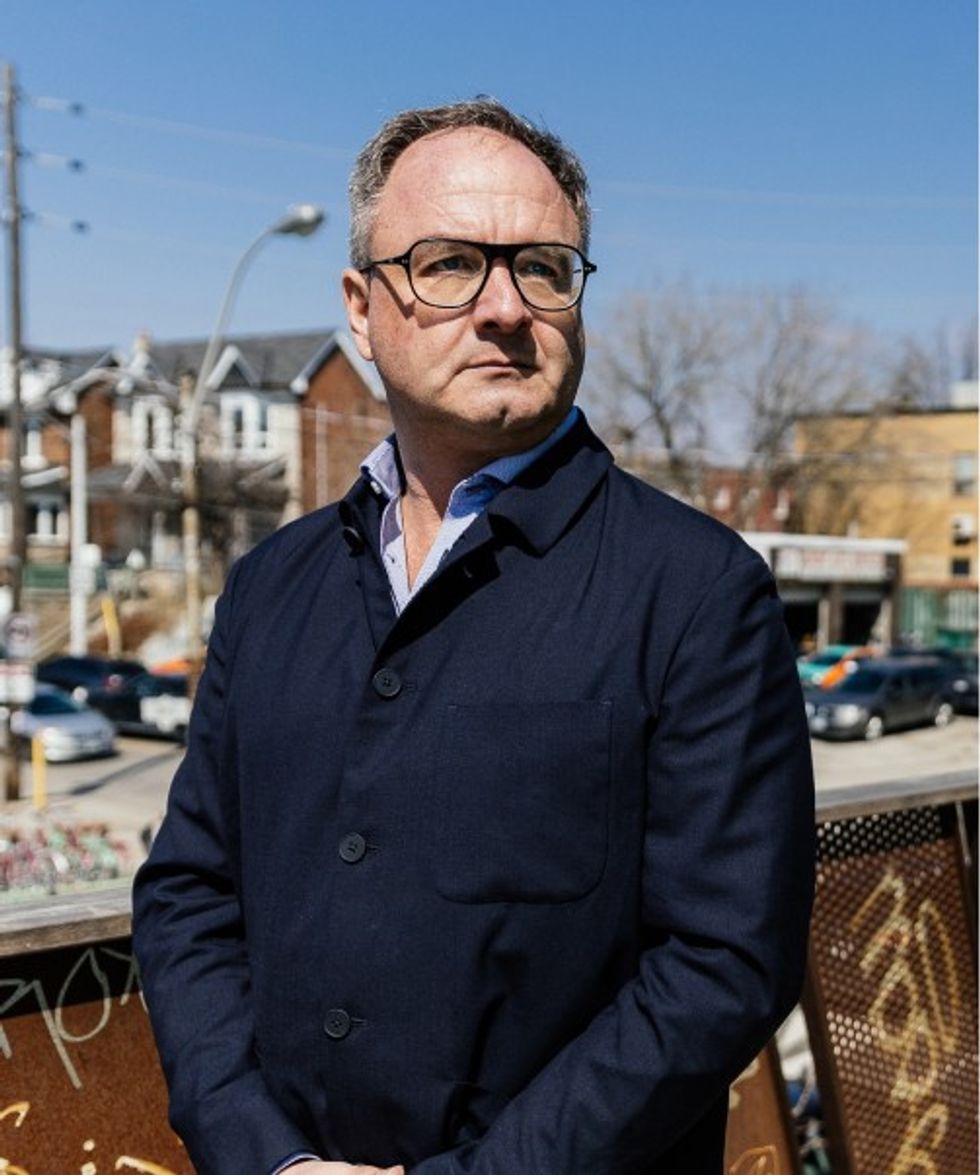 "One of the unfortunate consequences in the Toronto building boom has been that smaller projects, say condominiums between 20 and 120 suites, are having to compete with 500-unit condo buildings for forming and concrete work -- and that has become a really difficult position to be in for some of the smaller builders," says Johnston. "Think about it, if you own a forming and concrete outfit, why would you be interested in eight-storey buildings when you could be chasing 40 or 50 or 60 storey buildings? That's really put a squeeze on the smaller developers, whereas mass timber has the ability to circumnavigate that whole trade, which has been a real driver in the cost and challenge in terms of getting bodies on site to do the work."
Johnston is marketing Toronto's first mass timber residential building, a six-storey 28-unit boutique condominium in the Junction Triangle neighbourhood called Grain Lofts. Pre-construction sales are underway, and he says the interest is strong.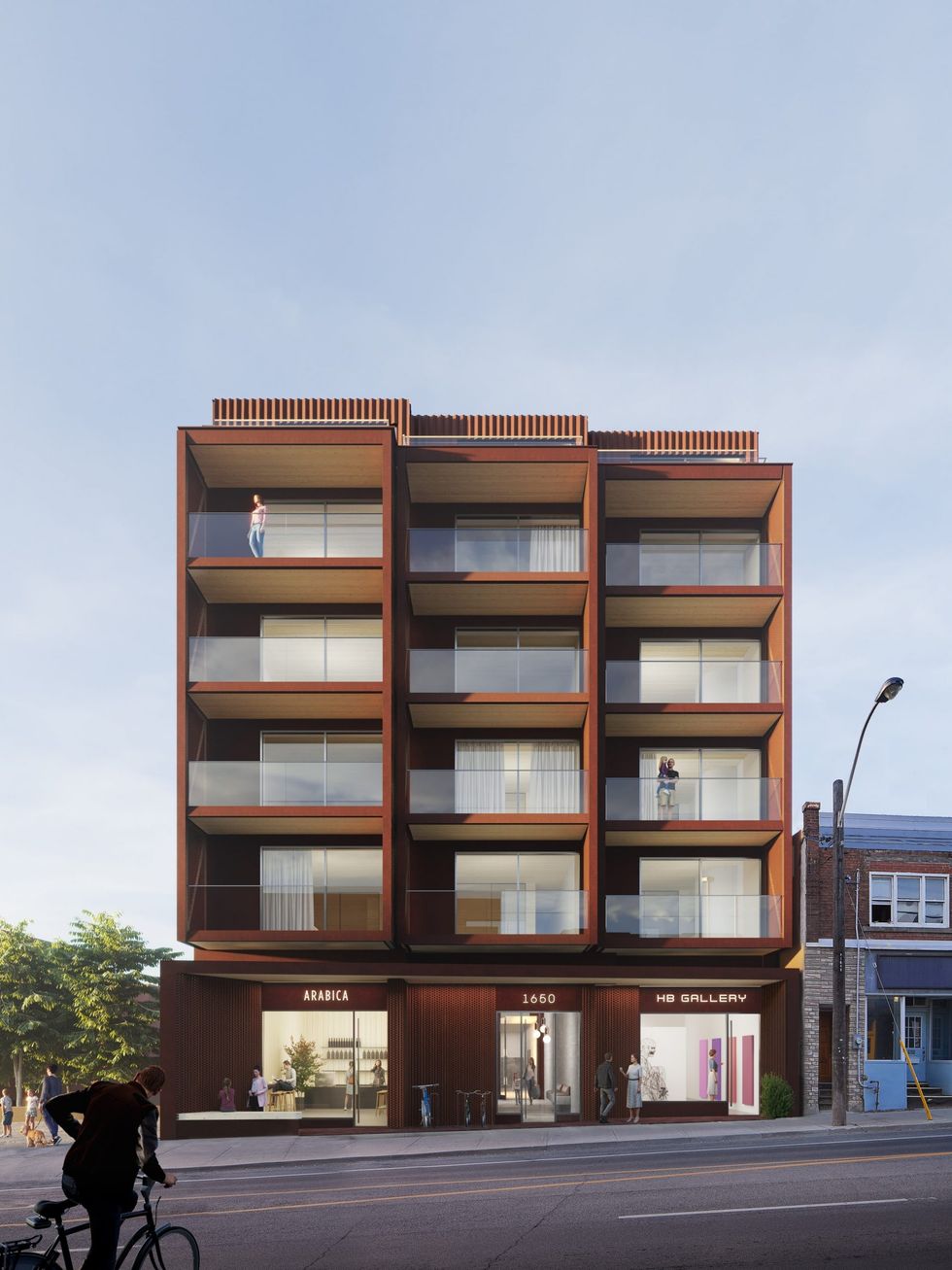 A rendering of pre-construction development 'Grain Lofts' in Toronto's Junction neighbourhood
Construction starts next summer with a completion date in early 2025. Prices start in the $900,000s to about $2 million for the penthouse.
"The great promise of mass timber is that it's going to allow for the construction of modestly scaled, modestly sized buildings along existing avenues in existing robust neighbourhoods that hopefully will go up more quickly and eventually more affordably than what so far has happened with midrise, to really reinvigorate and add density in crucial neighbourhoods," says Johnston.
Mass timber is an umbrella term for several wood-engineered products. These products are often made through the highly pressured fastening together of wood strands or long layers of wood, running in different directions, which forms an incredibly strong, dimensionally stable, warp resistant material. One of the most popular is cross-laminated timber (CLT), typically brought to site as a complete component, such as wall or floor panels. Glue-laminated timber (glulam) is also commonly used, a multi-layered lumber product that has the strength and size to be used for beams, columns and trusses, in long-span buildings, and bridges.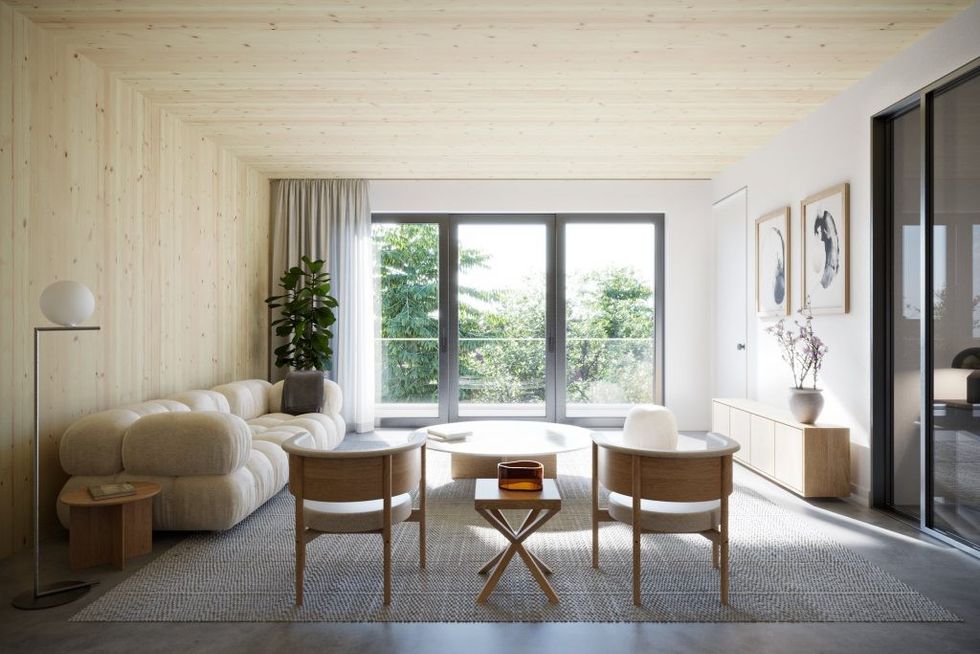 A rendering of a suite at Grain Lofts
Instead of requiring large crews and stacks of lumber, these components arrive on a flat bed and are craned into place, thereby reducing the construction time, and the on-site crew sizes and the amount of noise and intrusion to the surrounding neighbourhood. Mass timber components are factory built in temperature-controlled settings, using computer-programmed designs that are precision cut so that there is less waste of material.
"I think one of the advantages is that while this is a reasonably new phenomenon in Ontario, a quick Google search teaches you very quickly that this is far from leading edge as an international technology," says Johnston. "There are countries that are remarkably familiar with mass timber buildings and have built much taller projects than what is being considered right now in Toronto. So that's a big help. This is a proven technology and proven building methodology adopted and embraced worldwide. It just happens that we are a bit late in Ontario."
For the last decade in BC, many examples of mass timber residential, commercial, and institutional buildings have gone up, including arenas, schools and hotels that have used mass timber systems.
Johnston says that the first mass timber construction that generated a lot of buzz in Toronto was the 80 Atlantic office building in Liberty Village, completed three years ago. There have been several commercial applications since, he says, including Hines' upcoming T3 Bayside timber office tower by Danish architect firm 3XN, on the waterfront.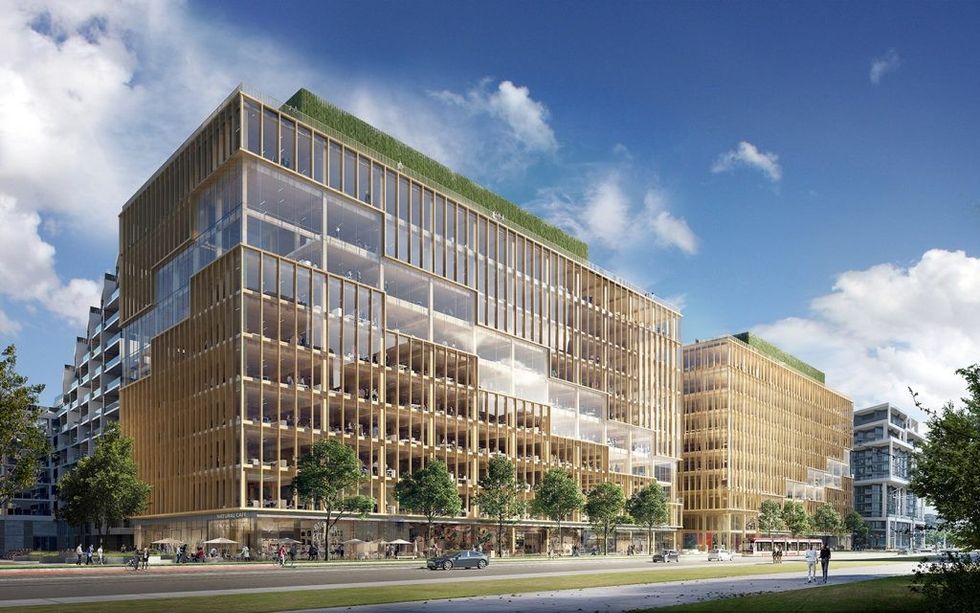 Rendering of T3 Bayside timber office in Toronto
Johnson believes that the cost of mass timber construction will come down as it becomes more mainstream, as the skilled trades and other parts of the ecosystem grow.
The Limberlost Place 10-storey mass timber building at George Brown College, currently under construction, is also garnering attention for its state-of-the-art design and building methods. Engineer Robert Jackson, of Vancouver-based Fast + Epp, said it's a hybrid building with a unique steel-braced frame core that provides seismic and wind resistance. Around that steel core is a CLT and glulam "gravity frame," that uses a timber concrete composite for the floor system, says Jackson, who is design lead for the project. Moriyama & Teshima Architects and Acton Ostry Architects designed the building.
"Hybrid mass timber construction is out there and it's happening," says Jackson. "Well over 600 projects in the US and several hundred in Canada are going on."
He also believes that the sweet spot for mass timber construction is the midrise.
"I would suggest the timber community in general understands the best place for it is in the midrise gap, the 8 to 12 storey range," says Jackson.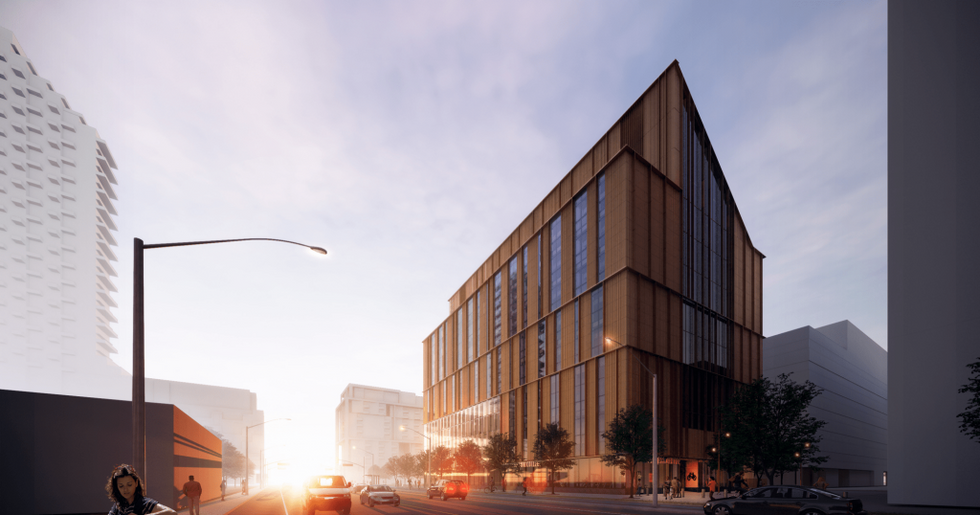 The Limberlost Place at George Brown College in Toronto/Moriyama & Teshima Architects
"There's this awkward middle rise space that isn't zoned super well, so people are looking to change the zoning to allow more midrise structures where mass timber works fantastic. That's where we are seeing the bulk of the work come in -- in that midrise range."
Limberlost is unique because it's the first 10-storey assembly-occupancy mass timber building for Toronto, says Jackson. "Assembly occupancy" is a building for large public gatherings, such as a school. Few taller mass timber structures are used for this type of occupancy, he says. As well, much of the design is a prefabricated kit of parts, including the prefabricated steel core and a prefab envelope kit, which will expedite the process.
It's one of several mass timber projects for Fast + Epp, a structural engineering firm that has timber expertise in cities in Canada and the US. About 60 to 70% of the projects that come through the door involve mass timber, says Jackson.
"It's certainly gone up and up. That's not to say we are the only ones who know how to do it… nthe design community and construction community and development community are all moving towards it. I would say it's certainly on the rise for everybody, architects and other engineers included.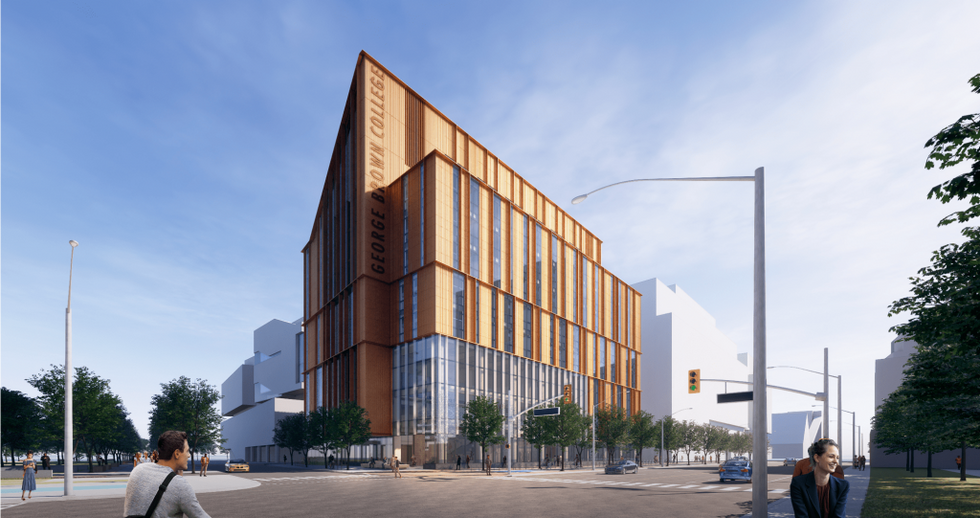 The Limberlost Place at George Brown College in Toronto/Moriyama & Teshima Architects
"There is a shifting tide, I think particularly in the US where their economy is 10 times bigger than ours... They are really starting to get into it and there are a lot of really significant, important projects happening on both sides of the border now."
He cites the move toward less embodied carbon as the key driver, followed by costing.
"We are seeing in cities where formwork prices are going through the roof. Cement production has recently spiked north of 25%, causing concrete to be significantly more expensive, and we have had projects come our way and it's been a full flip, a request to get rid of the concrete structure and redo it in timber, because [they] think it can be as competitive if not more."
Real Estate News