Real Estate News
Crocodile Rock Building Could Be Replaced with 68-Storey Condo Tower
This past spring, downtown party hotspot Crocodile Rock shut its doors after 30 years in business. Now, several months later, Freed Developments — the new owner — has come forward with a redevelopment proposal to build a nearly 70-storey mixed-use tower on the site.
Earlier this month, a Rezoning application for 224-240 Adelaide Street West was submitted to Toronto City planners to amend the zoning by-law to allow for a 68-storey (219 metre) mixed-use building.
Located at the northeast corner of Adelaide Street West and Duncan Street, the rectangular subject site is currently occupied by four properties: a 2-storey commercial building, formerly occupied by Crocodile Rock; a 2.5-storey commercial building occupied by restaurant and bar Yuzu No Hana; a 3-storey commercial building with restaurant and bar Copacabana; and a 1.5-storey converted residential building occupied by fast food restaurant Burrito Boyz.
For years, Crocodile Rock had been an Entertainment District staple for students seeking cheap drinks and neighbouring office workers looking for happy hour deals. However, in May, the downtown bar announced it had been "put in a position to permanently close."
And while it might be the end of an era for the storied bar, Freed Developments has proposed a development that will bring a breath of new life to the vacant building.
READ: Oxford Reveals Ambitious Plans for 3 Million Square Foot Mixed-Use Development in Midtown
The proposal contains a total gross floor area of 43,253 square metres consisting of 40,066 square metres of residential space and 3,187 square metres of non-residential uses with retail at the ground floor along Adelaide Street and office uses contained within the 2nd and 3rd floors.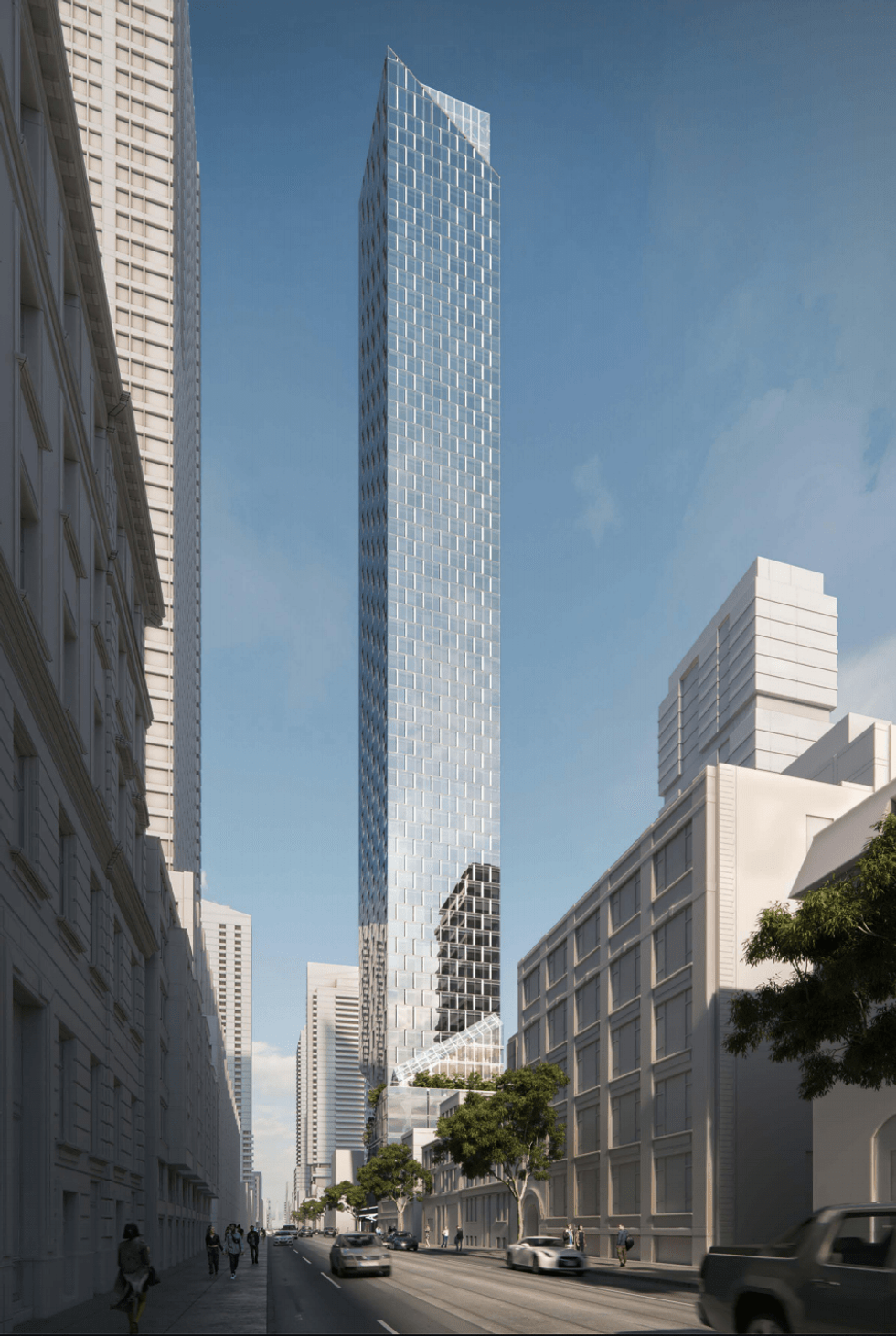 If the proposal is approved, the site's existing buildings would be demolished to make way for the tower, which was designed by Chicago-based AS + GG Architecture.
According to the proposal, the proposed tower has been carefully designed to adequately limit shadow impacts on parks, lands, neighbourhoods, and on the surrounding streets, including the north sidewalk of Queen Street West.
The tower top will create a "distinctive angled" element where the roof of the building slopes upward to a peak that will be visible within the downtown skyline.
The building would contain both indoor and outdoor amenities located on Levels 7, 12, and 67, which will include an indoor infinity-edge pool. The residential component of the building would house 637 residences, with the unit mix comprised of 74 studios (12%), 403 one-bedrooms (63%), 96 two-bedrooms (15%), and 64 three-bedrooms (10%)
There are also 57 vehicular parking spaces and 651 bicycle parking spaces proposed to be located on six below-grade levels.